Abstract
Neutrophils are the primary cells recruited to inflamed sites during an innate immune response to tissue damage and/or infection. They are finely sensitive to inciting stimuli to reach in great numbers and within minutes areas of inflammation and tissue insult. For this effective response, they can detect extracellular chemical gradients and move towards higher concentrations, the so-called chemotaxis process or guided cell migration. This directed neutrophil recruitment is orchestrated by chemoattractants, a chemically diverse group of molecular guidance cues (e.g., lipids, N-formylated peptides, complement, anaphylotoxins and chemokines). Neutrophils respond to these guidance signals in a hierarchical manner and, based on this concept, they can be further subdivided into two groups: "end target" and "intermediary" chemoattractants, the signals of the former dominant over the latter. Neutrophil chemoattractants exert their effects through interaction with heptahelical G protein-coupled receptors (GPCRs) expressed on cell surfaces and the chemotactic response is mainly regulated by the Rho family of GTPases. Additionally, neutrophil behavior might differ and be affected in different complex scenarios such as disease conditions and type of vascular bed in specific organs. Finally, there are different mechanisms to disrupt neutrophil chemotaxis either associated to the resolution of inflammation or to bacterial escape and systemic infection. Therefore, in the present review, we will discuss the different molecular players involved in neutrophil chemotaxis, paying special attention to the different chemoattractants described and the way that they interact intra- and extravascularly for neutrophils to properly reach the target tissue.
Access options
Buy single article
Instant access to the full article PDF.
US$ 39.95
Tax calculation will be finalised during checkout.
Subscribe to journal
Immediate online access to all issues from 2019. Subscription will auto renew annually.
US$ 119
Tax calculation will be finalised during checkout.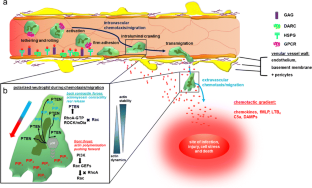 References
Afonso PV, Janka-Junttila M, Lee YJ, McCann CP, Oliver CM, Aamer KA, Losert W, Cicerone MT, Parent CA (2012) LTB4 is a signal-relay molecule during neutrophil chemotaxis. Dev Cell 22:1079–1091

Aherne CM, Collins CB, Masterson JC, Tizzano M, Boyle TA, Westrich JA, Parnes JA, Furuta GT, Rivera-Nieves J, Eltzschig HK (2012) Neuronal guidance molecule netrin-1 attenuates inflammatory cell trafficking during acute experimental colitis. Gut 61:695–705

Allendorf DJ, Yan J, Ross GD, Hansen RD, Baran JT, Subbarao K, Wang L, Haribabu B (2005) C5a-mediated leukotriene B4-amplified neutrophil chemotaxis is essential in tumor immunotherapy facilitated by anti-tumor monoclonal antibody and beta-glucan. J Immunol 174:7050–7056

Alves-Filho JC, Freitas A, Souto FO, Spiller F, Paula-Neto H, Silva JS, Gazzinelli RT, Teixeira MM, Ferreira SH, Cunha FQ (2009) Regulation of chemokine receptor by toll-like receptor 2 is critical to neutrophil migration and resistance to polymicrobial sepsis. Proc Natl Acad Sci U S A 106:4018–4023

Alves-Filho JC, Sonego F, Souto FO, Freitas A, Verri WA Jr, Auxiliadora-Martins M, Basile-Filho A, McKenzie AN, Xu D, Cunha FQ, Liew FY (2010) Interleukin-33 attenuates sepsis by enhancing neutrophil influx to the site of infection. Nat Med 16:708–712

Baggiolini M (2001) Chemokines in pathology and medicine. J Intern Med 250:91–104

Barletta KE, Ley K, Mehrad B (2012) Regulation of neutrophil function by adenosine. Arterioscler Thromb Vasc Biol 32:856–864

Beyrau M, Bodkin JV, Nourshargh S (2012) Neutrophil heterogeneity in health and disease: a revitalized avenue in inflammation and immunity. Open Biol 2:120134

Cara DC, Kaur J, Forster M, McCafferty DM, Kubes P (2001) Role of p38 mitogen-activated protein kinase in chemokine-induced emigration and chemotaxis in vivo. J Immunol 167:6552–6558

Cheung YY, Kim SY, Yiu WH, Pan CJ, Jun HS, Ruef RA, Lee EJ, Westphal H, Mansfield BC, Chou JY (2007) Impaired neutrophil activity and increased susceptibility to bacterial infection in mice lacking glucose-6-phosphatase-beta. J Clin Invest 117:784–793

Chou RC, Kim ND, Sadik CD, Seung E, Lan Y, Byrne MH, Haribabu B, Iwakura Y, Luster AD (2010) Lipid-cytokine-chemokine cascade drives neutrophil recruitment in a murine model of inflammatory arthritis. Immunity 33:266–278

Colom B, Bodkin JV, Beyrau M, Woodfin A, Ody C, Rourke C, Chavakis T, Brohi K, Imhof BA, Nourshargh S (2015) Leukotriene B4-Neutrophil Elastase Axis drives Neutrophil reverse Transendothelial cell migration in vivo. Immunity 42:1075–1086

Corriden R, Insel PA (2012) New insights regarding the regulation of chemotaxis by nucleotides, adenosine, and their receptors. Purinergic Signal 8:587–598

Dahlgren C, Gabl M, Holdfeldt A, Winther M, Forsman H (2016) Basic characteristics of the neutrophil receptors that recognize formylated peptides, a danger-associated molecular pattern generated by bacteria and mitochondria. Biochem Pharmacol 114:22–39

de la Fuente H, Richaud-Patin Y, Jakez-Ocampo J, Gonzalez-Amaro R, Llorente L (2001) Innate immune mechanisms in the pathogenesis of systemic lupus erythematosus (SLE). Immunol Lett 77:175–180

de Oliveira S, Rosowski EE, Huttenlocher A (2016) Neutrophil migration in infection and wound repair: going forward in reverse. Nat Rev Immunol 16:378–391

Dixit N, Yamayoshi I, Nazarian A, Simon SI (2011) Migrational guidance of neutrophils is mechanotransduced via high-affinity LFA-1 and calcium flux. J Immunol 187:472–481

Donadieu J, Fenneteau O, Beaupain B, Mahlaoui N, Chantelot CB (2011) Congenital neutropenia: diagnosis, molecular bases and patient management. Orphanet J Rare Dis 6:26

Edwards LJ, Constantinescu CS (2009) Platelet activating factor/platelet activating factor receptor pathway as a potential therapeutic target in autoimmune diseases. Inflamm Allergy Drug Targets 8:182–190

Fayngerts SA, Wang Z, Zamani A, Sun H, Boggs AE, Porturas TP, Xie W, Lin M, Cathopoulis T, Goldsmith JR, Vourekas A, Chen YH (2017) Direction of leukocyte polarization and migration by the phosphoinositide-transfer protein TIPE2. Nat Immunol 18:1353–1360

Fine N, Dimitriou ID, Rullo J, Sandi MJ, Petri B, Haitsma J, Ibrahim H, La Rose J, Glogauer M, Kubes P, Cybulsky M, Rottapel R (2016) GEF-H1 is necessary for neutrophil shear stress-induced migration during inflammation. J Cell Biol 215:107–119

Firatli E, Tuzun B, Efeoglu A (1996) Papillon-Lefevre syndrome. Analysis of Neutrophil Chemotaxis. J Periodontol 67:617–620

Friedl P, Weigelin B (2008) Interstitial leukocyte migration and immune function. Nat Immunol 9:960–969

Gallin JI (1984) Human neutrophil heterogeneity exists, but is it meaningful? Blood 63:977–983

Gerin I, Veiga-da-Cunha M, Achouri Y, Collet JF, Van Schaftingen E (1997) Sequence of a putative glucose 6-phosphate translocase, mutated in glycogen storage disease type Ib. FEBS Lett 419:235–238

Ghasemzadeh M, Hosseini E (2015) Intravascular leukocyte migration through platelet thrombi: directing leukocytes to sites of vascular injury. Thromb Haemost 113:1224–1235

Handel TM, Johnson Z, Crown SE, Lau EK, Proudfoot AE (2005) Regulation of protein function by glycosaminoglycans--as exemplified by chemokines. Annu Rev Biochem 74:385–410

Haneke E (1979) The Papillon-Lefevre syndrome: keratosis palmoplantaris with periodontopathy. Report of a case and review of the cases in the literature. Hum Genet 51:1–35

Harayama T, Shindou H, Ogasawara R, Suwabe A, Shimizu T (2008) Identification of a novel noninflammatory biosynthetic pathway of platelet-activating factor. J Biol Chem 283:11097–11106

Harding MG, Zhang K, Conly J, Kubes P (2014) Neutrophil crawling in capillaries; a novel immune response to Staphylococcus aureus. PLoS Pathog 10:e1004379

Headland SE, Norling LV (2015) The resolution of inflammation: principles and challenges. Semin Immunol 27:149–160

Heit B, Robbins SM, Downey CM, Guan Z, Colarusso P, Miller BJ, Jirik FR, Kubes P (2008) PTEN functions to 'prioritize' chemotactic cues and prevent 'distraction' in migrating neutrophils. Nat Immunol 9:743–752

Heit B, Tavener S, Raharjo E, Kubes P (2002) An intracellular signaling hierarchy determines direction of migration in opposing chemotactic gradients. J Cell Biol 159:91–102

Hepper I, Schymeinsky J, Weckbach LT, Jakob SM, Frommhold D, Sixt M, Laschinger M, Sperandio M, Walzog B (2012) The mammalian actin-binding protein 1 is critical for spreading and intraluminal crawling of neutrophils under flow conditions. J Immunol 188:4590–4601

Herlihy SE, Brown ML, Pilling D, Weeks BR, Myers LK, Gomer RH (2015) Role of the neutrophil chemorepellent soluble dipeptidyl peptidase IV in decreasing inflammation in a murine model of arthritis. Arthritis Rheumatol 67:2634–2638

Herlihy SE, Pilling D, Maharjan AS, Gomer RH (2013) Dipeptidyl peptidase IV is a human and murine neutrophil chemorepellent. J Immunol 190:6468–6477

Herrmann JM, Bernardo J, Long HJ, Seetoo K, McMenamin ME, Batista EL Jr, Van Dyke TE, Simons ER (2007) Sequential chemotactic and phagocytic activation of human polymorphonuclear neutrophils. Infect Immun 75:3989–3998

Herter JM, Rossaint J, Block H, Welch H, Zarbock A (2013) Integrin activation by P-Rex1 is required for selectin-mediated slow leukocyte rolling and intravascular crawling. Blood 121:2301–2310

Hillyer P, Male D (2005) Expression of chemokines on the surface of different human endothelia. Immunol Cell Biol 83:375–382

Huang C, Jacobson K, Schaller MD (2004) MAP kinases and cell migration. J Cell Sci 117:4619–4628

Iglesias PA, Devreotes PN (2008) Navigating through models of chemotaxis. Curr Opin Cell Biol 20:35–40

Ishii M, Asano K, Namkoong H, Tasaka S, Mizoguchi K, Asami T, Kamata H, Kimizuka Y, Fujiwara H, Funatsu Y, Kagawa S, Miyata J, Ishii K, Nakamura M, Hirai H, Nagata K, Kunkel SL, Hasegawa N, Betsuyaku T (2012) CRTH2 is a critical regulator of neutrophil migration and resistance to polymicrobial sepsis. J Immunol 188:5655–5664

Johnson GL, Lapadat R (2002) Mitogen-activated protein kinase pathways mediated by ERK, JNK, and p38 protein kinases. Science 298:1911–1912

Johnston B, Burns AR, Suematsu M, Issekutz TB, Woodman RC, Kubes P (1999) Chronic inflammation upregulates chemokine receptors and induces neutrophil migration to monocyte chemoattractant protein-1. J Clin Invest 103:1269–1276

Jorizzo JL, Hudson RD, Schmalstieg FC, Daniels JC, Apisarnthanarax P, Henry JC, Gonzalez EB, Ichikawa Y, Cavallo T (1984) Behcet's syndrome: immune regulation, circulating immune complexes, neutrophil migration, and colchicine therapy. J Am Acad Dermatol 10:205–214

Jun HS, Weinstein DA, Lee YM, Mansfield BC, Chou JY (2014) Molecular mechanisms of neutrophil dysfunction in glycogen storage disease type Ib. Blood 123:2843–2853

Keszei M, Westerberg LS (2014) Congenital defects in neutrophil dynamics. J Immunol Res 2014:303782

Kumar AV, Katakam SK, Urbanowitz AK, Gotte M (2015) Heparan sulphate as a regulator of leukocyte recruitment in inflammation. Curr Protein Pept Sci 16:77–86

Lacalle RA, Peregil RM, Albar JP, Merino E, Martinez AC, Merida I, Manes S (2007) Type I phosphatidylinositol 4-phosphate 5-kinase controls neutrophil polarity and directional movement. J Cell Biol 179:1539–1553

Lammermann T, Bader BL, Monkley SJ, Worbs T, Wedlich-Soldner R, Hirsch K, Keller M, Forster R, Critchley DR, Fassler R, Sixt M (2008) Rapid leukocyte migration by integrin-independent flowing and squeezing. Nature 453:51–55

Lehmann DM, Seneviratne AM, Smrcka AV (2008) Small molecule disruption of G protein beta gamma subunit signaling inhibits neutrophil chemotaxis and inflammation. Mol Pharmacol 73:410–418

Ley K, Laudanna C, Cybulsky MI, Nourshargh S (2007) Getting to the site of inflammation: the leukocyte adhesion cascade updated. Nat Rev Immunol 7:678–689

Li R, Coulthard LG, Wu MC, Taylor SM, Woodruff TM (2013) C5L2: a controversial receptor of complement anaphylatoxin, C5a. FASEB J 27:855–864

Li Z, Dong X, Wang Z, Liu W, Deng N, Ding Y, Tang L, Hla T, Zeng R, Li L, Wu D (2005) Regulation of PTEN by Rho small GTPases. Nat Cell Biol 7:399–404

Li Z, Hannigan M, Mo Z, Liu B, Lu W, Wu Y, Smrcka AV, Wu G, Li L, Liu M, Huang CK, Wu D (2003) Directional sensing requires G beta gamma-mediated PAK1 and PIX alpha-dependent activation of Cdc42. Cell 114:215–227

Li Z, Jiang H, Xie W, Zhang Z, Smrcka AV, Wu D (2000) Roles of PLC-beta2 and -beta3 and PI3Kgamma in chemoattractant-mediated signal transduction. Science 287:1046–1049

Liu X, Ma B, Malik AB, Tang H, Yang T, Sun B, Wang G, Minshall RD, Li Y, Zhao Y, Ye RD, Xu J (2012) Bidirectional regulation of neutrophil migration by mitogen-activated protein kinases. Nat Immunol 13:457–464

Lokuta MA, Senetar MA, Bennin DA, Nuzzi PA, Chan KT, Ott VL, Huttenlocher A (2007) Type Igamma PIP kinase is a novel uropod component that regulates rear retraction during neutrophil chemotaxis. Mol Biol Cell 18:5069–5080

Majumdar R, Tavakoli Tameh A, Parent CA (2016) Exosomes mediate LTB4 release during Neutrophil Chemotaxis. PLoS Biol 14:e1002336

Massena S, Christoffersson G, Hjertstrom E, Zcharia E, Vlodavsky I, Ausmees N, Rolny C, Li JP, Phillipson M (2010) A chemotactic gradient sequestered on endothelial heparan sulfate induces directional intraluminal crawling of neutrophils. Blood 116:1924–1931

Mathias JR, Perrin BJ, Liu TX, Kanki J, Look AT, Huttenlocher A (2006) Resolution of inflammation by retrograde chemotaxis of neutrophils in transgenic zebrafish. J Leukoc Biol 80:1281–1288

McDonald B, Kubes P (2011) Cellular and molecular choreography of neutrophil recruitment to sites of sterile inflammation. J Mol Med 89:1079–1088

McDonald B, Pittman K, Menezes GB, Hirota SA, Slaba I, Waterhouse CC, Beck PL, Muruve DA, Kubes P (2010) Intravascular danger signals guide neutrophils to sites of sterile inflammation. Science 330:362–366

Middleton J, Patterson AM, Gardner L, Schmutz C, Ashton BA (2002) Leukocyte extravasation: chemokine transport and presentation by the endothelium. Blood 100:3853–3860

Molad Y, Buyon J, Anderson DC, Abramson SB, Cronstein BN (1994) Intravascular neutrophil activation in systemic lupus erythematosus (SLE): dissociation between increased expression of CD11b/CD18 and diminished expression of L-selectin on neutrophils from patients with active SLE. Clin Immunol Immunopathol 71:281–286

Movassagh H, Saati A, Nandagopal S, Mohammed A, Tatari N, Shan L, Duke-Cohan JS, Fowke KR, Lin F, Gounni AS (2017) Chemorepellent Semaphorin 3E negatively regulates Neutrophil migration in vitro and in vivo. J Immunol 198:1023–1033

Narisawa K, Igarashi Y, Otomo H, Tada K (1978) A new variant of glycogen storage disease type I probably due to a defect in the glucose-6-phosphate transport system. Biochem Biophys Res Commun 83:1360–1364

Neptune ER, Bourne HR (1997) Receptors induce chemotaxis by releasing the betagamma subunit of Gi, not by activating Gq or Gs. Proc Natl Acad Sci U S A 94:14489–14494

Nishio M, Watanabe K, Sasaki J, Taya C, Takasuga S, Iizuka R, Balla T, Yamazaki M, Watanabe H, Itoh R, Kuroda S, Horie Y, Forster I, Mak TW, Yonekawa H, Penninger JM, Kanaho Y, Suzuki A, Sasaki T (2007) Control of cell polarity and motility by the PtdIns(3,4,5)P3 phosphatase SHIP1. Nat Cell Biol 9:36–44

Nourshargh S, Alon R (2014) Leukocyte migration into inflamed tissues. Immunity 41:694–707

Nourshargh S, Hordijk PL, Sixt M (2010) Breaching multiple barriers: leukocyte motility through venular walls and the interstitium. Nat Rev Mol Cell Biol 11:366–378

Perretti M, Dalli J (2009) Exploiting the Annexin A1 pathway for the development of novel anti-inflammatory therapeutics. Br J Pharmacol 158:936–946

Peters-Golden M, Henderson WR Jr (2007) Leukotrienes. N Engl J Med 357:1841–1854

Petri B, Phillipson M, Kubes P (2008) The physiology of leukocyte recruitment: an in vivo perspective. J Immunol 180:6439–6446

Phillipson M, Heit B, Colarusso P, Liu L, Ballantyne CM, Kubes P (2006) Intraluminal crawling of neutrophils to emigration sites: a molecularly distinct process from adhesion in the recruitment cascade. J Exp Med 203:2569–2575

Phillipson M, Heit B, Parsons SA, Petri B, Mullaly SC, Colarusso P, Gower RM, Neely G, Simon SI, Kubes P (2009) Vav1 is essential for mechanotactic crawling and migration of neutrophils out of the inflamed microvasculature. J Immunol 182:6870–6878

Phillipson M, Kubes P (2011) The neutrophil in vascular inflammation. Nat Med 17:1381–1390

Proebstl D, Voisin MB, Woodfin A, Whiteford J, D'Acquisto F, Jones GE, Rowe D, Nourshargh S (2012) Pericytes support neutrophil subendothelial cell crawling and breaching of venular walls in vivo. J Exp Med 209:1219–1234

Pruenster M, Mudde L, Bombosi P, Dimitrova S, Zsak M, Middleton J, Richmond A, Graham GJ, Segerer S, Nibbs RJ, Rot A (2009) The Duffy antigen receptor for chemokines transports chemokines and supports their promigratory activity. Nat Immunol 10:101–108

Quinton LJ, Nelson S, Zhang P, Boe DM, Happel KI, Pan W, Bagby GJ (2004) Selective transport of cytokine-induced neutrophil chemoattractant from the lung to the blood facilitates pulmonary neutrophil recruitment. Am J Physiol Lung Cell Mol Physiol 286:L465–L472

Raftopoulou M, Hall A (2004) Cell migration: Rho GTPases lead the way. Dev Biol 265:23–32

Ram G, Chinen J (2011) Infections and immunodeficiency in down syndrome. Clin Exp Immunol 164:9–16

Ridley AJ, Schwartz MA, Burridge K, Firtel RA, Ginsberg MH, Borisy G, Parsons JT, Horwitz AR (2003) Cell migration: integrating signals from front to back. Science 302:1704–1709

Rosenberger P, Schwab JM, Mirakaj V, Masekowsky E, Mager A, Morote-Garcia JC, Unertl K, Eltzschig HK (2009) Hypoxia-inducible factor-dependent induction of netrin-1 dampens inflammation caused by hypoxia. Nat Immunol 10:195–202

Sadik CD, Luster AD (2012) Lipid-cytokine-chemokine cascades orchestrate leukocyte recruitment in inflammation. J Leukoc Biol 91:207–215

Sanz MJ, Kubes P (2012) Neutrophil-active chemokines in in vivo imaging of neutrophil trafficking. Eur J Immunol 42:278–283

Schaff UY, Dixit N, Procyk E, Yamayoshi I, Tse T, Simon SI (2010) Orai1 regulates intracellular calcium, arrest, and shape polarization during neutrophil recruitment in shear flow. Blood 115:657–666

Schmidt S, Moser M, Sperandio M (2013) The molecular basis of leukocyte recruitment and its deficiencies. Mol Immunol 55:49–58

Serhan CN (2010) Novel lipid mediators and resolution mechanisms in acute inflammation: to resolve or not? Am J Pathol 177:1576–1591

Serhan CN, Chiang N, Van Dyke TE (2008) Resolving inflammation: dual anti-inflammatory and pro-resolution lipid mediators. Nat Rev Immunol 8:349–361

Shelef MA, Tauzin S, Huttenlocher A (2013) Neutrophil migration: moving from zebrafish models to human autoimmunity. Immunol Rev 256:269–281

Summers C, Rankin SM, Condliffe AM, Singh N, Peters AM, Chilvers ER (2010) Neutrophil kinetics in health and disease. Trends Immunol 31:318–324

Teng TS, Ji AL, Ji XY, Li YZ (2017) Neutrophils and immunity: from bactericidal action to being conquered. J Immunol Res 2017:9671604

Turner MD, Nedjai B, Hurst T, Pennington DJ (2014) Cytokines and chemokines: at the crossroads of cell signalling and inflammatory disease. Biochim Biophys Acta 1843:2563–2582

Ulvmar MH, Hub E, Rot A (2011) Atypical chemokine receptors. Exp Cell Res 317:556–568

Voisin MB, Nourshargh S (2013) Neutrophil transmigration: emergence of an adhesive cascade within venular walls. J Innate Immun 5:336–347

Voisin MB, Probstl D, Nourshargh S (2010) Venular basement membranes ubiquitously express matrix protein low-expression regions: characterization in multiple tissues and remodeling during inflammation. Am J Pathol 176:482–495

Voisin MB, Woodfin A, Nourshargh S (2009) Monocytes and neutrophils exhibit both distinct and common mechanisms in penetrating the vascular basement membrane in vivo. Arterioscler Thromb Vasc Biol 29:1193–1199

Wang L, Fuster M, Sriramarao P, Esko JD (2005) Endothelial heparan sulfate deficiency impairs L-selectin- and chemokine-mediated neutrophil trafficking during inflammatory responses. Nat Immunol 6:902–910

Wang S, Voisin MB, Larbi KY, Dangerfield J, Scheiermann C, Tran M, Maxwell PH, Sorokin L, Nourshargh S (2006) Venular basement membranes contain specific matrix protein low expression regions that act as exit points for emigrating neutrophils. J Exp Med 203:1519–1532

Weathington NM, van Houwelingen AH, Noerager BD, Jackson PL, Kraneveld AD, Galin FS, Folkerts G, Nijkamp FP, Blalock JE (2006) A novel peptide CXCR ligand derived from extracellular matrix degradation during airway inflammation. Nat Med 12:317–323

Weiner OD (2002) Regulation of cell polarity during eukaryotic chemotaxis: the chemotactic compass. Curr Opin Cell Biol 14:196–202

Wojciak-Stothard B, Ridley AJ (2003) Shear stress-induced endothelial cell polarization is mediated by Rho and Rac but not Cdc42 or PI 3-kinases. J Cell Biol 161:429–439

Wong K, Van Keymeulen A, Bourne HR (2007) PDZRhoGEF and myosin II localize RhoA activity to the back of polarizing neutrophil-like cells. J Cell Biol 179:1141–1148

Woodfin A, Voisin MB, Beyrau M, Colom B, Caille D, Diapouli FM, Nash GB, Chavakis T, Albelda SM, Rainger GE, Meda P, Imhof BA, Nourshargh S (2011) The junctional adhesion molecule JAM-C regulates polarized transendothelial migration of neutrophils in vivo. Nat Immunol 12:761–769

Woodfin A, Voisin MB, Nourshargh S (2010) Recent developments and complexities in neutrophil transmigration. Curr Opin Hematol 17:9–17

Wu D (2005) Signaling mechanisms for regulation of chemotaxis. Cell Res 15:52–56

Wu Y, Hannigan MO, Kotlyarov A, Gaestel M, Wu D, Huang CK (2004) A requirement of MAPKAPK2 in the uropod localization of PTEN during FMLP-induced neutrophil chemotaxis. Biochem Biophys Res Commun 316:666–672

Xu N, Hossain M, Liu L (2013) Pharmacological inhibition of p38 mitogen-activated protein kinases affects KC/CXCL1-induced intraluminal crawling, transendothelial migration, and chemotaxis of neutrophils in vivo. Mediat Inflamm 2013:290565

Xu X, Jin T (2015) The novel functions of the PLC/PKC/PKD signaling Axis in G protein-coupled receptor-mediated Chemotaxis of Neutrophils. J Immunol Res 2015:817604

Xu W, Wang P, Petri B, Zhang Y, Tang W, Sun L, Kress H, Mann T, Shi Y, Kubes P, Wu D (2010) Integrin-induced PIP5K1C kinase polarization regulates neutrophil polarization, directionality, and in vivo infiltration. Immunity 33:340–350

Xu J, Wang F, Van Keymeulen A, Herzmark P, Straight A, Kelly K, Takuwa Y, Sugimoto N, Mitchison T, Bourne HR (2003) Divergent signals and cytoskeletal assemblies regulate self-organizing polarity in neutrophils. Cell 114:201–214

Yipp BG, Petri B, Salina D, Jenne CN, Scott BN, Zbytnuik LD, Pittman K, Asaduzzaman M, Wu K, Meijndert HC, Malawista SE, de Boisfleury CA, Zhang K, Conly J, Kubes P (2012) Infection-induced NETosis is a dynamic process involving neutrophil multitasking in vivo. Nat Med 18:1386–1393

Yokomizo T, Izumi T, Chang K, Takuwa Y, Shimizu T (1997) A G-protein-coupled receptor for leukotriene B4 that mediates chemotaxis. Nature 387:620–624

Yokomizo T, Kato K, Terawaki K, Izumi T, Shimizu T (2000) A second leukotriene B(4) receptor, BLT2. A new therapeutic target in inflammation and immunological disorders. J Exp Med 192:421–432

Yoo SK, Huttenlocher A (2011) Spatiotemporal photolabeling of neutrophil trafficking during inflammation in live zebrafish. J Leukoc Biol 89:661–667

Zarbock A, Ley K (2008) Mechanisms and consequences of neutrophil interaction with the endothelium. Am J Pathol 172:1–7

Zhang Q, Raoof M, Chen Y, Sumi Y, Sursal T, Junger W, Brohi K, Itagaki K, Hauser CJ (2010) Circulating mitochondrial DAMPs cause inflammatory responses to injury. Nature 464:104–107

Zigmond SH (1978) Chemotaxis by polymorphonuclear leukocytes. J Cell Biol 77:269–287

Zimmerman GA, McIntyre TM, Prescott SM (1997) Adhesion and signaling in vascular cell-cell interactions. J Clin Invest 100:S3–S5
Acknowledgements
The work in the authors' laboratories are supported by the Snyder Mouse Phenomics Resources Laboratory funded by the Snyder Institute for Chronic Diseases at the University of Calgary, Cumming School of Medicine (BP) and grant SAF2014-57845R, from the Spanish Ministry of Economy and Competiveness and the European Regional Development Fund (MJS).
Ethics declarations
Conflict of interest
The authors declare that they have no financial or conflict of commercial interest.
About this article
Cite this article
Petri, B., Sanz, MJ. Neutrophil chemotaxis. Cell Tissue Res 371, 425–436 (2018). https://doi.org/10.1007/s00441-017-2776-8
Received:

Accepted:

Published:

Issue Date:
Keywords
Neutrophils

Chemotaxis

Migration

Signaling

Chemotactic gradient