Abstract
Neurite varicosities are highly specialized compartments that are involved in neurotransmitter/ neuromodulator release and provide a physiological platform for neural functions. However, it remains unclear how microtubule organization contributes to the form of varicosity. Here, we examine the three-dimensional structure of microtubules in varicosities of a differentiated PC12 neural cell line using ultra-high voltage electron microscope tomography. Three-dimensional imaging showed that a part of the varicosities contained an accumulation of organelles that were separated from parallel microtubule arrays. Further detailed analysis using serial sections and whole-mount tomography revealed microtubules running in a spindle shape of swelling in some other types of varicosities. These electron tomographic results showed that the structural diversity and heterogeneity of microtubule organization supported the form of varicosities, suggesting that a different distribution pattern of microtubules in varicosities is crucial to the regulation of varicosities development.
Access options
Buy single article
Instant access to the full article PDF.
USD 39.95
Price excludes VAT (USA)
Tax calculation will be finalised during checkout.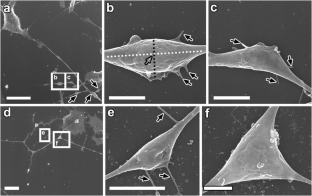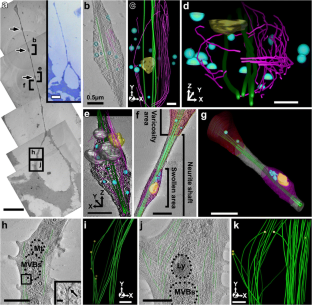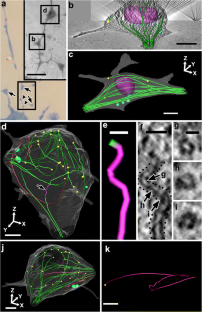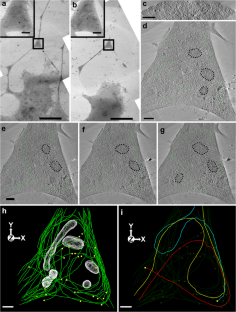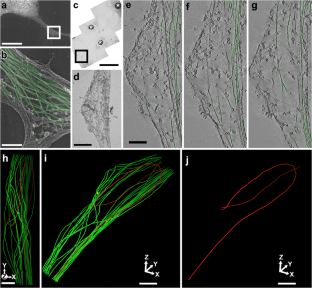 References
Aletta JM, Greene LA (1988) Growth cone configuration and advance: a time-lapse study using video-enhanced differential interference contrast microscopy. J Neurosci 8:1425–1435

Braunfeld MB, Koster AJ, Sedat JW, Agard DA (1994) Cryo automated electron tomography: towards high-resolution reconstructions of plastic-embedded structures. J Microsc 174:75–84

Brown CL, Maier KC, Stauber T, Ginkel LM, Wordeman L, Vernos I, Schroer TA (2005) Kinesin-2 is a motor for late endosomes and lysosomes. Traffic 6:1114–1124

Dent EW, Callaway JL, Szebenyi G, Baas PW, Kalil K (1999) Reorganization and movement of microtubules in axonal growth cones and developing interstitial branches. J Neurosci 19:8894–8908

Ferrari-Toninelli G, Bonini SA, Bettinsoli P, Uberti D, Memo M (2008) Microtubule stabilizing effect of notch activation in primary cortical neurons. Neuroscience 154:946–952

Ferrari-Toninelli G, Bonini SA, Uberti D, Napolitano F, Stante M, Santoro F, Minopoli G, Zambrano N, Russo T, Memo M (2009) Notch activation induces neurite remodeling and functional modifications in SH-SY5Y neuronal cells. Dev Neurobiol 69:378–339

Jacobs JR, Stevens JK (1986) Experimental modification of PC12 neurite shape with the microtubule-depolymerizing drug Nocodazole: a serial electron microscopic study of neurite shape control. J Cell Biol 103:907–915

Kolkova K, Novitskaya V, Pedersen N, Berezin V, Bock E (2000) Neural cell adhesion molecule-stimulated neurite outgrowth depends on activation of protein kinase C and the Ras-mitogen-activated protein kinase pathway. J Neurosci 20:2238–2246

Kremer JR, Mastronarde DN, McIntosh JR (1996) Computer visualization of three-dimensional image data using IMOD. J Struct Biol 116:71–76

Lee CW, Peng HB (2008) The function of mitochondria in presynaptic development at the neuromuscular junction. Mol Biol Cell 19:150–158

Luther PK, Lawrence MC, Crowther RA (1988) A method for monitoring the collapse of plastic sections as a function of electron dose. Ultramicroscopy 24:7–18

Makihara M, Watanabe T, Usukura E, Kaibuchi K, Narita A, Tanaka N, Usukura J (2016) A new approach for the direct visualization of the membrane cytoskeleton in cryo-electron microscopy: a comparative study with freeze-etching electron microscopy. Microscopy (Oxf) 65:488–498

Nechipurenko IV, Broihier HT (2012) FoxO limits microtubule stability and is itself negatively regulated by microtubule disruption. J Cell Biol 196:345–362

Nishida T, Yoshimura R, Endo Y (2013) Three-dimensional distribution of TrkA neurotrophin receptors in neurite varicosities of differentiated PC12 cells treated with NGF determined by immunoelectron tomography. Cell Tissue Res 351:1–13

Perlson E, Hendricks AG, Lazarus JE, Ben-Yaakov K, Gradus T, Tokito M, Holzbaur EL (2013) Dynein interacts with the neural cell adhesion molecule (NCAM180) to tether dynamic microtubules and maintain synaptic density in cortical neurons. J Biol Chem 288:27812–27824

Roos J, Hummel T, Ng N, Klämbt C, Davis GW (2000) Drosophila Futsch regulates synaptic microtubule organization and is necessary for synaptic growth. Neuron 26:371–382

Takei K, Chan TA, Wang FS, Deng H, Rutishauser U, Jay DG (1999) The neural cell adhesion molecules L1 and NCAM-180 act in different steps of neurite outgrowth. J Neurosci 19:9469–9479
Acknowledgment
This work was supported by the "Nanotechnology Platform" (project No. 12024046) of the Ministry of Education, Culture, Sports, Science and Technology (MEXT), Japan.
Electronic supplementary material
About this article
Cite this article
Nishida, T., Yoshimura, R. & Endo, Y. Three-dimensional fine structure of the organization of microtubules in neurite varicosities by ultra-high voltage electron microscope tomography. Cell Tissue Res 369, 467–476 (2017). https://doi.org/10.1007/s00441-017-2645-5
Received:

Accepted:

Published:

Issue Date:

DOI: https://doi.org/10.1007/s00441-017-2645-5
Keywords
Varicosity

Microtubule

Neurite

Electron tomography

Ultra-high voltage electron microscope