Abstract
The lipid transporter, ATP-binding cassette class A3 (ABCA3), is a highly conserved multi-membrane-spanning protein that plays a critical role in the regulation of pulmonary surfactant homeostasis. Mutations in ABCA3 have been increasingly recognized as one of the causes of inherited pulmonary diseases. These monogenic disorders produce familial lung abnormalities with pathological presentations ranging from neonatal surfactant-deficiency-induced respiratory failure to childhood or adult diffuse parenchymal lung diseases for which specific treatment modalities remain limited. More than 200 ABCA3 mutations have been reported to date with approximately three quarters of patients presenting as compound heterozygotes. Recent advances in our understanding of the molecular basis underlying normal ABCA3 biosynthesis and processing and of the mechanisms of alveolar epithelial cell dysregulation caused by the expression of its mutant forms are beginning to emerge. These insights and the role of environmental factors and modifier genes are discussed in the context of the considerable variability in disease presentation observed in patients with identical ABCA3 gene mutations. Moreover, the opportunities afforded by an enhanced understanding of ABCA3 biology for targeted therapeutic strategies are addressed.
This is a preview of subscription content, log in to check access.
Access options
Buy single article
Instant access to the full article PDF.
US$ 39.95
Price includes VAT for USA
Subscribe to journal
Immediate online access to all issues from 2019. Subscription will auto renew annually.
US$ 199
This is the net price. Taxes to be calculated in checkout.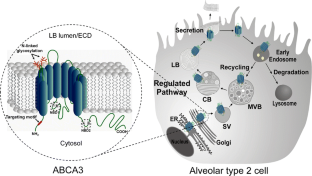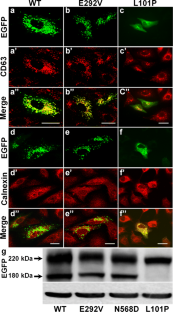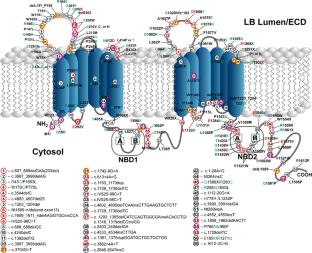 Abbreviations
AT2:

Alveolar type 2

LB:

Lamellar body

ABCA3:

ATP-binding cassette class A3

SP-C:

Surfactant Protein C

SFTP(A, B, C, or D):

Gene encoding surfactant protein A, B, C, or D

DPLD:

Diffuse parenchymal lung disease

IPF:

Idiopathic pulmonary fibrosis

NBD:

Nucleotide-binding domain
References
Adamson IY, Bowden DH (1975) Derivation of type 1 epithelium from type 2 cells in the developing rat lung. Lab Invest 32:736–745

Agrawal A, Hamvas A, Cole FS, Wambach JA, Wegner D, Coghill C, Harrison K, Nogee LM (2012) An intronic ABCA3 mutation that is responsible for respiratory disease. Pediatr Res 71:633–637

Albrecht C, Viturro E (2007) The ABCA subfamily—gene and protein structures, functions and associated hereditary diseases. Pflugers Arch 453:581–589

Anandarajan M, Paulraj S, Tubman R (2009) ABCA3 deficiency: an unusual cause of respiratory distress in the newborn. Ulster Med J 78:51–52

Baekvad-Hansen M, Dahl M, Tybjaerg-Hansen A, Nordestgaard BG (2010a) Surfactant protein-B 121ins2 heterozygosity, reduced pulmonary function, and chronic obstructive pulmonary disease in smokers. Am J Respir Crit Care Med 181:17–20

Baekvad-Hansen M, Nordestgaard BG, Tybjaerg-Hansen A, Dahl M (2010b) Two novel mutations in surfactant protein-C, lung function and obstructive lung disease. Respir Med 104:418–425

Bai C, Biwersi J, Verkman AS, Matthay MA (1998) A mouse model to test the in vivo efficacy of chemical chaperones. J Pharmacol Toxicol Methods 40:39–45

Ban N, Matsumura Y, Sakai H, Takanezawa Y, Sasaki M, Arai H, Inagaki N (2007) ABCA3 as a lipid transporter in pulmonary surfactant biogenesis. J Biol Chem 282:9628–9634

Barkauskas CE, Cronce MJ, Rackley CR, Bowie EJ, Keene DR, Stripp BR, Randell SH, Noble PW, Hogan BL (2013) Type 2 alveolar cells are stem cells in adult lung. J Clin Invest 123:3025–3036

Batenburg JJ (1992) Surfactant phospholipids: synthesis and storage. Am J Physiol 262:L367–L385

Batenburg JJ, Haagsman HP (1998) The lipids of pulmonary surfactant: dynamics and interactions with proteins. Prog Lipid Res 37:235–276

Bates SR, Fisher AB (1996) Surfactant protein A is degraded by alveolar macrophages. Am J Physiol 271:L258–L266

Baumgartner KB, Samet JM, Stidley CA, Colby TV, Waldron JA (1997) Cigarette smoking: a risk factor for idiopathic pulmonary fibrosis. Am J Respir Crit Care Med 155:242–248

Beers MF (1998) Molecular processing and cellular metabolism of surfactant protein C. In: Rooney SA (ed) Lung surfactant: cellular and molecular processing. Landes, Austin, pp 93–124

Beers MF, Mulugeta S (2005) Surfactant protein C biosynthesis and its emerging role in conformational lung disease. Annu Rev Physiol 67:663–696

Beers MF, Hawkins A, Shuman H, Zhao M, Newitt JL, Maguire JA, Ding W, Mulugeta S (2011) A novel conserved targeting motif found in ABCA transporters mediates trafficking to early post-Golgi compartments. J Lipid Res 52:1471–1482

Beers MF, Zhao M, Tomer Y, Russo SJ, Zhang P, Gonzales LW, Guttentag SH, Mulugeta S (2013) Disruption of N-linked glycosylation promotes proteasomal degradation of the human ATP-binding cassette transporter ABCA3. Am J Physiol Lung Cell Mol Physiol 305:L970–L980

Brasch F, Griese M, Tredano M, Johnen G, Ochs M, Rieger C, Mulugeta S, Muller KM, Bahuau M, Beers MF (2004) Interstitial lung disease in a baby with a de novo mutation in the SFTPC gene. Eur Respir J 24:30–39

Brasch F, Schimanski S, Muhlfeld C, Barlage S, Langmann T, Aslanidis C, Boettcher A, Dada A, Schroten H, Mildenberger E, Prueter E, Ballmann M, Ochs M, Johnen G, Griese M, Schmitz G (2006) Alteration of the pulmonary surfactant system in full-term infants with hereditary ABCA3 deficiency. Am J Respir Crit Care Med 174:571–580

Brown CR, Hong-Brown LQ, Biwersi J, Verkman AS, Welch WJ (1996) Chemical chaperones correct the mutant phenotype of the delta F508 cystic fibrosis transmembrane conductance regulator protein. Cell Stress Chaperones 1:117–125

Bruder E, Hofmeister J, Aslanidis C, Hammer J, Bubendorf L, Schmitz G, Rufle A, Buhrer C (2007) Ultrastructural and molecular analysis in fatal neonatal interstitial pneumonia caused by a novel ABCA3 mutation. Mod Pathol 20:1009–1018

Bullard JE, Nogee LM (2007) Heterozygosity for ABCA3 mutations modifies the severity of lung disease associated with a surfactant protein C gene (SFTPC) mutation. Pediatr Res 62:176–179

Bullard JE, Wert SE, Whitsett JA, Dean M, Nogee LM (2005) ABCA3 mutations associated with pediatric interstitial lung disease. Am J Respir Crit Care Med 172:1026–1031

Bullard JE, Wert SE, Nogee LM (2006) ABCA3 deficiency: neonatal respiratory failure and interstitial lung disease. Semin Perinatol 30:327–334

Bunn HF (1997) Pathogenesis and treatment of sickle cell disease. N Engl J Med 337:762–769

Burrows JA, Willis LK, Perlmutter DH (2000) Chemical chaperones mediate increased secretion of mutant alpha 1-antitrypsin (alpha 1-AT) Z: a potential pharmacological strategy for prevention of liver injury and emphysema in alpha 1-AT deficiency. Proc Natl Acad Sci U S A 97:1796–1801

Carlile GW, Robert R, Zhang D, Teske KA, Luo Y, Hanrahan JW, Thomas DY (2007) Correctors of protein trafficking defects identified by a novel high-throughput screening assay. Chembiochem 8:1012–1020

Chander A, Reicherter J, Fisher AB (1987) Degradation of dipalmitoyl phosphatidylcholine by isolated rat granular pneumocytes and reutilization for surfactant synthesis. J Clin Invest 79:1133–1138

Cheong N, Madesh M, Gonzales LW, Zhao M, Yu K, Ballard PL, Shuman H (2006) Functional and trafficking defects in ATP binding cassette A3 mutants associated with respiratory distress syndrome. J Biol Chem 281:9791–9800

Cheong N, Zhang H, Madesh M, Zhao M, Yu K, Dodia C, Fisher AB, Savani RC, Shuman H (2007) ABCA3 is critical for lamellar body biogenesis in vivo. J Biol Chem 282:23811–23817

Chui DH, Dover GJ (2001) Sickle cell disease: no longer a single gene disorder. Curr Opin Pediatr 13:22–27

Connors TD, Van Raay TJ, Petry LR, Klinger KW, Landes GM, Burn TC (1997) The cloning of a human ABC gene (ABC3) mapping to chromosome 16p13.3. Genomics 39:231–234

Crossno PF, Polosukhin VV, Blackwell TS, Johnson JE, Markin C, Moore PE, Worrell JA, Stahlman MT, Phillips JA, Loyd JE, Cogan JD, Lawson WE (2010) Identification of early interstitial lung disease in an individual with genetic variations in ABCA3 and SFTPC. Chest 137:969–973

Dean M, Hamon Y, Chimini G (2001) The human ATP-binding cassette (ABC) transporter superfamily. J Lipid Res 42:1007–1017

Dietrich WF, Lander ES, Smith JS, Moser AR, Gould KA, Luongo C, Borenstein N, Dove W (1993) Genetic identification of Mom-1, a major modifier locus affecting Min-induced intestinal neoplasia in the mouse. Cell 75:631–639

Dishop MK (2011) Paediatric interstitial lung disease: classification and definitions. Paediatr Respir Rev 12:230–237

Doan ML, Guillerman RP, Dishop MK, Nogee LM, Langston C, Mallory GB, Sockrider MM, Fan LL (2008) Clinical, radiological and pathological features of ABCA3 mutations in children. Thorax 63:366–373

Dong Q, Wright JR (1998) Degradation of surfactant protein D by alveolar macrophages. Am J Physiol 274:L97–L105

Egan JJ, Stewart JP, Hasleton PS, Arrand JR, Carroll KB, Woodcock AA (1995) Epstein-Barr virus replication within pulmonary epithelial cells in cryptogenic fibrosing alveolitis. Thorax 50:1234–1239

Engelbrecht S, Kaltenborn E, Griese M, Kern S (2010) The surfactant lipid transporter ABCA3 is N-terminally cleaved inside LAMP3-positive vesicles. FEBS Lett 584:4306–4312

Epaud R, Delestrain C, Louha M, Simon S, Fanen P, Tazi A (2014) Combined pulmonary fibrosis and emphysema syndrome associated with ABCA3 mutations. Eur Respir J 43:638–641

Fisher AB, Chander A (1985) Intracellular processing of surfactant lipids in the lung. Annu Rev Physiol 47:789–802

Fisher JH, Mason R (1995) Expression of pulmonary surfactant protein D in rat gastric mucosa. Am J Respir Cell Mol Biol 12:13–18

Fitzgerald ML, Xavier R, Haley KJ, Welti R, Goss JL, Brown CE, Zhuang DZ, Bell SA, Lu N, McKee M, Seed B, Freeman MW (2007) ABCA3 inactivation in mice causes respiratory failure, loss of pulmonary surfactant, and depletion of lung phosphatidylglycerol. J Lipid Res 48:621–632

Flamein F, Riffault L, Muselet-Charlier C, Pernelle J, Feldmann D, Jonard L, Durand-Schneider AM, Coulomb A, Maurice M, Nogee LM, Inagaki N, Amselem S, Dubus JC, Rigourd V, Bremont F, Marguet C, de Brouard BJ, Clement A, Epaud R, Guillot L (2012) Molecular and cellular characteristics of ABCA3 mutations associated with diffuse parenchymal lung diseases in children. Hum Mol Genet 21:765–775

Galietta LV, Jayaraman S, Verkman AS (2001) Cell-based assay for high-throughput quantitative screening of CFTR chloride transport agonists. Am J Physiol Cell Physiol 281:C1734–C1742

Garmany TH, Moxley MA, White FV, Dean M, Hull WM, Whitsett JA, Nogee LM, Hamvas A (2006) Surfactant composition and function in patients with ABCA3 mutations. Pediatr Res 59):801–805

Garmany TH, Wambach JA, Heins HB, Watkins-Torry JM, Wegner DJ, Bennet K, An P, Land G, Saugstad OD, Henderson H, Nogee LM, Cole FS, Hamvas A (2008) Population and disease-based prevalence of the common mutations associated with surfactant deficiency. Pediatr Res 63:645–649

Goncalves JP, Pinheiro L, Costa M, Silva A, Goncalves A, Pereira A (2014) Novel ABCA3 mutations as a cause of respiratory distress in a term newborn. Gene 534:417–420

Guttentag S (2008) Posttranslational regulation of surfactant protein B expression. Semin Perinatol 32:367–370

Guttentag SH, Akhtar A, Tao JQ, Atochina E, Rusiniak ME, Swank RT, Bates SR (2005) Defective surfactant secretion in a mouse model of Hermansky-Pudlak syndrome. Am J Respir Cell Mol Biol 33:14–21

Hallman M, Epstein BL, Gluck L (1981) Analysis of labeling and clearance of lung surfactant phospholipids in rabbit. Evidence of bidirectional surfactant flux between lamellar bodies and alveolar lavage. J Clin Invest 68:742–751

Hammel M, Michel G, Hoefer C, Klaften M, Muller-Hocker J, de Angelis MH, Holzinger A (2007) Targeted inactivation of the murine Abca3 gene leads to respiratory failure in newborns with defective lamellar bodies. Biochem Biophys Res Commun 359:947–951

Hawco MW, Coolbear KP, Davis PJ, Keough KM (1981) Exclusion of fluid lipid during compression of monolayers of mixtures of dipalmitoylphosphatidylcholine with some other phosphatidylcholines. Biochim Biophys Acta 646:185–187

Helenius A, Aebi M (2001) Intracellular functions of N-linked glycans. Science 291:2364–2369

Higgins CF, Hiles ID, Salmond GP, Gill DR, Downie JA, Evans IJ, Holland IB, Gray L, Buckel SD, Bell AW (1986) A family of related ATP-binding subunits coupled to many distinct biological processes in bacteria. Nature 323:448–450

Kaltenborn E, Kern S, Frixel S, Fragnet L, Conzelmann KK, Zarbock R, Griese M (2012) Respiratory syncytial virus potentiates ABCA3 mutation-induced loss of lung epithelial cell differentiation. Hum Mol Genet 21:2793–2806

Kaminski WE, Piehler A, Wenzel JJ (2006) ABC A-subfamily transporters: structure, function and disease. Biochim Biophys Acta 1762:510–524

Kelsell DP, Norgett EE, Unsworth H, Teh MT, Cullup T, Mein CA, Dopping-Hepenstal PJ, Dale BA, Tadini G, Fleckman P, Stephens KG, Sybert VP, Mallory SB, North BV, Witt DR, Sprecher E, Taylor AE, Ilchyshyn A, Kennedy CT, Goodyear H, Moss C, Paige D, Harper JI, Young BD, Leigh IM, Eady RA, O'Toole EA (2005) Mutations in ABCA12 underlie the severe congenital skin disease harlequin ichthyosis. Am J Hum Genet 76:794–803

Kitazawa H, Kure S (2015) Interstitial lung disease in childhood: clinical and genetic aspects. Clin Med Insights Circ Respir Pulm Med 9 (Suppl 1):57–68

Kitazawa H, Moriya K, Niizuma H, Kawano K, Saito-Nanjo Y, Uchiyama T, Rikiishi T, Sasahara Y, Sakamoto O, Setoguchi Y, Kure S (2013) Interstitial lung disease in two brothers with novel compound heterozygous ABCA3 mutations. Eur J Pediatr 172:953–957

Klugbauer N, Hofmann F (1996) Primary structure of a novel ABC transporter with a chromosomal localization on the band encoding the multidrug resistance-associated protein. FEBS Lett 391:61–65

Kos V, Ford RC (2009) The ATP-binding cassette family: a structural perspective. Cell Mol Life Sci 66:3111–3126

Kunig AM, Parker TA, Nogee LM, Abman SH, Kinsella JP (2007) ABCA3 deficiency presenting as persistent pulmonary hypertension of the newborn. J Pediatr 151:322–324

Lawson WE, Crossno PF, Polosukhin VV, Roldan J, Cheng DS, Lane KB, Blackwell TR, Xu C, Markin C, Ware LB, Miller GG, Loyd JE, Blackwell TS (2008) Endoplasmic reticulum stress in alveolar epithelial cells is prominent in IPF: association with altered surfactant protein processing and herpesvirus infection. Am J Physiol Lung Cell Mol Physiol 294:L1119–L1126

Linton KJ (2007) Structure and function of ABC transporters. Physiology (Bethesda) 22:122–130

Mack JT, Beljanski V, Tew KD, Townsend DM (2006) The ATP-binding cassette transporter ABCA2 as a mediator of intracellular trafficking. Biomed Pharmacother 60:587–592

Matsumura Y, Ban N, Ueda K, Inagaki N (2006) Characterization and classification of ATP-binding cassette transporter ABCA3 mutants in fatal surfactant deficiency. J Biol Chem 281:34503–34514

Matsumura Y, Sakai H, Sasaki M, Ban N, Inagaki N (2007) ABCA3-mediated choline-phospholipids uptake into intracellular vesicles in A549 cells. FEBS Lett 581:3139–3144

Matsumura Y, Ban N, Inagaki N (2008) Aberrant catalytic cycle and impaired lipid transport into intracellular vesicles in ABCA3 mutants associated with nonfatal pediatric interstitial lung disease. Am J Physiol Lung Cell Mol Physiol 295:L698–L707

Molinari M (2007) N-glycan structure dictates extension of protein folding or onset of disposal. Nat Chem Biol 3:313–320

Motwani M, White RA, Guo N, Dowler LL, Tauber AI, Sastry KN (1995) Mouse surfactant protein-D. cDNA cloning, characterization, and gene localization to chromosome 14. J Immunol 155:5671–5677

Mulugeta S, Gray JM, Notarfrancesco KL, Gonzales LW, Koval M, Feinstein SI, Ballard PL, Fisher AB, Shuman H (2002) Identification of LBM180, a lamellar body limiting membrane protein of alveolar type II cells, as the ABC transporter protein ABCA3. J Biol Chem 277:22147–22155

Mulugeta S, Nureki SI, Beers MF (2015) Lost after translation: insights from surfactant for understanding the role of alveolar epithelial dysfunction and cell quality control in fibrotic lung disease. Am J Physiol Lung Cell Mol Physiol 309:L507–L525

Nadeau JH (2001) Modifier genes in mice and humans. Nat Rev Genet 2:165–174

Naderi HM, Murray JC, Dagle JM (2014) Single mutations in ABCA3 increase the risk for neonatal respiratory distress syndrome in late preterm infants (gestational age 34–36 weeks). Am J Med Genet A 164A:2676–2678

Nagata K, Yamamoto A, Ban N, Tanaka AR, Matsuo M, Kioka N, Inagaki N, Ueda K (2004) Human ABCA3, a product of a responsible gene for abca3 for fatal surfactant deficiency in newborns, exhibits unique ATP hydrolysis activity and generates intracellular multilamellar vesicles. Biochem Biophys Res Commun 324:262–268

Osanai K, Mason RJ, Voelker DR (1998) Trafficking of newly synthesized surfactant protein A in isolated rat alveolar type II cells. Am J Respir Cell Mol Biol 19:929–935

Ota C, Kimura M, Kure S (2016) ABCA3 mutations led to pulmonary fibrosis and emphysema with pulmonary hypertension in an 8-year-old girl. Pediatr Pulmonol 51:E21–E23

Paananen R, Sormunen R, Glumoff V, van Eijk M, Hallman M (2001) Surfactant proteins A and D in Eustachian tube epithelium. Am J Physiol Lung Cell Mol Physiol 281:L660–L667

Parra E, Perez-Gil J (2015) Composition, structure and mechanical properties define performance of pulmonary surfactant membranes and films. Chem Phys Lipids 185:153–175

Peca D, Cutrera R, Masotti A, Boldrini R, Danhaive O (2015) ABCA3, a key player in neonatal respiratory transition and genetic disorders of the surfactant system. Biochem Soc Trans 43:913–919

Piehler AP, Wenzel JJ, Olstad OK, Haug KB, Kierulf P, Kaminski WE (2006) The human ortholog of the rodent testis-specific ABC transporter Abca17 is a ubiquitously expressed pseudogene (ABCA17P) and shares a common 5′ end with ABCA3. BMC Mol Biol 7:28

Rooney SA, Young SL, Mendelson CR (1994) Molecular and cellular processing of lung surfactant. FASEB J 8:957–967

Rubenstein RC, Zeitlin PL (2000) Sodium 4-phenylbutyrate downregulates Hsc70: implications for intracellular trafficking of DeltaF508-CFTR. Am J Physiol Cell Physiol 278:C259–C267

Ryan US, Ryan JW, Smith DS (1975) Alveolar type II cells: studies on the mode of release of lamellar bodies. Tissue Cell 7:587–599

Sato S, Ward CL, Krouse ME, Wine JJ, Kopito RR (1996) Glycerol reverses the misfolding phenotype of the most common cystic fibrosis mutation. J Biol Chem 271:635–638

Saugstad OD, Hansen TW, Ronnestad A, Nakstad B, Tollofsrud PA, Reinholt F, Hamvas A, Coles FS, Dean M, Wert SE, Whitsett JA, Nogee LM (2007) Novel mutations in the gene encoding ATP binding cassette protein member A3 (ABCA3) resulting in fatal neonatal lung disease. Acta Paediatr 96:185–190

Schaller-Bals S, Bates SR, Notarfrancesco K, Tao JQ, Fisher AB, Shuman H (2000) Surface-expressed lamellar body membrane is recycled to lamellar bodies. Am J Physiol Lung Cell Mol Physiol 279:L631–L640

Schurch SF, Roach MR (1976) Interference of bronchographic agents with lung surfactant. Respir Physiol 28:99–117

Schwartz DA, Van Fossen DS, Davis CS, Helmers RA, Dayton CS, Burmeister LF, Hunninghake GW (1994) Determinants of progression in idiopathic pulmonary fibrosis. Am J Respir Crit Care Med 149:444–449

Shulenin S, Nogee LM, Annilo T, Wert SE, Whitsett JA, Dean M (2004) ABCA3 gene mutations in newborns with fatal surfactant deficiency. N Engl J Med 350:1296–1303

Spencer H, Shorter RG (1962) Cell turnover in pulmonary tissues. Nature 194:880

Steele MP, Speer MC, Loyd JE, Brown KK, Herron A, Slifer SH, Burch LH, Wahidi MM, Phillips JA III, Sporn TA, McAdams HP, Schwarz MI, Schwartz DA (2005) Clinical and pathologic features of familial interstitial pneumonia. Am J Respir Crit Care Med 172:1146–1152

Steinberg MH (1999) Management of sickle cell disease. N Engl J Med 340:1021–1030

Stevens PA, Pettenazzo A, Brasch F, Mulugeta S, Baritussio A, Ochs M, Morrison L, Russo SJ, Beers MF (2005) Nonspecific interstitial pneumonia, alveolar proteinosis, and abnormal proprotein trafficking resulting from a spontaneous mutation in the surfactant protein C gene. Pediatr Res 57:89–98

Tang YW, Johnson JE, Browning PJ, Cruz-Gervis RA, Davis A, Graham BS, Brigham KL, Oates JA Jr, Loyd JE, Stecenko AA (2003) Herpesvirus DNA is consistently detected in lungs of patients with idiopathic pulmonary fibrosis. J Clin Microbiol 41:2633–2640

Tusnady GE, Sarkadi B, Simon I, Varadi A (2006) Membrane topology of human ABC proteins. FEBS Lett 580:1017–1022

Uhal BD, Nguyen H (2013) The Witschi hypothesis revisited after 35 years: genetic proof from SP-C BRICHOS domain mutations. Am J Physiol Lung Cell Mol Physiol 305:L906–L911

Wambach JA, Wegner DJ, Depass K, Heins H, Druley TE, Mitra RD, An P, Zhang Q, Nogee LM, Cole FS, Hamvas A (2012) Single ABCA3 mutations increase risk for neonatal respiratory distress syndrome. Pediatrics 130:e1575–e1582

Wambach JA, Casey AM, Fishman MP, Wegner DJ, Wert SE, Cole FS, Hamvas A, Nogee LM (2014) Genotype-phenotype correlations for infants and children with ABCA3 deficiency. Am J Respir Crit Care Med 189:1538–1543

Wang WJ, Mulugeta S, Russo SJ, Beers MF (2003) Deletion of exon 4 from human surfactant protein C results in aggresome formation and generation of a dominant negative. J Cell Sci 116:683–692

Weichert N, Kaltenborn E, Hector A, Woischnik M, Schams A, Holzinger A, Kern S, Griese M (2011) Some ABCA3 mutations elevate ER stress and initiate apoptosis of lung epithelial cells. Respir Res 12:4

Wert SE, Whitsett JA, Nogee LM (2009) Genetic disorders of surfactant dysfunction. Pediatr Dev Pathol 12:253–274

Whitsett JA, Wert SE, Weaver TE (2015) Diseases of pulmonary surfactant homeostasisDiseases of pulmonary surfactant homeostasis. Annu Rev Pathol 10:371–393

Wiley JC, Meabon JS, Frankowski H, Smith EA, Schecterson LC, Bothwell M, Ladiges WC (2010) Phenylbutyric acid rescues endoplasmic reticulum stress-induced suppression of APP proteolysis and prevents apoptosis in neuronal cells. PLoS One 5:e9135

Willander H, Askarieh G, Landreh M, Westermark P, Nordling K, Keranen H, Hermansson E, Hamvas A, Nogee LM, Bergman T, Saenz A, Casals C, Aqvistg J, Jornvall H, Berglund H, Presto J, Knight SD, Johansson J (2012) High-resolution structure of a BRICHOS domain and its implications for anti-amyloid chaperone activity on lung surfactant protein C. Proc Natl Acad Sci U S A 109:2325–2329

Wolf U (1997) Identical mutations and phenotypic variation. Hum Genet 100:305–321

Wright JR (1990) Clearance and recycling of pulmonary surfactant. Am J Physiol 259:L1–L12

Wright JR, Dobbs LG (1991) Regulation of pulmonary surfactant secretion and clearance. Annu Rev Physiol 53:395–414

Wright JR, Youmans DC (1995) Degradation of surfactant lipids and surfactant protein A by alveolar macrophages in vitro. Am J Physiol 268:L772–L780

Wustneck R, Perez-Gil J, Wustneck N, Cruz A, Fainerman VB, Pison U (2005) Interfacial properties of pulmonary surfactant layers. Adv Colloid Interface Sci 117:33–58

Yamano G, Funahashi H, Kawanami O, Zhao LX, Ban N, Uchida Y, Morohoshi T, Ogawa J, Shioda S, Inagaki N (2001) ABCA3 is a lamellar body membrane protein in human lung alveolar type II cells. FEBS Lett 508:221–225

Yonemaru M, Kasuga I, Kusumoto H, Kunisawa A, Kiyokawa H, Kuwabara S, Ichinose Y, Toyama K (1997) Elevation of antibodies to cytomegalovirus and other herpes viruses in pulmonary fibrosis. Eur Respir J 10:2040–2045

Young LR, Nogee LM, Barnett B, Panos RJ, Colby TV, Deutsch GH (2008) Usual interstitial pneumonia in an adolescent with ABCA3 mutations. Chest 134:192–195

Young SL, Fram EK, Larson E, Wright JR (1993) Recycling of surfactant lipid and apoprotein-A studied by electron microscopic autoradiography. Am J Physiol 265:L19–L26

Zarbock R, Kaltenborn E, Frixel S, Wittmann T, Liebisch G, Schmitz G, Griese M (2015) ABCA3 protects alveolar epithelial cells against free cholesterol induced cell death. Biochim Biophys Acta 1851:987–995

Zen K, Notarfrancesco K, Oorschot V, Slot JW, Fisher AB, Shuman H (1998) Generation and characterization of monoclonal antibodies to alveolar type II cell lamellar body membrane. Am J Physiol Lung Cell Mol Physiol 272:L172–L183
Acknowledgements
This work is supported by the National Institutes of Health (HL129150 to S. Mulugeta; HL119436 to M.F. Beers), the Department of Veterans Affairs (VA Merit Award BX001176-05A1 to M.F. Beers) and The National Institute of Environmental Health Sciences of the National Institutes of Health (P30ES013508). M.F. Beers is an Albert M. Rose Established Investigator of the Pulmonary Fibrosis Foundation.
Additional information
We have tried to cover as many of the published compound heterozygous mutations in the ABCA3 gene as possible and apologize for any additional reported mutations that we may have missed.
About this article
Cite this article
Beers, M.F., Mulugeta, S. The biology of the ABCA3 lipid transporter in lung health and disease. Cell Tissue Res 367, 481–493 (2017). https://doi.org/10.1007/s00441-016-2554-z
Received:

Accepted:

Published:

Issue Date:
Keywords
ABCA3

Pulmonary surfactant

Compound heterozygous mutations

Surfactant deficiency

Inhertited pulmonary disease