Abstract
The biologically active form of vitamin D, 1α,25-dihydroxyvitamin D3 (1,25D3), has been reported to positively regulate the human cathelicidin anti-microbial peptide (CAMP) gene coding for LL-37, but the mechanisms are not completely understood. We have determined the expression of CAMP, vitamin D receptor (VDR), and the retinoid X receptor (RXR) isoforms in human skin and gingival tissue biopsies and investigated the signaling pathways involved in 1,25D3-induced upregulation of CAMP. Human skin and gingival biopsies exhibited few VDR-immunoreactive cells within the stratum basale, whereas rat colon enterocytes (positive control) possessed abundant VDR immunoreactivity. Nuclear VDR immunoreactivity was demonstrated in human skin keratinocytes (HaCaT cells). Gene analysis revealed that human skin biopsies expressed higher levels of both CAMP and RXRα mRNA than human gingival biopsies, whereas VDR and RXRβ transcript levels were similar in skin and gingiva. In HaCaT cells, treatment with 1,25D3 (5 nM and 1 μM) for 4 and 24 h up-regulated CAMP mRNA several fold, and treatment with 1,25D3 for 24 h increased protein expression of the pro-form of LL-37 (hCAP-18) by about 13 times. The 1,25D3-evoked stimulation of HaCaT CAMP expression was associated with attenuated VDR mRNA and protein expression. Treatment with RXRα short interfering RNA reversed the 1,25D3-induced CAMP expression in HaCaT cells, showing that RXRα is involved in the up-regulation of CAMP by 1,25D3. We conclude that the 1,25D3-evoked stimulation of CAMP expression in human skin keratinocytes is dependent on RXRα but is not associated with the up-regulation of VDR expression.
This is a preview of subscription content, log in to check access.
Access options
Buy single article
Instant access to the full article PDF.
US$ 39.95
Tax calculation will be finalised during checkout.
Subscribe to journal
Immediate online access to all issues from 2019. Subscription will auto renew annually.
US$ 199
Tax calculation will be finalised during checkout.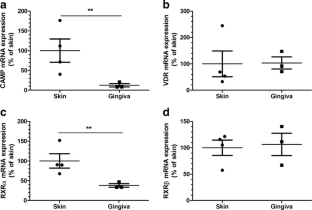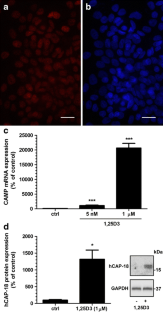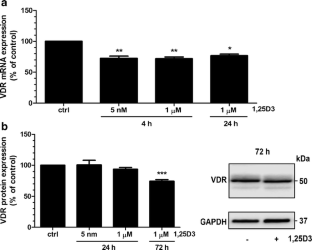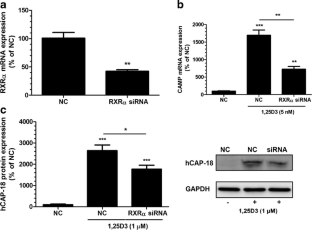 References
Bikle DD, Pillai S (1993) Vitamin D, calcium and epidermal differentiation. Endocr Rev 14:3–19

Boukamp P, Petrussevska RT, Breitkreutz D, Hornung J, Markham A, Fusenig NE (1988) Normal keratinization in a spontaneously immortalized aneuploid human keratinocyte cell line. J Cell Biol 106:761–771

Burton MF, Steel PG (2009) The chemistry and biology of LL-37. Nat Prod Rep 26:1572–1584

Carlberg C, Campbell MJ (2013) Vitamin D receptor signaling mechanisms: integrated actions of a well-defined transcription factor. Steroids 78:127–136

Carlberg C, Bendik I, Wyss A, Meier E, Sturzenbecker LJ, Grippo JF, Hunziker W (1993) Two nuclear signalling pathways for vitamin D. Nature 361:657–660

Chow EC, Maeng HJ, Khan AA, Groothuis GM, Pang KS (2009) 1Alpha,25-dihydroxyvitamin D(3) triggered vitamin D receptor and farnesoid X receptor-like effects in rat intestine and liver in vivo. Biopharm Drug Dispos 30:457–475

Colston KW, Mackay AG, Finlayson C, Wu JC, Maxwell JD (1994) Localisation of vitamin D receptor in normal human duodenum and in patients with coeliac disease. Gut 35:1219–1225

Consiglio M, Viano M, Casarin S, Castagnoli C, Pescarmona G, Silvagno F (2015) Mitochondrial and lipogenic effects of vitamin D on differentiating and proliferating human keratinocytes. Exp Dermatol 24:748–753

Haussler MR, Kerr Whitfield G, Kaneko I, Haussler CA, Hsieh D, Hsieh JC, Jurutka PW (2013) Molecular mechanisms of vitamin D action. Calcif Tissue Int 92:77–98

Healy KD, Frahm MA, DeLuca HF (2005) 1,25-Dihydroxyvitamin D3 up-regulates the renal vitamin D receptor through indirect gene activation and receptor stabilization. Arch Biochem Biophys 433:466–473

Holick MF (2007) Vitamin D deficiency. N Engl J Med 357:266–281

Jones G, Strugnell SA, DeLuca HF (1998) Current understanding of the molecular actions of vitamin D. Physiol Rev 78:1193–1231

Kongsbak M, Essen MR von, Boding L, Levring T, Schjerling P, Lauritsen JPH, Woetmann A, Odum N, Bonefeld CM, Geisler C (2014) Vitamin D up-regulates the vitamin D receptor by protecting it from proteasomal degradation in human CD4+ T cells. PLoS One 9:e96695

Kulkarni NN, Gunnarsson HI, Yi Z, Gudmundsdottir S, Sigurjonsson OE, Agerberth B, Gudmundsson GH (2016) Glucocorticoid dexamethasone down-regulates basal and vitamin D3 induced cathelicidin expression in human monocytes and bronchial epithelial cell line. Immunobiology 221:245–252

Larrick JW, Hirata M, Balint RF, Lee J, Zhong J, Wright SC (1995) Human CAP18: a novel antimicrobial lipopolysaccharide-binding protein. Infect Immun 63:1291–1297

Lee WJ, Cha HW, Sohn MY, Lee SJ, Kim DW (2012) Vitamin D increases expression of cathelicidin in cultured sebocytes. Arch Dermatol Res 304:627–632

Liu PT, Stenger S, Li H, Wenzel L, Tan BH, Krutzik SR, Ochoa MT, Schauber J, Wu K, Meinken C, Kamen DL, Wagner M, Bals R, Steinmeyer A, Zügel U, Gallo RL, Eisenberg D, Hewison M, Hollis BW, Adams JS, Bloom BR, Modlin RL (2006) Toll-like receptor triggering of a vitamin D-mediated human antimicrobial response. Science 311:1770–1773

Liu PT, Stenger S, Tang DH, Modlin RL (2007) Cutting edge: vitamin D-mediated human antimicrobial activity against Mycobacterium tuberculosis is dependent on the induction of cathelicidin. J Immunol 179:2060–2063

Nijnik A, Pistolic J, Filewod NCJ, Hancock REW (2012) Signaling pathways mediating chemokine induction in keratinocytes by cathelicidin LL-37 and flagellin. J Innate Immun 4:377–386

Ong PY, Ohtake T, Brandt C, Strickland I, Boguniewicz M, Ganz T, Gallo RL, Leung DY (2002) Endogenous antimicrobial peptides and skin infections in atopic dermatitis. N Engl J Med 347:1151–1160

Pan LC, Price PA (1987) Ligand-dependent regulation of the 1,25-dihydroxyvitamin D3 receptor in rat osteosarcoma cells. J Biol Chem 262:4670–4675

Pfaffl MW (2001) A new mathematical model for relative quantification in real-time RT-PCR. Nucleic Acids Res 29:e45

Säll J, Carlsson M, Gidlöf O, Holm A, Humlén J, Öhman J, Svensson D, Nilsson BO, Jönsson D (2013) The antimicrobial peptide LL-37 alters human osteoblast Ca2+ handling and induces Ca2+-independent apoptosis. J Innate Immun 5:290–300

Schauber J, Rieger D, Weiler F, Wehkamp J, Eck M, Fellermann K, Scheppach W, Gallo RL, Stange EF (2006) Heterogenous expression of human cathelicidin hCAP18/LL-37 in inflammatory bowel diseases. Eur J Gastroenterol Hepatol 18:615–621

Sorensen OE, Follin P, Johnsen AH, Calafat J, Tjabringa GS, Hiemstra PS, Borregaard N (2001) Human cathelicidin, hCAP-18, is processed to the antimicrobial peptide LL-37 by extracellular cleavage with proteinase 3. Blood 97:3951–3959

Svensson D, Gidlöf O, Turczyńska KM, Erlinge D, Albinsson S, Nilsson BO (2014) Inhibition of microRNA-125a promotes human endothelial cell proliferation and viability through an antiapoptotic mechanism. J Vasc Res 51:239–245

Svensson D, Nebel D, Nilsson BO (2016a) Vitamin D3 modulates the innate immune response through regulation of the hCAP-18/LL-37 gene expression and cytokine production. Inflamm Res 65:25–32

Svensson D, Wilk L, Mörgelin M, Herwald H, Nilsson BO (2016b) LL-37-induced host cell cytotoxicity depends on cellular expression of the globular C1q receptor (p33). Biochem J 473:87–98

Türkoğlu O, Emingil G, Kutukculer N, Atilla G (2009) Gingival crevicular fluid levels of cathelicidin LL-37 and interleukin-18 in patients with chronic periodontitis. J Periodontol 80:969–976

Wang Y, Becklund BR, DeLuca HF (2010) Identification of a highly specific and versatile vitamin D receptor antibody. Arch Biochem Biophys 494:166–177

White JH (2010) Vitamin D as an inducer of cathelicidin antimicrobial peptide expression: past, present and future. J Steroid Biochem Mol Biol 121:234–238

Wiese RJ, Uhland-Smith A, Ross TK, Prahl JM, DeLuca HF (1992) Up-regulation of the vitamin D receptor in response to 1,25-dihydroxyvitamin D3 results from ligand-induced stabilization. J Biol Chem 267:20082–20086

Wu S, Zhang YG, Lu R, Xia Y, Zhou D, Petrof EO, Claud EC, Chen D, Chang EB, Carmeliet G, Sun J (2015) Intestinal epithelial vitamin D receptor deletion leads to defective autophagy in colitis. Gut 64:1082–1094

Yamasaki K, Schauber J, Coda A, Lin H, Dorschner RA, Schechter NM, Bonnart C, Descargues P, Hovnanian A, Gallo RL (2006) Kallikrein-mediated proteolysis regulates the antimicrobial effects of cathelicidins in skin. FASEB J 20:2068–2080

Yamasaki K, Di Nardo A, Bardan A, Murakami M, Ohtake T, Coda A, Dorschner RA, Bonnart C, Descargues P, Hovnanian A, Morhenn VB, Gallo RL (2007) Increased serine protease activity and cathelicidin promotes skin inflammation in rosacea. Nat Med 13:975–980

Zanetti M (2005) The role of cathelicidins in the innate host defenses of mammals. Curr Issues Mol Biol 7:179–196

Zhang YG, Wu S, Sun J (2013) Vitamin D, vitamin D receptor, and tissue barriers. Tissue Barriers 1:e23118
Acknowledgments
The authors thank Anna Themner-Persson and Ina Nordström for excellent technical assistance.
Additional information
This study was supported by grants from the Crafoord Foundation, the Greta and Johan Kock Foundation, the Alfred Österlund Foundation, the Påhlsson Foundation, the Royal Physiographic Society, the Swedish Dental Society, and the Southern Region within the Swedish Dental Association.
About this article
Cite this article
Svensson, D., Nebel, D., Voss, U. et al. Vitamin D-induced up-regulation of human keratinocyte cathelicidin anti-microbial peptide expression involves retinoid X receptor α. Cell Tissue Res 366, 353–362 (2016). https://doi.org/10.1007/s00441-016-2449-z
Received:

Accepted:

Published:

Issue Date:
Keywords
Cathelicidin

Keratinocyte

Retinoid X receptor

Vitamin D

Vitamin D receptor