Integrin-mediated regulation of epidermal wound functions
Abstract
During cutaneous wound healing, keratinocyte proliferation and migration are critical for re-epithelialization. In addition the epidermis secretes growth factors, cytokines, proteases, and matricellular proteins into the wound microenvironment that modify the extracellular matrix and stimulate other wound cells that control the inflammatory response, promote angiogenesis and facilitate tissue contraction and remodeling. Wound keratinocytes express at least seven different integrins—the major cell adhesion receptors for the extracellular matrix—that collectively control essential cell-autonomous functions to ensure proper re-epithelialization, including migration, proliferation, survival and basement membrane assembly. Moreover, it has become evident in recent years that some integrins can regulate paracrine signals from wound epidermis that stimulate other wound cells involved in angiogenesis, contraction and inflammation. Importantly, it is likely that abnormal integrin expression or function in the epidermis contributes to wound pathologies such as over-exuberant healing (e.g., hypertrophic scar formation) or diminished healing (e.g., chronic wounds). In this review, we discuss current knowledge of integrin function in the epidermis, which implicates them as attractive therapeutic targets to promote wound healing or treat wound pathologies. We also discuss challenges that arise from the complex roles that multiple integrins play in wound epidermis, which may be regulated through extracellular matrix remodeling that determines ligand availability. Indeed, understanding how different integrin functions are temporally coordinated in wound epidermis and which integrin functions go awry in pathological wounds, will be important to determine how best to target them clinically to achieve maximum therapeutic benefit.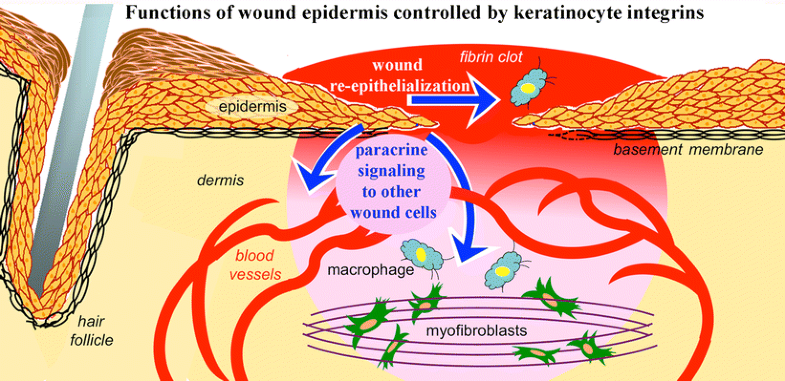 Keywords
Integrin 
Wound healing 
Epidermis 
Keratinocyte 
Extracellular matrix 
Notes
Acknowledgments
The authors are grateful to members of the DiPersio and Van De Water laboratories, as well as to other colleagues at Albany Medical College, for valuable discussions and insights. Research was supported by NIH grants from NIAMS to L. Van De Water and C.M. DiPersio (R01AR063778) and from NCI to C.M. DiPersio (R01CA129637). We offer our apologies to the many researchers whose valuable contributions to the field could not be cited due to space constraints.
Compliance with ethical standards
Conflict of interest
The authors declare that they have no conflict of interest.
Copyright information
© Springer-Verlag Berlin Heidelberg 2016