Abstract
Cell-based transplantation strategies hold great potential for spinal cord injury (SCI) repair. Chitosan scaffolds have therapeutic benefits for spinal cord regeneration. Human dental pulp stem cells (DPSCs) are abundant available stem cells with low immunological incompatibility and can be considered for cell replacement therapy. The purpose of this study is to investigate the role of chitosan scaffolds in the neural differentiation of DPSCs in vitro and to assess the supportive effects of chitosan scaffolds in an animal model of SCI. DPSCs were incubated with chitosan scaffolds. Cell viability and the secretion of neurotrophic factors were analyzed. DPSCs incubated with chitosan scaffolds were treated with neural differentiation medium for 14 days and then neural genes and protein markers were analyzed by Western blot and reverse transcription plus the polymerase chain reaction. Our study revealed a higher cell viability and neural differentiation in the DPSC/chitosan-scaffold group. Compared with the control group, the levels of BDNF, GDNF, b-NGF, and NT-3 were significantly increased in the DPSC/chitosan-scaffold group. The Wnt/β-catenin signaling pathway played a key role in the neural differentiation of DPSCs combined with chitosan scaffolds. Transplantation of DPSCs together with chitosan scaffolds into an SCI rat model resulted in the marked recovery of hind limb locomotor functions. Thus, chitosan scaffolds were non-cytotoxic and provided a conducive and favorable microenvironment for the survival and neural differentiation of DPSCs. Transplantation of DPSCs might therefore be a suitable candidate for treating SCI and other neuronal degenerative diseases.
This is a preview of subscription content, log in to check access.
Access options
Buy single article
Instant access to the full article PDF.
US$ 39.95
Price includes VAT for USA
Subscribe to journal
Immediate online access to all issues from 2019. Subscription will auto renew annually.
US$ 199
This is the net price. Taxes to be calculated in checkout.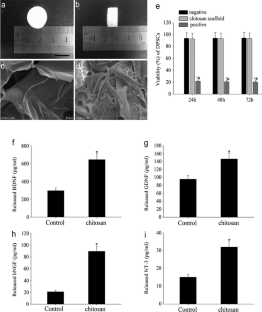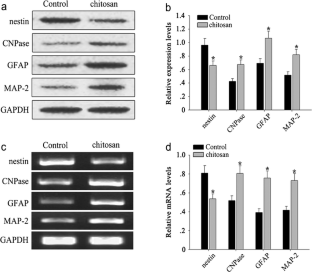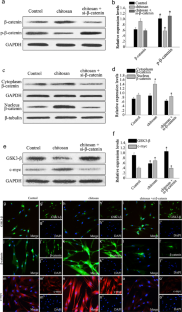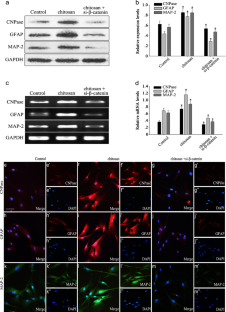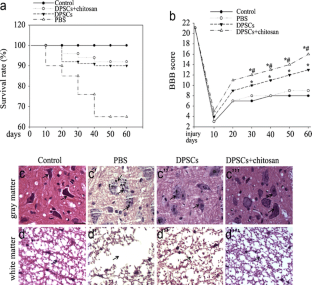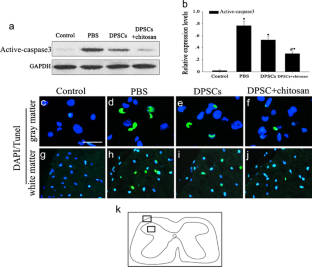 References
Arthur A, Rychkov G, Shi S, Koblar SA, Gronthos S (2008) Adult human dental pulp stem cells differentiate toward functionally active neurons under appropriate environmental cues. Stem Cells 26:1787–1795

Basso DM, Beattie MS, Bresnahan JC (1995) A sensitive and reliable locomotor rating scale for open field testing in rats. J Neurotrauma 12:1–21

Bozkurt G, Mothe AJ, Zahir T, Kim H, Shoichet MS, Tator CH (2010) Chitosan channels containing spinal cord-derived stem/progenitor cells for repair of subacute spinal cord injury in the rat. Neurosurgery 67:1733–1744

Bray AF, Cevallos RR, Gazarian K, Lamas M (2014) Human dental pulp stem cells respond to cues from the rat retina and differentiate to express the retinal neuronal marker rhodopsin. Neuroscience 280:142–155

Ceruti S, Villa G, Genovese T, Mazzon E, Longhi R, Rosa P, Bramanti P, Cuzzocrea S, Abbracchio MP (2009) The P2Y-like receptor GPR17 as a sensor of damage and a new potential target in spinal cord injury. Brain 132:2206–2218

Cho SR, Kim YR, Kang HS, Yim SH, Park CI, Min YH, Lee BH, Shin JC, Lim JB (2009) Functional recovery after the transplantation of neurally differentiated mesenchymal stem cells derived from bone barrow in a rat model of spinal cord injury. Cell Transplant 18:1359–1368

Clevers H (2006) Wnt/beta-catenin signaling in development and disease. Cell 127:469–480

d'Aquino R, De Rosa A, Laino G, Caruso F, Guida L, Rullo R, Checchi V, Laino L, Tirino V, Papaccio G (2009) Human dental pulp stem cells: from biology to clinical applications. J Exp Zool B Mol Dev Evol 312B:408–415

Espada J, Calvo MB, Diaz-Prado S, Medina V (2009) Wnt signalling and cancer stem cells. Clin Transl Oncol 11:411–427

Feng X, Xing J, Feng G, Sang A, Shen B, Xu Y, Jiang J, Liu S, Tan W, Gu Z, Li L (2013) Age-dependent impaired neurogenic differentiation capacity of dental stem cell is associated with Wnt/beta-catenin signaling. Cell Mol Neurobiol 33:1023–1031

Feng X, Feng G, Xing J, Shen B, Tan W, Huang D, Lu X, Tao T, Zhang J, Li L, Gu Z (2014a) Repeated lipopolysaccharide stimulation promotes cellular senescence in human dental pulp stem cells (DPSCs). Cell Tissue Res 356:369–380

Feng X, Lu X, Huang D, Xing J, Feng G, Jin G, Yi X, Li L, Lu Y, Nie D, Chen X, Zhang L, Gu Z, Zhang X (2014b) 3D porous chitosan scaffolds suit survival and neural differentiation of dental pulp stem cells. Cell Mol Neurobiol 34:859–870

Gaspar VM, Sousa F, Queiroz JA, Correia IJ (2011) Formulation of chitosan-TPP-pDNA nanocapsules for gene therapy applications. Nanotechnology 22:015101

Giuliani A, Manescu A, Langer M, Rustichelli F, Desiderio V, Paino F, De Rosa A, Laino L, d'Aquino R, Tirino V, Papaccio G (2013) Three years after transplants in human mandibles, histological and in-line holotomography revealed that stem cells regenerated a compact rather than a spongy bone: biological and clinical implications. Stem Cells Transl Med 2:316–324

Gronthos S, Mankani M, Brahim J, Robey PG, Shi S (2000) Postnatal human dental pulp stem cells (DPSCs) in vitro and in vivo. Proc Natl Acad Sci U S A 97:13625–13630

Huang GT, Gronthos S, Shi S (2009) Mesenchymal stem cells derived from dental tissues vs. those from other sources: their biology and role in regenerative medicine. J Dent Res 88:792–806

Kas HS (1997) Chitosan: properties, preparations and application to microparticulate systems. J Microencapsul 14:689–711

Khor E, Lim LY (2003) Implantable applications of chitin and chitosan. Biomaterials 24:2339–2349

Kim H, Zahir T, Tator CH, Shoichet MS (2011) Effects of dibutyryl cyclic-AMP on survival and neuronal differentiation of neural stem/progenitor cells transplanted into spinal cord injured rats. PLoS One 6:e21744

Kim NR, Lee DH, Chung PH, Yang HC (2009) Distinct differentiation properties of human dental pulp cells on collagen, gelatin, and chitosan scaffolds. Oral Surg Oral Med Oral Pathol Oral Radiol Endod 108:e94–e100

Koda M, Hashimoto M, Murakami M, Yoshinaga K, Ikeda O, Yamazaki M, Koshizuka S, Kamada T, Moriya H, Shirasawa H, Sakao S, Ino H (2004) Adenovirus vector-mediated in vivo gene transfer of brain-derived neurotrophic factor (BDNF) promotes rubrospinal axonal regeneration and functional recovery after complete transection of the adult rat spinal cord. J Neurotrauma 21:329–337

Laino G, d'Aquino R, Graziano A, Lanza V, Carinci F, Naro F, Pirozzi G, Papaccio G (2005) A new population of human adult dental pulp stem cells: a useful source of living autologous fibrous bone tissue (LAB). J Bone Min Res 20:1394–1402

Lillesaar C, Arenas E, Hildebrand C, Fried K (2003) Responses of rat trigeminal neurones to dental pulp cells or fibroblasts overexpressing neurotrophic factors in vitro. Neuroscience 119:443–451

Lu P, Jones LL, Snyder EY, Tuszynski MH (2003) Neural stem cells constitutively secrete neurotrophic factors and promote extensive host axonal growth after spinal cord injury. Exp Neurol 181:115–129

Miura M, Gronthos S, Zhao M, Lu B, Fisher LW, Robey PG, Shi S (2003) SHED: stem cells from human exfoliated deciduous teeth. Proc Natl Acad Sci U S A 100:5807–5812

Nosrat IV, Smith CA, Mullally P, Olson L, Nosrat CA (2004) Dental pulp cells provide neurotrophic support for dopaminergic neurons and differentiate into neurons in vitro; implications for tissue engineering and repair in the nervous system. Eur J Neurosci 19:2388–2398

Pierdomenico L, Bonsi L, Calvitti M, Rondelli D, Arpinati M, Chirumbolo G, Becchetti E, Marchionni C, Alviano F, Fossati V, Staffolani N, Franchina M, Grossi A, Bagnara GP (2005) Multipotent mesenchymal stem cells with immunosuppressive activity can be easily isolated from dental pulp. Transplantation 80:836–842

Sakai K, Yamamoto A, Matsubara K, Nakamura S, Naruse M, Yamagata M, Sakamoto K, Tauchi R, Wakao N, Imagama S, Hibi H, Kadomatsu K, Ishiguro N, Ueda M (2012) Human dental pulp-derived stem cells promote locomotor recovery after complete transection of the rat spinal cord by multiple neuro-regenerative mechanisms. J Clin Invest 122:80–90

Sharp J, Keirstead HS (2007) Therapeutic applications of oligodendrocyte precursors derived from human embryonic stem cells. Curr Opin Biotechnol 18:434–440

Shi W, Nie D, Jin G, Chen W, Xia L, Wu X, Su X, Xu X, Ni L, Zhang X, Zhang X, Chen J (2012) BDNF blended chitosan scaffolds for human umbilical cord MSC transplants in traumatic brain injury therapy. Biomaterials 33:3119–3126

Su WT, Shih YA, Ko CS (2013) Effect of chitosan conduit under a dynamic culture on the proliferation and neural differentiation of human exfoliated deciduous teeth stem cells. J Tissue Eng Regen Med (in press)

Sun G, Zhang XZ, Chu CC (2007) Formulation and characterization of chitosan-based hydrogel films having both temperature and pH sensitivity. J Mater Sci Mater Med 18:1563–1577

Wagers AJ, Sherwood RI, Christensen JL, Weissman IL (2002) Little evidence for developmental plasticity of adult hematopoietic stem cells. Science 297:2256–2259

Wei X, Zhang C, Gu Q (2010) Properties, products, and applications of chitosan. Chin J Reparative Reconstr Surg 24:1265–1270

Xu Y, Gu Z, Shen B, Xu G, Zhou T, Jiang J, Xing J, Liu S, Li M, Tan W, Feng G, Sang A, Li L (2013) Roles of Wnt/beta-catenin signaling in retinal neuron-like differentiation of bone marrow mesenchymal stem cells from nonobese diabetic mice. J Mol Neurosci 49:250–261

Yang Q, Du X, Fang Z, Xiong W, Li G, Liao H, Xiao J, Wang G, Li F (2014) Effect of calcitonin gene-related peptide on the neurogenesis of rat adipose-derived stem cells in vitro. PLoS One 9: e86334

Zhang J, Li D, Shen A, Mao H, Jin H, Huang W, Xu D, Fan J, Chen J, Yang L, Cui Z (2013) Expression of RBMX after spinal cord injury in rats. J Mol Neurosci 49:417–429

Zhang X, Yang D, Nie J (2008) Chitosan/polyethylene glycol diacrylate films as potential wound dressing material. Int J Biol Macromol 43:456–462
Additional information
Jinlong Zhang, Xiaohui Lu, and Guijuan Feng contributed equally to this work.
This work was supported by Natural Science Foundation of China Grant (nos. 81500809, 81501076), Jiangsu Natural Science Foundation (BK2011385), "Top Six Types of Talents" Financial Assistance of Jiangsu Province Grant (no. 2013-WSN-076), Graduate Student Innovation of Science and Technology Projects in Jiangsu Province and in Nantong University (nos.SJLX-0588, SJLX-0588) and Nantong Natural Science Foundation (no. BK2014038).
About this article
Cite this article
Zhang, J., Lu, X., Feng, G. et al. Chitosan scaffolds induce human dental pulp stem cells to neural differentiation: potential roles for spinal cord injury therapy. Cell Tissue Res 366, 129–142 (2016). https://doi.org/10.1007/s00441-016-2402-1
Received:

Accepted:

Published:

Issue Date:
Keywords
Dental pulp stem cells (DPSCs)

Neural differentiation

Wnt/β-catenin

Chitosan scaffolds

Spinal cord injury (SCI)