Abstract
The endogenous cannabinoid system has been characterized in some female reproductive organs but little is known about the expression and localization pattern of cannabinoid-degrading enzymes in relation to the CB1 cannabinoid receptor in human oocytes. In this study, we focus on the investigation of the presence and differential distribution of fatty acid amide hydrolase (FAAH) and monoglyceride lipase (MGLL) in relation to CB1 during the maturation of human oocytes. We used a total of 290 human oocytes not suitable for in vitro fertilization/intracytoplasmic sperm injection (ICSI): germinal-vesicle (GV) and metaphase-I (MI) stages and metaphase-II (MII) oocytes that had not developed into an embryo after ICSI. Cannabinoid-degrading enzymes and the cannabinoid CB1 receptor were present in human oocytes. Specifically, FAAH was detected in the periphery of the oocyte from the GV to MI stage and co-localized with CB1. Later, by the MII stage, FAAH was spread within the oocyte, whereas MGLL immunostaining was homogeneous across the oocyte at all stages of maturation and only overlapped with CB1 at the GV stage. This coordinated redistribution of cannabinoid system proteins suggests a role for this system in the maturation of the female gamete.
Access options
Buy single article
Instant access to the full article PDF.
USD 39.95
Price excludes VAT (USA)
Tax calculation will be finalised during checkout.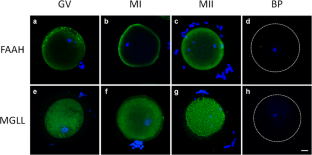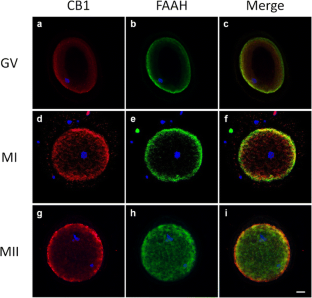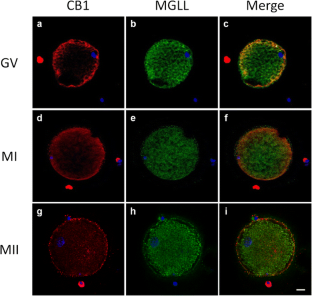 References
Agirregoitia E, Carracedo A, Subiran N, Valdivia A, Agirregoitia N, Peralta L, Velasco G, Irazusta J (2010) The CB(2) cannabinoid receptor regulates human sperm cell motility. Fertil Steril 93:1378–1387

Agirregoitia E, Peralta L, Mendoza R, Exposito A, Ereno ED, Matorras R, Agirregoitia N (2012) Expression and localization of opioid receptors during the maturation of human oocytes. Reprod Biomed Online 24:550–557

Agirregoitia E, Ibarra-Lecue I, Totorikaguena L, Mendoza R, Expósito A, Matorras R, Urigüen L, Agirregoitia N (2015) Dynamics of expression and localization of the cannabinoid system in granulosa cells during oocyte nuclear maturation. Fertil Steril 104:753–760

Bagavandoss P, Grimshaw S (2010) Temporal and spatial distribution of the cannabinoid receptors (CB1, CB2) and fatty acid amide hydroxylase in the rat ovary. Anat Rec (Hoboken) 293:1425–1432

Bouskila J, Burke MW, Zabouri N, Casanova C, Ptito M, Bouchard JF (2012) Expression and localization of the cannabinoid receptor type 1 and the enzyme fatty acid amide hydrolase in the retina of vervet monkeys. Neuroscience 202:117–130

Cahill CM, Holdridge SV, Morinville A (2007) Trafficking of delta-opioid receptors and other G-protein-coupled receptors: implications for pain and analgesia. Trends Pharmacol Sci 28:23–31

Das SK, Paria BC, Chakraborty I, Dey SK (1995) Cannabinoid ligand-receptor signaling in the mouse uterus. Proc Natl Acad Sci U S A 92:4332–4336

de Miguel R, Romero J, Munoz RM, Garcia-Gil L, Gonzalez S, Villanua MA, Makriyannis A, Ramos JA, Fernandez-Ruiz JJ (1998) Effects of cannabinoids on prolactin and gonadotrophin secretion: involvement of changes in hypothalamic gamma-aminobutyric acid (GABA) inputs. Biochem Pharmacol 56:1331–1338

Dennedy MC, Friel AM, Houlihan DD, Broderick VM, Smith T, Morrison JJ (2004) Cannabinoids and the human uterus during pregnancy. Am J Obstet Gynecol 190:2–9

Deutsch DG, Ueda N, Yamamoto S (2002) The fatty acid amide hydrolase (FAAH). Prostaglandins Leukot Essent Fatty Acids 66:201–210

Dinh TP, Freund TF, Piomelli D (2002) A role for monoglyceride lipase in 2-arachidonoylglycerol inactivation. Chem Phys Lipids 121:149–158

El-Talatini MR, Taylor AH, Elson JC, Brown L, Davidson AC, Konje JC (2009) Localisation and function of the endocannabinoid system in the human ovary. PLoS One 4:e4579

Gebeh AK, Willets JM, Marczylo EL, Taylor AH, Konje JC (2012) Ectopic pregnancy is associated with high anandamide levels and aberrant expression of FAAH and CB1 in fallopian tubes. J Clin Endocrinol Metab 97:2827–2835

Gosden R, Lee B (2010) Portrait of an oocyte: our obscure origin. J Clin Invest 120:973–983

Grimaldi P, Orlando P, Di Siena S, Lolicato F, Petrosino S, Bisogno T, Geremia R, De Petrocellis L, Di Marzo V (2009) The endocannabinoid system and pivotal role of the CB2 receptor in mouse spermatogenesis. Proc Natl Acad Sci U S A 106:11131–11136

Gulyas AI, Cravatt BF, Bracey MH, Dinh TP, Piomelli D, Boscia F, Freund TF (2004) Segregation of two endocannabinoid-hydrolyzing enzymes into pre- and postsynaptic compartments in the rat hippocampus, cerebellum and amygdala. Eur J Neurosci 20:441–458

Habayeb OM, Taylor AH, Bell SC, Taylor DJ, Konje JC (2008) Expression of the endocannabinoid system in human first trimester placenta and its role in trophoblast proliferation. Endocrinology 149:5052–5060

Helliwell RJ, Chamley LW, Blake-Palmer K, Mitchell MD, Wu J, Kearn CS, Glass M (2004) Characterization of the endocannabinoid system in early human pregnancy. J Clin Endocrinol Metab 89:5168–5174

Hunt PA, Hassold TJ (2008) Human female meiosis: what makes a good egg go bad? Trends Genet 24:86–93

Ji YZ, Bomsel M, Jouannet P, Wolf JP (1997) Modifications of the human oocyte plasma membrane protein pattern during preovulatory maturation. Mol Reprod Dev 47:120–126

Kume S, Yamamoto A, Inoue T, Muto A, Okano H, Mikoshiba K (1997) Developmental expression of the inositol 1,4,5-trisphosphate receptor and structural changes in the endoplasmic reticulum during oogenesis and meiotic maturation of Xenopus laevis. Dev Biol 182:228–239

Ludanyi A, Eross L, Czirjak S, Vajda J, Halasz P, Watanabe M, Palkovits M, Magloczky Z, Freund TF, Katona I (2008) Downregulation of the CB1 cannabinoid receptor and related molecular elements of the endocannabinoid system in epileptic human hippocampus. J Neurosci 28:2976–2990

Matorras R, Prieto B, Exposito A, Mendoza R, Crisol L, Herranz P, Burgues S (2009) Mid-follicular LH supplementation in women aged 35–39 years undergoing ICSI cycles: a randomized controlled study. Reprod Biomed Online 19:879–887

McKinney MK, Cravatt BF (2005) Structure and function of fatty acid amide hydrolase. Annu Rev Biochem 74:411–432

Paria BC, Zhao X, Wang J, Das SK, Dey SK (1999) Fatty-acid amide hydrolase is expressed in the mouse uterus and embryo during the periimplantation period. Biol Reprod 60:1151–1157

Paria BC, Song H, Wang X, Schmid PC, Krebsbach RJ, Schmid HH, Bonner TI, Zimmer A, Dey SK (2001) Dysregulated cannabinoid signaling disrupts uterine receptivity for embryo implantation. J Biol Chem 276:20523–20528

Park B, Gibbons HM, Mitchell MD, Glass M (2003) Identification of the CB1 cannabinoid receptor and fatty acid amide hydrolase (FAAH) in the human placenta. Placenta 24:990–995

Peralta L, Agirregoitia E, Mendoza R, Exposito A, Casis L, Matorras R, Agirregoitia N (2011) Expression and localization of cannabinoid receptors in human immature oocytes and unfertilized metaphase-II oocytes. Reprod Biomed Online 23:372–379

Picton H, Briggs D, Gosden R (1998) The molecular basis of oocyte growth and development. Mol Cell Endocrinol 145:27–37

Schindler K (2011) Protein kinases and protein phosphatases that regulate meiotic maturation in mouse oocytes. Results Probl Cell Differ 53:309–341

Schuel H, Burkman LJ, Lippes J, Crickard K, Forester E, Piomelli D, Giuffrida A (2002) N-Acylethanolamines in human reproductive fluids. Chem Phys Lipids 121:211–227

Stitzel ML, Seydoux G (2007) Regulation of the oocyte-to-zygote transition. Science 316:407–408

Storr M, Emmerdinger D, Diegelmann J, Yuce B, Pfennig S, Ochsenkuhn T, Goke B, Lohse P, Brand S (2009) The role of fatty acid hydrolase gene variants in inflammatory bowel disease. Aliment Pharmacol Ther 29:542–551

Sun X, Dey SK (2012) Endocannabinoid signaling in female reproduction. ACS Chem Neurosci 3:349–355

Taylor AH, Ang C, Bell SC, Konje JC (2007) The role of the endocannabinoid system in gametogenesis, implantation and early pregnancy. Hum Reprod Update 13:501–513

Wang H, Matsumoto H, Guo Y, Paria BC, Roberts RL, Dey SK (2003) Differential G protein-coupled cannabinoid receptor signaling by anandamide directs blastocyst activation for implantation. Proc Natl Acad Sci U S A 100:14914–14919

Wang H, Guo Y, Wang D, Kingsley PJ, Marnett LJ, Das SK, DuBois RN, Dey SK (2004) Aberrant cannabinoid signaling impairs oviductal transport of embryos. Nat Med 10:1074–1080

Wang H, Dey SK, Maccarrone M (2006a) Jekyll and Hyde: two faces of cannabinoid signaling in male and female fertility. Endocr Rev 27:427–448

Wang H, Xie H, Dey SK (2006b) Endocannabinoid signaling directs periimplantation events. AAPS J 8:E425–E432

Wang H, Xie H, Sun X, Kingsley PJ, Marnett LJ, Cravatt BF, Dey SK (2007) Differential regulation of endocannabinoid synthesis and degradation in the uterus during embryo implantation. Prostaglandins Other Lipid Mediat 83:62–74

Wenger T, Toth BE, Juaneda C, Leonardelli J, Tramu G (1999) The effects of cannabinoids on the regulation of reproduction. Life Sci 65:695–701

Wenger T, Ledent C, Csernus V, Gerendai I (2001) The central cannabinoid receptor inactivation suppresses endocrine reproductive functions. Biochem Biophys Res Commun 284:363–368

Yazulla S (2008) Endocannabinoids in the retina: from marijuana to neuroprotection. Prog Retin Eye Res 27:501–526
Acknowledgments
We thank SGIker (UPV/EHU) for personal and technical support and particularly Ricardo Andrade for his assistance with the confocal microscopy analysis.
Ethics declarations
Conflict of interest
The authors declare that they have no competing interests
Additional information
This work was supported by a grant from the University of the Basque Country (GIU14/26).
Electronic supplementary material
Below is the link to the electronic supplementary material.
Immunofluorescence analysis of Z-stack images of cannabinoid-degrading enzyme FAAH in human oocytes. Distribution of FAAH is shown in green at germinal vesicle (GV), metaphase I (MI), and metaphase II (MII) stages. Hoechst-labeled DNA is shown in blue. Bar 20 μm. (GIF 257 kb)
Immunofluorescence analysis of Z-stack images of cannabinoid-degrading enzyme MGLL in human oocytes. Distribution of MGLL is shown in green at germinal vesicle (GV), metaphase I (MI), and metaphase II (MII) stages. Hoechst-labeled DNA is shown in blue. Bar 20 μm. (GIF 255 kb)
Immunofluorescence analysis of Z-stack images of cannabinoid-degrading enzymes compared with CB1 cannabinoid receptor in human oocytes. The distributions of FAAH, CB1, and their overlap are shown in green, red, and yellow, respectively, at germinal vesicle (GV), metaphase I (MI), and metaphase II (MII) stages. Bar 20 μm. (GIF 247 kb)
Immunofluorescence analysis of Z-stack images of cannabinoid-degrading enzymes compared with CB1 cannabinoid receptor in human oocytes. The distributions of MGLL, CB1, and their overlap are shown in green, red, and yellow, respectively, at germinal vesicle (GV), metaphase I (MI), and metaphase II (MII) stages. Bar 20 μm. (GIF 238 kb)
Immunofluorescence analysis of cannabinoid-degrading enzymes in human oocytes to verify the similar distributions in non-sperm-exposed MII oocytes and in sperm-exposed but unfertilized MII oocytes. The distributions of FAAH and MGLL are shown in green. Hoechst-labeled DNA is shown in blue. Bar 20 μm. (GIF 100 kb)
About this article
Cite this article
Agirregoitia, E., Totorikaguena, L., Expósito, A. et al. Dynamic of expression and localization of cannabinoid-degrading enzymes FAAH and MGLL in relation to CB1 during meiotic maturation of human oocytes. Cell Tissue Res 365, 393–401 (2016). https://doi.org/10.1007/s00441-016-2381-2
Received:

Accepted:

Published:

Issue Date:

DOI: https://doi.org/10.1007/s00441-016-2381-2
Keywords
Meiosis

Resumption

Enzyme

Maturation

Gamete