Abstract
Adolescence and puberty are highly important periods for postnatal brain maturation. During adolescence, drastic changes of neuronal architecture and function occur that concomitantly lead to distinct behavioral alterations. Unsurprisingly in view of the multitude of ongoing neurodevelopmental processes in the adolescent brain, most adult neuropsychiatric disorders have their roots exactly during this time span. Adolescence and puberty are therefore crucial developmental periods in terms of understanding the causes and mechanisms of adult mental illness. Valid animal models for adolescent behavior and neurodevelopment might offer better insights into the underlying mechanisms and help to identify specific time windows with heightened susceptibility during development. In order to increase the translational value of such models, we urgently need to define the detailed timing of adolescence and puberty in laboratory rodents. The aim of the present review is to provide a more precise delineation of the time course of these developmental periods during postnatal life in rats and mice and to discuss the impact of adolescence and related neurodevelopmental processes on the heightened susceptibility for mental disorders.
Access options
Buy single article
Instant access to the full article PDF.
USD 39.95
Price excludes VAT (USA)
Tax calculation will be finalised during checkout.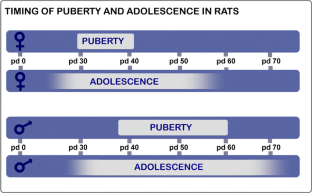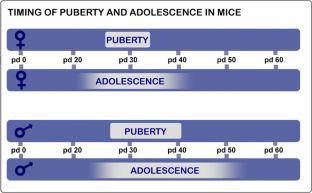 References
Ahmed EI, Zehr JL, Schulz KM, Lorenz BH, DonCarlos LL, Sisk CL (2008) Pubertal hormones modulate the addition of new cells to sexually dimorphic brain regions. Nat Neurosci 11:995–997

Andersen SL, Rutstein M, Benzo JM, Hostetter JC, Teicher MH (1997) Sex differences in dopamine receptor overproduction and elimination. Neuroreport 8:1495–1498

Andersen SL, Thompson AT, Rutstein M, Hostetter JC, Teicher MH (2000) Dopamine receptor pruning in prefrontal cortex during the periadolescent period in rats. Synapse 37:167–169

Apter D (1980) Serum steroids and pituitary hormones in female puberty: a partly longitudinal study. Clin Endocrinol 12:107–120

Arseneault L, Cannon M, Witton J, Murray RM (2004) Causal association between cannabis and psychosis: examination of the evidence. Br J Psychiatry 184:110–117

Blomeyer D, Friemel CM, Buchmann AF, Banaschewski T, Laucht M, Schneider M (2013) Impact of pubertal stage at first drink on adult drinking behavior. Alcohol Clin Exp Res (in press)

Brenhouse HC, Sonntag KC, Andersen SL (2008) Transient D1 dopamine receptor expression on prefrontal cortex projection neurons: relationship to enhanced motivational salience of drug cues in adolescence. J Neurosci 28:2375–2382

Casey BJ, Jones RM, Hare TA (2008) The adolescent brain. Ann N Y Acad Sci 1124:111–126

Caspi A, Moffitt TE, Cannon M, McClay J, Murray R, Harrington H, Taylor A, Arseneault L, Williams B, Braithwaite A, Poulton R, Craig IW (2005) Moderation of the effect of adolescent-onset cannabis use on adult psychosis by functional polymorphism in the catechol-O-methyltransferase gene: longitudinal evidence of a gene × environment interaction. Biol Psychiatry 57:1117–1127

Cibois M, Boulanger G, Audic Y, Paillard L, Gautier-Court C (2012) Inactivation of the Celf1 gene that encodes an RNA-binding protein delays the first wave of spermatogenesis in mice. PLoS One 7:e46337

Clegg E (1960) The age at which male rats become fertile. J Reprod Fertil 1:119–120

Crone EA, Dahl RE (2012) Understanding adolescence as a period of social-affective engagement and goal flexibility. Nat Rev Neurosci 13:636–650

De Bellis MD, Keshavan MS, Beers SR, Hall J, Frustaci K, Masalehdan A, Noll J, Boring AM (2001) Sex differences in brain maturation during childhood and adolescence. Cereb Cortex 11:552–557

Di Forti M, Morgan C, Dazzan P, Pariante C, Mondelli V, Marques TR, Handley R, Luzi S, Russo M, Paparelli A, Butt A, Stilo SA, Wiffen B, Powell J, Murray RM (2009) High-potency cannabis and the risk of psychosis. Br J Psychiatry 195:488–491

Divall SA, Williams TR, Carver SE, Koch L, Bruning JC, Kahn CR, Wondisford F, Radovick S, Wolfe A (2010) Divergent roles of growth factors in the GnRH regulation of puberty in mice. J Clin Invest 120:2900–2909

Eaton DK, Kann L, Kinchen S, Shanklin S, Ross J, Hawkins J, Harris WA, Lowry R, McManus T, Chyen D, Lim C, Whittle L, Brener ND, Wechsler H (2010) Youth risk behavior surveillance—United States, 2009. MMWR Surveill Summ 59:1–142

Ebling FJ (2005) The neuroendocrine timing of puberty. Reproduction 129:675–683

Ellgren M, Spano SM, Hurd YL (2007) Adolescent cannabis exposure alters opiate intake and opioid limbic neuronal populations in adult rats. Neuropsychopharmacology 32:607–615

Evans KE, Harris S (2008) Adolescence in male African elephants, Loxodonta africana, and the importance of sociality. Anim Behav 76:779–787

Foilb AR, Lui P, Romeo RD (2011) The transformation of hormonal stress responses throughout puberty and adolescence. J Endocrinol 210:391–398

Friemel CM, Spanagel R, Schneider M (2010) Reward sensitivity for a palatable food reward peaks during pubertal developmental in rats. Front Behav Neurosci 4:39

Gluckman PD, Hanson MA (2006) Changing times: the evolution of puberty. Mol Cell Endocrinol 254–255:26–31

Hashizume K, Ohashi K (1984) Timing of sexual receptivity and the release of gonadotrophins during puberty in female rats. J Reprod Fertil 72:87–91

Henquet C, Krabbendam L, Spauwen J, Kaplan C, Lieb R, Wittchen HU, van Os J (2005) Prospective cohort study of cannabis use, predisposition for psychosis, and psychotic symptoms in young people. BMJ 330:15

Jones PB (2013) Adult mental health disorders and their age at onset. Br J Psychiatry 54:s5–s10

Kasanetz F, Manzoni OJ (2009) Maturation of excitatory synaptic transmission of the rat nucleus accumbens from juvenile to adult. J Neurophysiol 101:2516–2527

Keene DE, Suescun MO, Bostwick MG, Chandrashekar V, Bartke A, Kopchick JJ (2002) Puberty is delayed in male growth hormone receptor gene-disrupted mice. J Androl 23:661–668

Kennedy GC, Mitra J (1963) Body weight and food intake as initiating factors for puberty in the rat. J Physiol (Lond) 166:408–418

Kessler RC, Amminger GP, Aguilar-Gaxiola S, Alonso J, Lee S, Ustun TB (2007) Age of onset of mental disorders: a review of recent literature. Curr Opin Psychiatry 20:359–364

Klugmann M, Klippenstein V, Leweke FM, Spanagel R, Schneider M (2011) Cannabinoid exposure in pubertal rats increases spontaneous ethanol consumption and NMDA receptor associated protein levels. Int J Neuropsychopharmacol 14:505–517

Konings M, Henquet C, Maharajh HD, Hutchinson G, van Os J (2008) Early exposure to cannabis and risk for psychosis in young adolescents in Trinidad. Acta Psychiatr Scand 118:209–213

Korenbrot CC, Huhtaniemi IT, Weiner RI (1977) Preputial separation as an external sign of pubertal development in the male rat. Biol Reprod 17:298–303

Lenroot RK, Giedd JN (2006) Brain development in children and adolescents: insights from anatomical magnetic resonance imaging. Neurosci Biobehav Rev 30:718–729

Leweke FM, Schneider M (2011) Chronic pubertal cannabinoid treatment as a behavioural model for aspects of schizophrenia: effects of the atypical antipsychotic quetiapine. Int J Neuropsychopharmacol 14:43–51

Mathews D, Andrews WW, Parker R Jr, Ojeda SR (1987) A role for aromatizable androgens in female rat puberty. Biol Reprod 36:836–843

McCormick CM, Green MR (2012) From the stressed adolescent to the anxious and depressed adult: investigations in rodent models. Neuroscience (in press)

McDowell J, Kitchen I (1987) Development of opioid systems: peptides, receptors and pharmacology. Brain Res 434:397–421

Meier MH, Caspi A, Ambler A, Harrington H, Houts R, Keefe RS, McDonald K, Ward A, Poulton R, Moffitt TE (2012) Persistent cannabis users show neuropsychological decline from childhood to midlife. Proc Natl Acad Sci USA 109:E2657–E2664

Merikangas KR, Nakamura EF, Kessler RC (2009) Epidemiology of mental disorders in children and adolescents. Dialogues Clin Neurosci 11:7–20

Moore TH, Zammit S, Lingford-Hughes A, Barnes TR, Jones PB, Burke M, Lewis G (2007) Cannabis use and risk of psychotic or affective mental health outcomes: a systematic review. Lancet 370:319–328

Nielsen CT, Skakkebaek NE, Richardson DW, Darling JA, Hunter WM, Jorgensen M, Nielsen A, Ingerslev O, Keiding N, Muller J (1986) Onset of the release of spermatozoa (spermarche) in boys in relation to age, testicular growth, pubic hair, and height. J Clin Endocrinol Metab 62:532–535

Nunez JL, Sodhi J, Juraska JM (2002) Ovarian hormones after postnatal day 20 reduce neuron number in the rat primary visual cortex. J Neurobiol 52:312–321

Ojeda SR, Urbanski HF (1994) Puberty in the rat. In: Knobil E, Neill JD (eds) The physiology of reproduction. Raven, New York, pp 363–410

Oppenheim RW (1980) Metamorphosis and adaptation in the behavior of developing organisms. Dev Psychobiol 13:353–356

Parent AS, Teilmann G, Juul A, Skakkebaek NE, Toppari J, Bourguignon JP (2003) The timing of normal puberty and the age limits of sexual precocity: variations around the world, secular trends, and changes after migration. Endocr Rev 24:668–693

Pascual M, Blanco AM, Cauli O, Minarro J, Guerri C (2007) Intermittent ethanol exposure induces inflammatory brain damage and causes long-term behavioural alterations in adolescent rats. Eur J Neurosci 25:541–550

Paus T, Zijdenbos A, Worsley K, Collins DL, Blumenthal J, Giedd JN, Rapoport JL, Evans AC (1999) Structural maturation of neural pathways in children and adolescents: in vivo study. Science 283:1908–1911

Paus T, Keshavan M, Giedd JN (2008) Why do many psychiatric disorders emerge during adolescence? Nat Rev Neurosci 9:947–957

Perfito N, Bentley GE (2009) Opportunism, photoperiodism, and puberty: different mechanisms or variations on a theme? Integr Comp Biol 49:538–549

Perrin JS, Herve PY, Leonard G, Perron M, Pike GB, Pitiot A, Richer L, Veillette S, Pausova Z, Paus T (2008) Growth of white matter in the adolescent brain: role of testosterone and androgen receptor. J Neurosci 28:9519–9524

Philpot RM, Badanich KA, Kirstein CL (2003) Place conditioning: age-related changes in the rewarding and aversive effects of alcohol. Alcohol Clin Exp Res 27:593–599

Powell K (2006) Neurodevelopment: how does the teenage brain work? Nature 442:865–867

Ristuccia RC, Spear LP (2005) Sensitivity and tolerance to autonomic effects of ethanol in adolescent and adult rats during repeated vapor inhalation sessions. Alcohol Clin Exp Res 29:1809–1820

Rodriguez de Fonseca F, Ramos JA, Bonnin A, Fernandez-Ruiz JJ (1993) Presence of cannabinoid binding sites in the brain from early postnatal ages. Neuroreport 4:135–138

Roenneberg T, Kuehnle T, Pramstaller PP, Ricken J, Havel M, Guth A, Merrow M (2004) A marker for the end of adolescence. Curr Biol 14:R1038–R1039

Romeo RD (2010) Adolescence: a central event in shaping stress reactivity. Dev Psychobiol 52:244–253

Safranski TJ, Lamberson WR, Keisler DH (1993) Correlations among three measures of puberty in mice and relationships with estradiol concentration and ovulation. Biol Reprod 48:669–673

Schneider M (2008) Puberty as a highly vulnerable developmental period for the consequences of cannabis exposure. Addict Biol 13:253–263

Schneider M, Koch M (2003) Chronic pubertal, but not adult chronic cannabinoid treatment impairs sensorimotor gating, recognition memory and the performance in a progressive ratio task in adult rats. Neuropsychopharmacology 28:1760–1769

Schneider M, Koch M (2005) Deficient social and play behavior in juvenile and adult rats after neonatal cortical lesion: effects of chronic pubertal cannabinoid treatment. Neuropsychopharmacology 30:944–957

Schneider M, Koch M (2007) The effect of chronic peripubertal cannabinoid treatment on deficient object recognition memory in rats after neonatal mPFC lesion. Eur Neuropsychopharmacol 17:180–186

Schneider M, Schomig E, Leweke FM (2008) Acute and chronic cannabinoid treatment differentially affects recognition memory and social behavior in pubertal and adult rats. Addict Biol 13:345–357

Shen H, Sabaliauskas N, Sherpa A, Fenton AA, Stelzer A, Aoki C, Smith SS (2010) A critical role for alpha4betadelta GABAA receptors in shaping learning deficits at puberty in mice. Science 327:1515–1518

Sisk CL, Foster DL (2004) The neural basis of puberty and adolescence. Nat Neurosci 7:1040–1047

Sisk CL, Zehr JL (2005) Pubertal hormones organize the adolescent brain and behavior. Front Neuroendocrinol 26:163–174

Slawecki CJ, Thorsell A, Ehlers CL (2004) Long-term neurobehavioral effects of alcohol or nicotine exposure in adolescent animal models. Ann N Y Acad Sci 1021:448–452

Spear LP (2000) The adolescent brain and age-related behavioral manifestations. Neurosci Biobehav Rev 24:417–463

Spear LP (2002) The adolescent brain and the college drinker: biological basis of propensity to use and misuse alcohol. J Stud Alcohol Suppl 14:71–81

Swerdloff RS, Walsh PC, Jacobs HS, Odell WD (1971) Serum LH and FSH during sexual maturation in the male rat: effect of castration and cryptorchidism. Endocrinology 88:120–128

Taranger GL, Carrillo M, Schulz RW, Fontaine P, Zanuy S, Felip A, Weltzien FA, Dufour S, Karlsen O, Norberg B, Andersson E, Hansen T (2010) Control of puberty in farmed fish. Gen Comp Endocrinol 165:483–515

Teicher MH, Andersen SL, Hostetter JCJ (1995) Evidence for dopamine receptor pruning between adolescence and adulthood in striatum but not nucleus accumbens. Brain Res Dev Brain Res 89:167–172

Varlinskaya EI, Spear LP (2002) Acute effects of ethanol on social behavior of adolescent and adult rats: role of familiarity of the test situation. Alcohol Clin Exp Res 26:1502–1511

Vetter CS, Doremus-Fitzwater TL, Spear LP (2007) Time course of elevated ethanol intake in adolescent relative to adult rats under continuous, voluntary-access conditions. Alcohol Clin Exp Res 31:1159–1168

Wahlstrom D, Collins P, White T, Luciana M (2010) Developmental changes in dopamine neurotransmission in adolescence: behavioral implications and issues in assessment. Brain Cogn 72:146–159

Wenger T, Gerendai I, Fezza F, Gonzalez S, Bisogno T, Fernandez-Ruiz J, Di Marzo V (2002) The hypothalamic levels of the endocannabinoid, anandamide, peak immediately before the onset of puberty in female rats. Life Sci 70:1407–1414

Zehr JL, Todd BJ, Schulz KM, McCarthy MM, Sisk CL (2006) Dendritic pruning of the medial amygdala during pubertal development of the male Syrian hamster. J Neurobiol 66:578–590

Zhou Y, Zhu W, Guo Z, Zhao Y, Song Z, Xiao J (2007) Effects of maternal nuclear genome on the timing of puberty in mice offspring. J Endocrinol 193:405–412
About this article
Cite this article
Schneider, M. Adolescence as a vulnerable period to alter rodent behavior. Cell Tissue Res 354, 99–106 (2013). https://doi.org/10.1007/s00441-013-1581-2
Received:

Accepted:

Published:

Issue Date:

DOI: https://doi.org/10.1007/s00441-013-1581-2
Keywords