Abstract
Inflammation is considered to be an important contributor to secondary damage after spinal cord injury (SCI). This secondary damage leads to further exacerbation of tissue loss and functional impairments. The immune responses that are triggered by injury are complex and are mediated by a variety of factors that have both detrimental and beneficial effects. In this review, we focus on the diverse effects of the phospholipase A2 (PLA2) superfamily and the downstream pathways that generate a large number of bioactive lipid mediators, some of which have pro-inflammatory and demyelinating effects, whereas others have anti-inflammatory and pro-resolution properties. For each of these lipid mediators, we provide an overview followed by a discussion of their expression and role in SCI. Where appropriate, we have compared the latter with their role in other neurological conditions. The PLA2 pathway provides a number of targets for therapeutic intervention for the treatment of SCI and other neurological conditions.
Access options
Buy single article
Instant access to the full article PDF.
US$ 39.95
Tax calculation will be finalised during checkout.
Subscribe to journal
Immediate online access to all issues from 2019. Subscription will auto renew annually.
US$ 119
Tax calculation will be finalised during checkout.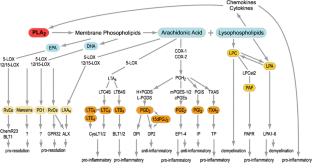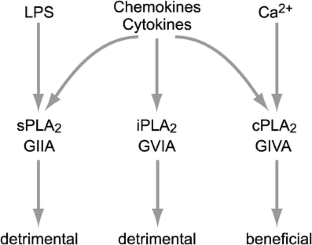 References
Adachi K, Yimin Y, Satake K, Matsuyama Y, Ishiguro N, Sawada M, Hirata Y, Kiuchi K (2005) Localization of cyclooxygenase-2 induced following traumatic spinal cord injury. Neurosci Res 51:73–80

Ahmad AS, Ahmad M, Brum-Fernandes AJ de, Dore S (2005) Prostaglandin EP4 receptor agonist protects against acute neurotoxicity. Brain Res 1066:71–77

Ahmad AS, Saleem S, Ahmad M, Dore S (2006a) Prostaglandin EP1 receptor contributes to excitotoxicity and focal ischemic brain damage. Toxicol Sci 89:265–270

Ahmad M, Saleem S, Zhuang H, Ahmad AS, Echeverria V, Sapirstein A, Dore S (2006b) 1-HydroxyPGE reduces infarction volume in mouse transient cerebral ischemia. Eur J Neurosci 23:35–42

Al-Turkmani MR, Freedman SD, Laposata M (2007) Fatty acid alterations and n-3 fatty acid supplementation in cystic fibrosis. Prostaglandins Leukot Essent Fatty Acids 77:309–318

Alexander WS (2002) Suppressors of cytokine signalling (SOCS) in the immune system. Nat Rev Immunol 2:410–416

Andreasson K (2010) Emerging roles of PGE2 receptors in models of neurological disease. Prostaglandins Other Lipid Mediat 91:104–112

Antonopoulou G, Barbayianni E, Magrioti V, Cotton N, Stephens D, Constantinou-Kokotou V, Dennis EA, Kokotos G (2008) Structure-activity relationships of natural and non-natural amino acid-based amide and 2-oxoamide inhibitors of human phospholipase A(2) enzymes. Bioorg Med Chem 16:10257–10269

Arevalo-Martin A, Garcia-Ovejero D, Molina-Holgado E (2010) The endocannabinoid 2-arachidonoylglycerol reduces lesion expansion and white matter damage after spinal cord injury. Neurobiol Dis 38:304–312

Bartholdi D, Schwab ME (1997) Expression of pro-inflammatory cytokine and chemokine mRNA upon experimental spinal cord injury in mouse: an in situ hybridization study. Eur J Neurosci 9:1422–1438

Bate C, Kempster S, Williams A (2006) Prostaglandin D2 mediates neuronal damage by amyloid-beta or prions which activates microglial cells. Neuropharmacology 50:229–237

Beck G, Sugiura Y, Shinzawa K, Kato S, Setou M, Tsujimoto Y, Sakoda S, Sumi-Akamaru H (2011) Neuroaxonal dystrophy in calcium-independent phospholipase A2beta deficiency results from insufficient remodeling and degeneration of mitochondrial and presynaptic membranes. J Neurosci 31:11411–11420

Beuckmann CT, Lazarus M, Gerashchenko D, Mizoguchi A, Nomura S, Mohri I, Uesugi A, Kaneko T, Mizuno N, Hayaishi O, Urade Y (2000) Cellular localization of lipocalin-type prostaglandin D synthase (beta-trace) in the central nervous system of the adult rat. J Comp Neurol 428:62–78

Bilak M, Wu L, Wang Q, Haughey N, Conant K, St Hillaire C, Andreasson K (2004) PGE2 receptors rescue motor neurons in a model of amyotrophic lateral sclerosis. Ann Neurol 56:240–248

Blakemore WF, Eames RA, Smith KJ, McDonald WI (1977) Remyelination in the spinal cord of the cat following intraspinal injections of lysolecithin. J Neurol Sci 33:31–43

Bonventre JV, Huang Z, Taheri MR, O'Leary E, Li E, Moskowitz MA, Sapirstein A (1997) Reduced fertility and postischaemic brain injury in mice deficient in cytosolic phospholipase A2. Nature 390:622–625

Breyer RM, Bagdassarian CK, Myers SA, Breyer MD (2001) Prostanoid receptors: subtypes and signaling. Annu Rev Pharmacol Toxicol 41:661–690

Brown WJ, Chambers K, Doody A (2003) Phospholipase A2 (PLA2) enzymes in membrane trafficking: mediators of membrane shape and function. Traffic 4:214–221

Capper EA, Marshall LA (2001) Mammalian phospholipases A(2): mediators of inflammation, proliferation and apoptosis. Prog Lipid Res 40:167–197

Caughey GE, Pouliot M, Cleland LG, James MJ (1997) Regulation of tumor necrosis factor-alpha and IL-1 beta synthesis by thromboxane A2 in nonadherent human monocytes. J Immunol 158:351–358

Chang HW, Kudo I, Tomita M, Inoue K (1987) Purification and characterization of extracellular phospholipase A2 from peritoneal cavity of caseinate-treated rat. J Biochem 102:147–154

Chen GY, Nunez G (2010) Sterile inflammation: sensing and reacting to damage. Nat Rev Immunol 10:826–837

Chernenko GA, Barrowman JA, Kean KT, Herzberg GR, Keough KM (1989) Intestinal absorption and lymphatic transport of fish oil (MaxEPA) in the rat. Biochim Biophys Acta 1004:95–102

Cohen JA, Chun J (2011) Mechanisms of fingolimod's efficacy and adverse effects in multiple sclerosis. Ann Neurol 69:759–777

Davalos D, Grutzendler J, Yang G, Kim JV, Zuo Y, Jung S, Littman DR, Dustin ML, Gan WB (2005) ATP mediates rapid microglial response to local brain injury in vivo. Nat Neurosci 8:752–758

David S, Ousman SS (2002) Recruiting the immune response to promote axon regeneration in the injured spinal cord. Neuroscientist 8:33–41

David S, Kroner A (2011) Repertoire of microglial and macrophage responses after spinal cord injury. Nat Rev Neurosci 12:388–399

David S, Lacroix S (2003) Molecular approaches to spinal cord repair. Annu Rev Neurosci 26:411–440

De S, Trigueros MA, Kalyvas A, David S (2003) Phospholipase A2 plays an important role in myelin breakdown and phagocytosis during Wallerian degeneration. Mol Cell Neurosci 24:753–765

Dennis EA (1994) Diversity of group types, regulation, and function of phospholipase A2. J Biol Chem 269:13057–13060

Dennis EA (1997) The growing phospholipase A2 superfamily of signal transduction enzymes. Trends Biochem Sci 22:1–2

Diab A, Deng C, Smith JD, Hussain RZ, Phanavanh B, Lovett-Racke AE, Drew PD, Racke MK (2002) Peroxisome proliferator-activated receptor-gamma agonist 15-deoxy-delta(12,14)-prostaglandin J(2) ameliorates experimental autoimmune encephalomyelitis. J Immunol 168:2508–2515

Diab A, Hussain RZ, Lovett-Racke AE, Chavis JA, Drew PD, Racke MK (2004) Ligands for the peroxisome proliferator-activated receptor-gamma and the retinoid X receptor exert additive anti-inflammatory effects on experimental autoimmune encephalomyelitis. J Neuroimmunol 148:116–126

Donnelly DJ, Popovich PG (2008) Inflammation and its role in neuroprotection, axonal regeneration and functional recovery after spinal cord injury. Exp Neurol 209:378–388

Endres S, Schacky C von (1996) n-3 Polyunsaturated fatty acids and human cytokine synthesis. Curr Opin Lipidol 7:48–52

Farooqui AA, Horrocks LA, Farooqui T (2007) Modulation of inflammation in brain: a matter of fat. J Neurochem 101:577–599

Forman BM, Tontonoz P, Chen J, Brun RP, Spiegelman BM, Evans RM (1995) 15-Deoxy-delta 12, 14-prostaglandin J2 is a ligand for the adipocyte determination factor PPAR gamma. Cell 83:803–812

Forst S, Weiss J, Elsbach P, Maraganore JM, Reardon I, Heinrikson RL (1986) Structural and functional properties of a phospholipase A2 purified from an inflammatory exudate. Biochemistry 25:8381–8385

Foster CA, Mechtcheriakova D, Storch MK, Balatoni B, Howard LM, Bornancin F, Wlachos A, Sobanov J, Kinnunen A, Baumruker T (2009) FTY720 rescue therapy in the dark agouti rat model of experimental autoimmune encephalomyelitis: expression of central nervous system genes and reversal of blood-brain-barrier damage. Brain Pathol 19:254–266

Fredman G, Serhan CN (2011) Specialized proresolving mediator targets for RvE1 and RvD1 in peripheral blood and mechanisms of resolution. Biochem J 437:185–197

Freedman SD, Katz MH, Parker EM, Laposata M, Urman MY, Alvarez JG (1999) A membrane lipid imbalance plays a role in the phenotypic expression of cystic fibrosis in cftr(−/−) mice. Proc Natl Acad Sci USA 96:13995–14000

Fu Q, Hue J, Li S (2007) Nonsteroidal anti-inflammatory drugs promote axon regeneration via RhoA inhibition. J Neurosci 27:4154–4164

Funk CD, Chen XS, Johnson EN, Zhao L (2002) Lipoxygenase genes and their targeted disruption. Prostaglandins Other Lipid Mediat 68–69:303–312

Garcia-Ovejero D, Arevalo-Martin A, Petrosino S, Docagne F, Hagen C, Bisogno T, Watanabe M, Guaza C, Di Marzo V, Molina-Holgado E (2009) The endocannabinoid system is modulated in response to spinal cord injury in rats. Neurobiol Dis 33:57–71

Genovese T, Rossi A, Mazzon E, Di Paola R, Muia C, Caminiti R, Bramanti P, Sautebin L, Cuzzocrea S (2008) Effects of zileuton and montelukast in mouse experimental spinal cord injury. Br J Pharmacol 153:568–582

Genovese T, Mazzon E, Rossi A, Di Paola R, Cannavo G, Muia C, Crisafulli C, Bramanti P, Sautebin L, Cuzzocrea S (2005) Involvement of 5-lipoxygenase in spinal cord injury. J Neuroimmunol 166:55–64

Glaser KB, Mobilio D, Chang JY, Senko N (1993) Phospholipase A2 enzymes: regulation and inhibition. Trends Pharmacol Sci 14:92–98

Goodarzi K, Goodarzi M, Tager AM, Luster AD, Andrian UH von (2003) Leukotriene B4 and BLT1 control cytotoxic effector T cell recruitment to inflamed tissues. Nat Immunol 4:965–973

Goppelt-Struebe M, Rehfeldt W (1992) Glucocorticoids inhibit TNF alpha-induced cytosolic phospholipase A2 activity. Biochim Biophys Acta 1127:163–167

Guilbault C, De Sanctis JB, Wojewodka G, Saeed Z, Lachance C, Skinner TA, Vilela RM, Kubow S, Lands LC, Hajduch M, Matouk E, Radzioch D (2008) Fenretinide corrects newly found ceramide deficiency in cystic fibrosis. Am J Respir Cell Mol Biol 38:47–56

Guilbault C, Wojewodka G, Saeed Z, Hajduch M, Matouk E, De Sanctis JB, Radzioch D (2009) Cystic fibrosis fatty acid imbalance is linked to ceramide deficiency and corrected by fenretinide. Am J Respir Cell Mol Biol 41:100–106

Hains BC, Yucra JA, Hulsebosch CE (2001) Reduction of pathological and behavioral deficits following spinal cord contusion injury with the selective cyclooxygenase-2 inhibitor NS-398. J Neurotrauma 18:409–423

Hall SM, Gregson NA (1971) The in vivo and ultrastructural effects of injection of lysophosphatidyl choline into myelinated peripheral nerve fibres of the adult mouse. J Cell Sci 9:769–789

Hanasaki K (1995) CD22: a cell adhesion molecule that displays alpha 2-6-linked sialic acid-binding lectin activity. Seikagaku 67:1040–1047

Hanasaki K, Yokota Y, Ishizaki J, Itoh T, Arita H (1997) Resistance to endotoxic shock in phospholipase A2 receptor-deficient mice. J Biol Chem 272:32792–32797

Harada N, Taoka Y, Okajima K (2006) Role of prostacyclin in the development of compression trauma-induced spinal cord injury in rats. J Neurotrauma 23:1739–1749

Hata AN, Breyer RM (2004) Pharmacology and signaling of prostaglandin receptors: multiple roles in inflammation and immune modulation. Pharmacol Ther 103:147–166

Haynes SE, Hollopeter G, Yang G, Kurpius D, Dailey ME, Gan WB, Julius D (2006) The P2Y12 receptor regulates microglial activation by extracellular nucleotides. Nat Neurosci 9:1512–1519

Hirai H, Tanaka K, Yoshie O, Ogawa K, Kenmotsu K, Takamori Y, Ichimasa M, Sugamura K, Nakamura M, Takano S, Nagata K (2001) Prostaglandin D2 selectively induces chemotaxis in T helper type 2 cells, eosinophils, and basophils via seven-transmembrane receptor CRTH2. J Exp Med 193:255–261

Hirashima Y, Farooqui AA, Mills JS, Horrocks LA (1992) Identification and purification of calcium-independent phospholipase A2 from bovine brain cytosol. J Neurochem 59:708–714

Huang WL, King VR, Curran OE, Dyall SC, Ward RE, Lal N, Priestley JV, Michael-Titus AT (2007) A combination of intravenous and dietary docosahexaenoic acid significantly improves outcome after spinal cord injury. Brain 130:3004–3019

Huang W, Bhavsar A, Ward RE, Hall JC, Priestley JV, Michael-Titus AT (2009) Arachidonyl trifluoromethyl ketone is neuroprotective after spinal cord injury. J Neurotrauma 26:1429–1434

Hulkower KI, Hope WC, Chen T, Anderson CM, Coffey JW, Morgan DW (1992) Interleukin-1 beta stimulates cytosolic phospholipase A2 in rheumatoid synovial fibroblasts. Biochem Biophys Res Commun 184:712–718

Iadecola C, Niwa K, Nogawa S, Zhao X, Nagayama M, Araki E, Morham S, Ross ME (2001) Reduced susceptibility to ischemic brain injury and N-methyl-D-aspartate-mediated neurotoxicity in cyclooxygenase-2-deficient mice. Proc Natl Acad Sci USA 98:1294–1299

Ikeda-Matsuo Y, Ota A, Fukada T, Uematsu S, Akira S, Sasaki Y (2006) Microsomal prostaglandin E synthase-1 is a critical factor of stroke-reperfusion injury. Proc Natl Acad Sci USA 103:11790–11795

Ishii S, Nagase T, Shimizu T (2002) Platelet-activating factor receptor. Prostaglandins Other Lipid Mediat 68–69:599–609

Jacobs TP, Shohami E, Baze W, Burgard E, Gunderson C, Hallenbeck J, Feuerstein G (1987) Thromboxane and 5-HETE increase after experimental spinal cord injury in rabbits. Cent Nerv Syst Trauma 4:95–118

Jiang C, Ting AT, Seed B (1998) PPAR-gamma agonists inhibit production of monocyte inflammatory cytokines. Nature 391:82–86

Jin J, Shie FS, Liu J, Wang Y, Davis J, Schantz AM, Montine KS, Montine TJ, Zhang J (2007) Prostaglandin E2 receptor subtype 2 (EP2) regulates microglial activation and associated neurotoxicity induced by aggregated alpha-synuclein. J Neuroinflammation 4:2

Kalyvas A, David S (2004) Cytosolic phospholipase A2 plays a key role in the pathogenesis of multiple sclerosis-like disease. Neuron 41:323–335

Kalyvas A, Baskakis C, Magrioti V, Constantinou-Kokotou V, Stephens D, López-Vales R, Lu JQ, Yong VW, Dennis EA, Kokotos G, David S (2009) Differing roles for members of the phospholipase A2 superfamily in experimental autoimmune encephalomyelitis. Brain 132:1221–1235

Kawano T, Anrather J, Zhou P, Park L, Wang G, Frys KA, Kunz A, Cho S, Orio M, Iadecola C (2006) Prostaglandin E2 EP1 receptors: downstream effectors of COX-2 neurotoxicity. Nat Med 12:225–229

Kempski O, Shohami E, von Lubitz D, Hallenbeck JM, Feuerstein G (1987) Postischemic production of eicosanoids in gerbil brain. Stroke 18:111–119

Kennedy BP, Payette P, Mudgett J, Vadas P, Pruzanski W, Kwan M, Tang C, Rancourt DE, Cromlish WA (1995) A natural disruption of the secretory group II phospholipase A2 gene in inbred mouse strains. J Biol Chem 270:22378–22385

Kerkela R, Boucher M, Zaka R, Gao E, Harris D, Piuhola J, Song J, Serpi R, Woulfe KC, Cheung JY, O'Leary E, Bonventre JV, Force T (2011) Cytosolic phospholipase A(2)alpha protects against ischemia/reperfusion injury in the heart. Clin Transl Sci 4:236–242

Kerr BJ, Girolami EI, Ghasemlou N, Jeong SY, David S (2008) The protective effects of 15-deoxy-delta-(12,14)-prostaglandin J2 in spinal cord injury. Glia 56:436–448

Kihara Y, Ishii S, Kita Y, Toda A, Shimada A, Shimizu T (2005) Dual phase regulation of experimental allergic encephalomyelitis by platelet-activating factor. J Exp Med 202:853–863

King VR, Huang WL, Dyall SC, Curran OE, Priestley JV, Michael-Titus AT (2006) Omega-3 fatty acids improve recovery, whereas omega-6 fatty acids worsen outcome, after spinal cord injury in the adult rat. J Neurosci 26:4672–4680

Klivenyi P, Beal MF, Ferrante RJ, Andreassen OA, Wermer M, Chin MR, Bonventre JV (1998) Mice deficient in group IV cytosolic phospholipase A2 are resistant to MPTP neurotoxicity. J Neurochem 71:2634–2637

Kojima F, Kapoor M, Yang L, Fleishaker EL, Ward MR, Monrad SU, Kottangada PC, Pace CQ, Clark JA, Woodward JG, Crofford LJ (2008) Defective generation of a humoral immune response is associated with a reduced incidence and severity of collagen-induced arthritis in microsomal prostaglandin E synthase-1 null mice. J Immunol 180:8361–8368

Kostenis E, Ulven T (2006) Emerging roles of DP and CRTH2 in allergic inflammation. Trends Mol Med 12:148–158

Krysko DV, Agostinis P, Krysko O, Garg AD, Bachert C, Lambrecht BN, Vandenabeele P (2011) Emerging role of damage-associated molecular patterns derived from mitochondria in inflammation. Trends Immunol 32:157–164

Kurian MA, Morgan NV, MacPherson L, Foster K, Peake D, Gupta R, Philip SG, Hendriksz C, Morton JE, Kingston HM, Rosser EM, Wassmer E, Gissen P, Maher ER (2008) Phenotypic spectrum of neurodegeneration associated with mutations in the PLA2G6 gene (PLAN). Neurology 70:1623–1629

Lambeau G, Gelb MH (2008) Biochemistry and physiology of mammalian secreted phospholipases A2. Annu Rev Biochem 77:495–520

Lambeau G, Lazdunski M (1999) Receptors for a growing family of secreted phospholipases A2. Trends Pharmacol Sci 20:162–170

Lang-Lazdunski L, Blondeau N, Jarretou G, Lazdunski M, Heurteaux C (2003) Linolenic acid prevents neuronal cell death and paraplegia after transient spinal cord ischemia in rats. J Vasc Surg 38:564–575

Larsen PH, Wells JE, Stallcup WB, Opdenakker G, Yong VW (2003) Matrix metalloproteinase-9 facilitates remyelination in part by processing the inhibitory NG2 proteoglycan. J Neurosci 23:11127–11135

Lauber K, Bohn E, Krober SM, Xiao YJ, Blumenthal SG, Lindemann RK, Marini P, Wiedig C, Zobywalski A, Baksh S, Xu Y, Autenrieth IB, Schulze-Osthoff K, Belka C, Stuhler G, Wesselborg S (2003) Apoptotic cells induce migration of phagocytes via caspase-3-mediated release of a lipid attraction signal. Cell 113:717–730

Lewis RA, Soter NA, Diamond PT, Austen KF, Oates JA, Roberts LJ 2nd (1982) Prostaglandin D2 generation after activation of rat and human mast cells with anti-IgE. J Immunol 129:1627–1631

Li J, Liang X, Wang Q, Breyer RM, McCullough L, Andreasson K (2008) Misoprostol, an anti-ulcer agent and PGE2 receptor agonist, protects against cerebral ischemia. Neurosci Lett 438:210–215

Liang X, Wang Q, Hand T, Wu L, Breyer RM, Montine TJ, Andreasson K (2005) Deletion of the prostaglandin E2 EP2 receptor reduces oxidative damage and amyloid burden in a model of Alzheimer's disease. J Neurosci 25:10180–10187

Liang X, Wang Q, Shi J, Lokteva L, Breyer RM, Montine TJ, Andreasson K (2008) The prostaglandin E2 EP2 receptor accelerates disease progression and inflammation in a model of amyotrophic lateral sclerosis. Ann Neurol 64:304–314

Lim SN, Huang W, Hall JC, Ward RE, Priestley JV, Michael-Titus AT (2010) The acute administration of eicosapentaenoic acid is neuroprotective after spinal cord compression injury in rats. Prostaglandins Leukot Essent Fatty Acids 83:193–201

Lin LL, Lin AY, DeWitt DL (1992) Interleukin-1 alpha induces the accumulation of cytosolic phospholipase A2 and the release of prostaglandin E2 in human fibroblasts. J Biol Chem 267:23451–23454

Lin LL, Wartmann M, Lin AY, Knopf JL, Seth A, Davis RJ (1993) cPLA2 is phosphorylated and activated by MAP kinase. Cell 72:269–278

Liu D, Wu L, Breyer R, Mattson MP, Andreasson K (2005) Neuroprotection by the PGE2 EP2 receptor in permanent focal cerebral ischemia. Ann Neurol 57:758–761

Liu NK, Zhang YP, Titsworth WL, Jiang X, Han S, Lu PH, Shields CB, Xu XM (2006) A novel role of phospholipase A2 in mediating spinal cord secondary injury. Ann Neurol 59:606–619

Locati M, Zhou D, Luini W, Evangelista V, Mantovani A, Sozzani S (1994) Rapid induction of arachidonic acid release by monocyte chemotactic protein-1 and related chemokines. Role of Ca2+ influx, synergism with platelet-activating factor and significance for chemotaxis. J Biol Chem 269:4746–4753

López-Vales R, Garcia-Alias G, Guzman-Lenis MS, Fores J, Casas C, Navarro X, Verdu E (2006) Effects of COX-2 and iNOS inhibitors alone or in combination with olfactory ensheathing cell grafts after spinal cord injury. Spine 31(Phila Pa 1976):1100–1106

López-Vales R, Navarro X, Shimizu T, Baskakis C, Kokotos G, Constantinou-Kokotou V, Stephens D, Dennis EA, David S (2008) Intracellular phospholipase A(2) group IVA and group VIA play important roles in Wallerian degeneration and axon regeneration after peripheral nerve injury. Brain 131:2620–2631

López-Vales R, Redensek A, Skinner TA, Rathore KI, Ghasemlou N, Wojewodka G, DeSanctis J, Radzioch D, David S (2010) Fenretinide promotes functional recovery and tissue protection after spinal cord contusion injury in mice. J Neurosci 30:3220–3226

López-Vales R, Ghasemlou N, Redensek A, Kerr BJ, Barbayianni E, Antonopoulou G, Baskakis C, Rathore KI, Constantinou-Kokotou V, Stephens D, Shimizu T, Dennis EA, Kokotos G, David S (2011) Phospholipase A2 superfamily members play divergent roles after spinal cord injury. FASEB J 25:4240–4252

Ma W, Quirion R (2008) Does COX2-dependent PGE2 play a role in neuropathic pain? Neurosci Lett 437:165–169

Makwana M, Raivich G (2005) Molecular mechanisms in successful peripheral regeneration. FEBS J 272:2628–2638

Marcheselli VL, Hong S, Lukiw WJ, Tian XH, Gronert K, Musto A, Hardy M, Gimenez JM, Chiang N, Serhan CN, Bazan NG (2003) Novel docosanoids inhibit brain ischemia-reperfusion-mediated leukocyte infiltration and pro-inflammatory gene expression. J Biol Chem 278:43807–43817

Marusic S, Leach MW, Pelker JW, Azoitei ML, Uozumi N, Cui J, Shen MW, DeClercq CM, Miyashiro JS, Carito BA, Thakker P, Simmons DL, Leonard JP, Shimizu T, Clark JD (2005) Cytosolic phospholipase A2 alpha-deficient mice are resistant to experimental autoimmune encephalomyelitis. J Exp Med 202:841–851

Matsuoka T, Hirata M, Tanaka H, Takahashi Y, Murata T, Kabashima K, Sugimoto Y, Kobayashi T, Ushikubi F, Aze Y, Eguchi N, Urade Y, Yoshida N, Kimura K, Mizoguchi A, Honda Y, Nagai H, Narumiya S (2000) Prostaglandin D2 as a mediator of allergic asthma. Science 287:2013–2017

McBride HM, Neuspiel M, Wasiak S (2006) Mitochondria: more than just a powerhouse. Curr Biol 16:R551–R560

McCullough L, Wu L, Haughey N, Liang X, Hand T, Wang Q, Breyer RM, Andreasson K (2004) Neuroprotective function of the PGE2 EP2 receptor in cerebral ischemia. J Neurosci 24:257–268

McKerracher L, David S (2004) Easing the brakes on spinal cord repair. Nat Med 10:1052–1053

Mitsuhashi T, Ikata T, Morimoto K, Tonai T, Katoh S (1994) Increased production of eicosanoids, TXA2, PGI2 and LTC4 in experimental spinal cord injuries. Paraplegia 32:524–530

Mohri I, Eguchi N, Suzuki K, Urade Y, Taniike M (2003) Hematopoietic prostaglandin D synthase is expressed in microglia in the developing postnatal mouse brain. Glia 42:263–274

Mohri I, Taniike M, Taniguchi H, Kanekiyo T, Aritake K, Inui T, Fukumoto N, Eguchi N, Kushi A, Sasai H, Kanaoka Y, Ozono K, Narumiya S, Suzuki K, Urade Y (2006) Prostaglandin D2-mediated microglia/astrocyte interaction enhances astrogliosis and demyelination in twitcher. J Neurosci 26:4383–4393

Mohri I, Kadoyama K, Kanekiyo T, Sato Y, Kagitani-Shimono K, Saito Y, Suzuki K, Kudo T, Takeda M, Urade Y, Murayama S, Taniike M (2007) Hematopoietic prostaglandin D synthase and DP1 receptor are selectively upregulated in microglia and astrocytes within senile plaques from human patients and in a mouse model of Alzheimer disease. J Neuropathol Exp Neurol 66:469–480

Molloy GY, Rattray M, Williams RJ (1998) Genes encoding multiple forms of phospholipase A2 are expressed in rat brain. Neurosci Lett 258:139–142

Montine TJ, Milatovic D, Gupta RC, Valyi-Nagy T, Morrow JD, Breyer RM (2002) Neuronal oxidative damage from activated innate immunity is EP2 receptor-dependent. J Neurochem 83:463–470

Moreland DB, Soloniuk DS, Feldman MJ (1989) Leukotrienes in experimental spinal cord injury. Surg Neurol 31:277–280

Murakami M, Kudo I (2001) Diversity and regulatory functions of mammalian secretory phospholipase A2s. Adv Immunol 77:163–194

Murakami M, Kudo I, Inoue K (1993) Molecular nature of phospholipases A2 involved in prostaglandin I2 synthesis in human umbilical vein endothelial cells. Possible participation of cytosolic and extracellular type II phospholipases A2. J Biol Chem 268:839–844

Murakami M, Nakatani Y, Atsumi G, Inoue K, Kudo I (1997) Regulatory functions of phospholipase A2. Crit Rev Immunol 17:225–283

Murakami M, Nakatani Y, Tanioka T, Kudo I (2002) Prostaglandin E synthase. Prostaglandins Other Lipid Mediat 68–69:383–399

Murakami M, Taketomi Y, Miki Y, Sato H, Hirabayashi T, Yamamoto K (2011) Recent progress in phospholipase A research: from cells to animals to humans. Prog Lipid Res 50:152–192

Nishisho T, Tonai T, Tamura Y, Ikata T (1996) Experimental and clinical studies of eicosanoids in cerebrospinal fluid after spinal cord injury. Neurosurgery 39:950–956

Nordvik I, Myhr KM, Nyland H, Bjerve KS (2000) Effect of dietary advice and n-3 supplementation in newly diagnosed MS patients. Acta Neurol Scand 102:143–149

Oikawa Y, Yamato E, Tashiro F, Yamamoto M, Uozumi N, Shimada A, Shimizu T, Miyazaki J (2005) Protective role for cytosolic phospholipase A2alpha in autoimmune diabetes of mice. FEBS Lett 579:3975–3978

Ousman SS, David S (2000) Lysophosphatidylcholine induces rapid recruitment and activation of macrophages in the adult mouse spinal cord. Glia 30:92–104

Ousman SS, David S (2001) MIP-1alpha, MCP-1, GM-CSF, and TNF-alpha control the immune cell response that mediates rapid phagocytosis of myelin from the adult mouse spinal cord. J Neurosci 21:4649–4656

Owada Y, Tominaga T, Yoshimoto T, Kondo H (1994) Molecular cloning of rat cDNA for cytosolic phospholipase A2 and the increased gene expression in the dentate gyrus following transient forebrain ischemia. Brain Res Mol Brain Res 25:364–368

Owens T, Wekerle H, Antel J (2001) Genetic models for CNS inflammation. Nat Med 7:161–166

Pereira MP, Hurtado O, Cardenas A, Bosca L, Castillo J, Davalos A, Vivancos J, Serena J, Lorenzo P, Lizasoain I, Moro MA (2006) Rosiglitazone and 15-deoxy-delta12,14-prostaglandin J2 cause potent neuroprotection after experimental stroke through noncompletely overlapping mechanisms. J Cereb Blood Flow Metab 26:218–229

Perrin FE, Lacroix S, Aviles-Trigueros M, David S (2005) Involvement of monocyte chemoattractant protein-1, macrophage inflammatory protein-1alpha and interleukin-1beta in Wallerian degeneration. Brain 128:854–866

Piccinini AM, Midwood KS (2010) DAMPening inflammation by modulating TLR signalling. Mediators Inflamm 2010:pii:672395

Pineau I, Lacroix S (2007) Proinflammatory cytokine synthesis in the injured mouse spinal cord: multiphasic expression pattern and identification of the cell types involved. J Comp Neurol 500:267–285

Rapoport SI, Chang MC, Spector AA (2001) Delivery and turnover of plasma-derived essential PUFAs in mammalian brain. J Lipid Res 42:678–685

Redensek A, Rathore KI, Berard JL, López-Vales R, Swayne LA, Bennett SA, Mohri I, Taniike M, Urade Y, David S (2011) Expression and detrimental role of hematopoietic prostaglandin D synthase in spinal cord contusion injury. Glia 59:603–614

Resnick DK, Graham SH, Dixon CE, Marion DW (1998) Role of cyclooxygenase 2 in acute spinal cord injury. J Neurotrauma 15:1005–1013

Resnick DK, Nguyen P, Cechvala CF (2001a) Regional and temporal changes in prostaglandin E2 and thromboxane B2 concentrations after spinal cord injury. Spine J 1:432–436

Resnick DK, Nguyen P, Cechvala CF (2001b) Selective cyclooxygenase 2 inhibition lowers spinal cord prostaglandin concentrations after injury. Spine J 1:437–441

Ribotta MG, Provencher J, Feraboli-Lohnherr D, Rossignol S, Privat A, Orsal D (2000) Activation of locomotion in adult chronic spinal rats is achieved by transplantation of embryonic raphe cells reinnervating a precise lumbar level. J Neurosci 20:5144–5152

Rocha PN, Plumb TJ, Coffman TM (2003) Eicosanoids: lipid mediators of inflammation in transplantation. Springer Semin Immunopathol 25:215–227

Rossi A, Kapahi P, Natoli G, Takahashi T, Chen Y, Karin M, Santoro MG (2000) Anti-inflammatory cyclopentenone prostaglandins are direct inhibitors of IkappaB kinase. Nature 403:103–108

Rouault M, Le Calvez C, Boilard E, Surrel F, Singer A, Ghomashchi F, Bezzine S, Scarzello S, Bollinger J, Gelb MH, Lambeau G (2007) Recombinant production and properties of binding of the full set of mouse secreted phospholipases A2 to the mouse M-type receptor. Biochemistry 46:1647–1662

Ryborg AK, Deleuran B, Thestrup-Pedersen K, Kragballe K (1994) Lysophosphatidylcholine: a chemoattractant to human T lymphocytes. Arch Dermatol Res 286:462–465

Ryborg AK, Deleuran B, Sogaard H, Kragballe K (2000) Intracutaneous injection of lysophosphatidylcholine induces skin inflammation and accumulation of leukocytes. Acta Derm Venereol 80:242–246

Saeed Z, Guilbault C, De Sanctis JB, Henri J, Marion D, St-Arnaud R, Radzioch D (2007) Fenretinide prevents the development of osteoporosis in Cftr-KO mice. J Cyst Fibros 7:222–230

Saegusa J, Akakura N, Wu CY, Hoogland C, Ma Z, Lam KS, Liu FT, Takada YK, Takada Y (2008) Pro-inflammatory secretory phospholipase A2 type IIA binds to integrins alphavbeta3 and alpha4beta1 and induces proliferation of monocytic cells in an integrin-dependent manner. J Biol Chem 283:26107–26115

Saito M, Ueno M, Kubo K, Yamaguchi M (1998) Dose-response effect of dietary docosahexaenoic acid on fatty acid profiles of serum and tissue lipids in rats. J Agric Food Chem 46:184–193

Saiwai H, Ohkawa Y, Yamada H, Kumamaru H, Harada A, Okano H, Yokomizo T, Iwamoto Y, Okada S (2010) The LTB4-BLT1 axis mediates neutrophil infiltration and secondary injury in experimental spinal cord injury. Am J Pathol 176:2352–2366

Saleem S, Kim YT, Maruyama T, Narumiya S, Dore S (2009) Reduced acute brain injury in PGE2 EP3 receptor-deficient mice after cerebral ischemia. J Neuroimmunol 208:87–93

Sanchez-Mejia RO, Newman JW, Toh S, Yu GQ, Zhou Y, Halabisky B, Cisse M, Scearce-Levie K, Cheng IH, Gan L, Palop JJ, Bonventre JV, Mucke L (2008) Phospholipase A2 reduction ameliorates cognitive deficits in a mouse model of Alzheimer's disease. Nat Neurosci 11:1311–1318

Sarne Y, Asaf F, Fishbein M, Gafni M, Keren O (2011) The dual neuroprotective-neurotoxic profile of cannabinoid drugs. Br J Pharmacol 163:1391–1401

Sarsilmaz M, Songur A, Ozyurt H, Kus I, Ozen OA, Ozyurt B, Sogut S, Akyol O (2003) Potential role of dietary omega-3 essential fatty acids on some oxidant/antioxidant parameters in rats' corpus striatum. Prostaglandins Leukot Essent Fatty Acids 69:253–259

Saruhashi Y, Young W, Perkins R (1996) The recovery of 5-HT immunoreactivity in lumbosacral spinal cord and locomotor function after thoracic hemisection. Exp Neurol 139:203–213

Schaloske RH, Dennis EA (2006) The phospholipase A2 superfamily and its group numbering system. Biochim Biophys Acta 1761:1246–1259

Schwab JM, Serhan CN (2006) Lipoxins and new lipid mediators in the resolution of inflammation. Curr Opin Pharmacol 6:414–420

Schwab JM, Brechtel K, Nguyen TD, Schluesener HJ (2000a) Persistent accumulation of cyclooxygenase-1 (COX-1) expressing microglia/macrophages and upregulation by endothelium following spinal cord injury. J Neuroimmunol 111:122–130

Schwab JM, Nguyen TD, Postler E, Meyermann R, Schluesener HJ (2000b) Selective accumulation of cyclooxygenase-1-expressing microglial cells/macrophages in lesions of human focal cerebral ischemia. Acta Neuropathol 99:609–614

Schwab JM, Seid K, Schluesener HJ (2001) Traumatic brain injury induces prolonged accumulation of cyclooxygenase-1 expressing microglia/brain macrophages in rats. J Neurotrauma 18:881–890

Schwab JM, Beschorner R, Meyermann R, Gozalan F, Schluesener HJ (2002) Persistent accumulation of cyclooxygenase-1-expressing microglial cells and macrophages and transient upregulation by endothelium in human brain injury. J Neurosurg 96:892–899

Schwab JM, Conrad S, Elbert T, Trautmann K, Meyermann R, Schluesener HJ (2004) Lesional RhoA+ cell numbers are suppressed by anti-inflammatory, cyclooxygenase-inhibiting treatment following subacute spinal cord injury. Glia 47:377–386

Schwab JM, Chiang N, Arita M, Serhan CN (2007) Resolvin E1 and protectin D1 activate inflammation-resolution programmes. Nature 447:869–874

Serhan CN (2007) Resolution phase of inflammation: novel endogenous anti-inflammatory and proresolving lipid mediators and pathways. Annu Rev Immunol 25:101–137

Serhan CN, Yacoubian S, Yang R (2008a) Anti-inflammatory and proresolving lipid mediators. Annu Rev Pathol 3:279–312

Serhan CN, Chiang N, Van Dyke TE (2008b) Resolving inflammation: dual anti-inflammatory and pro-resolution lipid mediators. Nat Rev Immunol 8:349–361

Serhan CN, Yang R, Martinod K, Kasuga K, Pillai PS, Porter TF, Oh SF, Spite M (2009) Maresins: novel macrophage mediators with potent antiinflammatory and proresolving actions. J Exp Med 206:15–23

Serhan CN, Fredman G, Yang R, Karamnov S, Belayev LS, Bazan NG, Zhu M, Winkler JW, Petasis NA (2011) Novel proresolving aspirin-triggered DHA pathway. Chem Biol 18:976–987

Shinzawa K, Sumi H, Ikawa M, Matsuoka Y, Okabe M, Sakoda S, Tsujimoto Y (2008) Neuroaxonal dystrophy caused by group VIA phospholipase A2 deficiency in mice: a model of human neurodegenerative disease. J Neurosci 28:2212–2220

Siegal T, Shohami E, Shapira Y, Siegal T (1988) Indomethacin and dexamethasone treatment in experimental neoplastic spinal cord compression. Part 2. Effect on edema and prostaglandin synthesis. Neurosurgery 22:334–339

Sobrado M, Pereira MP, Ballesteros I, Hurtado O, Fernandez-Lopez D, Pradillo JM, Caso JR, Vivancos J, Nombela F, Serena J, Lizasoain I, Moro MA (2009) Synthesis of lipoxin A4 by 5-lipoxygenase mediates PPARgamma-dependent, neuroprotective effects of rosiglitazone in experimental stroke. J Neurosci 29:3875–3884

Spite M, Serhan CN (2010) Novel lipid mediators promote resolution of acute inflammation: impact of aspirin and statins. Circ Res 107:1170–1184

Straus DS, Pascual G, Li M, Welch JS, Ricote M, Hsiang CH, Sengchanthalangsy LL, Ghosh G, Glass CK (2000) 15-Deoxy-delta 12,14-prostaglandin J2 inhibits multiple steps in the NF-kappa B signaling pathway. Proc Natl Acad Sci USA 97:4844–4849

Strokin M, Sergeeva M, Reiser G (2003) Docosahexaenoic acid and arachidonic acid release in rat brain astrocytes is mediated by two separate isoforms of phospholipase A2 and is differently regulated by cyclic AMP and Ca2+. Br J Pharmacol 139:1014–1022

Sun GY, Xu J, Jensen MD, Yu S, Wood WG, Gonzalez FA, Simonyi A, Sun AY, Weisman GA (2005) Phospholipase A2 in astrocytes: responses to oxidative stress, inflammation, and G protein-coupled receptor agonists. Mol Neurobiol 31:27–41

Tabuchi S, Uozumi N, Ishii S, Shimizu Y, Watanabe T, Shimizu T (2003) Mice deficient in cytosolic phospholipase A2 are less susceptible to cerebral ischemia/reperfusion injury. Acta Neurochir Suppl 86:169–172

Tager AM, Luster AD (2003) BLT1 and BLT2: the leukotriene B(4) receptors. Prostaglandins Leukot Essent Fatty Acids 69:123–134

Tager AM, Bromley SK, Medoff BD, Islam SA, Bercury SD, Friedrich EB, Carafone AD, Gerszten RE, Luster AD (2003) Leukotriene B4 receptor BLT1 mediates early effector T cell recruitment. Nat Immunol 4:982–990

Takadera T, Yumoto H, Tozuka Y, Ohyashiki T (2002) Prostaglandin E(2) induces caspase-dependent apoptosis in rat cortical cells. Neurosci Lett 317:61–64

Tanaka K, Hirai H, Takano S, Nakamura M, Nagata K (2004) Effects of prostaglandin D2 on helper T cell functions. Biochem Biophys Res Commun 316:1009–1014

Titsworth WL, Onifer SM, Liu NK, Xu XM (2007) Focal phospholipases A2 group III injections induce cervical white matter injury and functional deficits with delayed recovery concomitant with Schwann cell remyelination. Exp Neurol 207:150–162

Titsworth WL, Cheng X, Ke Y, Deng L, Burckardt KA, Pendleton C, Liu NK, Shao H, Cao QL, Xu XM (2009) Differential expression of sPLA2 following spinal cord injury and a functional role for sPLA2-IIA in mediating oligodendrocyte death. Glia 57:1521–1537

Ueda H (2011) Lysophosphatidic acid as the initiator of neuropathic pain. Biol Pharm Bull 34:1154–1158

Ujihara M, Urade Y, Eguchi N, Hayashi H, Ikai K, Hayaishi O (1988) Prostaglandin D2 formation and characterization of its synthetases in various tissues of adult rats. Arch Biochem Biophys 260:521–531

Urade Y, Ujihara M, Horiguchi Y, Ikai K, Hayaishi O (1989) The major source of endogenous prostaglandin D2 production is likely antigen-presenting cells. Localization of glutathione-requiring prostaglandin D synthetase in histiocytes, dendritic, and Kupffer cells in various rat tissues. J Immunol 143:2982–2989

Urade Y, Ujihara M, Horiguchi Y, Igarashi M, Nagata A, Ikai K, Hayaishi O (1990) Mast cells contain spleen-type prostaglandin D synthetase. J Biol Chem 265:371–375

Urade Y, Kitahama K, Ohishi H, Kaneko T, Mizuno N, Hayaishi O (1993) Dominant expression of mRNA for prostaglandin D synthase in leptomeninges, choroid plexus, and oligodendrocytes of the adult rat brain. Proc Natl Acad Sci USA 90:9070–9074

Valentin E, Ghomashchi F, Gelb MH, Lazdunski M, Lambeau G (2000) Novel human secreted phospholipase A(2) with homology to the group III bee venom enzyme. J Biol Chem 275:7492–7496

Wang X, Budel S, Baughman K, Gould G, Song KH, Strittmatter SM (2009) Ibuprofen enhances recovery from spinal cord injury by limiting tissue loss and stimulating axonal growth. J Neurotrauma 26:81–95

Ward RE, Huang W, Curran OE, Priestley JV, Michael-Titus AT (2010) Docosahexaenoic acid prevents white matter damage after spinal cord injury. J Neurotrauma 27:1769–1780

Weinstock-Guttman B, Baier M, Park Y, Feichter J, Lee-Kwen P, Gallagher E, Venkatraman J, Meksawan K, Deinehert S, Pendergast D, Awad AB, Ramanathan M, Munschauer F, Rudick R (2005) Low fat dietary intervention with omega-3 fatty acid supplementation in multiple sclerosis patients. Prostaglandins Leukot Essent Fatty Acids 73:397–404

Wright GW, Ooi CE, Weiss J, Elsbach P (1990) Purification of a cellular (granulocyte) and an extracellular (serum) phospholipase A2 that participate in the destruction of Escherichia coli in a rabbit inflammatory exudate. J Biol Chem 265:6675–6681

Wu L, Wang Q, Liang X, Andreasson K (2007a) Divergent effects of prostaglandin receptor signaling on neuronal survival. Neurosci Lett 421:253–258

Wu LJ, Vadakkan KI, Zhuo M (2007b) ATP-induced chemotaxis of microglial processes requires P2Y receptor-activated initiation of outward potassium currents. Glia 55:810–821

Xing B, Li H, Wang H, Mukhopadhyay D, Fisher D, Gilpin CJ, Li S (2011) RhoA-inhibiting NSAIDs promote axonal myelination after spinal cord injury. Exp Neurol 231:247–260

Xu JA, Hsu CY, Liu TH, Hogan EL, Perot PL Jr, Tai HH (1990) Leukotriene B4 release and polymorphonuclear cell infiltration in spinal cord injury. J Neurochem 55:907–912

Xu XX, Rock CO, Qiu ZH, Leslie CC, Jackowski S (1994) Regulation of cytosolic phospholipase A2 phosphorylation and eicosanoid production by colony-stimulating factor 1. J Biol Chem 269:31693–31700

Yang L, Blumbergs PC, Jones NR, Manavis J, Sarvestani GT, Ghabriel MN (2004) Early expression and cellular localization of proinflammatory cytokines interleukin-1beta, interleukin-6, and tumor necrosis factor-alpha in human traumatic spinal cord injury. Spine 29:966–971

Zarruk JG, Fernandez-Lopez D, Garcia-Yebenes I, Garcia-Gutierrez MS, Vivancos J, Nombela F, Torres M, Burguete MC, Manzanares J, Lizasoain I, Moro MA (2011) Cannabinoid type 2 receptor activation downregulates stroke-induced classic and alternative brain macrophage/microglial activation concomitant to neuroprotection. Stroke 43:211–219

Zhang C, Bazan NG (2010) Lipid-mediated cell signaling protects against injury and neurodegeneration. J Nutr 140:858–863

Zhao Z, Zhang X, Zhao C, Choi J, Shi J, Song K, Turk J, Ma ZA (2010) Protection of pancreatic beta-cells by group VIA phospholipase A(2)-mediated repair of mitochondrial membrane peroxidation. Endocrinology 151:3038–3048
Acknowledgements
The authors thank Margaret Attiwell for her help with the illustrations.
Additional information
The work performed in the laboratory of S.D. was supported by grants from the Canadian Institutes of Health Research (CIHR) and the Wings for Life Spinal Cord Research Foundation. Work carried out in the laboratory of R.L.-V. is supported by grants from the Wings for Life Spinal Cord Research Foundation and a Marie-Curie International Reintegration grant and by funds from the Fondo de Investigación Sanitaria (TERCEL and CIBERNED) and Ministerio de Ciencia e Innovación of Spain (SAF2010-17851). A.D.G. is supported by a postdoctoral fellowship from the CIHR Neuroinflammation Training Program.
About this article
Cite this article
David, S., Greenhalgh, A.D. & López-Vales, R. Role of phospholipase A2s and lipid mediators in secondary damage after spinal cord injury. Cell Tissue Res 349, 249–267 (2012). https://doi.org/10.1007/s00441-012-1430-8
Received:

Accepted:

Published:

Issue Date:
Keywords
Phospholipase A2

Spinal cord injury

Inflammation

Demyelination

Bioactive lipids