Abstract
The determination of a precise number of cells within a structure and of a precise number of cellular structures within an organ is critical for correct development in animals and plants. However, relatively little is known about the molecular mechanisms that ensure that these numbers are achieved. We discuss counting mechanisms that operate during ovarian development and oogenesis.
Access options
Buy single article
Instant access to the full article PDF.
US$ 39.95
Tax calculation will be finalised during checkout.
Subscribe to journal
Immediate online access to all issues from 2019. Subscription will auto renew annually.
US$ 119
Tax calculation will be finalised during checkout.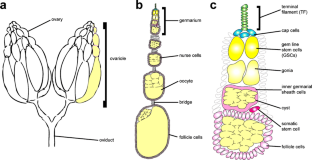 References
Besse F, Busson D, Pret AM (2005) Hedgehog signaling controls Soma-Germen interactions during Drosophila ovarian morphogenesis. Dev Dyn 234:422–431

Bolívar J, Pearson J, López-Onieva L, González-Reyes A (2006) Genetic dissection of a stem cell niche: the case of the Drosophila ovary. Dev Dyn 235:2969–2979

Büning J (1979) The telotrophic nature of ovarioles of polyphage coleoptera. Zoomorphology 93:51–57

Chen J, Godt D, Gunsalus K, Kiss I, Goldberg M, Laski FA (2001) Cofilin/ADF is required for cell motility during Drosophila ovary development and oogenesis. Nat Cell Biol 3:204–209

Cohet Y, David J (1978) Control of the adult reproductive potential by preimaginal thermal conditions. Oecologia 36:295–306

Coyne JA, Rux J, David JR (1991) Genetics of morphological differences and hybrid sterility between Drosophila sechellia and its relatives. Genet Res 57:113–122

Delpuech J-M, Noreteau B, Chiche J, Pla E, Vouidibio J, David JR (1995) Phenotypic plasticity and reaction norms in temperate and tropical populations of Drosophila melanogaster: ovarian size and developmental temperature. Evolution 4:670–675

Gibert P, Capy P, Imasheva A, Moreteau B, Morin JP, Pétavy G, David JR (2004) Comparative analysis of morphological traits among Drosophila melanogaster and D. simulans: genetic variability, clines and phenotypic plasticity. Genetica 120:165–179

Gilboa L, Lehmann R (2006) Soma-germline interactions coordinate homeostasis and growth in the Drosophila gonad. Nature 443:97–100

Godt D, Laski FA (1995) Mechanisms of cell rearrangement and cell recruitment in Drosophila ovary morphogenesis and the requirement of bric à brac. Development 121:173–187

Hodin J, Riddiford LM (1998) The ecdysone receptor and ultraspriacle regulate the timing and progression of ovarian morphogenesis during Drosophila metamorphosis. Dev Genes Evol 208:304–317

Hsu H-J, Drummond-Barbosa D (2009) Insulin levels control female germline stem cell maintenance via the niche in Drosophila. Proc Natl Acad Sci USA 106:1117–1121

Hsu H-J, Drummond-Barbosa D (2011) Insulin signals control the competence of the Drosophila female germline stem cell niche to respond to Notch ligands. Dev Biol 350:290–300

Kambysellis MP, Heed WB (1971) Studies of oogenesis in natural populations of Drosophilidae. I. Relation of ovarian development and ecological habitats of the Hawaiian species. Am Nat 941:31–49

LaFever L, Drummond-Barbosa D (2005) Direct control of germline stem cell division and cyst growth by neural insulin in Drosophila. Science 309:1071–1073

Louis J, David JR (1986) Ecological specialization in the Drosophila melanogaster species subgroup: a case study of D. sechellia. Acta Oecol 7:215–229

Orgogozo V, Broman KW, Stern DL (2006) High-resolution quantitative trait locus mapping reveals sign epistasis controlling ovariole number between two Drosophila species. Genetics 173:197–205

R'kha S, Capy P, David JR (1991) Host-plant specialization in the Drosophila melanogaster species complex: a physiological, behavioral, and genetic analysis. Proc Natl Acad Sci USA 88:1835–1839

R'kha S, Moreteau B, Coyne JA, David JR (1997) Evolution of a lesser fitness trait: egg production in the specialist Drosophila sechellia. Genet Res 69:17–23

Song X, Call GB, Kirilly D, Xie T (2007) Notch signaling controls germline stem cell niche formation in the Drosophila ovary. Development 134:1071–1080

Thomas-Orillard M (1976) Tentative de localisation des gènes qui président au déterminisme du nombre d'ovarioles chez la drosophile. Arch Genet 48:116–127

Thomas-Orillard M (1984) Modifications of mean ovariole number, fresh weight of adult females and developmental time in Drosophila melanogaster induced by Drosophila C virus. Genetics 107:634–644

Ward EJ, Shcherbata HR, Reynolds SH, Fischer KA, Hatfield SD, Ruohola-Baker H (2006) Stem cells signal to the niche through the Notch pathway in the Drosophila ovary. Curr Biol 16:2352–2358

Wayne ML, McIntyre LM (2002) Combining mapping and arraying: an approach to candidate gene identification. Proc Natl Acad Sci USA 99:14903–14906

Wayne ML, Hackett JB, Mackay TFC (1997) Quantitative genetics of ovariole number in Drosophila melanogaster. I. Segregating variation and fitness. Evolution 4:1156–1163

Wayne ML, Hackett JB, Dilda CL, Nuzhdin SV, Pasyukova EG, Mackay TF (2001) Quantitative trait locus mapping of fitness-related traits in Drosophila melanogaster. Genet Res 77:107–116

Zhao R, Xuan Y, Li X, Xi R (2008) Age-related changes of germline stem cell activity, niche signaling activity and egg production in Drosophila. Aging Cell 7:344–354
Additional information
Delbert A. Green II and Didem P. Sarikaya contributed equally to this work.
About this article
Cite this article
Green, D.A., Sarikaya, D.P. & Extavour, C.G. Counting in oogenesis. Cell Tissue Res 344, 207–212 (2011). https://doi.org/10.1007/s00441-011-1150-5
Received:

Accepted:

Published:

Issue Date:
Keywords
Oogenesis

Germ-line stem cell

Morphogenesis

Ovary

Drosophila