Abstract
Stem cells in mammary tissue have been well characterised by using the mammary stem cell marker, cytokeratin (CK) 5 and the mature epithelial markers CK14, CK18 and CK19. As these markers have never been reported in cells from breastmilk, the aim of this study has been to determine whether mammary stem cells are present in expressed human breastmilk. Cultured cells from human breastmilk were studied by using immunofluorescent labelling and reverse transcription/polymerase chain reaction (RT-PCR). We found a heterogeneous population of cells with differential expression of CK5, CK14, CK18 and CK19. Further, by using the multipotent stem cell marker, nestin, we identified cells in culture that were positive only for nestin or double-positive for CK5/nestin, whereas no co-staining was observed for CK14, CK18 and CK19 with nestin. When cells isolated from breastmilk were analysed by using RT-PCR prior to culture, only nestin and CK18 were detected, thereby indicating that breastmilk contained differentiated epithelial and putative stem cells. Furthermore, fluorescence-activated cell-sorting analysis demonstrated, in breastmilk, a small side-population of cells that excluded Hoechst 33342 (a key property of multipotent stem cells). When stained for nestin, the cells in the side-population were positive, whereas those not in the side-population were negative. The presence of nestin-positive putative mammary stem cells suggests that human breastmilk is a readily available and non-invasive source of putative mammary stem cells that may be useful for research into both mammary gland biology and more general stem cell biology.
Access options
Buy single article
Instant access to the full article PDF.
US$ 39.95
Tax calculation will be finalised during checkout.
Subscribe to journal
Immediate online access to all issues from 2019. Subscription will auto renew annually.
US$ 119
Tax calculation will be finalised during checkout.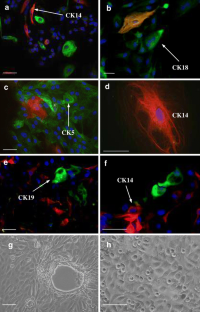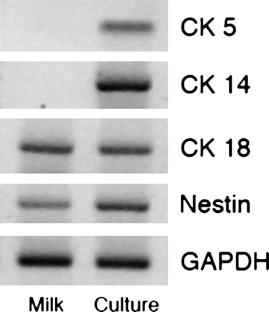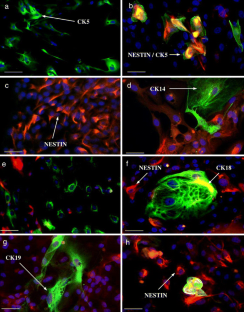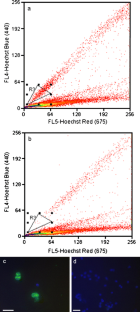 References
Alvi AJ, Clayton H, Joshi C, Enver T, Ashworth A, Vivanco MM, Dale TC, Smalley MJ (2003) Functional and molecular characterisation of mammary side population cells. Breast Cancer Res 5:R1–R8

Amoh Y, Li L, Katsuoka K, Penman S, Hoffman RM (2005) Multipotent nestin-positive, keratin-negative hair-follicle bulge stem cells can form neurons. Proc Natl Acad Sci USA 102:5530–5534

Berdichevsky F, Taylor-Papadimitriou J (1991) Morphological differentiation of hybrids of human mammary epithelial cell lines is dominant and correlates with the pattern of expression of intermediate filaments. Exp Cell Res 194:267–274

Bocker W, Bier B, Freytag G, Brommelkamp B, Jarasch ED, Edel G, Dockhorn-Dworniczak B, Schmid KW (1992a) An immunohistochemical study of the breast using antibodies to basal and luminal keratins, alpha-smooth muscle actin, vimentin, collagen IV and laminin. I. Normal breast and benign proliferative lesions. Virchows Arch A Pathol Anat Histopathol 421:315–322

Bocker W, Bier B, Freytag G, Brommelkamp B, Jarasch ED, Edel G, Dockhorn-Dworniczak B, Schmid KW (1992b) An immunohistochemical study of the breast using antibodies to basal and luminal keratins, alpha-smooth muscle actin, vimentin, collagen IV and laminin. II. Epitheliosis and ductal carcinoma in situ. Virchows Arch A Pathol Anat Histopathol 421:323–330

Bocker W, Moll R, Poremba C, Holland R, Van Diest PJ, Dervan P, Burger H, Wai D, Ina Diallo R, Brandt B, Herbst H, Schmidt A, Lerch MM, Buchwallow IB (2002) Common adult stem cells in the human breast give rise to glandular and myoepithelial cell lineages: a new cell biological concept. Lab Invest 8:737–746

Boecker W, Buerger H (2003) Evidence of progenitor cells of glandular and myoepithelial cell lineages in the human adult female breast epithelium: a new progenitor (adult stem) cell concept. Cell Prolif 36:73–84

Brooker BE (1980) The epithelial cells and cell fragments in human milk. Cell Tissue Res 210:321–332

Clarke RB, Spence K, Anderson E, Howell A, Okano H, Potten CS (2005) A putative human breast cell population is enriched for steroid receptor-positive cells. Dev Biol 277:443–456

Dahlstrand J, Zimmerman LB, McKay RD, Lendahl U (1992) Characterization of the human nestin gene reveals a close revolutionary relationship to neurofilaments. J Cell Sci 103:589–597

DeOme KB, Faulkin LJ, Bern HA, Blair PB (1959) Development of mammary tumours from hyperplastic alveolar nodules transplanted into gland free mammary fat pads of female C3H mice. Cancer Res 19:515–520

Dontu G, Abdallah WM, Foley JM, Jackson KW, Clarke MF, Kawamura MJ, Wicha MS (2003) In vitro propagation and transcriptional profiling of human mammary stem/progenitor cells. Genes Dev 17:1253–1270

Gudjonsson T, Villadsen R, Nielsen HL, Ronnov-Jessen L, Bissell MJ, Petersen OW (2002) Isolation, immortalization and characterization of a human breast epithelial cell line with stem cells properties. Genes Dev 16:693–706

Ho FCS, Wong RLC, Lawton JWN (1979) Human colostral and breast milk cells. Acta Paediatr Scand 68:389–396

Kabos P, Ehtesham M, Kabosova A, Black KL, Yu JS (2002) Generation of neural progenitor cells from whole adult bone marrow. Exp Neurol 178:288–293

Kordon EC, Smith GH (1998) An entire functional mammary gland may comprise the progeny from a single cell. Development 125:1921–1930

Lendahl U, Zimmerman LB, McKay RD (1990) CNS stem cells express a new class of intermediate filament protein. Cell 60:585–595

Neville MC, Daniel CW (1986) The mammary gland: development regulation and function. Plenum, New York

Pechoux C, Gudjonsson T, Ronnov-Jessen L, Bissell MJ, Petersen OW (1999) Human mammary luminal epithelial cells contain progenitors to myoepithelial cells. Dev Biol 206:88–99

Petersen OW, Gudjonsson T, Villadsen R, Bissell MJ, Ronnov-Jessen L (2003) Epithelial progenitor cells lines as models of normal breast morphogenesis and neoplasia. Cell Prolif 36:33–44

Shackleton M, Vaillant F, Simpson KJ, Stingl J, Smyth GK, Asselin-Labat ML, Wu L, Lindeman GJ, Visvader JE (2006) Generation of a functional mammary gland from a single stem cell. Nature 439:84–88

Sting L, Eaves CJ, Kuusk U (1998) Phenotypic and functional characterization in vitro of a multipotent epithelial cell present in the normal adult human breast. Differentiation 63:201–213

Sting L, Eaves CJ, Zandieh I, Emerman JT (2001) Characterization of bipotent mammary epithelial progenitor cells in normal adult human breast tissue. Breast Cancer Res Treat 67:93–109

Storms RW, Goodell MA, Fisher A, Mulligan RD, Smith C (2000) Hoechst dye efflux reveals a novel CD71/CD342 lymphoid progenitor in human umbilical cord blood. Blood 96:2125–2133

Toma JG, Akhavan M, Fernandes KJ, Barnabe-Heider F, Sadikot A, Kaplan DR, Miller FD (2001) Isolation of multipotent adult stem cells from the dermis of mammalian skin. Nat Cell Biol 3:778–784

Welm BE, Tepera SB, Venezia T, Graubert TA, Rosen JM, Goodell MA (2002) Sca-1 (pos) cells in the mouse mammary gland represent an enriched progenitor cell population. Dev Biol 245:42–56

Zhou S, Schuetz JD, Bunting KD, Colapietro AM, Sampath J, Morris JJ, Lagutina I, Grosveld GC, Osawa M, Nakauchi H, Sorrentino BP (2001) The ABC transporter Bcrp1/ABCG2 is expressed in a wide variety of stem cells and is a molecular determinant of the side-population phenotype. Nat Med 7:1028–1034

Zulewski H, Abraham EJ, Gerlach MJ, Daniel PB, Moritz W, Muller B, Vallejo M, Thomas MK, Habener JF (2001) Multipotential nestin-positive stem cells isolated from adult pancreatic islets differentiate ex vivo into pancreatic endocrine, exocrine, and hepatic phenotypes. Diabetes 50:521–533
Acknowledgements
The authors are grateful to all the breastfeeding mothers who participated in this research and to the Australian Breastfeeding Association for assistance in their recruitment.
Additional information
Yiping Fan and Amber Appelbee contributed equally to this work.
This project was funded by Medela, Switzerland.
About this article
Cite this article
Cregan, M.D., Fan, Y., Appelbee, A. et al. Identification of nestin-positive putative mammary stem cells in human breastmilk. Cell Tissue Res 329, 129–136 (2007). https://doi.org/10.1007/s00441-007-0390-x
Received:

Accepted:

Published:

Issue Date:
Keywords
Mammary gland

Breastmilk

Putative mammary stem cell

Lactation

Breastfeeding

Human