Abstract
Nature's best-known example of colorful, changeable, and diverse skin patterning is found in cephalopods. Color and pattern changes in squid skin are mediated by the action of thousands of pigmented chromatophore organs in combination with subjacent light-reflecting iridophore cells. Chromatophores (brown, red, yellow pigment) are innervated directly by the brain and can quickly expand and retract over underlying iridophore cells (red, orange, yellow, green, blue iridescence). Here, we present the first spectral account of the colors that are produced by the interaction between chromatophores and iridophores in squid (Loligo pealeii). Using a spectrometer, we have acquired highly focused reflectance measurements of chromatophores, iridophores, and the quality and quantity of light reflected when both interact. Results indicate that the light reflected from iridophores can be filtered by the chromatophores, enhancing their appearance. We have also measured polarization aspects of iridophores and chromatophores and show that, whereas structurally reflecting iridophores polarize light at certain angles, pigmentary chromatophores do not. We have further measured the reflectance change that iridophores undergo during physiological activity, from "off" to various degrees of "on", revealing specifically the way that colors shift from the longer end (infra-red and red) to the shorter (blue) end of the spectrum. By demonstrating that three color classes of pigments, combined with a single type of reflective cell, produce colors that envelop the whole of the visible spectrum, this study provides an insight into the optical mechanisms employed by the elaborate skin of cephalopods to give the extreme diversity that enables their dynamic camouflage and signaling.
Access options
Buy single article
Instant access to the full article PDF.
US$ 39.95
Tax calculation will be finalised during checkout.
Subscribe to journal
Immediate online access to all issues from 2019. Subscription will auto renew annually.
US$ 119
Tax calculation will be finalised during checkout.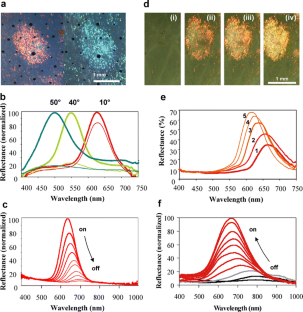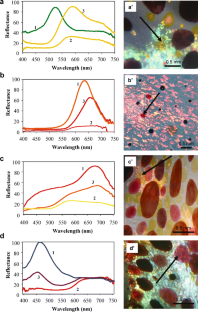 References
Booth CL (1990) Evolutionary significance of ontogenetic colour change in animals. Biol J Linn Soc 40:125–163

Boys CV (1959) Soap bubbles - their colors and forces which mold them. Dover, New York

Brown PK, Brown PS (1958) Visual pigments of the octopus and cuttlefish. Nature 182:1288–1290

Cloney RA, Brocco SL (1983) Chromatophore organs, reflector cells, iridocytes and leucophores in cephalopods. Am Zool 23:581–592

Cooper KM, Hanlon RT (1986) Correlation of iridescence with changes in iridophore platelet ultrastructure in the squid Lolliguncula brevis. J Exp Biol 121:451–455

Cooper KM, Hanlon RT, Budelmann BU (1990) Physiological color-change in squid iridophores. II. Ultrastructural mechanisms in Lolliguncula brevis. Cell Tissue Res 259:15–24

Cornwell CJ, Messenger JB, Hanlon RT (1997) Chromatophores and body patterning in the squid Alloteuthis subulata. J Mar Biol Assoc UK 77:1243–1246

Cott HB (1940) Adaptive colouration in animals. Methuen, London

Crookes WJ, Ding L, Huang QL, Kimbell JR, Horwitz J, McFall-Ngai MJ (2004) Reflectins: the unusual proteins of squid reflective tissues. Science 303:235–238

Cuthill IC, Bennett ATD, Partridge JC, Maier EJ (1999) Plumage reflectance and the objective assessment of avian sexual dichromatism. Am Nat 160:183–200

Denton EJ, Land MF (1971) Mechanism of reflexion in silvery layers of fish and cephalopods. Proc R Soc Lond [A] 178:43–61

Edmunds M (1974) Defence in animals—a survey of anti-predator defences. Longman, Harlow, UK

Florey E (1969) Ultrastructure and function of cephalopod chromatophores. Am Zool 9:429–442

Fujii R (1993) Coloration and chromatophores. In: Evans DH (ed) The physiology of fishes. CRC Press, Boca Raton, pp 535–562

Fritsches KA, Partridge J, Pettigrew JD, Marshall NJ (2000) Colour vision in billfish. Philos Trans R Soc Lond Biol 355:1253–1256

Froesch D, Messenger JB (1978) On leucophores and the chromatic unit of Octopus vulgaris. J Zool (Lond) 186:163–173

Hadley ME, Oldman JMG (1969) Physiological color changes in reptiles. Am Zool 9:489–504

Hanlon RT (1982) The functional organization of chromatophores and iridescent cells in the body patterning of Loligo plei (Cephalopoda: Myopsida). Malacologia 23:89–119

Hanlon RT (1988) Behavioral and body patterning characters useful in taxonomy of field identification of cephalopods. Malacologia 29:247–264

Hanlon RT, Messenger JB (1988) Adaptive coloration in young cuttlefish (Sepia officinalis L.): the morphology and development of body patterns and their relation to behaviour. Philos Trans R Soc Lond Biol 320:437–487

Hanlon RT, Messenger JB (1996) Cephalopod behaviour. Cambridge University Press, Cambridge

Hanlon RT, Cooper KM, Budelmann BU, Pappas TC (1990) Physiological color-change in squid iridophores. I. Behavior, morphology and pharmacology in Lolliguncula brevis. Cell Tissue Res 259:3–14

Hanlon RT, Maxwell MR, Shashar N, Loew ER, Boyle KL (1999) An ethogram of body patterning behavior in the biomedically and commercially valuable squid Loligo pealei off Cape Cod, Massachusetts. Biol Bull 197:49–62

Jerlov NG (1976) Marine optics. Elsevier, Amsterdam

Kasukawa H, Oshima N, Fujii R (1987) Mechanism of light reflection in blue damselfish motile iridophore. Zool Sci 4:243–257

Land MF (1972) The physics and biology of animal reflectors. Progr Biophys Mol Biol 24:75–106

Losey GS, McFarland WN, Loew ER, Zamzow JP, Nelson PA, Marshall NJ (2003) Visual biology of Hawaiian coral reef fishes. I. Ocular transmission and visual pigments. Copeia 3:433–454

Lythgoe JN, Shand J (1989) The structural basis for iridescent colour changes in dermal and corneal iridophores in fish. J Exp Biol 141:313–325

Marshall NJ (2000) Communication and camouflage with the same "bright" colours in reef fishes. Philos Trans R Soc Lond Biol 355:1243–1248

Marshall NJ, Messenger JB (1996) Colour-blind camouflage. Nature 382:408–409

Marshall NJ, Jennings KJ, McFarland WN, Loew ER, Losey GS (2003) Visual biology of Hawaiian coral reef fishes. III. Environmental light and an integrated approach to the ecology of reef fish vision. Copeia 3:467–480

Mäthger LM, Denton EJ (2001) Reflective properties of iridophores and fluorescent "eyespots" in the loliginid squid Alloteuthis subulata and Loligo vulgaris. J Exp Biol 204:2103–2118

Mäthger LM, Hanlon RT (2006) Anatomical basis for camouflaged polarized light communication in squid. Biol Lett 2:494–496

Mäthger LM, Land MF, Siebeck UE, Marshall NJ (2003) Rapid colour changes in multilayer reflecting stripes in the paradise whiptail, Pentapodus paradiseus. J Exp Biol 206:3607–3613

Mäthger LM, Collins TFT, Lima PA (2004) The role of muscarinic receptors and intracellular Ca2+ in the spectral reflectivity changes of squid iridophores. J Exp Biol 207:1759–1769

Mäthger LM, Barbosa A, Miner S, Hanlon RT (2006) Color blindness and contrast perception in cuttlefish (Sepia officinalis) determined by a visual sensorimotor assay. Vision Res 46:1746–1753

Messenger JB (1973) Some evidence for colour-blindness in Octopus. J Exp Biol 59:77–94

Messenger JB (2001) Cephalopod chromatophores: neurobiology and natural history. Biol Rev 76:473–528

Mirow S (1972a) Skin color in the squids Loligo pealii and Loligo opalescens. I. Chromatophores. Z Zellforsch 125:143–175

Mirow S (1972b) Skin color in the squids Loligo pealii and Loligo opalescens. II. Iridophores. Z Zellforsch 125:176–190

Morris A, Bowmaker JK, Hunt DM (1993) The molecular basis of a spectral shift in the rhodopsins of two species of squid from different photic environments. Proc R Soc Lond [Biol] 254:233–240

Moynihan M (1985) Communication and noncomminucation by cephalopods. Indiana University Press, Bloomington

Osorio D, Ham AD (2002) Spectral reflectance and directional properties of structural coloration in bird plumage. J Exp Biol 205:2017–2027

Packard A (1972) Cephalopods and fish: the limits of convergence. Biol Rev 47:241–307

Packard A, Hochberg FG (1977) Skin patterning in Octopus and other genera. Symp Zool Soc Lond 38:191–231

Partridge JC (1990) The colour sensitivity and vision of fishes. In: Herring PJ, Campbell AK, Whitfield M, Maddock L (eds) Life and light in the sea. Cambridge University Press, Cambridge, pp 167–184

Stegen JC, Gienger CM, Sun L (2004) The control of color change in the Pacific tree frog, Hyla regilla. Can J Zool 82:889–896

Taylor JD, Hadley ME (1970) Chromatophores and color change in the lizard, Anolis carolinensis. Cell Tissue Res 104:282–294

Vorobyev M, Osorio D, Bennett ATD, Marshall NJ, Cuthill IC (1998) Tetrachromacy, oil droplets and bird plumage colours. J Comp Physiol [A] 183:621–633

Williams L (1909) The anatomy of the common squid, Loligo pealii. Brill, Leiden
Acknowledgments
Many thanks to Phil McFadden (U. Oregon), Peter J. S. Smith (MBL) and two anonymous reviewers for constructive comments.
Additional information
The authors are grateful for partial funding from DARPA (DSO) through Anteon contract F33615-03-D-5408.
About this article
Cite this article
Mäthger, L.M., Hanlon, R.T. Malleable skin coloration in cephalopods: selective reflectance, transmission and absorbance of light by chromatophores and iridophores. Cell Tissue Res 329, 179 (2007). https://doi.org/10.1007/s00441-007-0384-8
Received:

Accepted:

Published:
Keywords
Color change

Spectral reflectance

Polarization

Body pattern

Squid, Loligo pealeii (Mollusca Cephalopoda)