Abstract
Membrane trafficking is one of the most important mechanisms involved in the establishment and maintenance of the forms and functions of the cell. However, it is poorly understood in skeletal muscle cells. In this study, we have focused on vesicle-associated membrane proteins (VAMPs), which are components of the vesicle docking and fusion complex, and have performed immunostaining to investigate the expression of VAMPs in rat skeletal muscle tissue. We have found that VAMP2, but not VAMP1 or VAMP3, is expressed in satellite cells. VAMP2 is also expressed in myofibers in the soleus muscle and nerve endings. This is consistent with previous studies in which VAMP2 has been shown to regulate GLUT4 trafficking in slow-twitch myofibers in soleus muscle and neurotransmitter release in nerve endings. As satellite cells are quiescent myogenic cells, the expression of VAMP2 has further been examined in regenerating muscles after injury by the snake venom, cardiotoxin; we have observed enhanced expression of VAMP2 in immature myotubes with a peak at 3 days after injury. Our findings suggest that VAMP2 plays roles in quiescent satellite cells and is involved in muscle regeneration. The nature of the material transported in the VAMP2-bearing vesicles in satellite cells and myotubes is still under investigation.
Access options
Buy single article
Instant access to the full article PDF.
USD 39.95
Price includes VAT (USA)
Tax calculation will be finalised during checkout.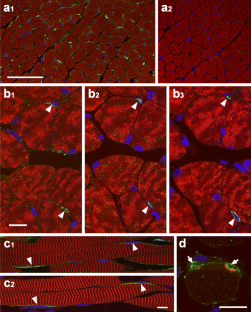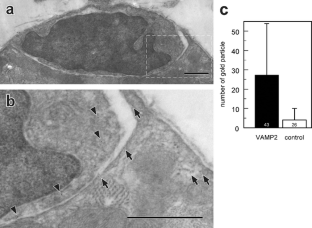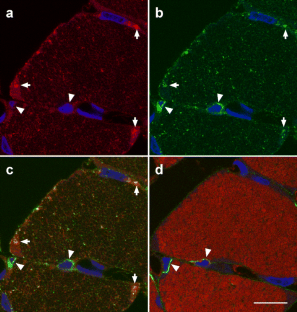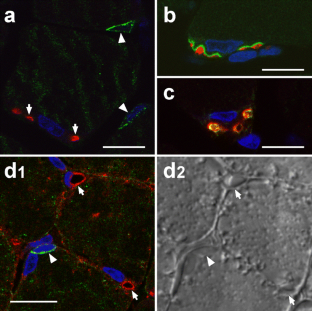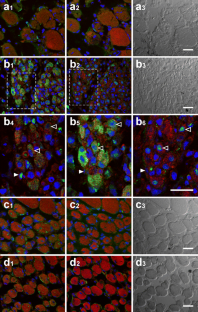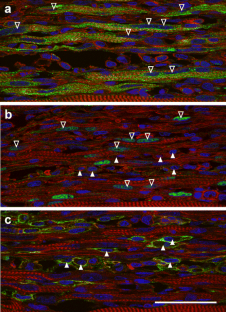 References
Abmayr SM, Balagopalan L, Galletta BJ, Hong SJ (2003) Cell and molecular biology of myoblast fusion. Int Rev Cytol 225:33–89

Alterio J, Courtois Y, Robelin J, Bechet D, Martelly I (1990) Acidic and basic fibroblast growth factor mRNAs are expressed by skeletal muscle satellite cells. Biochem Biophys Res Commun 166:1205–1212

Baumert M, Maycox PR, Navone F, De Camilli P, Jahn R (1989) Synaptobrevin: an integral membrane protein of 18,000 daltons present in small synaptic vesicles of rat brain. EMBO J 8:379–384

Charge SB, Rudnicki MA (2004) Cellular and molecular regulation of muscle regeneration. Physiol Rev 84:209–238

Clarke MS, Khakee R, McNeil PL (1993) Loss of cytoplasmic basic fibroblast growth factor from physiologically wounded myofibers of normal and dystrophic muscle. J Cell Sci 106:121–133

DiMario J, Buffinger N, Yamada S, Strohman RC (1989) Fibroblast growth factor in the extracellular matrix of dystrophic (mdx) mouse muscle. Science 244:688–690

Dreyfus PA, Chretien F, Chazaud B, Kirova Y, Caramelle P, Garcia L, Butler-Browne G, Gherardi RK (2004) Adult bone marrow-derived stem cells in muscle connective tissue and satellite cell niches. Am J Pathol 164:773–779

Florini JR, Ewton DZ, Coolican SA (1996) Growth hormone and the insulin-like growth factor system in myogenesis. Endocr Rev 17:481–517

Germani A, Di Carlo A, Mangoni A, Straino S, Giacinti C, Turrini P, Biglioli P, Capogrossi MC (2003) Vascular endothelial growth factor modulates skeletal myoblast function. Am J Pathol 163:1417–1428

Holterman CE, Rudnicki MA (2005) Molecular regulation of satellite cell function. Semin Cell Dev Biol 16:575–584

Hong W (2005) SNAREs and traffic. Biochim Biophys Acta 1744:493–517

Ishido M, Kami K, Masuhara M (2004) In vivo expression patterns of MyoD, p21, and Rb proteins in myonuclei and satellite cells of denervated rat skeletal muscle. Am J Physiol Cell Physiol 287:C484–C493

Jennische E, Hansson HA (1987) Regenerating skeletal muscle cells express insulin-like growth factor I. Acta Physiol Scand 130:327–332

Lehrmann E, Christensen T, Zimmer J, Diemer NH, Finsen B (1997) Microglial and macrophage reactions mark progressive changes and define the penumbra in the rat neocortex and striatum after transient middle cerebral artery occlusion. J Comp Neurol 386:461–476

Marette A, Richardson JM, Ramlal T, Balon TW, Vranic M, Pessin JE, Klip A (1992) Abundance, localization, and insulin-induced translocation of glucose transporters in red and white muscle. Am J Physiol 263:C443–C452

Matsuda S, Desaki J, Fujita H, Okumura N, Sakanaka M (1992) Immuno-electron-microscopic localization of basic fibroblast growth factor in the dystrophic mdx mouse masseter muscle. Cell Tissue Res 270:569–576

McNeil PL, Steinhardt RA (2003) Plasma membrane disruption: repair, prevention, adaptation. Annu Rev Cell Dev Biol 19:697–731

Nielsen S, Marples D, Birn H, Mohtashami M, Dalby NO, Trimble M, Knepper M (1995) Expression of VAMP-2-like protein in kidney collecting duct intracellular vesicles. Colocalization with aquaporin-2 water channels. J Clin Invest 96:1834–1844

Pennuto M, Bonanomi D, Benfenati F, Valtorta F (2003) Synaptophysin I controls the targeting of VAMP2/synaptobrevin II to synaptic vesicles. Mol Biol Cell 14:4909–4919

Ralston E, Beushausen S, Ploug T (1994) Expression of the synaptic vesicle proteins VAMPs/synaptobrevins 1 and 2 in non-neural tissues. J Biol Chem 269:15403–15406

Regazzi R, Wollheim CB, Lang J, Theler JM, Rossetto O, Montecucco C, Sadoul K, Weller U, Palmer M, Thorens B (1995) VAMP-2 and cellubrevin are expressed in pancreatic beta-cells and are essential for Ca2+- but not for GTP gamma S-induced insulin secretion. EMBO J 14:2723–2730

Rooney JE, Welser JV, Dechert MA, Flintoff-Dye NL, Kaufman SJ, Burkin DJ (2006) Severe muscular dystrophy in mice that lack dystrophin and alpha7 integrin. J Cell Sci 119:2185–2195

Rossetto O, Gorza L, Schiavo G, Schiavo N, Scheller RH, Montecucco C (1996) VAMP/synaptobrevin isoforms 1 and 2 are widely and differentially expressed in nonneuronal tissues. J Cell Biol 132:167–179

Tajika Y, Matsuzaki T, Suzuki T, Aoki T, Hagiwara H, Tanaka S, Kominami E, Takata K (2002) Immunohistochemical characterization of the intracellular pool of water channel aquaporin-2 in the rat kidney. Anat Sci Int 77:189–195

Tajika Y, Matsuzaki T, Suzuki T, Aoki T, Hagiwara H, Kuwahara M, Sasaki S, Takata K (2004) Aquaporin-2 is retrieved to the apical storage compartment via early endosomes and phosphatidylinositol 3-kinase-dependent pathway. Endocrinology 145:4375–4383

Takata K, Matsuzaki T, Tajika Y (2004) Aquaporins: water channel proteins of the cell membrane. Prog Histochem Cytochem 39:1–83

Teijido O, Martinez A, Pusch M, Zorzano A, Soriano E, Del Rio JA, Palacin M, Estevez R (2004) Localization and functional analyses of the MLC1 protein involved in megalencephalic leukoencephalopathy with subcortical cysts. Hum Mol Genet 13:2581–2594

Towler MC, Kaufman SJ, Brodsky FM (2004) Membrane traffic in skeletal muscle. Traffic 5:129–139

Volchuk A, Mitsumoto Y, He L, Liu Z, Habermann E, Trimble W, Klip A (1994) Expression of vesicle-associated membrane protein 2 (VAMP-2)/synaptobrevin II and cellubrevin in rat skeletal muscle and in a muscle cell line. Biochem J 304:139–145

Wakabayashi K, Honer WG, Masliah E (1994) Synapse alterations in the hippocampal-entorhinal formation in Alzheimer's disease with and without Lewy body disease. Brain Res 667:24–32

Watson RT, Kanzaki M, Pessin JE (2004) Regulated membrane trafficking of the insulin-responsive glucose transporter 4 in adipocytes. Endocr Rev 25:177–204

Zammit PS, Golding JP, Nagata Y, Hudon V, Partridge TA, Beauchamp JR (2004) Muscle satellite cells adopt divergent fates: a mechanism for self-renewal? J Cell Biol 166:347–357
Acknowledgments
We thank Ms. Harumi Matsuda for technical and secretarial assistance, and Ms. Fumiko Ebihara, Mr. Yoshihiro Matsuda, and Ms. Ritsuko Tsukagoshi for technical assistance during a part of the course, Practice in Basic Medical Science, at Gunma University School of Medicine.
Additional information
This work was supported by a research grant (17A-10) for nervous and mental disorders from the Ministry of Health, Labor, and Welfare of Japan, and Grants-in-Aid for Scientific Research from the Ministry of Education, Culture, Sports, Science, and Technology of Japan.
About this article
Cite this article
Tajika, Y., Sato, M., Murakami, T. et al. VAMP2 is expressed in muscle satellite cells and up-regulated during muscle regeneration. Cell Tissue Res 328, 573–581 (2007). https://doi.org/10.1007/s00441-006-0376-0
Received:

Accepted:

Published:

Issue Date:
Keywords
SNARE

VAMP2

Satellite cells

MyoD

M-cadherin

Rat