Abstract
The biochemical characterization of nitric oxide synthase (NOS) and its distribution in the central nervous system (CNS) were studied in the heteropteran bug Triatoma infestans. NOS-like immunoreactivity was found in the brain, subesophageal ganglion, and thoracic ganglia by using immunocytochemistry. In the protocerebrum, NOS-immunoreactive (IR) somata were detected in the anterior, lateral, and posterior soma rinds. In the optic lobe, numerous immunostained somata were observed at the level of the first optic chiasma, around the lobula, and in the proximal optic lobe. In the deutocerebrum, NOS-IR perikarya were mainly observed in the lateral soma rind, surrounding the sensory glomeruli, and a few cell bodies were seen in association with the antennal mechanosensory and motor neuropil. No immunostaining could be detected in the antennal nerve. The subesophageal and prothoracic ganglia contained scattered immunostained cell bodies. NOS-IR somata were present in all the neuromeres of the posterior ganglion. Western blotting showed that a universal NOS antiserum recognized a band at 134 kDa, in agreement with the expected molecular weight of the protein. Analysis of the kinetics of nitric oxide production revealed a fully active enzyme in tissue samples of the CNS of T. infestans.
Access options
Buy single article
Instant access to the full article PDF.
US$ 39.95
Tax calculation will be finalised during checkout.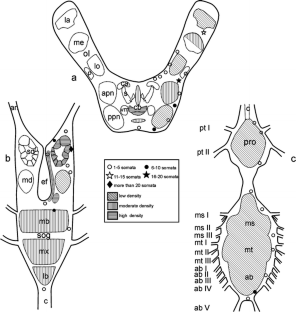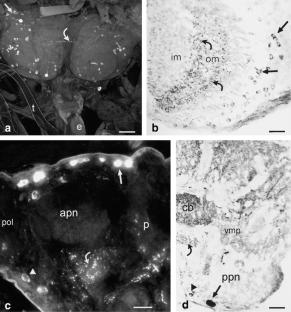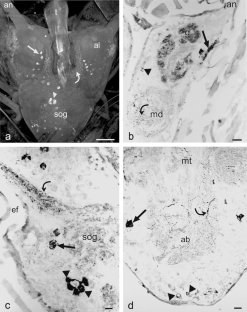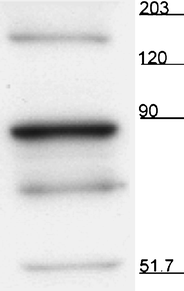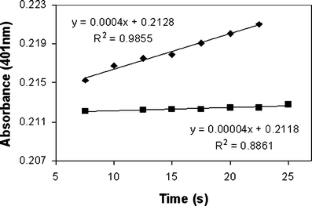 References
Alderton WK, Cooper CE, Knowles RG (2001) Nitric oxide synthases: structure, function and inhibition. Biochem J 357:593–615

Bicker G (2001) Sources and targets of nitric oxide signalling in insect nervous systems. Cell Tissue Res 303:137–146

Bicker G, Hähnlein I (1995) NADPH-diaphorase expression in neurones and glial cells of the locust brain. Neuroreport 6:325–328

Bicker G, Schmachtenberg O (1997) Cytochemical evidence for nitric oxide/cyclic GMP signal transmission in the visual system of the locust. Eur J Neurosc 9:189–193

Bradford MM (1976) A rapid and sensitive method for the quantitation of microgram quantities of protein utilizing the principle of protein-dye binding. Anal Biochem 72:248–254

Braman RS, Hendrix SA (1989) Nanogram nitrite and nitrate determination in environmental and biological materials by vanadium (III) reduction with chemiluminescence detection. Anal Chem 61:2715–2718

Brenman JE, Xia H, Chao DS, Black SM, Bredt DS (1997) Regulation of neuronal nitric oxide synthase through alternative transcripts. Dev Neurosci 19:224–231

Broholm H, Rubin I, Kruse A, Braedenstrup O, Schmidt K, Skriver EB, Lauritzen M (2003) Nitric oxide synthase expression and enzymatic activity in human brain tumors. Clin Neuropathol 22:273–281

Davies SA (2000) Nitric oxide signalling in insects. Insect Biochem Mol Biol 30:1123–1138

Di Luciano V (1981) Morphology of the stridulatory groove of Triatoma infestans (Hemiptera: Reduviidae). J Med Entomol 18:24–32

Elphick MR, Jones IW (1998) Localization of soluble guanylyl cyclase α-subunit in identified insect neurons. Brain Res 800:170–174

Elphick MR, Rayne RC, Riveros-Moreno V, Moncada S, O'Shea M (1995) Nitric oxide synthesis in locust olfactory interneurons. J Exp Biol 198:821–829

Elphick MR, Williams L, O'Shea M (1996) New features of the locust optic lobe: evidence of a role for nitric oxide in insect vision. J Exp Biol 199:2395–2407

Feelisch M, Noack E (1987) Nitric oxide (NO) formation from nitrovasodilators occurs independently of hemoglobin or non-heme iron. Eur J Pharmacol 142:465–469

Gibson NJ, Nighorn A (2000) Expression of nitric oxide synthase and soluble guanylyl cyclase in the developing olfactory system of Manduca sexta. J Comp Neurol 422:197–205

Guerenstein PG, Guerin PM (2001) Olfactory and behavioural responses of the blood-sucking bug Triatoma infestans to odours of vertebrate hosts. J Exp Biol 204:585–597

Hsu SM, Raind O, Fanger H (1981) Use of avidin biotin peroxidase complex (ABC) in immunoperoxidase technique. A comparison between ABC and unlabelled antibody (PAP) procedures. J Histochem Cytochem 29:577–580

Imamura M, Yang J, Yamakawa M (2002) cDNA cloning, characterization and gene expression of nitric oxide synthase from the silkworm, Bombyx mori. Insect Mol Biol 11:257–265

Insausti TC (1994) Nervous system of Triatoma infestans. J Morphol 321:1–17

Insausti TC, Lazzari CR (2000) The central projection of cephalic mechanosensory axons in the haematophagous bug Triatoma infestans. Mem Inst Oswaldo Cruz 95:381–388

Kurylas AE, Ott SR, SchachtnerJ, Elphick MR, Williams L, Homberg U (2005) Localization of nitric oxide synthase in the central complex and surrounding midbrain neuropils of the locust Schistocerca gregaria. J Comp Neurol 484:206–223

Laemmli UK (1970) Cleavage of structural proteins during the assembly of the head of the bacteriophage T4. Nature 227:680–685

Luckhart S, Rosenberg R (1999) Gene structure and polymorphism of an invertebrate nitric oxide synthase gene. Gene 232:25–34

Manrique G, Lazzari CR (1994) Sexual behaviour and stridulation during mating in Triatoma infestans (Hemiptera: Reduviidae). Mem Inst Oswaldo Cruz 89:629–633

Müller U (1994) Ca2+/calmodulinin dependent nitric oxide synthase in Apis mellifera and Drosophila melanogaster. Eur J Neurosc 6:1362–1370

Müller U (1997) The nitric oxide system in insects. Prog Neurobiol 51:363–381

Nighorn A, Gibson NJ, Rivers DM, Hildebrand JG, Morton DB (1998) The nitric oxide-cGMP pathway may mediate communication between sensory afferents and projection neurons in the antennal lobe of Manduca sexta. J Neurosci 18:7244–7255

Ott SR, Burrows M (1998) Nitric oxide synthase in the thoracic ganglia of the locust: distribution in the neuropils and morphology of neurones. J Comp Neurol 305:217–230

Regulski M, Tully T (1995) Molecular and biochemical characterization of dNOS: a Drosophila Ca2+/calmodulin-dependent nitric oxide synthase. Proc Natl Acad Sci USA 92:9072–9076

Reisenman CE, Insausti TC, Lazzari CR (2002) Light-induced and circadian changes in the compound eye of the haematophagous bug Triatoma infestans (Hemiptera: Reduviidae). J Exp Biol 225:201–210

Ribeiro JMC, Nussenzveig RH (1993) Nitric oxide synthase activity from a hematophagous insect salivary gland. FEBS Lett 330:165–168

Seidel C, Bicker G (1997) Colocalization of NADPH-diaphorase and GABA-immunoreactivity in the locust olfactory and visual system. Brain Res 769:273–280

Settembrini BP (1984) Circadian rhythms of locomotor activity in Triatoma infestans (Hemiptera: Reduviidae). J Med Entomol 21:204–212

Settembrini BP, Villar MJ (1999) Proctolin in the brain and ganglia of Triatoma infestans. J Morphol 240:39–47

Settembrini BP, Villar MJ (2004) Distribution of serotonin in the central nervous system of the blood feeding heteropteran, Triatoma infestans (Heteroptera: Reduviidae). J Morphol 260:21–31

Settembrini BP, Coronel MF, Nowicki S, De Pasquale D, Villar MJ (2005) Distribución y caracterización de la sintetasa del óxido nítrico en el sistema nervioso central de Triatoma infestans. Resúmenes del VI Congreso Argentino de Entomología, San Miguel de Tucumán, p 316

Shah S, Hyde DR (1995) Two Drosophila genes that encode the α- and β-subunits of the brain soluble guanylyl cyclase. J Biol Chem 270:15368–15376

Shu S, Ju G, Fan I (1988) The glucose oxidase method in peroxidase histochemistry of the nervous system. Neurosci Lett 85:169–171

Stasiv Y, Regulski M, Kuzin B, Tully T, Enikolopov G (2001) The Drosophila nitric-oxide synthase gene (dNOS) encodes a family of proteins that can modulate NOS activity by acting as dominant negative regulators. J Biol Chem 276:42241–42251

Stürmer K, Bauman O, Walz B (1995) Actin-dependent light induced translocation of mitochondria and ER cisternae in the photoreceptor cells of the locust Schistocerca gregaria. J Cell Sci 108:2273–2283

Taneja J, Guerrin PM (1995) Oriented responses of the triatomine bugs Rhodnius prolixus and Triatoma infestans to vertebrate odours on a servosphere. J Comp Physiol [A] 176:455–464

Villar MJ, Settembrini BP, Hökfelt T, Tramezzani JH (1994) NOS is present in the brain of Triatoma infestans and is colocalyzed with CCK. Neuroreport 6:81–84

Wenzel B, Kunst M, Günther C, Ganter GK, Lakes-Harlan R, Elsner N, Heinrich R (2005) Nitric oxide/cyclic guanosine monophosphate signaling in the central complex of the grasshopper brain inhibits singing behavior. J Comp Neurol 488:129–139

WHO (2002) Special program for research and training in tropical diseases report. TDR Strategic Direction: Chagas' disease. WHO, Geneva

Yuda M, Hirai M, Miura K, Matsumara H, Ando K, Chinzei Y (1996) CDNA cloning, expression and characterization of nitric-oxide synthase from the salivary glands of the blood-sucking insect Rhodnius prolixus. Eur J Biochem 242:807–812
Acknowledgments
The authors are grateful to D. Canale and A. Stariolo (Center for the Control of Chagas' disease) for providing the insects, to G. Ruffolo and S. Ruffolo for technical assistance, and P. Jansma (Arizona Research Laboratories, Division of Neurobiology, University of Arizona) for expert help with the confocal microscope. The assistance of C. Collmann and M. Kaneko is also acknowledged.
Additional information
This work was funded by the Facultad de Ciencias Biomédicas. Universidad Austral. A.J.N. is supported by the NIH-NIDCD (DC04292). Part of this work was performed at the Arizona Research Laboratories, Division of Neurobiology (Tucson, Arizon, USA) with the support of a Fulbright Research Award to B.P.S.
About this article
Cite this article
Settembrini, B.P., Coronel, M.F., Nowicki, S. et al. Distribution and characterization of nitric oxide synthase in the nervous system of Triatoma infestans (Insecta: Heteroptera). Cell Tissue Res 328, 421–430 (2007). https://doi.org/10.1007/s00441-006-0359-1
Received:

Accepted:

Published:

Issue Date:
Keywords
Brain

Subesophageal ganglion

Thoracic ganglia

NOS

NO production

(Insecta) Triatoma infestans