Abstract
Microtubules are formed from heterodimers of alpha- and beta-tubulin, each of which has multiple isoforms encoded by separate genes. Pathogenic missense variants in multiple different tubulin isoforms cause brain malformations. Missense mutations in TUBB3, which encodes the neuron-specific beta-tubulin isotype, can cause congenital fibrosis of the extraocular muscles type 3 (CFEOM3) and/or malformations of cortical development, with distinct genotype–phenotype correlations. Here, we report fourteen individuals from thirteen unrelated families, each of whom harbors the identical NM_006086.4 (TUBB3):c.785G>A (p.Arg262His) variant resulting in a phenotype we refer to as the TUBB3 R262H syndrome. The affected individuals present at birth with ptosis, ophthalmoplegia, exotropia, facial weakness, facial dysmorphisms, and, in most cases, distal congenital joint contractures, and subsequently develop intellectual disabilities, gait disorders with proximal joint contractures, Kallmann syndrome (hypogonadotropic hypogonadism and anosmia), and a progressive peripheral neuropathy during the first decade of life. Subsets may also have vocal cord paralysis, auditory dysfunction, cyclic vomiting, and/or tachycardia at rest. All fourteen subjects share a recognizable set of brain malformations, including hypoplasia of the corpus callosum and anterior commissure, basal ganglia malformations, absent olfactory bulbs and sulci, and subtle cerebellar malformations. While similar, individuals with the TUBB3 R262H syndrome can be distinguished from individuals with the TUBB3 E410K syndrome by the presence of congenital and acquired joint contractures, an earlier onset peripheral neuropathy, impaired gait, and basal ganglia malformations.
Access options
Buy single article
Instant access to the full article PDF.
USD 39.95
Price includes VAT (USA)
Tax calculation will be finalised during checkout.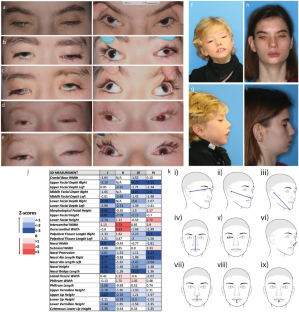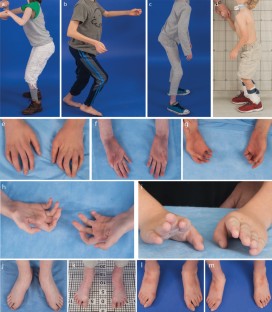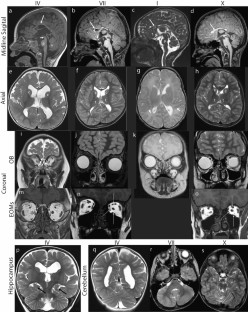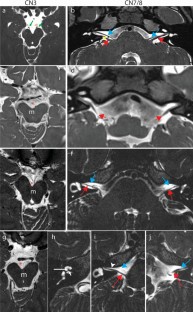 Data availability
The data are not publicly available to protect subject privacy.
References
Achenbach TM, Ruffle TM (2000) The Child Behavior Checklist and related forms for assessing behavioral/emotional problems and competencies. Pediatr Rev 21:265–271. https://doi.org/10.1542/pir.21-8-265

Bahi-Buisson N, Poirier K, Fourniol F, Saillour Y, Valence S, Lebrun N, Hully M, Bianco CF, Boddaert N, Elie C, Lascelles K, Souville I, LIS-Tubulinopathies Consortium, Beldjord C, Chelly J (2014) The wide spectrum of tubulinopathies: what are the key features for the diagnosis? Brain 137:1676–1700. https://doi.org/10.1093/brain/awu082

Bonomi M, Vezzoli V, Krausz C, Guizzardi F, Vezzani S, Simoni M, Bassi I, Duminuco P, Di Iorgi N, Giavoli C, Pizzocaro A, Russo G, Moro M, Fatti L, Ferlin A, Mazzanti L, Zatelli MC, Cannavo S, Isidori AM, Pincelli AI, Prodam F, Mancini A, Limone P, Tanda ML, Gaudino R, Salerno M, Francesca P, Maghnie M, Maggi M, Persani L, Italian Network on Central Hypogonadism (2018) Characteristics of a nationwide cohort of patients presenting with isolated hypogonadotropic hypogonadism (IHH). Eur J Endocrinol 178:23–32. https://doi.org/10.1530/EJE-17-0065

Brinkley JF, Fisher S, Harris MP, Holmes G, Hooper JE, Jabs EW, Jones KL, Kesselman C, Klein OD, Maas RL, Marazita ML, Selleri L, Spritz RA, van Bakel H, Visel A, Williams TJ, Wysocka J, FaceBase C, Chai Y (2016) The FaceBase Consortium: a comprehensive resource for craniofacial researchers. Development 143:2677–2688. https://doi.org/10.1242/dev.135434

Burns TG, King TZ, Spencer KS (2013) Mullen scales of early learning: the utility in assessing children diagnosed with autism spectrum disorders, cerebral palsy, and epilepsy. Appl Neuropsychol Child 2:33–42. https://doi.org/10.1080/21622965.2012.682852

Chew S, Balasubramanian R, Chan WM, Kang PB, Andrews C, Webb BD, MacKinnon SE, Oystreck DT, Rankin J, Crawford TO, Geraghty M, Pomeroy SL, Crowley WF Jr, Jabs EW, Hunter DG, Grant PE, Engle EC (2013) A novel syndrome caused by the E410K amino acid substitution in the neuronal beta-tubulin isotype 3. Brain 136:522–535. https://doi.org/10.1093/brain/aws345

Cignoni P, Callieri M, Corsini M, Dellepiane M, Ganovelli F, Ranzuglia G (2008) MeshLab: an open-source mesh processing tool. In: Scarano V, De Chiara R, Erra U (eds) Eurographics Italian chapter conference. The Eurographics Association pp 129–136. https://doi.org/10.2312/LocalChapterEvents%2FItalChap%2FItalianChapConf2008%2F129-136

Cuellar-Partida G, Tung JY, Eriksson N, Albrecht E, Aliev F, Andreassen OA, Barroso I, Beckmann JS, Boks MP, Boomsma DI, Boyd HA, Breteler MMB, Campbell H, Chasman DI, Cherkas LF, Davies G, de Geus EJC, Deary IJ, Deloukas P, Dick DM, Duffy DL, Eriksson JG, Esko T, Feenstra B, Geller F, Gieger C, Giegling I, Gordon SD, Han J, Hansen TF, Hartmann AM, Hayward C, Heikkila K, Hicks AA, Hirschhorn JN, Hottenga JJ, Huffman JE, Hwang LD, Ikram MA, Kaprio J, Kemp JP, Khaw KT, Klopp N, Konte B, Kutalik Z, Lahti J, Li X, Loos RJF, Luciano M, Magnusson SH, Mangino M, Marques-Vidal P, Martin NG, McArdle WL, McCarthy MI, Medina-Gomez C, Melbye M, Melville SA, Metspalu A, Milani L, Mooser V, Nelis M, Nyholt DR, O'Connell KS, Ophoff RA, Palmer C, Palotie A, Palviainen T, Pare G, Paternoster L, Peltonen L, Penninx B, Polasek O, Pramstaller PP, Prokopenko I, Raikkonen K, Ripatti S, Rivadeneira F, Rudan I, Rujescu D, Smit JH, Smith GD, Smoller JW, Soranzo N, Spector TD, Pourcain BS, Starr JM, Stefansson H, Steinberg S, Teder-Laving M, Thorleifsson G, Stefansson K, Timpson NJ, Uitterlinden AG, van Duijn CM, van Rooij FJA, Vink JM, Vollenweider P, Vuoksimaa E, Waeber G et al (2021) Genome-wide association study identifies 48 common genetic variants associated with handedness. Nat Hum Behav 5:59–70. https://doi.org/10.1038/s41562-020-00956-y

Dieterich K, Quijano-Roy S, Monnier N, Zhou J, Faure J, Smirnow DA, Carlier R, Laroche C, Marcorelles P, Mercier S, Megarbane A, Odent S, Romero N, Sternberg D, Marty I, Estournet B, Jouk PS, Melki J, Lunardi J (2013) The neuronal endopeptidase ECEL1 is associated with a distinct form of recessive distal arthrogryposis. Hum Mol Genet 22:1483–1492. https://doi.org/10.1093/hmg/dds514

Fallet-Bianco C, Laquerriere A, Poirier K, Razavi F, Guimiot F, Dias P, Loeuillet L, Lascelles K, Beldjord C, Carion N, Toussaint A, Revencu N, Addor MC, Lhermitte B, Gonzales M, Martinovich J, Bessieres B, Marcy-Bonniere M, Jossic F, Marcorelles P, Loget P, Chelly J, Bahi-Buisson N (2014) Mutations in tubulin genes are frequent causes of various foetal malformations of cortical development including microlissencephaly. Acta Neuropathol Commun 2:69. https://doi.org/10.1186/2051-5960-2-69

Grant PE, Im K, Ahtam B, Laurentys CT, Chan WM, Brainard M, Chew S, Drottar M, Robson CD, Drmic I, Engle EC (2019) Altered white matter organization in the TUBB3 E410K syndrome. Cereb Cortex 29:3561–3576. https://doi.org/10.1093/cercor/bhy231

Hong YB, Lee JH, Park HJ, Choi YR, Hyun YS, Park JH, Koo H, Chung KW, Choi BO (2015) A family with axonal sensorimotor polyneuropathy with TUBB3 mutation. Mol Med Rep 11:2729–2734. https://doi.org/10.3892/mmr.2014.3047

Jaglin XH, Poirier K, Saillour Y, Buhler E, Tian G, Bahi-Buisson N, Fallet-Bianco C, Phan-Dinh-Tuy F, Kong XP, Bomont P, Castelnau-Ptakhine L, Odent S, Loget P, Kossorotoff M, Snoeck I, Plessis G, Parent P, Beldjord C, Cardoso C, Represa A, Flint J, Keays DA, Cowan NJ, Chelly J (2009) Mutations in the beta-tubulin gene TUBB2B result in asymmetrical polymicrogyria. Nat Genet 41:746–752. https://doi.org/10.1038/ng.380

Janke C (2014) The tubulin code: molecular components, readout mechanisms, and functions. J Cell Biol 206:461–472. https://doi.org/10.1083/jcb.201406055

Jiang YQ, Oblinger MM (1992) Differential regulation of beta III and other tubulin genes during peripheral and central neuron development. J Cell Sci 103(Pt 3):643–651

Katsetos CD, Legido A, Perentes E, Mork SJ (2003) Class III beta-tubulin isotype: a key cytoskeletal protein at the crossroads of developmental neurobiology and tumor neuropathology. J Child Neurol 18:851–866. https://doi.org/10.1177/088307380301801205 (discussion 867)

Khan AO, Shaheen R, Alkuraya FS (2014) The ECEL1-related strabismus phenotype is consistent with congenital cranial dysinnervation disorder. J AAPOS 18:362–367. https://doi.org/10.1016/j.jaapos.2014.03.005

Kiryu-Seo S, Nagata K, Saido TC, Kiyama H (2019) New insights of a neuronal peptidase DINE/ECEL1: nerve development, nerve regeneration and neurogenic pathogenesis. Neurochem Res 44:1279–1288. https://doi.org/10.1007/s11064-018-2665-x

Kumar RA, Pilz DT, Babatz TD, Cushion TD, Harvey K, Topf M, Yates L, Robb S, Uyanik G, Mancini GM, Rees MI, Harvey RJ, Dobyns WB (2010) TUBA1A mutations cause wide spectrum lissencephaly (smooth brain) and suggest that multiple neuronal migration pathways converge on alpha tubulins. Hum Mol Genet 19:2817–2827. https://doi.org/10.1093/hmg/ddq182

Latremoliere A, Cheng L, DeLisle M, Wu C, Chew S, Hutchinson EB, Sheridan A, Alexandre C, Latremoliere F, Sheu SH, Golidy S, Omura T, Huebner EA, Fan Y, Whitman MC, Nguyen E, Hermawan C, Pierpaoli C, Tischfield MA, Woolf CJ, Engle EC (2018) Neuronal-specific TUBB3 is not required for normal neuronal function but is essential for timely axon regeneration. Cell Rep 24:1865-1879 e9. https://doi.org/10.1016/j.celrep.2018.07.029

Le Couteur A, Haden G, Hammal D, McConachie H (2008) Diagnosing autism spectrum disorders in pre-school children using two standardised assessment instruments: the ADI-R and the ADOS. J Autism Dev Disord 38:362–372. https://doi.org/10.1007/s10803-007-0403-3

Lehky T, Joseph R, Toro C, Wu T, Van Ryzin C, Gropman A, Facio FM, Webb BD, Jabs EW, Barry BS, Engle EC, Collins FS, Manoli I, Moebius Syndrome Research Consortium (2021) Differentiating Moebius syndrome and other congenital facial weakness disorders with electrodiagnostic studies. Muscle Nerve 63:516–524. https://doi.org/10.1002/mus.27159

Liberton DK, Mishra R, Beach M, Raznahan A, Gahl WA, Manoli I, Lee JS (2019) Comparison of three-dimensional surface imaging systems using landmark analysis. J Craniofac Surg 30:1869–1872. https://doi.org/10.1097/SCS.0000000000005795

Mayes SD, Calhoun SL (2008) WISC-IV and WIAT-II profiles in children with high-functioning autism. J Autism Dev Disord 38:428–439. https://doi.org/10.1007/s10803-007-0410-4

McMillin MJ, Below JE, Shively KM, Beck AE, Gildersleeve HI, Pinner J, Gogola GR, Hecht JT, Grange DK, Harris DJ, Earl DL, Jagadeesh S, Mehta SG, Robertson SP, Swanson JM, Faustman EM, Mefford HC, Shendure J, Nickerson DA, Bamshad MJ, University of Washington Center for Mendelian Genomics (2013) Mutations in ECEL1 cause distal arthrogryposis type 5D. Am J Hum Genet 92:150–156. https://doi.org/10.1016/j.ajhg.2012.11.014

Minoura I, Takazaki H, Ayukawa R, Saruta C, Hachikubo Y, Uchimura S, Hida T, Kamiguchi H, Shimogori T, Muto E (2016) Reversal of axonal growth defects in an extraocular fibrosis model by engineering the kinesin-microtubule interface. Nat Commun 7:10058. https://doi.org/10.1038/ncomms10058

Nagata K, Kiryu-Seo S, Tamada H, Okuyama-Uchimura F, Kiyama H, Saido TC (2016) ECEL1 mutation implicates impaired axonal arborization of motor nerves in the pathogenesis of distal arthrogryposis. Acta Neuropathol 132:111–126. https://doi.org/10.1007/s00401-016-1554-0

Nagata K, Takahashi M, Kiryu-Seo S, Kiyama H, Saido TC (2017) Distinct functional consequences of ECEL1/DINE missense mutations in the pathogenesis of congenital contracture disorders. Acta Neuropathol Commun 5:83. https://doi.org/10.1186/s40478-017-0486-9

Nakamura Y, Matsumoto H, Zaha K, Uematsu K, Nonoyama S (2018) TUBB3 E410K syndrome with osteoporosis and cough syncope in a patient previously diagnosed with atypical Moebius syndrome. Brain Dev 40:233–237. https://doi.org/10.1016/j.braindev.2017.12.006

Niwa S, Takahashi H, Hirokawa N (2013) beta-Tubulin mutations that cause severe neuropathies disrupt axonal transport. EMBO J 32:1352–1364. https://doi.org/10.1038/emboj.2013.59

Poirier K, Saillour Y, Bahi-Buisson N, Jaglin XH, Fallet-Bianco C, Nabbout R, Castelnau-Ptakhine L, Roubertie A, Attie-Bitach T, Desguerre I, Genevieve D, Barnerias C, Keren B, Lebrun N, Boddaert N, Encha-Razavi F, Chelly J (2010) Mutations in the neuronal β-tubulin subunit TUBB3 result in malformation of cortical development and neuronal migration defects. Hum Mol Genet 19:4462–4473. https://doi.org/10.1093/hmg/ddq377

Preston DC, Shapiro BE (2013) Electromyography and neuromuscular disorders. Elsevier, Amsterdam

Sahni J, Kaye SB, Fryer A, Hiscott P, Bucknall RC (2004) Distal arthrogryposis type IIB: unreported ophthalmic findings. Am J Med Genet A 127A:35–39. https://doi.org/10.1002/ajmg.a.20634

Schwartz DM, Pratt RE Jr, Schwartz JA (1989) Auditory brain stem responses in preterm infants: evidence of peripheral maturity. Ear Hear 10:14–22. https://doi.org/10.1097/00003446-198902000-00003

Shaaban S, Duzcan F, Yildirim C, Chan WM, Andrews C, Akarsu NA, Engle EC (2014) Expanding the phenotypic spectrum of ECEL1-related congenital contracture syndromes. Clin Genet 85:562–567. https://doi.org/10.1111/cge.12224

Shaheen R, Al-Owain M, Khan AO, Zaki MS, Hossni HA, Al-Tassan R, Eyaid W, Alkuraya FS (2014) Identification of three novel ECEL1 mutations in three families with distal arthrogryposis type 5D. Clin Genet 85:568–572. https://doi.org/10.1111/cge.12226

Silman S, Gelfand SA (1981) The relationship between magnitude of hearing loss and acoustic reflex threshold levels. J Speech Hear Disord 46:312–316. https://doi.org/10.1044/jshd.4603.312

Tischfield MA, Baris HN, Wu C, Rudolph G, Van Maldergem L, He W, Chan WM, Andrews C, Demer JL, Robertson RL, Mackey DA, Ruddle JB, Bird TD, Gottlob I, Pieh C, Traboulsi EI, Pomeroy SL, Hunter DG, Soul JS, Newlin A, Sabol LJ, Doherty EJ, de Uzcategui CE, de Uzcategui N, Collins ML, Sener EC, Wabbels B, Hellebrand H, Meitinger T, de Berardinis T, Magli A, Schiavi C, Pastore-Trossello M, Koc F, Wong AM, Levin AV, Geraghty MT, Descartes M, Flaherty M, Jamieson RV, Moller HU, Meuthen I, Callen DF, Kerwin J, Lindsay S, Meindl A, Gupta ML Jr, Pellman D, Engle EC (2010) Human TUBB3 mutations perturb microtubule dynamics, kinesin interactions, and axon guidance. Cell 140:74–87. https://doi.org/10.1016/j.cell.2009.12.011

Wechsler D (2012) Wechsler preschool and primary scale of intelligence, 4th edn. Pearson, Bloomington

Whitman MC, Andrews C, Chan WM, Tischfield MA, Stasheff SF, Brancati F, Ortiz-Gonzalez X, Nuovo S, Garaci F, MacKinnon SE, Hunter DG, Grant PE, Engle EC (2016) Two unique TUBB3 mutations cause both CFEOM3 and malformations of cortical development. Am J Med Genet A 170:297–305. https://doi.org/10.1002/ajmg.a.37362

Wiberg A, Ng M, Al Omran Y, Alfaro-Almagro F, McCarthy P, Marchini J, Bennett DL, Smith S, Douaud G, Furniss D (2019) Handedness, language areas and neuropsychiatric diseases: insights from brain imaging and genetics. Brain 142:2938–2947. https://doi.org/10.1093/brain/awz257

Zenteno JC, Mendez JP, Maya-Nunez G, Ulloa-Aguirre A, Kofman-Alfaro S (1999) Renal abnormalities in patients with Kallmann syndrome. BJU Int 83:383–386. https://doi.org/10.1046/j.1464-410x.1999.00027.x
Funding
Funding provided by the NIH 5K08EY027850 (MCW), 5K12EY016335 (MCW), NIH U01HD079068 (EWJ, IM, ECE); the Moebius Syndrome Foundation (FMF, BDW); NIH intramural projects ZIA DE000746-06 (JSL), ZIA HD008919 (AD), ZIA HG200389-08 (IM, FSC), NIDCD Intramural Research Program (CZ, KAK, CCB), NIH Director's Common Fund to the NIH Undiagnosed Diseases Program (PRL, CT), Region Stockholm ALF, Grant SLL 500306 (ET), Children's Hospital Ophthalmology Foundation (MCW), Boston Children's Hospital Intellectual and Developmental Disabilities Research Center (NICHD 1U54HD090255). ECE is a Howard Hughes Medical Institute Investigator. ET thanks Clinical Genomics, SciLifeLab, Stockholm for excellent collaboration in development of clinical WGS analyses.
Ethics declarations
Conflict of interest
None of the authors have any relevant conflict of interest.
Ethics approval
The Institutional Review Boards at Boston Children's Hospital (Boston, MA) and National Human Genome Research Institute, National Institutes of Health (Bethesda, MD) approved the study. Individual-level data were de-identified. Sharing of medical record information between collaborating sites was covered by an inter-institute collaborative reliance agreement. Studies were performed in compliance with US 45.CFR.46 and the Declaration of Helsinki.
Consent to participate
Informed consent was obtained from each participant or legal guardian.
Consent for publication
Specific consent for the publication of identifiable photographs was also obtained where indicated.
Additional information
Publisher's Note
Springer Nature remains neutral with regard to jurisdictional claims in published maps and institutional affiliations.
About this article
Cite this article
Whitman, M.C., Barry, B.J., Robson, C.D. et al. TUBB3 Arg262His causes a recognizable syndrome including CFEOM3, facial palsy, joint contractures, and early-onset peripheral neuropathy. Hum Genet 140, 1709–1731 (2021). https://doi.org/10.1007/s00439-021-02379-9
Received:

Accepted:

Published:

Issue Date: