Abstract
Hair length can be a highly variable trait within the Felis catus species, varying between and within different cat breeds. Previous research has demonstrated this variability is due to recessive mutations within the fibroblast growth factor 5 (FGF5) gene. Following a genetic screen, four longhaired Maine Coons were identified that had only one copy of a known FGF5 mutation. We performed DNA sequencing on samples from two of these Maine Coons and identified a missense mutation in FGF5 c.577G > A p.Ala193Thr. Genetic screening via restriction digest was then performed on samples from the other two Maine Coons and an additional 273 cats of various breeds. This screening found that only the two additional Maine Coons were heterozygous for the novel variant. Furthermore, the novel variant was not identified after in silico analysis of 68 whole genome cat sequences from various breeds, demonstrating that this novel mutation is most likely a breed-specific variant for the Maine Coon, contributing to the longhair phenotype in about 3% of these cats.
Access options
Buy single article
Instant access to the full article PDF.
USD 39.95
Price excludes VAT (USA)
Tax calculation will be finalised during checkout.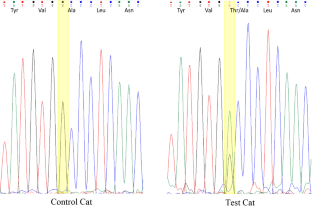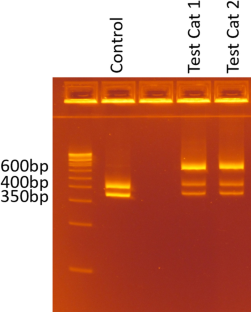 References
Alhaddad H, Abdi M, Lyons LA (2021) Patterns of allele frequency differences among domestic cat breeds assessed by a 63K SNP array. PLoS One 16(2)

Daverio MS, Vidal-Rioja L, Frank EN, Di Rocco F (2017) Molecular characterization of the llama FGF5 gene and identification of putative loss of function mutations. Anim Genet 48(6):716–719

Dierks C, Momke S, Philipp U, Distl O (2013) Allelic heterogeneity of FGF5 mutations causes the long-hair phenotype in dogs. Anim Genet 44(4):425–431

Drögemüller C, Rüfenacht S, Wichert B, Leeb T (2007) Mutations within the FGF5 gene are associated with hair length in cats. Anim Genet 38(3):218–221

Hébert JM, Rosenquist T, Götz J, Martin GR (1994) FGF5 as a regulator of the hair growth cycle: evidence from targeted and spontaneous mutations. Cell 78(6):1017–1025

Higgins CA, Petukhova L, Harel S, Ho YY, Drill E, Shapiro L, Wajid M, Christiano AM (2014) FGF5 is a crucial regulator of hair length in humans. Proc Natl Acad Sci USA 111(29):10648–10653

Housley DJ, Venta PJ (2006) The long and short of it: evidence that FGF5 is a major determinant of canine 'hair'-itability. Anim Genet 37(4):309–315

Kehler JS, David VA, Schäffer AA, Bajema K, Eizirik E, Ryugo DK, Hannah SS, O'Brien SJ, Menotti-Raymond M (2007) Four independent mutations in the feline fibroblast growth factor 5 gene determine the long-haired phenotype in domestic cats. J Hered 98(6):555–566

Legrand R, Tiret L, Abitbol M (2014) Two recessive mutations in FGF5 are associated with the long-hair phenotype in donkeys. Genet Sel Evol 46(1):65

Yoshizawa Y, Wada K, Shimoi G, Kameyama Y, Wakabayashi Y, Fukuta K, Hashizume R (2015) A 1-bp deletion in Fgf5 causes male-dominant long hair in the Syrian hamster. Mamm Genome 26(11–12):630–637

Yu F, Liu Z, Jiao S, Zhang X, Bai C, Zhang J, Yan S (2018) A nonsense mutation in the FGF5 gene is associated with the long-haired phenotype in domestic guinea pigs (Cavia porcellus). Anim Genet 49(3):269

Zhang R, Wu H, Lian Z (2019) Bioinformatics analysis of evolutionary characteristics and biochemical structure of FGF5 Gene in sheep. Gene 20(702):123–132
Funding
Funding for this study was provided by Genetic Veterinary Sciences, Inc.
Ethics declarations
Conflict of interest
LGS and GDS are owners of Genetic Veterinary Sciences, Inc, DBA Paw Print Genetics which provides genetic testing on a fee-for-service basis including the CatScan genetic screen for cats. The remaining authors have no conflicts of interest to declare.
Availability of data and material
All relevant data generated in this study are included in this published article.
Code availability
Not applicable.
Ethics approval
Not applicable.
Consent to participate
All feline samples included in this study were obtained through consent of the individual owners or were obtained from otherwise discarded DNA samples after clinical testing at Paw Print Genetics.
Consent for publication
Not applicable.
Electronic list
https://genome.ucsc.edu/cgi-bin/hgBlat
Additional information
Publisher's Note
Springer Nature remains neutral with regard to jurisdictional claims in published maps and institutional affiliations.
About this article
Cite this article
Shaffer, G.D., Ballif, B.C., Meurs, K. et al. Identification of a novel missense mutation in the fibroblast growth factor 5 gene associated with longhair in the Maine Coon Cat. Hum Genet 140, 1517–1523 (2021). https://doi.org/10.1007/s00439-021-02373-1
Received:

Accepted:

Published:

Issue Date:

DOI: https://doi.org/10.1007/s00439-021-02373-1