Abstract
Goldenhar syndrome or oculo-auriculo-vertebral spectrum (OAVS) is a complex developmental disorder characterized by asymmetric ear anomalies, hemifacial microsomia, ocular and vertebral defects. We aimed at identifying and characterizing a new gene associated with OAVS. Two affected brothers with OAVS were analyzed by exome sequencing that revealed a missense variant (p.(Asn358Ser)) in the EYA3 gene. EYA3 screening was then performed in 122 OAVS patients that identified the same variant in one individual from an unrelated family. Segregation assessment in both families showed incomplete penetrance and variable expressivity. We investigated this variant in cellular models to determine its pathogenicity and demonstrated an increased half-life of the mutated protein without impact on its ability to dephosphorylate H2AFX following DNA repair pathway induction. Proteomics performed on this cellular model revealed four significantly predicted upstream regulators which are PPARGC1B, YAP1, NFE2L2 and MYC. Moreover, eya3 knocked-down zebrafish embryos developed specific craniofacial abnormalities corroborating previous animal models and supporting its involvement in the OAVS. Additionally, EYA3 gene expression was deregulated in vitro by retinoic acid exposure. EYA3 is the second recurrent gene identified to be associated with OAVS. Moreover, based on protein interactions and related diseases, we suggest the DNA repair as a key molecular pathway involved in craniofacial development.
Access options
Buy single article
Instant access to the full article PDF.
US$ 39.95
Tax calculation will be finalised during checkout.
Subscribe to journal
Immediate online access to all issues from 2019. Subscription will auto renew annually.
US$ 119
Tax calculation will be finalised during checkout.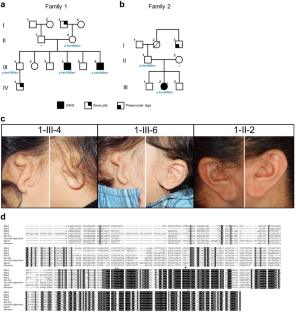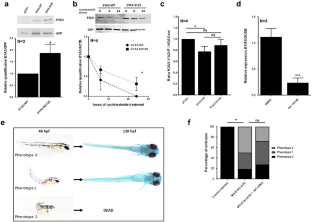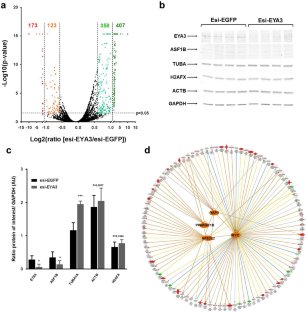 Availability of data and material
All data that support the findings of this study are available on request from the corresponding author.
References
Ala-mello S, Siggberg L, Knuutila S, Von Koskull H, Taskinen M, Peippo M (2008) Further evidence for a relationship between the 5p15 chromosome region and the oculoauriculovertebral anomaly. Am J Med Genet Part A 146:2490–2494

Barber JCK (2018) Reassignment of HMX1 indicates copy number variation within 4p16.1 may be an alternative cause of oculoauricular phenotypes. Am J Med Genet Part A 176(9):2034–2036

Barisic I, Odak L, Loane M, Garne E, Wellesley D, Calzolari E, Dolk H, Addor MC, Arriola L, Bergman J, Bianca S, Doray B, Khoshnood B, Klungsoyr K, McDonnell B, Pierini A, Rankin J, Rissmann A, Rounding C, Queisser-Luft A, Scarano G, Tucker D (2014) Prevalence, prenatal diagnosis and clinical features of oculo-auriculo-vertebral spectrum: a registry-based study in Europe. Eur J Hum Genet 22(8):1026–1033

Beleza-Meireles A, Hart R, Clayton-Smith J, Oliveira R, Reis CF, Venâncio M, Ramos F, Sá J, Ramos L, Cunha E, Pires LM, Carreira IM, Scholey R, Wright R, Urquhart JE, Briggs TA, Kerr B, Kingston H, Metcalfe K, Donnai D, Newman WG, Saraiva JM, Tassabehji M (2015) Oculo-auriculo-vertebral spectrum: clinical and molecular analysis of 51 patients. Eur J Med Genet 58(9):455–465

Berenguer A-S, Colovati M, Melaragno MI, Bragagnolo S, Perez ABA, Arveiler B, Lacombe D, Rooryck C (2017) A novel de novo mutation in MYT1, the unique OAVS gene identified so far. Eur J Hum Genet 25(9):1083–1086

Berenguer M, Darnaudery M, Claverol S, Bonneu M, Lacombe D, Rooryck C (2018) A toxicological approach to serve genetics: prenatal retinoic acid exposure reveals candidate genes for craniofacial disorders. Sci Rep 8(1):1–7

Bragagnolo S, Colovati MES, Souza MZ, Dantas AG, de Soares MFF, Melaragno MI, Perez AB (2018) Clinical and cytogenomic findings in OAV spectrum. Am J Med Genet Part A 176(3):638–648

Bui Q, Zimmerman J, Liu H, Bonini N (2000a) Molecular analysis of Drosophila eyes absent mutants reveals features of the conserved Eya domain. Genetics 155(2):709–720

Bui Q, Zimmerman J, Liu H, Gray-Board G, Bonini N (2000b) Functional analysis of an eye enhancer of the Drosophila eyes absent gene: differential regulation by eye specification genes. Dev Biol 221(2):355–364

Carey JC, Hoeltzenbein M, Elefant E, Vial T, Finkel-pekarsky V, Stephens S, Clementi M, Allignol A, Weber-schoendorfer C, Schaefer C (2012) Editor ' s note teratogenicity of mycophenolate confirmed in a prospective study of the European Network of Teratology Information Services. Am J Med Genet 158(3):588–596

Coberly S, Lammer E, Alashari M (1996) Retinoic acid embryopathy: case report and review of literature. Pediatr Pathol Lab Med 16(5):823–836

Cohen MM, Rollnick BR, Kaye CI (1989) Oculoauriculovertebral spectrum: an updated critique. Cleft Palate Journal 26(4):276–286

Cook PJ, Bong GJ, Francesca T, Xiangting W, Christopher K, Rosenfeld MG (2009) Tyrosine dephosphorylation of H2AX modulates apoptosis and survival decisions. Nature 458(7238):591–596

Daw SC, Taylor C, Kraman M, Call K, Mao J, Schuffenhauer S, Meitinger T, Lipson T, Goodship J, Scambler P (1996) A common region of 10p deleted in DiGeorge and velocardiofacial syndromes. Nat Genet 13(4):458–460

Ege N, Dowbaj AM, Jiang M, Foster C, Jenkins RP, Sahai E, Ege N, Dowbaj AM, Jiang M, Howell M, Hooper S, Foster C, Jenkins RP (2018) Quantitative analysis reveals that actin and Src-family kinases regulate nuclear YAP1 and its export article quantitative analysis reveals that actin and Src-family kinases regulate nuclear YAP1 and its export. Cell Syst 6(6):692-708.e13

Goldenhar M (1952) Associations malformatives de l'oeil et de l'oreille, en particulier le syndrome dermoïde epibulbaire-appendices auriculaires fistula auris congenita et ses relations avec la dysostose mandibulofaciale. J Génét Hum 1:243–282

Gorlin MM, Hennekam RC (2001) Branchial arch and oro-acral disorders. In: Syndromes of the head and neck, pp 790–98

Gorlin RJ, Jue KL, Jacobsen U, Goldschmidt E (1963) Oculoauriculovertebral dysplasia. J Pediatr 63(5):991–999

Ionescu AE, Mentel M, Munteanu CVA, Sima LE, Martin EC, Necula-petrareanu G, Szedlacsek SE (2019) Analysis of EYA3 phosphorylation by Src kinase identifies residues involved in cell proliferation. Int J Mol Sci 20:6307

Käll L, Canterbury JD, Weston J, Noble WS, MacCoss MJ (2007) Semi-supervised learning for peptide identification from Shotgun Proteomics Datasets. Nat Methods 4(11):923–925

Krishnan N, Jeong DG, Jung SK, Ryu SE, Andrew Xiao C, Allis D, Kim SJ, Tonks NK (2009) Dephosphorylation of the C-terminal tyrosyl residue of the DNA damage-related histone H2A.X Is mediated by the protein phosphatase eyes absent. J Biol Chem 284(24):16066–16070

Lammer EJ, Chen DT, Hoar RM, Agnish ND, Benke PJ, Braun JT, Curry CJ, Fernhoff PM, Grix AW, Lott IT (1985) Retinoic acid embryopathy. N Engl J Med 313(14):837–841

Lehalle D, Gordon CT, Oufadem M, Boutaud L, Baumann C, Boute-benejean O, Caumes R, Alessandri J, Baena N, Decaestecker C, Gaillard D, Goldenberg A, Gonzales M, Holder-espinasse M, Smigiel R, Thauvin-robinet C, Morin G, Pasquier L, Petit F, Munnich A, Vasiljevic A, Verloes A, Pontual D, Vekemans M, Lyonnet S, Atti T, Amiel J (2014) Delineation of EFTUD2 haploinsufficiency-related phenotypes through a series of 36 patients. Hum Mut 35(4):478–485

Li P, Silvis MR, Honaker Y, Lien W, Arron ST (2016) α E-catenin inhibits a Src–YAP1 oncogenic module that couples tyrosine kinases and the effector of hippo signaling pathway. Genes Dev 30(7):798–811

Lopez E, Berenguer M, Tingaud-Sequeira A, Marlin S, Toutain A, Denoyelle F, Picard A, Charron S, Mathieu G, de Belvalet H, Arveiler B, Babin PJ, Lacombe D, Rooryck C (2016) Mutations in MYT1, encoding the myelin transcription factor 1, are a rare cause of OAVS. J Med Genet 53(11):752–760

Luquetti DV, Heike CL, Zarante I, Timms AE, Gustafson J, Pachajoa H, Milagros PA, Jimenez MDN, Hurtado-villa LMIP (2020) MYT1 role in the microtia-craniofacial microsomia spectrum. Genom Med 8(10):e1401

Noguchi A, Adachi S, Yokota N, Hatta T, Natsume T, Kawahara H (2018) ZFP36L2 is a cell cycle-regulated CCCH protein necessary for DNA lesion-induced S-phase arrest. Biol Open 7(3):031575

Ou Z, Martin DM, Bedoyan JK, Lance Cooper M, Craig Chinault A, Stankiewicz P, Cheung SW (2008) Branchiootorenal syndrome and oculoauriculovertebral spectrum features associated with duplication of SIX1, SIX6, and OTX2 resulting from a complex chromosomal rearrangement. Am J Med Genet Part A 146(19):2480–2489

Perez-Aytes A, Boso V, Ledo A, Carey JC, Vento M (2017) Mycophenolate mofetil embryopathy: a newly recognized teratogenic syndrome. Eur J Med Genet 60:16–21

Poswillo D (1975) Causal mechanisms of craniofacial deformity. Br Med Bull 31(2):101–106

Ravine D, Ragge NK, Stephens D, Oldridge M, Wilkie AOM (1997) Dominant coloboma-microphthalmos syndrome associated with sensorineural hearing loss, hematuria, and cleft lip/palate. Am J Med Genet 72(2):227–236

Rooryck C, Souakri N, Cailley D, Bouron J, Goizet C, Delrue MA, Marlin S, Lacombe FD, Arveiler B (2010) Array-CGH analysis of a cohort of 86 patients with oculoauriculovertebral spectrum. Am J Med Genet Part A 152(8):1984–1989

Santos D, Costa PA, Fabiana S, de Oliveira EL, Freitas HP, Safatle N, Rosenberg C, Ferrari I, Mazzeu JF (2014) Non-overlapping 22q11.2 microdeletions in patients with oculo-auriculo-vertebral spectrum. Am J Med Genet Part A 164(2):551–553

Silva AP, Rosa RFM, Trevisan P, Dorneles JC, Mesquita CS, de Mattos VF, Paskulin GA, Zen PRG (2015) Clinical and cytogenetic features of a Brazilian sample of patients with phenotype of oculo-auriculo-vertebral spectrum: a cross-sectional study. Sao Paulo Med J 133(3):191–198

Singh N, Basnet H, Wiltshire TD, Mohammad DH, Thompson JR, Heroux A, Botuyan MV, Yaffe MB, Couch FJ, Rosenfeld MG, Mer G (2012) Dual recognition of phosphoserine and phosphotyrosine in histone variant H2A.X by DNA damage response protein MCPH1. Proc Natl Acad Sci 109(36):14381–14386

Söker T, Dalke C, Puk O, Floss T, Becker L, Bolle I, Favor J, Hans W, Hölter SM, Horsch M, Kallnik M, Kling E, Moerth C, Schrewe A, Stigloher C, Topp S, Gailus-Durner V, Naton B, Beckers J, Fuchs H, Ivandic B, Klopstock T, Schulz H, Wolf E, Wurst W, Bally-Cuif L, De Angelis MH, Graw J (2008) Pleiotropic effects in Eya3 knockout mice. BMC Dev Biol 8:1–8

Tadjuidje E, Hedge RS (2013) The eyes absent proteins in development and disease. Cell Mol Life Sci 70(11):1897–1913

Tingaud-Sequeira A, Trimouille A, Marlin S, Lopez E, Berenguer M, Gherbi S, Arveiler B, Lacombe D, Rooryck C (2020) Functional and genetic analyses of ZYG11B provide evidences for its involvement in OAVS. Mol Genet Genom Med 8(10):e1375

Trimouille A, Tingaud-sequeira A, Lacombe D, Duelund T, Kreiborg S, Hove HB, Rooryck C (2020) Description of a family with X-linked OAVS associated with polyalanine tract expansion in ZIC3. Clin Genet 98(4):384–389

Venugopalan R, Shankar EF, Sanchez-Lara PA, Yen S, Lypka M, Jiang S, Allareddy V (2019) A novel nonsense substitution identified in the AMIGO2 gene in an oculo-auriculo-vertebral spectrum patient. Orthod Craniofac Res 22(S1):163–167

Wang R, Martínez-Frías ML, Graham JM (2002) Infants of diabetic mothers are at increased risk for the oculo-auriculo-vertebral sequence: a case-based and case-control approach. J Pediatr 141(5):611–617

Wang Y, Tadjuidje E, Pandey RN, Stefater JA, Smith LEH, Lang RA, Hegde RS (2016) The eyes absent proteins in developmental and pathological angiogenesis. Am J Pathol 186(3):568–578

Wang Y, Ping L, Luan X, Chen Y, Fan X, Li L, Liu Y, Wang P, Zhang S, Zhang B, Chen X (2020) A mutation in VWA1, encoding von Willebrand factor A domain-containing protein 1, is associated with hemifacial microsomia. Front Cell Dev Biol 8:922

Wawersik S, Maas RL (2000) Vertebrate eye development as modeled in Drosophila. Hum Mol Genet 9(6):917–926

Wessels MW, Kuchinka B, Heydanus R, Smit BJ, Dooijes D, De Krijger RR, Lequin MH, De Jong EM, Husen M, Willems PJ, Casey B (2010) Polyalanine expansion in the ZIC3 gene leading to X-linked heterotaxy with VACTERL association: a new polyalanine disorder? J Med Genet 47(5):351–355

Williamson KA, Rainger J, Floyd JAB, Ansari M, Meynert A, Aldridge KV, Rainger JK, Anderson CA, Moore AT, Hurles ME, Clarke A, Van Heyningen V, Verloes A, Taylor MS, Wilkie AOM, UKK Consortium, Fitzpatrick DR (2014) Heterozygous loss-of-function mutations in YAP1 cause both isolated and syndromic optic fissure closure defects. Am J Hum Genet 94(2):295–302

Xu J, Fan YS, Siu VM (2008) A child with features of Goldenhar syndrome and a novel 1.12 Mb deletion in 22q11.2 by cytogenetics and oligonucleotide array CGH: is this a candidate region for the syndrome? Am J Med Genet Part A 146(14):1886–1889

Yatsenko S, Yatsenko A, Szigeti K, Craigen W, Stankiewicz P, Cheung SW, Lupski JR (2004) Interstitial deletion of 10p and atrial septal defect in DiGeorge 2 syndrome. Clin Genet 66(2):128–136

Zhang Y-B, Jintian Hu, Jiao Zhang Xu, Zhou XL, Chaohao Gu, Liu T, Xie Y, Liu J, Mingliang Gu, Wang P, Tingting Wu, Qian J, Wang Y, Dong X (2016) Genome-wide association study identifies multiple susceptibility loci for craniofacial microsomia. Nat Commun 7:1–9

Zielinski D, Markus B, Sheikh M, Gymrek M, Chu C, Zaks M, Srinivasan B, Hoffman JD, Aizenbud D, Erlich Y (2014) OTX2 duplication is implicated in hemifacial microsomia. PLoS ONE 9(5):e96788
Acknowledgements
The authors warmly thank the patients and their families. They thank the clinician geneticists for providing patients.
Funding
This work was supported by the ANR (Agence Nationale pour la Recherche, ANR-12-JVS1-0002).
Ethics declarations
Conflict of interest
The authors declare no conflict of interest.
Ethics approval
The local ethics committee (Comité de Protection des Personnes: DC2012/76) approved this study.
Consent to participate
Informed written consent for genetic studies was obtained prior to collecting blood samples for DNA extraction.
Additional information
Publisher's Note
Springer Nature remains neutral with regard to jurisdictional claims in published maps and institutional affiliations.
Supplementary Information
Below is the link to the electronic supplementary material.
About this article
Cite this article
Tingaud-Sequeira, A., Trimouille, A., Salaria, M. et al. A recurrent missense variant in EYA3 gene is associated with oculo-auriculo-vertebral spectrum. Hum Genet (2021). https://doi.org/10.1007/s00439-021-02255-6
Received:

Accepted:

Published: