Abstract
Evidence from observational studies indicates that endometriosis and depression often co-occur. However, conflicting evidence exists, and the etiology as well as biological mechanisms underlying their comorbidity remain unknown. Utilizing genome-wide association study (GWAS) data, we comprehensively assessed the relationship between endometriosis and depression. Single nucleotide polymorphism effect concordance analysis (SECA) found a significant genetic overlap between endometriosis and depression (PFsig-permuted = 9.99 × 10−4). Linkage disequilibrium score regression (LDSC) analysis estimated a positive and highly significant genetic correlation between the two traits (rG = 0.27, P = 8.85 × 10−27). A meta-analysis of endometriosis and depression GWAS (sample size = 709,111), identified 20 independent genome-wide significant loci (P < 5 × 10−8), of which eight are novel. Mendelian randomization analysis (MR) suggests a causal effect of depression on endometriosis. Combining gene-based association results across endometriosis and depression GWAS, we identified 22 genes with a genome-wide significant Fisher's combined P value (FCPgene < 2.75 × 10−6). Genes with a nominal gene-based association (Pgene < 0.05) were significantly enriched across endometriosis and depression (Pbinomial-test = 2.90 × 10−4). Also, genes overlapping the two traits at Pgene < 0.1 (Pbinomial-test = 1.31 × 10−5) were significantly enriched for the biological pathways 'cell–cell adhesion', 'inositol phosphate metabolism', 'Hippo-Merlin signaling dysregulation' and 'gastric mucosa abnormality'. These results reveal a shared genetic etiology for endometriosis and depression. Indeed, additional analyses found evidence of a causal association between each of endometriosis and depression and at least one abnormal condition of gastric mucosa. Our study confirms the comorbidity of endometriosis and depression, implicates links with gastric mucosa abnormalities in their causal pathways and reveals potential therapeutic targets for further investigation.
Access options
Buy single article
Instant access to the full article PDF.
USD 39.95
Price excludes VAT (USA)
Tax calculation will be finalised during checkout.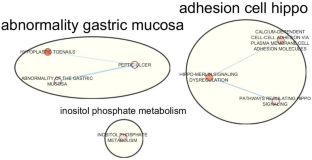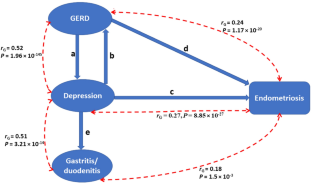 References
Adamson GD, Kennedy S, Hummelshoj L (2010) Creating solutions in endometriosis: global collaboration through the World Endometriosis Research Foundation. J Endometriosis 2:3–6

Adewuyi EO et al (2020) Shared molecular genetic mechanisms underlie endometriosis and migraine comorbidity. Genes 11:268. https://doi.org/10.3390/genes11030268

Ahn SH, Monsanto SP, Miller C, Singh SS, Thomas R, Tayade C (2015) Pathophysiology and Immune Dysfunction in Endometriosis. Biomed Res Int 2015:795976. https://doi.org/10.1155/2015/795976

Al Turki S et al (2014) Rare variants in NR2F2 cause congenital heart defects in humans. Am J Hum Genet 94:574–585. https://doi.org/10.1016/j.ajhg.2014.03.007

Altomare A, Guarino MPL, Cocca S, Emerenziani S, Cicala M (2013) Gastroesophageal reflux disease: update on inflammation and symptom perception. World J Gastroenterol WJG 19:6523

Anlar B, Gunel-Ozcan A (2012) Tenascin-R: role in the central nervous system. Int J Biochem Cell Biol 44:1385–1389

Bachmann S (2018) Epidemiology of suicide and the psychiatric perspective. Int J Environ Res Public Health 15:1425

Bair MJ, Robinson RL, Katon W, Kroenke K (2003) Depression and pain comorbidity: a literature review. Arch Intern Med 163:2433–2445. https://doi.org/10.1001/archinte.163.20.2433

Bedaiwy MA, Alfaraj S, Yong P, Casper R (2017) New developments in the medical treatment of endometriosis. Fertil Steril 107:555–565

Berk M et al (2013) So depression is an inflammatory disease, but where does the inflammation come from? BMC Med 11:200

Borghini R et al (2020) Irritable bowel syndrome-like disorders in endometriosis: prevalence of nickel sensitivity and effects of a low-nickel diet. An open-label pilot study. Nutrients 12:341

Bowden J, Holmes MV (2019) Meta-analysis and Mendelian randomization: a review. Res Synthesis Methods 10:486–496. https://doi.org/10.1002/jrsm.1346

Bulik-Sullivan BK et al (2015) LD Score regression distinguishes confounding from polygenicity in genome-wide association studies. Nat Genet 47:291–295. https://doi.org/10.1038/ng.3211

Burgess S, Thompson SG (2017) Interpreting findings from Mendelian randomization using the MR-Egger method. Eur J Epidemiol 32:377–389. https://doi.org/10.1007/s10654-017-0255-x

Burgess S et al (2020) Guidelines for performing Mendelian randomization investigations [version 2; peer review: 1 approved, 1 approved with reservations]. Welcome Open Res. https://doi.org/10.12688/wellcomeopenres.15555.2

Burney R, Giudice L (2012) Pathogenesis and pathophysiology of endometriosis. Fertil Steril 98:511–519

Cavaggioni G, Lia C, Resta S, Antonielli T, Benedetti Panici P, Megiorni F, Porpora MG (2014) Are mood and anxiety disorders and alexithymia associated with endometriosis? A preliminary study BioMed Research International 2014

Centers for Disease Control and Prevention (2010) Current depression among adults—United States, 2006 and 2008. MMWR Morb Mortal Wkly Rep 59:1229

Chen L-C et al (2016) Risk of developing major depression and anxiety disorders among women with endometriosis: a longitudinal follow-up study. J Affect Disord 190:282–285

Chida Y, Hamer M, Wardle J, Steptoe A (2008) Do stress-related psychosocial factors contribute to cancer incidence and survival? Nat Clin Pract Oncol 5:466–475

Chisholm D, Sweeny K, Sheehan P, Rasmussen B, Smit F, Cuijpers P, Saxena S (2016) Scaling-up treatment of depression and anxiety: a global return on investment analysis. Lancet Psychiatry 3:415–424

Choi JM et al (2018) Association between anxiety and depression and gastroesophageal reflux disease: results from a large cross-sectional study. J Neurogastroenterol Motil 24:593–602. https://doi.org/10.5056/jnm18069

Cotto KC et al (2017) DGIdb 3.0: a redesign and expansion of the drug–gene interaction database. Nucleic Acids Res 46:D1068–D1073

Cummins RA, Lau AA, Mellor D, Stokes MA (2009) Encouraging governments to enhance the happiness of their nation: step 1: understand subjective wellbeing. Soc Indic Res 91:23–36

de Leeuw CA, Mooij JM, Heskes T, Posthuma D (2015) MAGMA: generalized gene-set analysis of GWAS data. PLoS Comput Biol 11:e1004219

Demyttenaere K et al (2007) Mental disorders among persons with chronic back or neck pain: results from the World Mental Health Surveys. Pain 129:332–342

Drini M (2017) Peptic ulcer disease and non-steroidal anti-inflammatory drugs. Aust Prescriber 40:91

Facchin F, Barbara G, Saita E, Mosconi P, Roberto A, Fedele L, Vercellini P (2015) Impact of endometriosis on quality of life and mental health: pelvic pain makes the difference. J Psychosomat Obstet Gynecol 36:135–141

Fedeles BI et al (2015) Intrinsic mutagenic properties of 5-chlorocytosine: a mechanistic connection between chronic inflammation and cancer. Proc Natl Acad Sci 112:E4571–E4580

Gałecki P, Talarowska M (2018) Neurodevelopmental theory of depression. Prog Neuropsychopharmacol Biol Psychiatry 80:267–272. https://doi.org/10.1016/j.pnpbp.2017.05.023

Gambadauro P, Carli V, Hadlaczky G (2019) Depressive symptoms among women with endometriosis: a systematic review and meta-analysis. Am J Obstet Gynecol 220:230–241. https://doi.org/10.1016/j.ajog.2018.11.123

Gao M, Koupil I, Sjöqvist H, Karlsson H, Lalitkumar S, Dalman C, Kosidou K (2020) Psychiatric comorbidity among women with endometriosis: nationwide cohort study in Sweden. Am J Obstet Gynecol. https://doi.org/10.1016/j.ajog.2020.02.033

Ghai V, Jan H, Shakir F, Haines P, Kent A (2020) Diagnostic delay for superficial and deep endometriosis in the United Kingdom. J Obstet Gynaecol 40:83–89. https://doi.org/10.1080/01443615.2019.1603217

Giudice LC (2010) Endometriosis. N Engl J Med 362:2389–2398

Greenberg PE, Fournier A-A, Sisitsky T, Pike CT, Kessler RC (2015) The economic burden of adults with major depressive disorder in the United States (2005 and 2010). J Clin Psychiatry 76:155–162

Griffith M et al (2013) DGIdb: mining the druggable genome. Nat Methods 10:1209

Guo SW (2018) Cancer driver mutations in endometriosis: variations on the major theme of fibrogenesis. Reproduct Med Biol 17:369–397

Gupta D, Hull ML, Fraser I, Miller L, Bossuyt PMM, Johnson N, Nisenblat V (2016) Endometrial biomarkers for the non-invasive diagnosis of endometriosis. Cochrane Database Syst Rev. https://doi.org/10.1002/14651858.CD012165

Han B, Eskin E (2011) Random-effects model aimed at discovering associations in meta-analysis of genome-wide association studies. Am J Hum Genetics 88:586–598

Hasler G (2010) Pathophysiology of depression: do we have any solid evidence of interest to clinicians? World Psychiatry 9:155–161

Haug TT, Mykletun A, Dahl AA (2002) Are anxiety and depression related to gastrointestinal symptoms in the general population? Scand J Gastroenterol 37:294–298. https://doi.org/10.1080/003655202317284192

Hemani G et al (2018) The MR-Base platform supports systematic causal inference across the human phenome. Elife 7:e34408

Holmes A, Christelis N, Arnold C (2013) Depression and chronic pain. Med J Aust 199:S17–S20. https://doi.org/10.5694/mja12.10589

Howard DM et al (2019) Genome-wide meta-analysis of depression identifies 102 independent variants and highlights the importance of the prefrontal brain regions. Nat Neurosci 22:343–352. https://doi.org/10.1038/s41593-018-0326-7

Huang W-S et al (2018) Use of proton pump inhibitors and risk of major depressive disorder: a nationwide population-based study. Psychother Psychosom 87:62–64

Hutton VE, Misajon R, Collins FE (2013) Subjective wellbeing and 'felt'stigma when living with HIV. Qual Life Res 22:65–73

Kennedy S (1999) The genetics of endometriosis. Eur J Obst Gynecol Reproduct Biol 82:129–133

Kim Y-K, Na K-S, Myint A-M, Leonard BE (2016) The role of pro-inflammatory cytokines in neuroinflammation, neurogenesis and the neuroendocrine system in major depression. Prog Neuropsychopharmacol Biol Psychiatry 64:277–284

Kim SY, Kim H-J, Lim H, Kong IG, Kim M, Choi HG (2018) Bidirectional association between gastroesophageal reflux disease and depression: two different nested case-control studies using a national sample cohort. Sci Rep 8:11748

Kuehner C (2017) Why is depression more common among women than among men? Lancet Psychiatry 4:146–158

Kvaskoff M, Mu F, Terry KL, Harris HR, Poole EM, Farland L, Missmer SA (2015) Endometriosis: a high-risk population for major chronic diseases? Hum Reproduct Update 21:500–516

Laganà AS et al (2015) Analysis of psychopathological comorbidity behind the common symptoms and signs of endometriosis. Eur J Obstet Gynecol Reproduct Biol 194:30–33

Lampa J et al (2012) Peripheral inflammatory disease associated with centrally activated IL-1 system in humans and mice. Proc Natl Acad Sci 109:12728–12733

Laudisio A et al (2018) Use of proton-pump inhibitors is associated with depression: a population-based study. Int Psychogeriatr 30:153–159. https://doi.org/10.1017/S1041610217001715

Lee SH et al (2012) Estimation and partitioning of polygenic variation captured by common SNPs for Alzheimer's disease, multiple sclerosis and endometriosis. Hum Mol Genet 22:832–841

Lépine J-P, Briley M (2011) The increasing burden of depression. Neuropsychiatr Dis Treat 7:3–7. https://doi.org/10.2147/NDT.S19617

Levinson DF (2006) The genetics of depression: a review. Biol Psychiat 60:84–92

Li M-X, Yeung JM, Cherny SS, Sham PC (2012) Evaluating the effective numbers of independent tests and significant p-value thresholds in commercial genotyping arrays and public imputation reference datasets. Hum Genet 131:747–756

Li Y et al (2015) Angiomotin binding-induced activation of Merlin/NF2 in the Hippo pathway. Cell Res 25:801–817. https://doi.org/10.1038/cr.2015.69

Li T, Mamillapalli R, Ding S, Chang H, Liu ZW, Gao XB, Taylor HS (2018) Endometriosis alters brain electro-physiology, gene expression and increased pain sensitization, anxiety, and depression in female mice. Biol Reprod. https://doi.org/10.1093/biolre/ioy035

Lima Filho PWL et al (2019) Peritoneal endometriosis induces time-related depressive-and anxiety-like alterations in female rats: involvement of hippocampal pro-oxidative and BDNF alterations. Metab Brain Dis 34:909–925

Lin F-J, Qin J, Tang K, Tsai SY, Tsai M-J (2011) Coup d'Etat: an orphan takes control. Endocr Rev 32:404–421

Liu JZ et al (2010) A versatile gene-based test for genome-wide association studies. Am J Hum Genet 87:139–145

Lorencatto C, Petta CA, José Navarro M, Bahamondes L, Matos A (2006) Depression in women with endometriosis with and without chronic pelvic pain. Acta Obstet Gynecol Scand 85:88–92

Marian S, Hermanowicz-Szamatowicz K (2020) Endometriosis – a decade later – still an enigmatic disease. What is the new in the diagnosis and treatment? Gynecol Endocrinol 36:104–108. https://doi.org/10.1080/09513590.2019.1675045

Mathers C (2008) The global burden of disease: 2004 update. World Health Organization, Geneva

Mbarek H et al (2016) Identification of Common Genetic Variants Influencing Spontaneous Dizygotic Twinning and Female Fertility. Am J Hum Genet 98:898–908. https://doi.org/10.1016/j.ajhg.2016.03.008

McKernan DP, Dinan TG, Cryan JF (2009) "Killing the Blues": a role for cellular suicide (apoptosis) in depression and the antidepressant response? Prog Neurobiol 88:246–263

Merico D, Isserlin R, Stueker O, Emili A, Bader GD (2010) Enrichment map: a network-based method for gene-set enrichment visualization and interpretation. PLoS ONE 5:e13984

Miller JE et al (2017) Interleukin-33 modulates inflammation in endometriosis. Sci Rep 7:17903. https://doi.org/10.1038/s41598-017-18224-x

Mirkin D, Murphy-Barron C, Iwasaki K (2007) Actuarial analysis of private payer administrative claims data for women with endometriosis. J Manag Care Pharm 13:262–272

Mishra A, Macgregor S (2015) VEGAS2: software for more flexible gene-based testing twin. Res Hum Genet 18:86–91. https://doi.org/10.1017/thg.2014.79

Montgomery GW et al (2008) The search for genes contributing to endometriosis risk. Hum Reproduct Update 14:447–457

Moore JS, Gibson PR, Perry RE, Burgell RE (2017) Endometriosis in patients with irritable bowel syndrome: specific symptomatic and demographic profile, and response to the low FODMAP diet Australian and New Zealand. J Obstet Gynaecol 57:201–205. https://doi.org/10.1111/ajo.12594

Nagel M et al (2018) Meta-analysis of genome-wide association studies for neuroticism in 449,484 individuals identifies novel genetic loci and pathways. Nat Genet 50:920–927. https://doi.org/10.1038/s41588-018-0151-7

Nnoaham KE, Webster P, Kumbang J, Kennedy SH, Zondervan KT (2012) Is early age at menarche a risk factor for endometriosis? A systematic review and meta-analysis of case-control studies. Fertil Steril 98:702–712.e706. https://doi.org/10.1016/j.fertnstert.2012.05.035

Novais RFSR, da Câmara-França BE, Lasmar RB, Lasmar BP (2018) Endometriosis and its relationship with depression. Int J Clin Med 9:71

Nyholt DR (2014) SECA: sNP effect concordance analysis using genome-wide association summary results. Bioinformatics 30:2086–2088

Nyholt DR, Gillespie NG, Merikangas KR, Treloar SA, Martin NG, Montgomery GW (2009) Common genetic influences underlie comorbidity of migraine and endometriosis. Genetic Epidemiol 33:105–113

Omoigui S (2007) The biochemical origin of pain: the origin of all pain is inflammation and the inflammatory response. Part 2 of 3–inflammatory profile of pain syndromes. Med Hypotheses 69:1169–1178

Ösby U, Brandt L, Correia N, Ekbom A, Sparén P (2001) Excess mortality in bipolar and unipolar disorder in Sweden. Arch Gen Psychiatry 58:844–850

Parazzini F, Esposito G, Tozzi L, Noli S, Bianchi S (2017) Epidemiology of endometriosis and its comorbidities. Eur J Obst Gynecol Reproduct Biol 209:3–7

Pope CJ, Sharma V, Sharma S, Mazmanian D (2015) A systematic review of the association between psychiatric disturbances and endometriosis. J Obstet Gynaecol Can 37:1006–1015

Raudvere U, Kolberg L, Kuzmin I, Arak T, Adler P, Peterson H, Vilo J (2019) g:profiler: a web server for functional enrichment analysis and conversions of gene lists (2019 update). Nucleic Acids Res 47:W191–W198. https://doi.org/10.1093/nar/gkz369

Rei C, Williams T, Feloney M (2018) Endometriosis in a man as a rare source of abdominal pain: a case report and review of the literature. Case Rep Obstet Gynecol 2018

Reimand J, Arak T, Adler P, Kolberg L, Reisberg S, Peterson H, Vilo J (2016) g:profiler-a web server for functional interpretation of gene lists (2016 update). Nucleic Acids Res 44:W83–89. https://doi.org/10.1093/nar/gkw199

Reimand J et al (2019) Pathway enrichment analysis and visualization of omics data using g:profiler, GSEA, Cytoscape and EnrichmentMap. Nat Protoc 14:482–517. https://doi.org/10.1038/s41596-018-0103-9

Ricky C, O'Donnell Siobhan MN (2017) Factors associated with delayed diagnosis of mood and/or anxiety disorders Health promotion and chronic disease prevention in Canada. Res Policy Pract 37:137

Ripke S et al (2013) A mega-analysis of genome-wide association studies for major depressive disorder. Molecular Psychiatry 18:497

Roll L, Faissner A (2019) Tenascins in CNS lesions. Semin Cell Dev Biol 89:118–124. https://doi.org/10.1016/j.semcdb.2018.09.012

Roman H et al (2012) Are digestive symptoms in women presenting with pelvic endometriosis specific to lesion localizations? A preliminary prospective study. Hum Reprod 27:3440–3449. https://doi.org/10.1093/humrep/des322

Rush G, Misajon R (2018) Examining subjective wellbeing and health-related quality of life in women with endometriosis. Health Care Women Int 39:303–321. https://doi.org/10.1080/07399332.2017.1397671

Ruth KS et al (2016a) Genetic evidence that lower circulating FSH levels lengthen menstrual cycle, increase age at menopause and impact female reproductive health. Hum Reprod 31:473–481

Ruth KS et al (2016b) Genome-wide association study with 1000 genomes imputation identifies signals for nine sex hormone-related phenotypes. Eur J Hum Genet 24:284

Sampson JA (1925) Heterotopic or misplaced endometrial tissue. Am J Obstet Gynecol 10:649–664

Sapkota Y et al (2017) Meta-analysis identifies five novel loci associated with endometriosis highlighting key genes involved in hormone metabolism. Nat Commun 8:15539. https://doi.org/10.1038/ncomms15539

Schwartz K, Llarena NC, Rehmer JM, Richards EG, Falcone T (2020) The role of pharmacotherapy in the treatment of endometriosis across the lifespan. Expert Opin Pharmacother 21:893–903. https://doi.org/10.1080/14656566.2020.1738386

Shannon P et al (2003) Cytoscape: a software environment for integrated models of biomolecular interaction networks. Genome Res 13:2498–2504

Shelton RC, Claiborne J, Sidoryk-Wegrzynowicz M, Reddy R, Aschner M, Lewis DA, Mirnics K (2011) Altered expression of genes involved in inflammation and apoptosis in frontal cortex in major depression. Molecular Psychiatry 16:751–762. https://doi.org/10.1038/mp.2010.52

Shen Y, Varma DS, Zheng Y, Boc J, Hu H (2019) Age at menarche and depression: results from the NHANES 2005–2016. PeerJ 7:e7150

Sheng J, Liu S, Wang Y, Cui R, Zhang X (2017) The link between depression and chronic pain: neural mechanisms in the brain. Neural Plasticity 2017

Simpson JL, Bischoff FZ (2002) Heritability and molecular genetic studies of endometriosis. Ann N Y Acad Sci 955:239–251

Song Y, Fu J, Zhou M, Xiao L, Feng X, Chen H, Huang W (2016) Activated hippo/yes-associated protein pathway promotes cell proliferation and anti-apoptosis in endometrial stromal cells of endometriosis. J Clin Endocrinol Metab 101:1552–1561

Sourial S, Tempest N, Hapangama DK (2014) Theories on the pathogenesis of endometriosis. Int J Reproduct Med 2014

Staley JR et al (2016) PhenoScanner: a database of human genotype–phenotype associations. Bioinformatics 32:3207–3209. https://doi.org/10.1093/bioinformatics/btw373

Stamenkovic I, Yu Q (2010) Merlin, a "magic" linker between the extracellular cues and intracellular signaling pathways that regulate cell motility, proliferation, and survival. Curr Protein Pept Sci 11:471–484

Stefansson H et al (2002) Genetic factors contribute to the risk of developing endometriosis. Hum Reprod 17:555–559

Strawbridge R, Young AH, Cleare AJ (2018) Biomarkers for depression: recent insights, current challenges and future prospects. Focus 16:194–209

Sullivan PF, Neale MC, Kendler KS (2000) Genetic epidemiology of major depression: review and meta-analysis. Am J Psychiatry 157:1552–1562

Tan J, Yu C-Y, Wang Z-H, Chen H-Y, Guan J, Chen Y-X, Fang J-Y (2015) Genetic variants in the inositol phosphate metabolism pathway and risk of different types of cancer. Sci Rep 5:8473. https://doi.org/10.1038/srep08473

Treloar SA, O'Connor TD, O'Connor VM, Martin NG (1999) Genetic influences on endometriosis in an Australian twin sample. Fertil Steril 71:701–710

Tripoli TM, Sato H, Sartori MG, de Araujo FF, Girão MJ, Schor E (2011) Evaluation of quality of life and sexual satisfaction in women suffering from chronic pelvic pain with or without endometriosis. J Sex Med 8:497–503

Valderas JM, Starfield B, Sibbald B, Salisbury C, Roland M (2009) Defining comorbidity: implications for understanding health and health services. Ann Family Med 7:357–363

Verbanck M, Chen C-y, Neale B, Do R (2018) Detection of widespread horizontal pleiotropy in causal relationships inferred from Mendelian randomization between complex traits and diseases. Nat Genet 50:693–698

Wang J et al (2019) NR2F2 loss-of-function mutation is responsible for congenital bicuspid aortic valve. Int J Mol Med 43:1839–1846

Watanabe K, Taskesen E, van Bochoven A, Posthuma D (2017) Functional mapping and annotation of genetic associations with FUMA. Nat Commun 8:1826. https://doi.org/10.1038/s41467-017-01261-5

World Health Organization (2017) Depression and other common mental disorders: global health estimates. World Health Organization, Geneva

Wray NR et al (2018) Genome-wide association analyses identify 44 risk variants and refine the genetic architecture of major depression. Nat Genet 50:668–681. https://doi.org/10.1038/s41588-018-0090-3

Wu Y, Murray GK, Byrne EM, Sidorenko J, Visscher PM, Wray NR (2019) Genome-wide association study of gastrointestinal disorders reinforces the link between the digestive tract and the nervous system bioRxiv:811737

Xia J et al (2011) The relationship between neuroticism, major depressive disorder and comorbid disorders in Chinese women. J Affect Disord 135:100–105. https://doi.org/10.1016/j.jad.2011.06.053

Zhao H, Nyholt DR (2017) Gene-based analyses reveal novel genetic overlap and allelic heterogeneity across five major psychiatric disorders. Hum Genet 136:263–274

Zhao H et al (2016) Gene-based pleiotropy across migraine with aura and migraine without aura patient groups. Cephalalgia 36:648–657

Zhou Y, Huang T, Zhang J, Cheng AS, Yu J, Kang W, To KF (2018) Emerging roles of Hippo signaling in inflammation and YAP-driven tumor immunity. Cancer Lett 426:73–79

Zondervan KT, Becker CM, Koga K, Missmer SA, Taylor RN, Viganò P (2018) Endometriosis. Nat Rev Dis Primers 4:9. https://doi.org/10.1038/s41572-018-0008-5

Zuo L et al (2012) Genome-wide association study of alcohol dependence implicates KIAA0040 on chromosome 1q. Neuropsychopharmacology 37:557–566
Acknowledgments
We acknowledge all the study participants in the 11 individual endometriosis studies that provided an opportunity for the current study. We also thank many hospital directors and staff, gynaecologists, general practitioners, and pathology services in Australia who helped with confirmation of diagnoses. We would like to thank the research participants and employees of 23andMe for making this work possible. We thank the subjects of the Icelandic deCODE study for their participation. We thank the research staff and clinicians for providing diagnostic confirmation for the OX data set. We would like to express our gratitude to the staff and members of the Biobank Japan and Laboratory for Statistical Analysis, RIKEN Center for Integrative Medical Sciences for their outstanding assistance. A full list of the investigators who contributed to the generation of these data is available from http://www.wtccc.org.uk. We gratefully appreciate the PGC for providing access to their depression and MDD GWAS summary data. Also, we acknowledge the generosity of UKB and other relevant bodies (QSKIN study, and GWAS Atlas) for providing open access to their GWAS summary data. Last but not least, we appreciate members of the Statistical and Genomic Epidemiology Laboratory (SGEL) at the Queensland University of Technology, Brisbane (Dale, Divya, Anita, Emmanuel, Ammarah, Sana, Linduni, Hamzeh, and, Rafiqul), for their support and encouragement towards the successful completion of this work.
Members of Consortia
International Endogene Consortium
Yadav Sapkota2, Kosuke Yoshihara5, Mette Nyegaard6,7 Valgerdur Steinthorsdottir10, Andrew P. Morris11,12, Amelie Fassbender13,14, Nilufer Rahmioglu12, Immaculata De Vivo15,16, Julie E. Buring15,17, Futao Zhang8, Todd L. Edwards18, Sarah Jones19, Dorien13,14, Danie¨lle Peterse13,14, Kathryn M. Rexrode15,17, Paul M. Ridker15,17, Andrew J. Schork20,21, Stuart MacGregor22, Nicholas G. Martin22, Christian M. Becker23, Sosuke Adachi5, Takayuki Enomoto5, Atsushi Takahashi24, Yoichiro Kamatani24, Koichi Matsuda25, Michiaki Kubo24, Gudmar Thorleifsson10, Reynir T. Geirsson26,27, Unnur Thorsteinsdottir10,27, Leanne M. Wallace 22,8, Jian Yang8, Digna R. Velez Edwards28, Siew-Kee Low24, Krina T. Zondervan 12,23, Stacey A. Missmer15,16, Thomas D'Hooghe 13,14,29, Kari Stefansson10,27, Joyce Y. Tung3, Grant W. Montgomery8, Daniel I. Chasman9, and Dale R. Nyholt1.
The 23andMe Research Team
Michelle Agee3, Babak Alipanahi3, Adam Auton3, Robert K. Bell3, Katarzyna Bryc3, Sarah L. Elson3, Pierre Fontanillas3, Nicholas A. Furlotte3, Karen E. Huber3, Aaron Kleinman3, Nadia K. Litterman3, Matthew H. McIntyre3, Joanna L. Mountain3, Elizabeth S. Noblin3, Carrie A.M. Northover3, Steven J. Pitts3, J. Fah Sathirapongsasuti3, Olga V. Sazonova3, Janie F. Shelton3, Suyash Shringarpure3, Chao Tian3, Vladimir Vacic3 & Catherine H. Wilson3.
Affliations
1School of Biomedical Sciences, Faculty of Health, and Institute of Health and Biomedical Innovation, Queensland University of Technology, Brisbane, Queensland, Australia. 2Department of Epidemiology and Cancer Control, St. Jude Children's Research Hospital, Memphis, Tennessee 38105, USA. 323andMe, Inc., 899 W. Evelyn Avenue, Mountain View, California 94041, USA. 4School of Pharmacy and Biomedical Sciences, University of Central Lancashire, Preston PR1 2HE, United Kingdom. 5Department of Obstetrics and Gynecology, Niigata University Graduate School of Medical and Dental Sciences, Niigata 950–2181, Japan. 6Department of Biomedicine—Human Genetics, Aarhus University, DK-8000 Aarhus, Denmark. 7iPSYCH, The Lundbeck Foundation Initiative for Integrative Psychiatric Research, DK-2100 Copenhagen, Denmark. 8Institute for Molecular Bioscience, The University of Queensland, Brisbane, Queensland 4072, Australia. 9Divisions of Preventive Medicine, Department of Medicine, Brigham and Women's Hospital, Harvard Medical School, Boston, MA, USA. 10deCODE Genetics/Amgen, 101 Reykjavik, Iceland. 11Department of Biostatistics, University of Liverpool, Liverpool L69 3GL, UK. 12Wellcome Trust Centre for Human Genetics, University of Oxford, Oxford OX3 7BN, UK.13KULeuven, Department of Development and Regeneration, Organ systems, 3000 Leuven, Belgium. 14Department of Obstetrics and Gynaecology, Leuven University Fertility Centre, University Hospital Leuven, 3000 Leuven, Belgium. 15Harvard T.H. Chan School of Public Health, Boston, Massachusetts 02115, USA. 16Channing Division of Network Medicine, Department of Medicine, Brigham and Women's Hospital and Harvard Medical School, Boston, Massachusetts 02115, USA. 17Division of Preventive Medicine, Brigham and Women's Hospital, Boston, Massachusetts 02215, USA. 18Institute of Medicine and Public Health, Vanderbilt University Medical Center, Nashville, Tennessee 37203, USA. 19Vanderbilt Genetics Institute, Division of Epidemiology, Institute of Medicine and Public Health, Department of Medicine, Vanderbilt University Medical Center, Nashville, Tennessee 37203, USA. 20Cognitive Science Department, University of California, San Diego, La Jolla, California 92093, USA. 21Institute of Biological Psychiatry, Mental Health Centre Sct. Hans, Copenhagen University Hospital, DK-2100 Copenhagen, Denmark. 22Department of Genetics and Computational Biology, QIMR Berghofer Medical Research Institute, Brisbane, Queensland 4006, Australia. 23Endometriosis CaRe Centre, Nuffield Dept of Obstetrics & Gynaecology, University of Oxford, John Radcliffe Hospital, Oxford OX3 9DU, UK. 24Center for Integrative Medical Sciences, RIKEN, Yokohama 230–0045, Japan. 25Institute of Medical Sciences, The University of Tokyo, Tokyo 108–8639, Japan. 26Department of Obstetrics and Gynecology, Landspitali University Hospital, 101 Reykjavik, Iceland. 27Faculty of Medicine, School of Health Sciences, University of Iceland, 101 Reykjavik, Iceland. 28Vanderbilt Genetics Institute, Vanderbilt Epidemiology Center, Institute of Medicine and Public Health, Department of Obstetrics and Gynecology, Vanderbilt University Medical Center, Nashville, Tennessee 37203, USA. 29Global Medical Affairs Fertility, Research and Development, Merck KGaA, Darmstadt, Germany.
Funding
EOA was supported by the Queensland University of Technology Postgraduate Research Awards (QUTPRA). The QIMR study was supported by grants from the National Health and Medical Research Council (NHMRC) of Australia (241,944, 339,462, 389,927, 389,875, 389,891, 389,892, 389,938, 443,036, 442,915, 442,981, 496,610, 496,739, 552,485, 552,498, 1,026,033 and 1,050,208), the Cooperative Research Centre for Discovery of Genes for Common Human Diseases (CRC), Cerylid Biosciences (Melbourne) and donations from N. Hawkins and S. Hawkins. Analyses of the QIMRHCS and OX GWAS were supported by the Wellcome Trust (WT084766/Z/08/Z) and makes use of WTCCC2 control data generated by the Wellcome Trust Case–Control Consortium (awards 076113 and 085475). The iPSYCH study was funded by The Lundbeck Foundation, Denmark (R102-A9118, R155-2014-1724), and the research has been conducted using the Danish National Biobank resource supported by the Novo Nordisk Foundation. The Japanese GWA study was funded by the BioBank Japan project, which is supported by the Ministry of Education, Culture, Sports, Sciences and Technology of the Japanese government.
Ethics declarations
Conflict of interest
All researchers had full independence from the funders. The authors report no biomedical financial interests or potential conflicts of interest.
Ethical approval
This study has been included in the 'genetic analysis and comorbid PSYCHIATRIC disorders using twin families' (P5890) project in the 'genetic epidemiology portfolio'. The Human Research Ethics Committee had earlier granted ethical approval for the project and approval for the addition of the present study was granted on the 3rd of November 2017.
Consent to participate
Not applicable.
Consent for publication
Not applicable.
Availability of data and material (data transparency)
The present study was based on a secondary analysis of GWAS data and all data generated during the study are included in this published article [and its supplementary files]. The GWAS data analyzed for depression and MDD are available and accessible online by contacting the PGC. The GWAS data for GERD and gastritis/duodenitis are freely accessible using the links provided within the articles. The endometriosis GWAS data were sourced from the International Endogen Consortium (IEC); for access to these, contact the consortium directly.
Code availability
Not applicable.
Additional information
Publisher's Note
Springer Nature remains neutral with regard to jurisdictional claims in published maps and institutional affiliations.
International Endogene Consortium, 23andMe Research Team Collaborators members are listed in the Acknowledgement section.
Electronic supplementary material
Below is the link to the electronic supplementary material.
About this article
Cite this article
Adewuyi, E.O., Mehta, D., Sapkota, Y. et al. Genetic analysis of endometriosis and depression identifies shared loci and implicates causal links with gastric mucosa abnormality. Hum Genet 140, 529–552 (2021). https://doi.org/10.1007/s00439-020-02223-6
Received:

Accepted:

Published:

Issue Date:

DOI: https://doi.org/10.1007/s00439-020-02223-6