Abstract
In an effort to characterize the people who composed the groups known as the Xiongnu, nuclear and whole mitochondrial DNA data were generated from the skeletal remains of 52 individuals excavated from the Tamir Ulaan Khoshuu (TUK) cemetery in Central Mongolia. This burial site, attributed to the Xiongnu period, was used from the first century BC to the first century AD. Kinship analyses were conducted using autosomal and Y-chromosomal DNA markers along with complete sequences of the mitochondrial genome. These analyses suggested close kin relationships between many individuals. Nineteen such individuals composed a large family spanning five generations. Within this family, we determined that a woman was of especially high status; this is a novel insight into the structure and hierarchy of societies from the Xiongnu period. Moreover, our findings confirmed that the Xiongnu had a strongly admixed mitochondrial and Y-chromosome gene pools and revealed a significant western component in the Xiongnu group studied. Using a fine-scale approach (haplotype instead of haplogroup-level information), we propose Scytho-Siberians as ancestors of the Xiongnu and Huns as their descendants.
Access options
Buy single article
Instant access to the full article PDF.
US$ 39.95
Tax calculation will be finalised during checkout.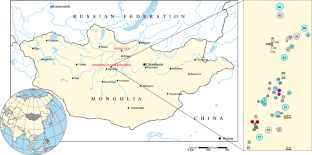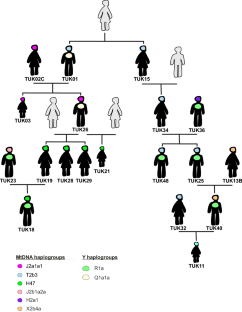 Data availability
All data are available in the manuscript.
References
Amorim CEG, Vai S, Posth C, Modi A, Koncz I, Hakenbeck S, La Rocca MC, Mende B, Bobo D, Pohl W, Baricco LP, Bedini E, Francalacci P, Giostra C, Vida T, Winger D, von Freeden U, Ghirotto S, Lari M, Barbujani G, Krause J, Caramelli D, Geary PJ, Veeramah KR (2018) Understanding 6th-century barbarian social organization and migration through paleogenomics. Nat Commun 9:3547. https://doi.org/10.1038/s41467-018-06024-4

Andrews RM, Kubacka I, Chinnery PF, Lightowlers RN, Turnbull DM, Howell N (1999) Reanalysis and revision of the Cambridge reference sequence for human mitochondrial DNA. Nat Genet 23:147–147. https://doi.org/10.1038/13779

Ballantyne KN, Keerl V, Wollstein A, Choi Y, Zuniga SB, Ralf A, Vermeulen M, de Knijff P, Kayser M (2012) A new future of forensic Y-chromosome analysis: Rapidly mutating Y-STRs for differentiating male relatives and paternal lineages. Forensic Sci Int 6:208–218. https://doi.org/10.1016/j.fsigen.2011.04.017

Brosseder U (2011) Xiongnu terrace tombs and their interpretation as elite burials. In: Brosseder U, Miller B (eds) Xiongnu archaeology. Multidisciplinary perspectives of the first steppe empire in Inner Asia. Bonn Contributions to Asian Archaeology, Bonn, pp 247–280

Brotherton P, Haak W, Templeton J, Brandt G, Soubrier J, Jane Adler C, Richards SM, Sarkissian CD, Ganslmeier R, Friederich S, Dresely V, van Oven M, Kenyon R, Van der Hoek MB, Korlach J, Luong K, Ho SYW, Quintana-Murci L, Behar DM, Meller H, Alt KW, Cooper A (2013) Neolithic mitochondrial haplogroup H genomes and the genetic origins of Europeans. Nat Commun 4:1764. https://doi.org/10.1038/ncomms2656

Csáky V, Gerber D, Koncz I, Csiky G, Mende BG, Szeifert B, Egyed B, Pamjav H, Marcsik A, Molnár E, Pálfi G, Gulyás A, Kovacsóczy B, Lezsák GM, Lőrinczy G, Szécsényi-Nagy A, Vida T (2020) Genetic insights into the social organisation of the Avar period elite in the 7th century AD Carpathian Basin. Sci Rep 10:948. https://doi.org/10.1038/s41598-019-57378-8

Davis-Kimball J (2000) Enarees and women of high status. In kurgans, ritual sites, and settlements: Eurasian Bronze and Iron Age. In: Davis-Kimball J, Murphy E, Koryakova L, Kurgans LY (eds) British Archaeological Research Reports, International Series. Archaeopress, Oxford, pp 223–229

de Damgaard PB, Marchi N, Rasmussen S, Peyrot M, Renaud G, Korneliussen T, Moreno-Mayar JV, Pedersen MW, Goldberg A, Usmanova E, Baimukhanov N, Loman V, Hedeager L, Pedersen AG, Nielsen K, Afanasiev G, Akmatov K, Aldashev A, Alpaslan A, Baimbetov G, Bazaliiskii VI, Beisenov A, Boldbaatar B, Boldgiv B, Dorzhu C, Ellingvag S, Erdenebaatar D, Dajani R, Dmitriev E, Evdokimov V, Frei KM, Gromov A, Goryachev A, Hakonarson H, Hegay T, Khachatryan Z, Khaskhanov R, Kitov E, Kolbina A, Kubatbek T, Kukushkin A, Kukushkin I, Lau N, Margaryan A, Merkyte I, Mertz IV, Mertz VK, Mijiddorj E, Moiyesev V, Mukhtarova G, Nurmukhanbetov B, Orozbekova Z, Panyushkina I, Pieta K, Smrčka V, Shevnina I, Logvin A, Sjögren K-G, Štolcová T, Taravella AM, Tashbaeva K, Tkachev A, Tulegenov T, Voyakin D, Yepiskoposyan L, Undrakhbold S, Varfolomeev V, Weber A, Wilson Sayres MA, Kradin N, Allentoft ME, Orlando L, Nielsen R, Sikora M, Heyer E, Kristiansen K, Willerslev E (2018) 137 ancient human genomes from across the Eurasian steppes. Nature 557:369–374. https://doi.org/10.1038/s41586-018-0094-2

De la Vaissière É (2005) Huns et Xiongnu. Cent Asiat J 49:3–26

Fóthi E, Gonzalez A, Fehér T, Gugora A, Fóthi Á, Biró O, Keyser C (2020) Genetic analysis of male Hungarian Conquerors: European and Asian paternal lineages of the conquering Hungarian tribes. Archaeol Anthropol Sci 12:31. https://doi.org/10.1007/s12520-019-00996-0

Gamba C, Jones ER, Teasdale MD, McLaughlin RL, Gonzalez-Fortes G, Mattiangeli V, Domboróczki L, Kővári I, Pap I, Anders A, Whittle A, Dani J, Raczky P, Higham TFG, Hofreiter M, Bradley DG, Pinhasi R (2014) Genome flux and stasis in a five millennium transect of European prehistory. Nat Commun 5:5257. https://doi.org/10.1038/ncomms6257

Giscard PH, Turbat T, Crubézy E (2013) Le premier Empire des Steppes en Mongolie. Éditions Faton, Paris, p 383

Haak W, Lazaridis I, Patterson N, Rohland N, Mallick S, Llamas B, Brandt G, Nordenfelt S, Harney E, Stewardson K, Fu Q, Mittnik A, Bánffy E, Economou C, Francken M, Friederich S, Pena RG, Hallgren F, Khartanovich V, Khokhlov A, Kunst M, Kuznetsov P, Meller H, Mochalov O, Moiseyev V, Nicklisch N, Pichler SL, Risch R, Rojo Guerra MA, Roth C, Szécsényi-Nagy A, Wahl J, Meyer M, Krause J, Brown D, Anthony D, Cooper A, Alt KW, Reich D (2015) Massive migration from the steppe was a source for Indo-European languages in Europe. Nature 522:207–211. https://doi.org/10.1038/nature14317

Hollard C, Zvénigorosky V, Kovalev A, Kiryushin Y, Tishkin A, Lazaretov I, Crubézy E, Ludes B, Keyser C (2018) New genetic evidence of affinities and discontinuities between bronze age Siberian populations. Am J Phys Anthropol 167:97–107. https://doi.org/10.1002/ajpa.23607

Huang Y, Li H (2016) Genetic and linguistic evidence for the Xiongnu-Yeniseian hypothesis. Man India 95(4):93–108

Huang Y, Pamjav H, Flegontov P, Stenzl V, Wen S, Tong X, Wang C, Wang L, Wei L, Gao J, Jin L, Li H (2018) Dispersals of the Siberian Y-chromosome haplogroup Q in Eurasia. Mol Genet Genom 293(1):107–117. https://doi.org/10.1007/s00438-017-1363-8

Kalinowski ST, Wagner AP, Taper ML (2006) ml-relate: a computer program for maximum likelihood estimation of relatedness and relationship. Mol Ecol Notes 6:576–579. https://doi.org/10.1111/j.1471-8286.2006.01256.x

Keyser C, Bouakaze C, Crubézy E, Nikolaev VG, Montagnon D, Reis T, Ludes B (2009) Ancient DNA provides new insights into the history of south Siberian Kurgan people. Hum Genet 126:395–410. https://doi.org/10.1007/s00439-009-0683-0

Keyser C, Hollard C, Gonzalez A, Fausser J-L, Rivals E, Alexeev AN, Riberon A, Crubézy E, Ludes B (2015) The ancient Yakuts: a population genetic enigma. Phil Trans R Soc B 370:20130385. https://doi.org/10.1098/rstb.2013.0385

Keyser-Tracqui C, Crubézy E, Ludes B (2003) Nuclear and mitochondrial DNA analysis of a 2,000-year-old necropolis in the Egyin Gol valley of Mongolia. Am J Hum Genet 73:247–260. https://doi.org/10.1086/377005

Kim K, Brenner CH, Mair VH, Lee K-H, Kim J-H, Gelegdorj E, Batbold N, Song Y-C, Yun H-W, Chang E-J, Lkhagvasuren G, Bazarragchaa M, Park A-J, Lim I, Hong Y-P, Kim W, Chung S-I, Kim D-J, Chung Y-H, Kim S-S, Lee W-B, Kim K-Y (2010) A western Eurasian male is found in 2000-year-old elite Xiongnu cemetery in Northeast Mongolia. Am J Phys Anthropol 142:429–440. https://doi.org/10.1002/ajpa.21242

Kling D, Tillmar AO, Egeland T (2014) Familias 3–extensions and new functionality. Forensic Sci Int 13:121–127. https://doi.org/10.1016/j.fsigen.2014.07.004

Krzewińska M, Kılınç GM, Juras A, Koptekin D, Chyleński M, Nikitin AG, Shcherbakov N, Shuteleva I, Leonova T, Kraeva L, Sungatov FA, Sultanova AN, Potekhina I, Łukasik S, Krenz-Niedbała M, Dalén L, Sinika V, Jakobsson M, Storå J, Götherström A (2018) Ancient genomes suggest the eastern Pontic-Caspian steppe as the source of western Iron Age nomads. Sci Adv 4:eaat4457. https://doi.org/10.1126/sciadv.aat4457

Linduff KM, Rubinson KS, Berseneva N, Hanks B, Harding D, Jones-Bley K, Legrand S, Linduff K, Nelson SM, Olsen SL, Rubinson K, Shelach G, Wright R (2008) Are all warriors male? Gender roles on the ancient Eurasian steppe. AltaMira Press, Lanham

Lipson M, Szécsényi-Nagy A, Mallick S, Pósa A, Stégmár B, Keerl V, Rohland N, Stewardson K, Ferry M, Michel M, Oppenheimer J, Broomandkhoshbacht N, Harney E, Nordenfelt S, Llamas B, Gusztáv Mende B, Köhler K, Oross K, Bondár M, Marton T, Osztás A, Jakucs J, Paluch T, Horváth F, Csengeri P, Koós J, Sebők K, Anders A, Raczky P, Regenye J, Barna JP, Fábián S, Serlegi G, Toldi Z, Gyöngyvér Nagy E, Dani J, Molnár E, Pálfi G, Márk L, Melegh B, Bánfai Z, Domboróczki L, Fernández-Eraso J, Antonio Mujika-Alustiza J, Alonso Fernández C, Jiménez Echevarría J, Bollongino R, Orschiedt J, Schierhold K, Meller H, Cooper A, Burger J, Bánffy E, Alt KW, Lalueza-Fox C, Haak W, Reich D (2017) Parallel palaeogenomic transects reveal complex genetic history of early European farmers. Nature 551:368–372. https://doi.org/10.1038/nature24476

Lkhagvasuren G, Shin H, Lee SE, Tumen D, Kim J-H, Kim K-Y, Kim K, Park AJ, Lee HW, Kim MJ, Choi J, Choi J-H, Min NY, Lee K-H (2016) Molecular genealogy of a Mongol queen's family and her possible kinship with Genghis Khan. PLoS ONE 11:e0161622. https://doi.org/10.1371/journal.pone.0161622

Mary L, Zvénigorosky V, Kovalev A, Gonzalez A, Fausser J-L, Jagorel F, Kilunovskaya M, Semenov V, Crubézy E, Ludes B, Keyser C (2019) Genetic kinship and admixture in Iron Age Scytho-Siberians. Hum Genet 138:411–423. https://doi.org/10.1007/s00439-019-02002-y

Mathieson I, Alpaslan-Roodenberg S, Posth C, Szécsényi-Nagy A, Rohland N, Mallick S, Olalde I, Broomandkhoshbacht N, Candilio F, Cheronet O, Fernandes D, Ferry M, Gamarra B, Fortes GG, Haak W, Harney E, Jones E, Keating D, Krause-Kyora B, Kucukkalipci I, Michel M, Mittnik A, Nägele K, Novak M, Oppenheimer J, Patterson N, Pfrengle S, Sirak K, Stewardson K, Vai S, Alexandrov S, Alt KW, Andreescu R, Antonović D, Ash A, Atanassova N, Bacvarov K, Gusztáv MB, Bocherens H, Bolus M, Boroneanţ A, Boyadzhiev Y, Budnik A, Burmaz J, Chohadzhiev S, Conard NJ, Cottiaux R, Čuka M, Cupillard C, Drucker DG, Elenski N, Francken M, Galabova B, Ganetsovski G, Gély B, Hajdu T, Handzhyiska V, Harvati K, Higham T, Iliev S, Janković I, Karavanić I, Kennett DJ, Komšo D, Kozak A, Labuda D, Lari M, Lazar C, Leppek M, Leshtakov K, Vetro DL, Los D, Lozanov I, Malina M, Martini F, McSweeney K, Meller H, Menđušić M, Mirea P, Moiseyev V, Petrova V, Price TD, Simalcsik A, Sineo L, Šlaus M, Slavchev V, Stanev P, Starović A, Szeniczey T, Talamo S, Teschler-Nicola M, Thevenet C, Valchev I, Valentin F, Vasilyev S, Veljanovska F, Venelinova S, Veselovskaya E, Viola B, Virag C, Zaninović J, Zäuner S, Stockhammer PW, Catalano G, Krauß R, Caramelli D, Zariņa G, Gaydarska B, Lillie M, Nikitin AG, Potekhina I, Papathanasiou A, Borić D, Bonsall C, Krause J, Pinhasi R, Reich D (2018) The genomic history of southeastern Europe. Nature 555:197–203. https://doi.org/10.1038/nature25778

Matisoo-Smith E, Gosling AL, Platt D, Kardailsky O, Prost S, Cameron-Christie S, Collins CJ, Boocock J, Kurumilian Y, Guirguis M, Pla Orquín R, Khalil W, Genz H, Abou Diwan G, Nassar J, Zalloua P (2018) Ancient mitogenomes of Phoenicians from Sardinia and Lebanon: a story of settlement, integration, and female mobility. PLoS ONE 13:e0190169. https://doi.org/10.1371/journal.pone.0190169

Mendisco F, Keyser C, Hollard C, Seldes V, Nielsen AE, Crubézy E, Ludes B (2011) Application of the iPLEXTM Gold SNP genotyping method for the analysis of Amerindian ancient DNA samples: benefits for ancient population studies. Electrophoresis 32:386–393. https://doi.org/10.1002/elps.201000483

Mittnik A, Wang C-C, Pfrengle S, Daubaras M, Zariņa G, Hallgren F, Allmäe R, Khartanovich V, Moiseyev V, Tõrv M, Furtwängler A, Andrades Valtueña A, Feldman M, Economou C, Oinonen M, Vasks A, Balanovska E, Reich D, Jankauskas R, Haak W, Schiffels S, Krause J (2018) The genetic prehistory of the Baltic Sea region. Nat Commun 9:442. https://doi.org/10.1038/s41467-018-02825-9

Mittnik A, Massy K, Knipper C, Wittenborn F, Friedrich R, Pfrengle S, Burri M, Carlichi-Witjes N, Deeg H, Furtwängler A, Harbeck M, von Heyking K, Kociumaka C, Kucukkalipci I, Lindauer S, Metz S, Staskiewicz A, Thiel A, Wahl J, Haak W, Pernicka E, Schiffels S, Stockhammer PW, Krause J (2019) Kinship-based social inequality in Bronze Age Europe. Science 366:731–734. https://doi.org/10.1126/science.aax6219

Neparáczki E, Maróti Z, Kalmár T, Kocsy K, Maár K, Bihari P, Nagy I, Fóthi E, Pap I, Kustár A, Pálfi G, Raskó I, Zink A, Török T, Caramelli D (2018) Mitogenomic data indicate admixture components of Central-Inner Asian and Srubnaya origin in the conquering Hungarians. PLOS ONE 13(10):e0205920

Neparáczki E, Maróti Z, Kalmár T, Maár K, Nagy I, Latinovics D, Kustár Á, Pálfi G, Molnár E, Marcsik A, Balogh C, Lőrinczy G, Gál SS, Tomka P, Kovacsóczy B, Kovács L, Raskó I, Török T (2019) Y-chromosome haplogroups from Hun, Avar and conquering Hungarian period nomadic people of the Carpathian Basin. Sci Rep 9:16569. https://doi.org/10.1038/s41598-019-53105-5

Olalde I, Brace S, Allentoft ME, Armit I, Kristiansen K, Booth T, Rohland N, Mallick S, Szécsényi-Nagy A, Mittnik A, Altena E, Lipson M, Lazaridis I, Harper TK, Patterson N, Broomandkhoshbacht N, Diekmann Y, Faltyskova Z, Fernandes D, Ferry M, Harney E, de Knijff P, Michel M, Oppenheimer J, Stewardson K, Barclay A, Alt KW, Liesau C, Ríos P, Blasco C, Miguel JV, García RM, Fernández AA, Bánffy E, Bernabò-Brea M, Billoin D, Bonsall C, Bonsall L, Allen T, Büster L, Carver S, Navarro LC, Craig OE, Cook GT, Cunliffe B, Denaire A, Dinwiddy KE, Dodwell N, Ernée M, Evans C, Kuchařík M, Farré JF, Fowler C, Gazenbeek M, Pena RG, Haber-Uriarte M, Haduch E, Hey G, Jowett N, Knowles T, Massy K, Pfrengle S, Lefranc P, Lemercier O, Lefebvre A, Martínez CH, Olmo VG, Ramírez AB, Maurandi JL, Majó T, McKinley JI, McSweeney K, Mende BG, Modi A, Kulcsár G, Kiss V, Czene A, Patay R, Endrődi A, Köhler K, Hajdu T, Szeniczey T, Dani J, Bernert Z, Hoole M, Cheronet O, Keating D, Velemínský P, Dobeš M, Candilio F, Brown F, Fernández RF, Herrero-Corral A-M, Tusa S, Carnieri E, Lentini L, Valenti A, Zanini A, Waddington C, Delibes G, Guerra-Doce E, Neil B, Brittain M, Luke M, Mortimer R, Desideri J, Besse M, Brücken G, Furmanek M, Hałuszko A, Mackiewicz M, Rapiński A, Leach S, Soriano I, Lillios KT, Cardoso JL, Pearson MP, Włodarczak P, Price TD, Prieto P, Rey P-J, Risch R, Rojo Guerra MA, Schmitt A, Serralongue J, Silva AM, Smrčka V, Vergnaud L, Zilhão J, Caramelli D, Higham T, Thomas MG, Kennett DJ, Fokkens H, Heyd V, Sheridan A, Sjögren K-G, Stockhammer PW, Krause J, Pinhasi R, Haak W, Barnes I, Lalueza-Fox C, Reich D (2018) The Beaker phenomenon and the genomic transformation of northwest Europe. Nature 555:190–196. https://doi.org/10.1038/nature25738

Olasz J, Seidenberg V, Hummel S, Szentirmay Z, Szabados G, Melegh B, Kásler M (2019) DNA profiling of Hungarian King Béla III and other skeletal remains originating from the Royal Basilica of Székesfehérvár. Archaeol Anthropol Sci 11:1345–1357. https://doi.org/10.1007/s12520-018-0609-7

Oota H, Settheetham-Ishida W, Tiwawech D, Ishida T, Stoneking M (2001) Human mtDNA and Y-chromosome variation is correlated with matrilocal versus patrilocal residence. Nat Genet 29:20–21. https://doi.org/10.1038/ng711

Pamjav H, Fehér T, Németh E, Pádár Z (2012) Brief communication: new Y-chromosome binary markers improve phylogenetic resolution within haplogroup R1a1. Am J Phys Anthropol 149:611–615. https://doi.org/10.1002/ajpa.22167

Park J-S, Gelegdorj E, Chimiddorj Y-E (2010) Technological traditions inferred from iron artefacts of the Xiongnu Empire in Mongolia. J Archaeol Sci 37:2689–2697. https://doi.org/10.1016/j.jas.2010.06.002

Saag L, Varul L, Scheib CL, Stenderup J, Allentoft ME, Saag L, Pagani L, Reidla M, Tambets K, Metspalu E, Kriiska A, Willerslev E, Kivisild T, Metspalu M (2017) Extensive farming in Estonia started through a sex-biased migration from the steppe. Curr Biol 27:2185–2193.e6. https://doi.org/10.1016/j.cub.2017.06.022

Schmidt RW, Seguchi N (2016) Craniofacial variation of the Xiongnu Iron Age nomads of Mongolia reveals their possible origins and population history. Quat Int 405:110–112. https://doi.org/10.1016/j.quaint.2014.11.035

Vai S, Brunelli A, Modi A, Tassi F, Vergata C, Pilli E, Lari M, Susca RR, Giostra C, Baricco LP, Bedini E, Koncz I, Vida T, Mende BG, Winger D, Loskotová Z, Veeramah K, Geary P, Barbujani G, Caramelli D, Ghirotto S (2019) A genetic perspective on Longobard-Era migrations. Eur J Hum Genet 27:647–656. https://doi.org/10.1038/s41431-018-0319-8

Weissensteiner H, Pacher D, Kloss-Brandstätter A, Forer L, Specht G, Bandelt H-J, Kronenberg F, Salas A, Schönherr S (2016) HaploGrep 2: mitochondrial haplogroup classification in the era of high-throughput sequencing. Nucleic Acids Res 44:W58–W63. https://doi.org/10.1093/nar/gkw233

Wright J, Honeychurch W, Amartuvshin C (2009) The Xiongnu settlements of Egiin Gol, Mongolia. Antiquity 83:372–387. https://doi.org/10.1017/S0003598X00098495

Zhao Y-B, Zhang Y, Li H-J, Cui Y-Q, Zhu H, Zhou H (2014) Ancient DNA evidence reveals that the Y chromosome haplogroup Q1a1 admixed into the Han Chinese 3,000 years ago. Am J Hum Biol 26:813–821. https://doi.org/10.1002/ajhb.22604

Zvénigorosky V, Sabbagh A, Gonzalez A, Fausser J-L, Palstra F, Romanov G, Solovyev A, Barashkov N, Fedorova S, Crubézy É, Ludes B, Keyser C (2020) The limitations of kinship determinations using STR data in ill-defined populations. Int J Legal Med. https://doi.org/10.1007/s00414-020-02298-w
Funding
This research was supported by the CNRS and the INTS.
Ethics declarations
Conflict of interest
The authors declare that there is no conflict of interest or competing interests.
Additional information
Publisher's Note
Springer Nature remains neutral with regard to jurisdictional claims in published maps and institutional affiliations.
Electronic supplementary material
Below is the link to the electronic supplementary material.
Supplementary file1 Figure S1: Description of the five parent/offspring pairs identified outside the multi-generational family. Arrows indicate the impossibility to determine which individual was the parent or the child. (PDF 26 kb)
About this article
Cite this article
Keyser, C., Zvénigorosky, V., Gonzalez, A. et al. Genetic evidence suggests a sense of family, parity and conquest in the Xiongnu Iron Age nomads of Mongolia. Hum Genet 140, 349–359 (2021). https://doi.org/10.1007/s00439-020-02209-4
Received:

Accepted:

Published:

Issue Date: