Abstract
An inverted duplication with a terminal deletion (inv-dup-del) is one of the complex constitutional structural rearrangements that can occur in a chromosome. Although breakages of dicentric chromosome have been suggested, the precise mechanism of this is yet to be fully understood. In our present study, we investigated the genomic structure of 10 inv-dup-del cases to elucidate this mechanism. Two recurrent 8p inv-dup-del cases harbored a large copy-number-neutral region between the duplication and deletion in common. Although the other non-recurrent cases did not appear to have this copy-number-neutral region, refined sequencing analysis identified that they contained a small intervening region at the junction between the inverted and non-inverted segment. The size of this small intervening region ranged from 1741 to 3728 bp. Combined with a presence of microhomology at the junction, a resolution of the replication fork stalling through template switching within the same replication fork is suggested. We further observed two cases with mosaicism of the dicentric chromosome and various structural rearrangements related to the dicentric chromosome. Refined analysis allowed us to identify different breakpoints on the same chromosome in the same case, implicating multiple rounds of U-type formation and its breakage. From these results, we propose that a replication-based mechanism generates unstable dicentric chromosomes and that their breakage leads to the formation of inv-dup-dels and other related derivative chromosomes.
This is a preview of subscription content,
to check access.
Access this article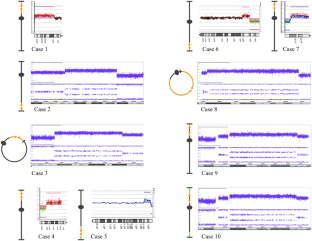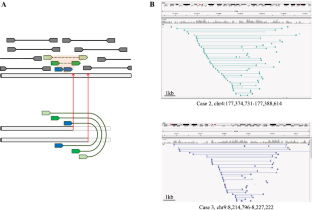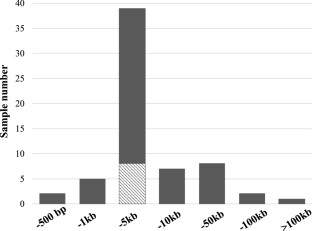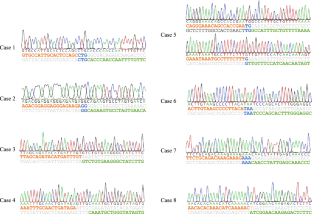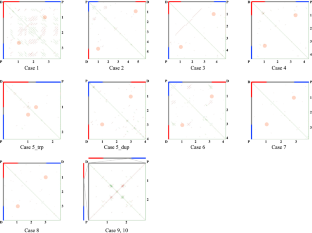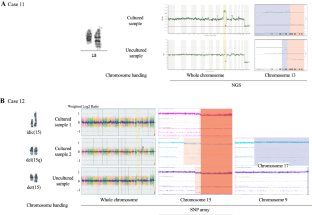 Similar content being viewed by others
Data availability
All data analyzed during this study are included in this published article.
Acknowledgements
We thank the patients and their families for participating in this study.
Funding
This study was supported by a Grant-in-Aid for Scientific Research from the Ministry of Education, Culture, Sports, Science, and Technology of Japan (17K11259 to T.K., 15H04710 and 24390085 to H.K.) and from the Ministry of Health, Welfare and Labor (16ek0109067h0003 to H.K.).
Ethics declarations
Conflict of interest
The authors declare no competing interests.
Ethical approval
This study was approved by the Ethical Review Board for Human Genome Studies at Fujita Health University. The written informed consent was obtained from patients. All experiments were carried out in accordance with the relevant guidelines and regulations.
Informed consent
We have obtained consent to participate in the study. We have obtained consent to publication in the study.
Additional information
Publisher's Note
Springer Nature remains neutral with regard to jurisdictional claims in published maps and institutional affiliations.
About this article
Cite this article
Kato, T., Inagaki, H., Miyai, S. et al. The involvement of U-type dicentric chromosomes in the formation of terminal deletions with or without adjacent inverted duplications. Hum Genet 139, 1417–1427 (2020). https://doi.org/10.1007/s00439-020-02186-8
Received:

Accepted:

Published:

Issue Date:

DOI: https://doi.org/10.1007/s00439-020-02186-8