Abstract
Incidence rates of Mendelian diseases vary among ethnic groups, and frequencies of variant types of causative genes also vary among human populations. In this study, we examined to what extent we can predict population frequencies of recessive disorders from genomic data, and explored better strategies for variant interpretation and classification. We used a whole-genome reference panel from 3552 general Japanese individuals constructed by the Tohoku Medical Megabank Organization (ToMMo). Focusing on 32 genes for 17 congenital metabolic disorders included in newborn screening (NBS) in Japan, we identified reported and predicted pathogenic variants through variant annotation, interpretation, and multiple ways of classifications. The estimated carrier frequencies were compared with those from the Japanese NBS data based on 1,949,987 newborns from a previous study. The estimated carrier frequency based on genomic data with a recent guideline of variant interpretation for the PAH gene, in which defects cause hyperphenylalaninemia (HPA) and phenylketonuria (PKU), provided a closer estimate to that by the observed incidence than the other methods. In contrast, the estimated carrier frequencies for SLC25A13, which causes citrin deficiency, were much higher compared with the incidence rate. The results varied greatly among the 11 NBS diseases with single responsible genes; the possible reasons for departures from the carrier frequencies by reported incidence rates were discussed. Of note, (1) the number of pathogenic variants increases by including additional lines of evidence, (2) common variants with mild effects also contribute to the actual frequency of patients, and (3) penetrance of each variant remains unclear.
This is a preview of subscription content, log in to check access.
Access options
Buy single article
Instant access to the full article PDF.
US$ 39.95
Price includes VAT for USA
Subscribe to journal
Immediate online access to all issues from 2019. Subscription will auto renew annually.
US$ 199
This is the net price. Taxes to be calculated in checkout.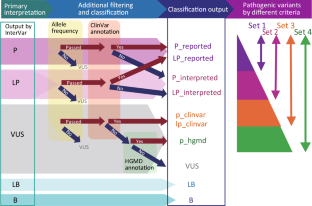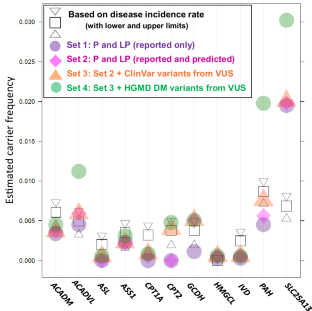 References
Amendola LM, Dorschner MO, Robertson PD, Salama JS, Hart R, Shirts BH, Murray ML, Tokita MJ, Gallego CJ, Kim DS, Bennett JT, Crosslin DR, Ranchalis J, Jones KL, Rosenthal EA, Jarvik ER, Itsara A, Turner EH, Herman DS, Schleit J, Burt A, Jamal SM, Abrudan JL, Johnson AD, Conlin LK, Dulik MC, Santani A, Metterville DR, Kelly M, Foreman AK, Lee K, Taylor KD, Guo X, Crooks K, Kiedrowski LA, Raffel LJ, Gordon O, Machini K, Desnick RJ, Biesecker LG, Lubitz SA, Mulchandani S, Cooper GM, Joffe S, Richards CS, Yang Y, Rotter JI, Rich SS, O'Donnell CJ, Berg JS, Spinner NB, Evans JP, Fullerton SM, Leppig KA, Bennett RL, Bird T, Sybert VP, Grady WM, Tabor HK, Kim JH, Bamshad MJ, Wilfond B, Motulsky AG, Scott CR, Pritchard CC, Walsh TD, Burke W, Raskind WH, Byers P, Hisama FM, Rehm H, Nickerson DA, Jarvik GP (2015) Actionable exomic incidental findings in 6503 participants: challenges of variant classification. Genome Res 25:305–315. https://doi.org/10.1101/gr.183483.114

Beaudet AL, O'Brien WE, Bock HG, Freytag SO, Su TS (1986) The human argininosuccinate synthetase locus and citrullinemia. Adv Hum Genet 15:161–196, 291–2

Bell CJ, Dinwiddie DL, Miller NA, Hateley SL, Ganusova EE, Mudge J, Langley RJ, Zhang L, Lee CC, Schilkey FD, Sheth V, Woodward JE, Peckham HE, Schroth GP, Kim RW, Kingsmore SF (2011) Carrier testing for severe childhood recessive diseases by next-generation sequencing. Sci Transl Med 3:65ra4. https://doi.org/10.1126/scitranslmed.3001756

Bonnefont JP, Djouadi F, Prip-Buus C, Gobin S, Munnich A, Bastin J (2004) Carnitine palmitoyltransferases 1 and 2: biochemical, molecular and medical aspects. Mol Aspects Med 25:495–520. https://doi.org/10.1016/j.mam.2004.06.004

Brown NF, Mullur RS, Subramanian I, Esser V, Bennett MJ, Saudubray JM, Feigenbaum AS, Kobari JA, Macleod PM, McGarry JD, Cohen JC (2001) Molecular characterization of L-CPT I deficiency in six patients: insights into function of the native enzyme. J Lipid Res 42:1134–1142

Burda P, Schafer A, Suormala T, Rummel T, Burer C, Heuberger D, Frapolli M, Giunta C, Sokolova J, Vlaskova H, Kozich V, Koch HG, Fowler B, Froese DS, Baumgartner MR (2015) Insights into severe 5,10-methylenetetrahydrofolate reductase deficiency: molecular genetic and enzymatic characterization of 76 patients. Hum Mutat 36:611–621. https://doi.org/10.1002/humu.22779

Cassa CA, Weghorn D, Balick DJ, Jordan DM, Nusinow D, Samocha KE, O'Donnell-Luria A, MacArthur DG, Daly MJ, Beier DR, Sunyaev SR (2017) Estimating the selective effects of heterozygous protein-truncating variants from human exome data. Nat Genet 49:806–810. https://doi.org/10.1038/ng.3831

Chong JX, Ouwenga R, Anderson RL, Waggoner DJ, Ober C (2012) A population-based study of autosomal-recessive disease-causing mutations in a founder population. Am J Hum Genet 91:608–620. https://doi.org/10.1016/j.ajhg.2012.08.007

Collins SA, Sinclair G, McIntosh S, Bamforth F, Thompson R, Sobol I, Osborne G, Corriveau A, Santos M, Hanley B, Greenberg CR, Vallance H, Arbour L (2010) Carnitine palmitoyltransferase 1A (CPT1A) P479L prevalence in live newborns in Yukon, Northwest Territories, and Nunavut. Mol Genet Metab 101:200–204. https://doi.org/10.1016/j.ymgme.2010.07.013

Cooper DN, Ball EV, Krawczak M (1998) The human gene mutation database. Nucleic Acids Res 26:285–287

Dateki S, Watanabe S, Nakatomi A, Kinoshita E, Matsumoto T, Yoshiura K, Moriuchi H (2016) Genetic background of hyperphenylalaninemia in Nagasaki, Japan. Pediatr Int 58:431–433. https://doi.org/10.1111/ped.12924

Diez-Fernandez C, Rufenacht V, Haberle J (2017) Mutations in the Human Argininosuccinate Synthetase (ASS1) Gene, Impact on Patients, Common Changes, and Structural Considerations. Hum Mutat 38:471–484. https://doi.org/10.1002/humu.23184

Dorschner MO, Amendola LM, Turner EH, Robertson PD, Shirts BH, Gallego CJ, Bennett RL, Jones KL, Tokita MJ, Bennett JT, Kim JH, Rosenthal EA, Kim DS, National Heart L, Blood Institute Grand Opportunity Exome Sequencing P, Tabor HK, Bamshad MJ, Motulsky AG, Scott CR, Pritchard CC, Walsh T, Burke W, Raskind WH, Byers P, Hisama FM, Nickerson DA, Jarvik GP (2013) Actionable, pathogenic incidental findings in 1,000 participants' exomes. Am J Hum Genet 93:631–640. https://doi.org/10.1016/j.ajhg.2013.08.006

Eisensmith RC, Goltsov AA, O'Neill C, Tyfield LA, Schwartz EI, Kuzmin AI, Baranovskaya SS, Tsukerman GL, Treacy E, Scriver CR et al (1995) Recurrence of the R408W mutation in the phenylalanine hydroxylase locus in Europeans. Am J Hum Genet 56:278–286

Erlandsen H, Stevens RC (1999) The structural basis of phenylketonuria. Mol Genet Metab 68:103–125. https://doi.org/10.1006/mgme.1999.2922

Farnaes L, Hildreth A, Sweeney NM, Clark MM, Chowdhury S, Nahas S, Cakici JA, Benson W, Kaplan RH, Kronick R, Bainbridge MN, Friedman J, Gold JJ, Ding Y, Veeraraghavan N, Dimmock D, Kingsmore SF (2018) Rapid whole-genome sequencing decreases infant morbidity and cost of hospitalization. NPJ Genom Med 3:10. https://doi.org/10.1038/s41525-018-0049-4

Fohner AE, Garrison NA, Austin MA, Burke W (2017) Carnitine palmitoyltransferase 1A P479L and infant death: policy implications of emerging data. Genet Med 19:851–857. https://doi.org/10.1038/gim.2016.202

Froese DS, Huemer M, Suormala T, Burda P, Coelho D, Gueant JL, Landolt MA, Kozich V, Fowler B, Baumgartner MR (2016) Mutation Update and Review of Severe Methylenetetrahydrofolate Reductase Deficiency. Hum Mutat 37:427–438. https://doi.org/10.1002/humu.22970

Frosst P, Blom HJ, Milos R, Goyette P, Sheppard CA, Matthews RG, Boers GJ, den Heijer M, Kluijtmans LA, van den Heuvel LP et al (1995) A candidate genetic risk factor for vascular disease: a common mutation in methylenetetrahydrofolate reductase. Nat Genet 10:111–113. https://doi.org/10.1038/ng0595-111

Fu W, O'Connor TD, Jun G, Kang HM, Abecasis G, Leal SM, Gabriel S, Rieder MJ, Altshuler D, Shendure J, Nickerson DA, Bamshad MJ, Project NES, Akey JM (2013) Analysis of 6,515 exomes reveals the recent origin of most human protein-coding variants. Nature 493:216–220. https://doi.org/10.1038/nature11690

Fujimoto A, Nakagawa H, Hosono N, Nakano K, Abe T, Boroevich KA, Nagasaki M, Yamaguchi R, Shibuya T, Kubo M, Miyano S, Nakamura Y, Tsunoda T (2010) Whole-genome sequencing and comprehensive variant analysis of a Japanese individual using massively parallel sequencing. Nat Genet 42:931–936. https://doi.org/10.1038/ng.691

Gao HZ, Kobayashi K, Tabata A, Tsuge H, Iijima M, Yasuda T, Kalkanoglu HS, Dursun A, Tokatli A, Coskun T, Trefz FK, Skladal D, Mandel H, Seidel J, Kodama S, Shirane S, Ichida T, Makino S, Yoshino M, Kang JH, Mizuguchi M, Barshop BA, Fuchinoue S, Seneca S, Zeesman S, Knerr I, Rodes M, Wasant P, Yoshida I, De Meirleir L, Abdul Jalil M, Begum L, Horiuchi M, Katunuma N, Nakagawa S, Saheki T (2003) Identification of 16 novel mutations in the argininosuccinate synthetase gene and genotype-phenotype correlation in 38 classical citrullinemia patients. Hum Mutat 22:24–34. https://doi.org/10.1002/humu.10230

Gudbjartsson DF, Helgason H, Gudjonsson SA, Zink F, Oddson A, Gylfason A, Besenbacher S, Magnusson G, Halldorsson BV, Hjartarson E, Sigurdsson GT, Stacey SN, Frigge ML, Holm H, Saemundsdottir J, Helgadottir HT, Johannsdottir H, Sigfusson G, Thorgeirsson G, Sverrisson JT, Gretarsdottir S, Walters GB, Rafnar T, Thjodleifsson B, Bjornsson ES, Olafsson S, Thorarinsdottir H, Steingrimsdottir T, Gudmundsdottir TS, Theodors A, Jonasson JG, Sigurdsson A, Bjornsdottir G, Jonsson JJ, Thorarensen O, Ludvigsson P, Gudbjartsson H, Eyjolfsson GI, Sigurdardottir O, Olafsson I, Arnar DO, Magnusson OT, Kong A, Masson G, Thorsteinsdottir U, Helgason A, Sulem P, Stefansson K (2015) Large-scale whole-genome sequencing of the Icelandic population. Nat Genet 47:435–444. https://doi.org/10.1038/ng.3247

Guenther BD, Sheppard CA, Tran P, Rozen R, Matthews RG, Ludwig ML (1999) The structure and properties of methylenetetrahydrofolate reductase from Escherichia coli suggest how folate ameliorates human hyperhomocysteinemia. Nat Struct Biol 6:359–365. https://doi.org/10.1038/7594

Haga H, Yamada R, Ohnishi Y, Nakamura Y, Tanaka T (2002) Gene-based SNP discovery as part of the Japanese Millennium Genome Project: identification of 190,562 genetic variations in the human genome. Single-nucleotide polymorphism. J Hum Genet 47:605–610. https://doi.org/10.1007/s100380200092

Hamilton HB, Neel JV, Kobara TY, Ozaki K (1961) The frequency in Japan of carriers of the rare "recessive" gene causing acatalasemia. J Clin Invest 40:2199–2208. https://doi.org/10.1172/JCI104446

Hammer MF, Horai S (1995) Y chromosomal DNA variation and the peopling of Japan. Am J Hum Genet 56:951–962

Hirakawa M, Tanaka T, Hashimoto Y, Kuroda M, Takagi T, Nakamura Y (2002) JSNP: a database of common gene variations in the Japanese population. Nucleic Acids Res 30:158–162

Holtzman C, Slazyk WE, Cordero JF, Hannon WH (1986) Descriptive epidemiology of missed cases of phenylketonuria and congenital hypothyroidism. Pediatrics 78:553–558

Horai S, Murayama K, Hayasaka K, Matsubayashi S, Hattori Y, Fucharoen G, Harihara S, Park KS, Omoto K, Pan IH (1996) mtDNA polymorphism in East Asian Populations, with special reference to the peopling of Japan. Am J Hum Genet 59:579–590

Japanese Archipelago Human Population Genetics Consortium, Jinam T, Nishida N, Hirai M, Kawamura S, Oota H, Umetsu K, Kimura R, Ohashi J, Tajima A, Yamamoto T, Tanabe H, Mano S, Suto Y, Kaname T, Naritomi K, Yanagi K, Niikawa N, Omoto K, Tokunaga K, Saitou N (2012) The history of human populations in the Japanese Archipelago inferred from genome-wide SNP data with a special reference to the Ainu and the Ryukyuan populations. J Hum Genet 57: 787–795. https://doi.org/10.1038/jhg.2012.114

Kamada F, Aoki Y, Narisawa A, Abe Y, Komatsuzaki S, Kikuchi A, Kanno J, Niihori T, Ono M, Ishii N, Owada Y, Fujimura M, Mashimo Y, Suzuki Y, Hata A, Tsuchiya S, Tominaga T, Matsubara Y, Kure S (2011) A genome-wide association study identifies RNF213 as the first Moyamoya disease gene. J Hum Genet 56:34–40. https://doi.org/10.1038/jhg.2010.132

Kamatani N, Kuroshima S, Hakoda M, Palella TD, Hidaka Y (1990) Crossovers within a short DNA sequence indicate a long evolutionary history of the APRT*J mutation. Hum Genet 85:600–604

Kawai Y, Mimori T, Kojima K, Nariai N, Danjoh I, Saito R, Yasuda J, Yamamoto M, Nagasaki M (2015) Japonica array: improved genotype imputation by designing a population-specific SNP array with 1070 Japanese individuals. J Hum Genet 60:581–587. https://doi.org/10.1038/jhg.2015.68

Kessler MD, Yerges-Armstrong L, Taub MA, Shetty AC, Maloney K, Jeng LJ, Ruczinski I, Levin AM, Williams LK, Beaty TH, Mathias RA, Barnes KC, Connor TD (2016) Consortium on Asthma among African-ancestry Populations in the A, O'. Challenges and disparities in the application of personalized genomic medicine to populations with African ancestry. Nat Commun 7:12521. https://doi.org/10.1038/ncomms12521

Kitagawa T (2012) Newborn screening for inborn errors of metabolism in Japan. A history of the development of newborn screening. Pediatr Endocrinol Rev 10(Suppl 1):8–25

Knox WE, Messinger EC (1958) The detection in the heterozygote of the metabolic effect of the recessive gene for phenylketonuria. Am J Hum Genet 10:53–60

Kobayashi K, Shaheen N, Kumashiro R, Tanikawa K, O'Brien WE, Beaudet AL, Saheki T (1993) A search for the primary abnormality in adult-onset type II citrullinemia. Am J Hum Genet 53:1024–1030

Kobayashi K, Kakinoki H, Fukushige T, Shaheen N, Terazono H, Saheki T (1995) Nature and frequency of mutations in the argininosuccinate synthetase gene that cause classical citrullinemia. Hum Genet 96:454–463

Kobayashi K, Sinasac DS, Iijima M, Boright AP, Begum L, Lee JR, Yasuda T, Ikeda S, Hirano R, Terazono H, Crackower MA, Kondo I, Tsui LC, Scherer SW, Saheki T (1999) The gene mutated in adult-onset type II citrullinaemia encodes a putative mitochondrial carrier protein. Nat Genet 22:159–163. https://doi.org/10.1038/9667

Konecki DS, Lichter-Konecki U (1991) The phenylketonuria locus: current knowledge about alleles and mutations of the phenylalanine hydroxylase gene in various populations. Hum Genet 87:377–388

Koshiba S, Motoike I, Kojima K, Hasegawa T, Shirota M, Saito T, Saigusa D, Danjoh I, Katsuoka F, Ogishima S, Kawai Y, Yamaguchi-Kabata Y, Sakurai M, Hirano S, Nakata J, Motohashi H, Hozawa A, Kuriyama S, Minegishi N, Nagasaki M, Takai-Igarashi T, Fuse N, Kiyomoto H, Sugawara J, Suzuki Y, Kure S, Yaegashi N, Tanabe O, Kinoshita K, Yasuda J, Yamamoto M (2016) The structural origin of metabolic quantitative diversity. Sci Rep 6:31463. https://doi.org/10.1038/srep31463

Koshiba S, Motoike I, Saigusa D, Inoue J, Shirota M, Katoh Y, Katsuoka F, Danjoh I, Hozawa A, Kuriyama S, Minegishi N, Nagasaki M, Takai-Igarashi T, Ogishima S, Fuse N, Kure S, Tamiya G, Tanabe O, Yasuda J, Kinoshita K, Yamamoto M (2018) Omics research project on prospective cohort studies from the Tohoku Medical Megabank Project. Genes Cells 23:406–417. https://doi.org/10.1111/gtc.12588

Kuriyama S, Yaegashi N, Nagami F, Arai T, Kawaguchi Y, Osumi N, Sakaida M, Suzuki Y, Nakayama K, Hashizume H, Tamiya G, Kawame H, Suzuki K, Hozawa A, Nakaya N, Kikuya M, Metoki H, Tsuji I, Fuse N, Kiyomoto H, Sugawara J, Tsuboi A, Egawa S, Ito K, Chida K, Ishii T, Tomita H, Taki Y, Minegishi N, Ishii N, Yasuda J, Igarashi K, Shimizu R, Nagasaki M, Koshiba S, Kinoshita K, Ogishima S, Takai-Igarashi T, Tominaga T, Tanabe O, Ohuchi N, Shimosegawa T, Kure S, Tanaka H, Ito S, Hitomi J, Tanno K, Nakamura M, Ogasawara K, Kobayashi S, Sakata K, Satoh M, Shimizu A, Sasaki M, Endo R, Sobue K,, Yamamoto M (2016) Tohoku Medical Megabank Project Study Group T. The Tohoku Medical Megabank Project: Design and Mission. J Epidemiol 26:493–511. https://doi.org/10.2188/jea.JE20150268

Landrum MJ, Lee JM, Benson M, Brown G, Chao C, Chitipiralla S, Gu B, Hart J, Hoffman D, Hoover J, Jang W, Katz K, Ovetsky M, Riley G, Sethi A, Tully R, Villamarin-Salomon R, Rubinstein W, Maglott DR (2016) ClinVar: public archive of interpretations of clinically relevant variants. Nucleic Acids Res 44:D862–D868. https://doi.org/10.1093/nar/gkv1222

Lange LA, Croteau-Chonka DC, Marvelle AF, Qin L, Gaulton KJ, Kuzawa CW, McDade TW, Wang Y, Li Y, Levy S, Borja JB, Lange EM, Adair LS, Mohlke KL (2010) Genome-wide association study of homocysteine levels in Filipinos provides evidence for CPS1 in women and a stronger MTHFR effect in young adults. Hum Mol Genet 19:2050–2058. https://doi.org/10.1093/hmg/ddq062

Larsson SC, Giovannucci E, Wolk A (2006) Folate intake, MTHFR polymorphisms, and risk of esophageal, gastric, and pancreatic cancer: a meta-analysis. Gastroenterology 131:1271–1283. doi: S0016-5085(06)01727-6

Lee DH, Koo SK, Lee KS, Yeon YJ, Oh HJ, Kim SW, Lee SJ, Kim SS, Lee JE, Jo I, Jung SC (2004) The molecular basis of phenylketonuria in Koreans. J Hum Genet 49:617–621. https://doi.org/10.1007/s10038-004-0197-5

Lek M, Karczewski KJ, Minikel EV, Samocha KE, Banks E, Fennell T, O'Donnell-Luria AH, Ware JS, Hill AJ, Cummings BB, Tukiainen T, Birnbaum DP, Kosmicki JA, Duncan LE, Estrada K, Zhao F, Zou J, Pierce-Hoffman E, Berghout J, Cooper DN, Deflaux N, DePristo M, Do R, Flannick J, Fromer M, Gauthier L, Goldstein J, Gupta N, Howrigan D, Kiezun A, Kurki MI, Moonshine AL, Natarajan P, Orozco L, Peloso GM, Poplin R, Rivas MA, Ruano-Rubio V, Rose SA, Ruderfer DM, Shakir K, Stenson PD, Stevens C, Thomas BP, Tiao G, Tusie-Luna MT, Weisburd B, Won HH, Yu D, Altshuler DM, Ardissino D, Boehnke M, Danesh J, Donnelly S, Elosua R, Florez JC, Gabriel SB, Getz G, Glatt SJ, Hultman CM, Kathiresan S, Laakso M, McCarroll S, McCarthy MI, McGovern D, McPherson R, Neale BM, Palotie A, Purcell SM, Saleheen D, Scharf JM, Sklar P, Sullivan PF, Tuomilehto J, Tsuang MT, Watkins HC, Wilson JG, Daly MJ, MacArthur DG, Exome Aggregation C (2016) Analysis of protein-coding genetic variation in 60,706 humans. Nature 536:285–291. https://doi.org/10.1038/nature19057

Levy S, Sutton G, Ng PC, Feuk L, Halpern AL, Walenz BP, Axelrod N, Huang J, Kirkness EF, Denisov G, Lin Y, MacDonald JR, Pang AW, Shago M, Stockwell TB, Tsiamouri A, Bafna V, Bansal V, Kravitz SA, Busam DA, Beeson KY, McIntosh TC, Remington KA, Abril JF, Gill J, Borman J, Rogers YH, Frazier ME, Scherer SW, Strausberg RL, Venter JC (2007) The diploid genome sequence of an individual human. PLoS Biol 5:e254. https://doi.org/10.1371/journal.pbio.0050254

Li Q, Wang K (2017) InterVar: Clinical Interpretation of Genetic Variants by the 2015 ACMG-AMP Guidelines. Am J Hum Genet 100:267–280. https://doi.org/10.1016/j.ajhg.2017.01.004

Long T, Hicks M, Yu HC, Biggs WH, Kirkness EF, Menni C, Zierer J, Small KS, Mangino M, Messier H, Brewerton S, Turpaz Y, Perkins BA, Evans AM, Miller LA, Guo L, Caskey CT, Schork NJ, Garner C, Spector TD, Venter JC, Telenti A (2017) Whole-genome sequencing identifies common-to-rare variants associated with human blood metabolites. Nat Genet 49:568–578. https://doi.org/10.1038/ng.3809

McCabe LL, McCabe ER (2002) Newborn screening as a model for population screening. Mol Genet Metab 75:299–307. https://doi.org/10.1016/S1096-7192(02)00005-7

Mimori A, Hidaka Y, Wu VC, Tarle SA, Kamatani N, Kelley WN, Pallela TD (1991) A mutant allele common to the type I adenine phosphoribosyltransferase deficiency in Japanese subjects. Am J Hum Genet 48:103–107

Minari J, Brothers KB, Morrison M (2018) Tensions in ethics and policy created by National Precision Medicine Programs. Human Genomics 12:22. https://doi.org/10.1186/s40246-018-0151-9

Miyashita M, Ishikuro M, Kikuya M, Yamanaka C, Mizuno S, Nagai M, Sato Y, Obara T, Metoki H, Kikuchi A, Nakaya N, Hozawa A, Tsuji I, Yaegashi N, Yamamoto M, Kure S, Kuriyama S (2017) Development of a Questionnaire Method of Screening for Citrin Deficiency in Schoolchildren. Journal of Pediatrics and Congenital Disorders 4

Morton NE, Crow JF, Muller HJ (1956) An Estimate of the Mutational Damage in Man from Data on Consanguineous Marriages. Proc Natl Acad Sci U S A 42:855–863

Nagasaki M, Yasuda J, Katsuoka F, Nariai N, Kojima K, Kawai Y, Yamaguchi-Kabata Y, Yokozawa J, Danjoh I, Saito S, Sato Y, Mimori T, Tsuda K, Saito R, Pan X, Nishikawa S, Ito S, Kuroki Y, Tanabe O, Fuse N, Kuriyama S, Kiyomoto H, Hozawa A, Minegishi N, Douglas Engel J, Kinoshita K, Kure S, Yaegashi N,, Yamamoto M (2015) ToMMo Japanese Reference Panel Project. Rare variant discovery by deep whole-genome sequencing of 1,070 Japanese individuals. Nat Commun 6:8018. https://doi.org/10.1038/ncomms9018

Nagata N, Matsuda I, Oyanagi K (1991) Estimated frequency of urea cycle enzymopathies in Japan. Am J Med Genet 39:228–229. https://doi.org/10.1002/ajmg.1320390226

Nakajo A (1939) Secondary hypertrophic osteoperiostosis with pernio (Japanese). J Derm Urol 45:77–86

Neel JV, Schull WJ (1962) The effect of inbreeding on mortality and morbidity in two Japanese cities. Proc Natl Acad Sci U S A 48:573–582

Nishimura N, Deki T, Kato S. (Japanese (1950) Hypertrophic pulmonary osteo-arthropathy with pernio-like eruption in the two families: report of the three cases. Jpn J Derm Venereol 60:136–141

Okano Y, Asada M, Kang Y, Nishi Y, Hase Y, Oura T, Isshiki G (1998) Molecular characterization of phenylketonuria in Japanese patients. Hum Genet 103:613–618

Okano Y, Kudo S, Nishi Y, Sakaguchi T, Aso K (2011) Molecular characterization of phenylketonuria and tetrahydrobiopterin-responsive phenylalanine hydroxylase deficiency in Japan. J Hum Genet 56:306–312. https://doi.org/10.1038/jhg.2011.10

Punj S, Akkari Y, Huang J, Yang F, Creason A, Pak C, Potter A, Dorschner MO, Nickerson DA, Robertson PD, Jarvik GP, Amendola LM, Schleit J, Simpson D, Rope AF, Reiss J, Kauffman T, Gilmore MJ, Himes P, Wilfond B, Goddard K, Richards SC (2018) Preconception Carrier Screening by Genome Sequencing: Results from the Clinical Laboratory. The American Journal of Human Genetics. https://doi.org/10.1016/j.ajhg.2018.04.004

Rehm HL, Berg JS, Brooks LD, Bustamante CD, Evans JP, Landrum MJ, Ledbetter DH, Maglott DR, Martin CL, Nussbaum RL, Plon SE, Ramos EM, Sherry ST, Watson MS, ClinGen (2015) ClinGen–the Clinical Genome Resource. N Engl J Med 372: 2235-42. https://doi.org/10.1056/NEJMsr1406261

Richards S, Aziz N, Bale S, Bick D, Das S, Gastier-Foster J, Grody WW, Hegde M, Lyon E, Spector E, Voelkerding K, Rehm HL, Committee ALQA (2015) Standards and guidelines for the interpretation of sequence variants: a joint consensus recommendation of the American College of Medical Genetics and Genomics and the Association for Molecular Pathology. Genet Med 17:405–424. https://doi.org/10.1038/gim.2015.30

Roach JC, Glusman G, Smit AF, Huff CD, Hubley R, Shannon PT, Rowen L, Pant KP, Goodman N, Bamshad M, Shendure J, Drmanac R, Jorde LB, Hood L, Galas DJ (2010) Analysis of genetic inheritance in a family quartet by whole-genome sequencing. Science 328:636–639. https://doi.org/10.1126/science.1186802

Robinson WP (2000) Mechanisms leading to uniparental disomy and their clinical consequences. Bioessays 22:452–459

Satoh C, Neel JV, Yamashita A, Goriki K, Fujita M, Hamilton HB (1983) The frequency among Japanese of heterozygotes for deficiency variants of 11 enzymes. Am J Hum Genet 35:656–674

Schull WJ, Komatsu I, Nagano H, Yamamoto M (1968) Hirado: temporal trends in inbreeding and fertility. Proc Natl Acad Sci U S A 59:671–679

Schull WJ, Nagano H, Yamamoto M, Komatsu I (1970) The effects of parental consanguinity and inbreeding in Hirado, Japan. I. Stillbirths and prereproductive mortality. Am J Hum Genet 22:239–262

Song MJ, Lee ST, Lee MK, Ji Y, Kim JW, Ki CS (2012) Estimation of carrier frequencies of six autosomal-recessive Mendelian disorders in the Korean population. J Hum Genet 57:139–144. https://doi.org/10.1038/jhg.2011.144

Song W, Gardner SA, Hovhannisyan H, Natalizio A, Weymouth KS, Chen W, Thibodeau I, Bogdanova E, Letovsky S, Willis A, Nagan N (2015) Exploring the landscape of pathogenic genetic variation in the ExAC population database: insights of relevance to variant classification. Genet Med. https://doi.org/10.1038/gim.2015.180

Stenson PD, Ball EV, Mort M, Phillips AD, Shiel JA, Thomas NS, Abeysinghe S, Krawczak M, Cooper DN (2003) Human Gene Mutation Database (HGMD): 2003 update. Hum Mutat 21:577–581. https://doi.org/10.1002/humu.10212

Summar ML, Koelker S, Freedenberg D, Le Mons C, Haberle J, Lee HS, Kirmse B, European R, Network for Intoxication Type Metabolic Diseases. Electronic address hwe-ioeip, Members of the Urea Cycle Disorders Consortium. Electronic address hreueu (2013) The incidence of urea cycle disorders. Mol Genet Metab 110: 179–80. https://doi.org/10.1016/j.ymgme.2013.07.008

Suzuki Y, Aoki Y, Ishida Y, Chiba Y, Iwamatsu A, Kishino T, Niikawa N, Matsubara Y, Narisawa K (1994) Isolation and characterization of mutations in the human holocarboxylase synthetase cDNA. Nat Genet 8:122–128. https://doi.org/10.1038/ng1094-122

Suzuki Y, Yang X, Aoki Y, Kure S, Matsubara Y (2005) Mutations in the holocarboxylase synthetase gene HLCS. Hum Mutat 26:285–290. https://doi.org/10.1002/humu.20204

Tabata A, Sheng JS, Ushikai M, Song YZ, Gao HZ, Lu YB, Okumura F, Iijima M, Mutoh K, Kishida S, Saheki T, Kobayashi K (2008) Identification of 13 novel mutations including a retrotransposal insertion in SLC25A13 gene and frequency of 30 mutations found in patients with citrin deficiency. J Hum Genet 53:534–545. https://doi.org/10.1007/s10038-008-0282-2

Tabor HK, Auer PL, Jamal SM, Chong JX, Yu JH, Gordon AS, Graubert TA, O'Donnell CJ, Rich SS, Nickerson DA, Project NES, Bamshad MJ (2014) Pathogenic variants for Mendelian and complex traits in exomes of 6,517 European and African Americans: implications for the return of incidental results. Am J Hum Genet 95:183–193. https://doi.org/10.1016/j.ajhg.2014.07.006

Tadaka S, Saigusa D, Motoike IN, Inoue J, Aoki Y, Shirota M, Koshiba S, Yamamoto M, Kinoshita K (2018) jMorp: Japanese Multi Omics Reference Panel. Nucleic Acids Res 46:D551–D557. https://doi.org/10.1093/nar/gkx978

Tadaka S, Katsuoka F, Ueki M, Kojima K, Makino S, Saito S, Otsuki A, Gocho C, Sakurai-Yageta M, Danjo I, Motoike IN, Yamaguchi-Kabata Y, Shirota M, Koshiba S, Nagasaki M, Minegishi N, Hozawa A, Kuriyama S, Shimizu A, Yasuda J, Fuse N, The Tohoku Medical Megabank Project Study Group, Tamiya G, Yamamoto M, Kinoshita K (2019) 3.5KJPNv2, An allele frequency panel of 3,552 Japanese Individuals. bioRxiv. doi: https://doi.org/10.1101/529529

Takahara S, Hamilton HB, Neel JV, Kobara TY, Ogura Y, Nishimura ET (1960) Hypocatalasemia: a new genetic carrier state. J Clin Invest 39:610–619. https://doi.org/10.1172/JCI104075

Takahashi Y, Sano R, Kominato Y, Kubo R, Takahashi K, Nakajima T, Takeshita H, Ishige T (2016) A case of sudden unexpected infant death involving a homozygotic twin with the thermolabile CPT2 variant, accompanied by rotavirus infection and treatment with an antibiotic containing pivalic acid. Leg Med (Tokyo) 22:13–17. https://doi.org/10.1016/j.legalmed.2016.07.005

Taroni F, Verderio E, Fiorucci S, Cavadini P, Finocchiaro G, Uziel G, Lamantea E, Gellera C, DiDonato S (1992) Molecular characterization of inherited carnitine palmitoyltransferase II deficiency. Proc Natl Acad Sci U S A 89:8429–8433

UK 10K Consortium, Walter K, Min JL, Huang J, Crooks L, Memari Y, McCarthy S, Perry JR, Xu C, Futema M, Lawson D, Iotchkova V, Schiffels S, Hendricks AE, Danecek P, Li R, Floyd J, Wain LV, Barroso I, Humphries SE, Hurles ME, Zeggini E, Barrett JC, Plagnol V, Richards JB, Greenwood CM, Timpson NJ, Durbin R, Soranzo N (2015) The UK10K project identifies rare variants in health and disease. Nature 526: 82–90. https://doi.org/10.1038/nature14962

Wada Y, Kikuchi A, Arai-Ichinoi N, Sakamoto O, Takezawa Y, Iwasawa S, Niihori T, Nyuzuki H, Nakajima Y, Ogawa E, Ishige M, Hirai H, Sasai H, Fujiki R, Shirota M, Funayama R, Yamamoto M, Ito T, Ohara O, Nakayama K, Aoki Y, Koshiba S, Fukao T, Kure S (2018) Biallelic GALM pathogenic variants cause a novel type of galactosemia. Genetics in Medicine. https://doi.org/10.1038/s41436-018-0340-x

Wang T, Okano Y, Eisensmith RC, Harvey ML, Lo WH, Huang SZ, Zeng YT, Yuan LF, Furuyama JI, Oura T et al (1991) Founder effect of a prevalent phenylketonuria mutation in the Oriental population. Proc Natl Acad Sci U S A 88:2146–2150

Wang K, Li M, Hakonarson H (2010) ANNOVAR: functional annotation of genetic variants from high-throughput sequencing data. Nucleic Acids Res 38:e164. https://doi.org/10.1093/nar/gkq603

Weisberg IS, Jacques PF, Selhub J, Bostom AG, Chen Z, Curtis Ellison R, Eckfeldt JH, Rozen R (2001) The 1298A–>C polymorphism in methylenetetrahydrofolate reductase (MTHFR): in vitro expression and association with homocysteine. Atherosclerosis 156:409–415

Wongkittichote P, Sukasem C, Kikuchi A, Aekplakorn W, Jensen LT, Kure S, Wattanasirichaigoon D (2013a) Screening of SLC25A13 mutation in the Thai population. World J Gastroenterol 19:7735–7742. https://doi.org/10.3748/wjg.v19.i43.7735

Wongkittichote P, Tungpradabkul S, Wattanasirichaigoon D, Jensen LT (2013b) Prediction of the functional effect of novel SLC25A13 variants using a S. cerevisiae model of AGC2 deficiency. J Inherit Metab Dis 36:821–830. https://doi.org/10.1007/s10545-012-9543-5

Woo SL (1989) Molecular basis and population genetics of phenylketonuria. Biochemistry 28:1–7

Woo SL, Lidsky AS, Guttler F, Chandra T, Robson KJ (1983) Cloned human phenylalanine hydroxylase gene allows prenatal diagnosis and carrier detection of classical phenylketonuria. Nature 306:151–155

Xue Y, Chen Y, Ayub Q, Huang N, Ball EV, Mort M, Phillips AD, Shaw K, Stenson PD, Cooper DN, Tyler-Smith C, Genomes Project C (2012) Deleterious- and disease-allele prevalence in healthy individuals: insights from current predictions, mutation databases, and population-scale resequencing. Am J Hum Genet 91:1022–1032. https://doi.org/10.1016/j.ajhg.2012.10.015

Yamaguchi S (2008) Newborn screening in Japan: restructuring for the new era. Ann Acad Med Singapore 37:13–15

Yamaguchi S (2012) Newborn mass-screening by tandem mass spectrometry research: Preparation and quality improvement (in Japanese). Research Report of Health, Labor and Welfare Science Research Grant for year 2010–2012, Tokyo, pp 3–14

Yamaguchi M, Yanase T, Nagano H, Nakamoto N (1970) Effects of inbreeding on mortlaity in Fukuoka population. Am J Hum Genet 22:145–159

Yamaguchi-Kabata Y, Nakazono K, Takahashi A, Saito S, Hosono N, Kubo M, Nakamura Y, Kamatani N (2008) Japanese population structure, based on SNP genotypes from 7003 individuals compared to other ethnic groups: effects on population-based association studies. Am J Hum Genet 83:445–456. https://doi.org/10.1016/j.ajhg.2008.08.019

Yamaguchi-Kabata Y, Nariai N, Kawai Y, Sato Y, Kojima K, Tateno M, Katsuoka F, Yasuda J, Yamamoto M, Nagasaki M (2015) iJGVD: an integrative Japanese genome variation database based on whole-genome sequencing. Hum Genome Var 2:15050. https://doi.org/10.1038/hgv.2015.50

Yamaguchi-Kabata Y, Yasuda J, Tanabe O, Suzuki Y, Kawame H, Fuse N, Nagasaki M, Kawai Y, Kojima K, Katsuoka F, Saito S, Danjoh I, Motoike IN, Yamashita R, Koshiba S, Saigusa D, Tamiya G, Kure S, Yaegashi N, Kawaguchi Y, Nagami F, Kuriyama S, Sugawara J, Minegishi N, Hozawa A, Ogishima S, Kiyomoto H, Takai-Igarashi T, ToMMo Study Group, Kinoshita Yamamoto K M (2018) Evaluation of reported pathogenic variants and their frequencies in a Japanese population based on a whole-genome reference panel of 2049 individuals. J Hum Genet 63:213–230. https://doi.org/10.1038/s10038-017-0347-1

Yamamoto S, Abe H, Kohgo T, Ogawa A, Ohtake A, Hayashibe H, Sakuraba H, Suzuki Y, Aramaki S, Takayanagi M, Hasegawa S, Niimi H (1996) Two novel gene mutations (Glu174–>Lys, Phe383–>Tyr) causing the "hepatic" form of carnitine palmitoyltransferase II deficiency. Hum Genet 98:116–118

Yamamoto T, Mishima H, Mizukami H, Fukahori Y, Umehara T, Murase T, Kobayashi M, Mori S, Nagai T, Fukunaga T, Yamaguchi S, Yoshiura KI, Ikematsu K (2015) Metabolic autopsy with next generation sequencing in sudden unexpected death in infancy: Postmortem diagnosis of fatty acid oxidation disorders. Mol Genet Metab Rep 5:26–32. https://doi.org/10.1016/j.ymgmr.2015.09.005

Yamashiro Y, Shimizu T, Oguchi S, Shioya T, Nagata S, Ohtsuka Y (1997) The estimated incidence of cystic fibrosis in Japan. J Pediatr Gastroenterol Nutr 24:544–547

Yang Y, Muzny DM, Reid JG, Bainbridge MN, Willis A, Ward PA, Braxton A, Beuten J, Xia F, Niu Z, Hardison M, Person R, Bekheirnia MR, Leduc MS, Kirby A, Pham P, Scull J, Wang M, Ding Y, Plon SE, Lupski JR, Beaudet AL, Gibbs RA, Eng CM (2013) Clinical whole-exome sequencing for the diagnosis of mendelian disorders. N Engl J Med 369:1502–1511. https://doi.org/10.1056/NEJMoa1306555

Yasuda J, Kinoshita K, Katsuoka F, Danjoh I, Sakurai-Yageta M, Motoike IN, Kuroki Y, Saito S, Kojima K, Shirota M, Saigusa D, Otsuki A, Kawashima J, Yamaguchi-Kabata Y, Tadaka S, Aoki Y, Mimori T, Kumada K, Inoue J, Makino S, Kuriki M, Fuse N, Koshiba S, Tanabe O, Nagasaki M, Tamiya G, Shimizu R, Takai-Igarashi T, Ogishima S, Hozawa A, Kuriyama S, Sugawara J, Tsuboi A, Kiyomoto H, Ishii T, Tomita H, Minegishi N, Suzuki Y, Suzuki K, Kawame H, Tanaka H, Taki Y, Yaegashi N, Kure S, Nagami F, Tohoku Medical Megabank Project Study Group, Kosaki K, Sutoh Y, Hachiya T, Shimizu A, Sasaki M, Yamamoto M (2018) Genome analyses for the Tohoku Medical Megabank Project toward establishment of personalized healthcare. J Biochem. https://doi.org/10.1093/jb/mvy096

Zaffanello M, Zamboni G, Maffeis C, Tato L (2003) Neonatal birth parameters of positive newborns at PKU screening as predictors of false-positive and positive results at recall-testing. J Med Screen 10:181–183. https://doi.org/10.1258/096914103771773276
Acknowledgements
We are indebted to all volunteers who participated in this Tohoku Medical Megabank project. We would like to acknowledge all members associated with this project; the member list is available at the following web site: http://www.megabank.tohoku.ac.jp/english/a171201/. This work was supported in part by the Tohoku Medical Megabank Project from the Ministry of Education, Culture, Sports, Science and Technology (MEXT) and the Reconstruction Agency; the Japan Agency for Medical Research and Development (AMED; Grant Numbers JP18km0105001 and JP18km0105002) for Tohoku University. All computational resources were provided by the Tohoku University Tohoku Medical Megabank Organization (ToMMo) supercomputer system (http://sc.megabank.tohoku.ac.jp/en), which is supported by Facilitation of R&D Platform for AMED Genome Medicine Support conducted by AMED (Grant Number JP18km0405001). This research is also supported by the Center of Innovation Program from Japan Science and Technology Agency, JST.
Ethics declarations
Conflict of interest
The authors declare no conflict of interest.
Additional information
Publisher's Note
Springer Nature remains neutral with regard to jurisdictional claims in published maps and institutional affiliations.
Electronic supplementary material
Below is the link to the electronic supplementary material.
About this article
Cite this article
Yamaguchi-Kabata, Y., Yasuda, J., Uruno, A. et al. Estimating carrier frequencies of newborn screening disorders using a whole-genome reference panel of 3552 Japanese individuals. Hum Genet 138, 389–409 (2019). https://doi.org/10.1007/s00439-019-01998-7
Received:

Accepted:

Published:

Issue Date: