Abstract
Rubinstein–Taybi syndrome (RSTS) is an autosomal-dominant neurodevelopmental disease affecting 1:125,000 newborns characterized by intellectual disability, growth retardation, facial dysmorphisms and skeletal abnormalities. RSTS is caused by mutations in genes encoding for writers of the epigenetic machinery: CREBBP (~ 60%) or its homologous EP300 (~ 10%). No causative mutation is identified in up to 30% of patients. We performed whole-exome sequencing (WES) on eight RSTS-like individuals who had normal high-resolution array CGH testing and were CREBBP- and EP300-mutation -negative, to identify the molecular cause. In four cases, we identified putatively causal variants in three genes (ASXL1, KMT2D and KMT2A) encoding members of the epigenetic machinery known to be associated with the Bohring–Opitz, Kabuki and Wiedemann–Steiner syndromes. Each variant is novel, de novo, fulfills the ACMG criteria and is predicted to result in loss-of-function leading to haploinsufficiency of the epi-gene. In two of the remaining cases, homozygous/compound heterozygous variants in XYLT2 and PLCB4 genes, respectively, associated with spondyloocular and auriculocondylar 2 syndromes and in the latter an additional candidate variant in XRN2, a gene yet unrelated to any disease, were detected, but their pathogenicity remains uncertain. These results underscore the broad clinical spectrum of Mendelian disorders of the epigenetic apparatus and the high rate of WES disclosure of the genetic basis in cases which may pose a challenge for phenotype encompassing distinct syndromes. The overlapping features of distinct intellectual disability syndromes reflect common pathogenic molecular mechanisms affecting the complex regulation of balance between open and closed chromatin.
This is a preview of subscription content, log in to check access.
Access options
Buy single article
Instant access to the full article PDF.
US$ 39.95
Price includes VAT for USA
Subscribe to journal
Immediate online access to all issues from 2019. Subscription will auto renew annually.
US$ 199
This is the net price. Taxes to be calculated in checkout.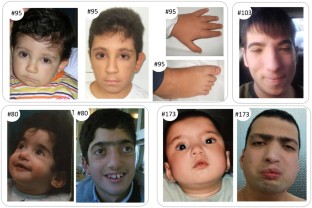 References
Aggarwal A, Rodriguez-Buritica DF, Northrup H (2017) Wiedemann–Steiner syndrome: novel pathogenic variant and review of literature. Eur J Med Genet 60:285–288. https://doi.org/10.1016/j.ejmg.2017.03.006

Allis CD, Jenuwein T (2016) The molecular hallmarks of epigenetic control. Nat Rev Genet 17:487–500. https://doi.org/10.1038/nrg.2016.59

Arunachal G, Danda S, Omprakash S, Kumar S (2016) A novel de-novo frameshift mutation of the ASXL1 gene in a classic case of Bohring–Opitz syndrome. Clin Dysmorphol 25:101–105. https://doi.org/10.1097/MCD.0000000000000126

Baer S, Afenjar A, Smol T, Piton A, Gérard B, Alembik Y, Bienvenu T, Boursier G, Boute O, Colson C, Cordier MP, Cormier-Daire V, Delobel B, Doco-Fenzy M, Duban-Bedu B, Fradin M, Geneviève D, Goldenberg A, Grelet M, Haye D, Heron D, Isidor B, Keren B, Lacombe D, Lèbre AS, Lesca G, Masurel A, Mathieu-Dramard M, Nava C, Pasquier L, Petit A, Philip N, Piard J, Rondeau S, Saugier-Veber P, Sukno S, Thevenon J, Van-Gils J, Vincent-Delorme C, Willems M, Schaefer E, Morin G (2018) Wiedemann–Steiner syndrome as a major cause of syndromic intellectual disability: a study of 33 French cases. Clin Genet 94:141–152. https://doi.org/10.1111/cge.13254

Bjornsson HT (2015) The Mendelian disorders of the epigenetic machinery. Genome Res 25:1473–1481. https://doi.org/10.1101/gr.190629.115

Bohring A, Silengo M, Lerone M, Superneau DW, Spaich C, Braddock SR, Poss A, Opitz JM (1999) Severe end of Opitz trigonocephaly (C) syndrome or new syndrome? Am J Med Genet 85:438–446. https://doi.org/10.1002/(SICI)1096-8628(19990827)85:5%3C438::AID-AJMG2%3E3.0.CO;2-A

Breuning MH, Dauwerse HG, Fugazza G, Saris JJ, Spruit L, Wijnen H, Tommerup N, van der Hagen CB, Imaizumi K, Kuroki Y, van den Boogaard MJ, de Pater JM, Mariman EC, Hamel BC, Himmelbauer H, Frischauf AM, Stallings R, Beverstock GC, van Ommen GJ, Hennekam RC (1993) Rubinstein-Taybi syndrome caused by submicroscopic deletions within 16p13.3. Am J Hum Genet 52:249–254

Dauwerse JG, van Belzen M, van Haeringen A, van Santen G, van de Lans C, Rahikkala E, Garavelli L, Breuning M, Hennekam R, Peters D (2016) Analysis of mutations within the intron20 splice donor site of CREBBP in patients with and without classical RSTS. Eur J Hum Genet 24:1639–1643. https://doi.org/10.1038/ejhg.2016.47

Fahrner JA, Bjornsson HT (2014) The Mendelian disorders of the epigenetic machinery. Mendelian disorders of the epigenetic machinery: tipping the balance of chromatin states. Annu Rev Genom Hum Genet 15:269–293. https://doi.org/10.1146/annurev-genom-090613-094245

Fergelot P, Van Belzen M, Van Gils J, Afenjar A, Armour CM, Arveiler B, Beets L, Burglen L, Busa T, Collet M, Deforges J, de Vries BB, Dominguez Garrido E, Dorison N, Dupont J, Francannet C, Garciá-Minaúr S, Gabau Vila E, Gebre-Medhin S, Gener Querol B, Geneviève D, Gérard M, Gervasini CG, Goldenberg A, Josifova D, Lachlan K, Maas S, Maranda B, Moilanen JS, Nordgren A, Parent P, Rankin J, Reardon W, Rio M, Roume J, Shaw A, Smigiel R, Sojo A, Solomon B, Stembalska A, Stumpel C, Suarez F, Terhal P, Thomas S, Touraine R, Verloes A, Vincent-Delorme C, Wincent J, Peters DJ, Bartsch O, Larizza L, Lacombe D, Hennekam RC (2016) Phenotype and genotype in 52 patients with Rubinstein-Taybi syndrome caused by EP300 mutations. Am J Med Genet A 170:3069–3082. https://doi.org/10.1002/ajmg.a.37940

Hamilton MJ, Newbury-Ecob R, Holder-Espinasse M, Yau S, Lillis S, Hurst JA, Clement E, Reardon W, Joss S, Hobson E, Blyth M, Al-Shehhi M, Lynch SA, Suri M, DDD Study (2016) Rubinstein-Taybi syndrome type 2: report of nine new cases that extend the phenotypic and genotypic spectrum. Clin Dysmorphol 25:135–145. https://doi.org/10.1097/MCD.0000000000000143

Jin B, Tao Q, Peng J, Soo HM, Wu W, Ying J, Fields CR, Delmas AL, Liu X, Qiu J, Robertson KD (2008) DNA methyltransferase 3B (DNMT3B) mutations in ICF syndrome lead to altered epigenetic modifications and aberrant expression of genes regulating development, neurogenesis and immune function. Hum Mol Genet 17:690–709. https://doi.org/10.1093/hmg/ddm341

Koboldt DC, Zhang Q, Larson DE, Shen D, McLellan MD, Lin L, Miller CA, Mardis ER, Ding L, Wilson RK (2012) VarScan 2: somatic mutation and copy number alteration discovery in cancer by exome sequencing. Genome Res 22:568–576. https://doi.org/10.1101/gr.129684.111

Lacombe D, Saura R, Taine L, Battin J (1992) Confirmation of assignment of a locus for Rubinstein-Taybi syndrome gene to 16p13.3. Am J Med Genet 44:126–128. https://doi.org/10.1002/ajmg.1320440134

López M, Seidel V, Santibáñez P, Cervera-Acedo C, Castro-de Castro P, Domínguez-Garrido E (2016) First case report of inherited Rubinstein–Taybi syndrome associated with a novel EP300 variant. BMC Med Genet 17:97. https://doi.org/10.1186/s12881-016-0361-8

Masuda K, Akiyama K, Arakawa M, Nishi E, Kitazawa N, Higuchi T, Katou Y, Shirahige K, Izumi K (2015) Exome sequencing identification of EP300 mutation in a proband with coloboma and imperforate anus: possible expansion of the phenotypic spectrum of Rubinstein–Taybi syndrome. Mol Syndromol 6:99–103. https://doi.org/10.1159/000375542

Menke LA, van Belzen MJ, Alders M, Cristofolik F, DDD Study, Ehmke N, Fergelot P, Foster A, Gerkes EH, Hoffer MJ, Horn D, Kant SG, Lacombe D, Leon E, Maas SM, Melis D, Muto V, Park SM, Peeters H, Peters DJ, Pfundt R, van Ravenswaaij-Arts CM, Tartaglia M, Hennekam RC (2016) CREBBP mutations in individuals without Rubinstein–Taybi syndrome phenotype. Am J Med Genet A 170:2681–2693. https://doi.org/10.1002/ajmg.a.37800

Menke LA, DDD study, Gardeitchik T, Hammond P, Heimdal KR, Houge G, Hufnagel SB, Ji J, Johansson S, Kant SG, Kinning E, Leon EL, Newbury-Ecob R, Paolacci S, Pfundt R, Ragge NK, Rinne T, Ruivenkamp C, Saitta SC, Sun Y, Tartaglia M, Terhal PA, van Essen AJ, Vigeland MD, Xiao B, Hennekam RC (2018) Further delineation of an entity caused by CREBBP and EP300 mutations but not resembling Rubinstein–Taybi syndrome. Am J Med Genet A 176:862–876. https://doi.org/10.1002/ajmg.a.38626

Negri G, Milani D, Colapietro P, Forzano F, Della Monica M, Rusconi D, Consonni L, Caffi LG, Finelli P, Scarano G, Magnani C, Selicorni A, Spena S, Larizza L, Gervasini C (2015) Clinical and molecular characterization of Rubinstein–Taybi syndrome patients carrying distinct novel mutations of the EP300 gene. Clin Genet 87:148–154. https://doi.org/10.1111/cge.12348

Negri G, Magini P, Milani D, Colapietro P, Rusconi D, Scarano E, Bonati MT, Priolo M, Crippa M, Mazzanti L, Wischmeijer A, Tamburrino F, Pippucci T, Finelli P, Larizza L, Gervasini C (2016) From whole gene deletion to point mutations of EP300-positive Rubinstein–Taybi Patients: new insights into the mutational spectrum and peculiar clinical hallmarks. Hum Mutat 37:175–183. https://doi.org/10.1002/humu.22922

Niikawa N, Matsuura N, Fukushima Y, Ohsawa T, Kajii T (1981) Kabuki make-up syndrome: a syndrome of mental retardation, unusual facies, large and protruding ears, and postnatal growth deficiency. J Pediatr 99:565–569

Parenti I, Gervasini C, Pozojevic J, Graul-Neumann L, Azzollini J, Braunholz D, Watrin E, Wendt KS, Cereda A, Cittaro D, Gillessen-Kaesbach G, Lazarevic D, Mariani M, Russo S, Werner R, Krawitz P, Larizza L, Selicorni A, Kaiser FJ (2016) Broadening of cohesinopathies: exome sequencing identifies mutations in ANKRD11 in two patients with Cornelia de Lange-overlapping phenotype. Clin Genet 89:74–81. https://doi.org/10.1111/cge.12564

Ramu A, Noordam MJ, Schwartz RS, Wuster A, Hurles ME, Cartwright RA, Conrad DF (2013) DeNovoGear: de novo indel and point mutation discovery and phasing. Nat Methods 10:985–987. https://doi.org/10.1038/nmeth.2611

Richards S, Aziz N, Bale S, Bick D, Das S, Gastier-Foster J, Grody WW, Hegde M, Lyon E, Spector E, Voelkerding K, Rehm HL, ACMG Laboratory Quality Assurance Committee (2015) Standards and guidelines for the interpretation of sequence variants: a joint consensus recommendation of the American College of Medical Genetics and Genomics and the Association for Molecular Pathology. Genet Med 17:405–424. https://doi.org/10.1038/gim.2015.30

Rubinstein JH, Taybi H (1963) Broad thumbs and toes and facial abnormalities. A possible mental retardation syndrome. Am J Dis Child 105:588–608. https://doi.org/10.1001/archpedi.1963.02080040590010

Rusconi D, Negri G, Colapietro P, Picinelli C, Milani D, Spena S, Magnani C, Silengo MC, Sorasio L, Curtisova V, Cavaliere ML, Prontera P, Stangoni G, Ferrero GB, Biamino E, Fischetto R, Piccione M, Gasparini P, Salviati L, Selicorni A, Finelli P, Larizza L, Gervasini C (2015) Characterization of 14 novel deletions underlying Rubinstein–Taybi syndrome: an update of the CREBBP deletion repertoire. Hum Genet 134:613–626. https://doi.org/10.1007/s00439-015-1542-9

Schott DA, Blok MJ, Gerver WJ, Devriendt K, Zimmermann LJ, Stumpel CT (2016) Growth pattern in Kabuki syndrome with a KMT2D mutation. Am J Med Genet A 170:3172–3179. https://doi.org/10.1002/ajmg.a.37930

Sellars EA, Sullivan BR, Schaefer GB (2016) Whole exome sequencing reveals EP300 mutation in mildly affected female: expansion of the spectrum. Clin Case Rep 4:696–698. https://doi.org/10.1002/ccr3.598

Sirmaci A, Spiliopoulos M, Brancati F, Powell E, Duman D, Abrams A, Bademci G, Agolini E, Guo S, Konuk B, Kavaz A, Blanton S, Digilio MC, Dallapiccola B, Young J, Zuchner S, Tekin M (2011) Mutations in ANKRD11 cause KBG syndrome, characterized by intellectual disability, skeletal malformations, and macrodontia. Am J Hum Genet 89:289–294. https://doi.org/10.1016/j.ajhg.2011.06.007

Smith E, Lin C, Shilatifard A (2011) The super elongation complex (SEC) and MLL in development and disease. Genes Dev 25:661–672. https://doi.org/10.1101/gad.2015411

Sobreira N, Brucato M, Zhang L, Ladd-Acosta C, Ongaco C, Romm J, Doheny KF, Mingroni-Netto RC, Bertola D, Kim CA, Perez AB, Melaragno MI, Valle D, Meloni VA, Bjornsson HT (2017) Patients with a Kabuki syndrome phenotype demonstrate DNA methylation abnormalities. Eur J Hum Genet 25:1335–1344. https://doi.org/10.1038/s41431-017-0023-0

Spena S, Gervasini C, Milani D (2015a) Ultra-rare syndromes: the example of Rubinstein–Taybi syndrome. J Pediatr Genet 4:177–186. https://doi.org/10.1055/s-0035-1564571

Spena S, Milani D, Rusconi D, Negri G, Colapietro P, Elcioglu N, Bedeschi F, Pilotta A, Spaccini L, Ficcadenti A, Magnani C, Scarano G, Selicorni A, Larizza L, Gervasini C (2015b) Insights into genotype-phenotype correlations from CREBBP point mutation screening in a cohort of 46 Rubinstein–Taybi syndrome patients. Clin Genet 88:431–440. https://doi.org/10.1111/cge.12537

Tucker JF, Ohle C, Schermann G, Bendrin K, Zhang W, Fischer T, Zhang K (2016) A novel epigenetic silencing pathway involving the highly conserved 5′–3′ exoribonuclease Dhp1/Rat1/Xrn2 in Schizosaccharomyces pombe. PLoS Genet 12:e1005873. https://doi.org/10.1371/journal.pgen.1005873

Van der Auwera GA, Carneiro MO, Hartl C, Poplin R, Del Angel G, Levy-Moonshine A, Jordan T, Shakir K, Roazen D, Thibault J, Banks E, Garimella KV, Altshuler D, Gabriel S, DePristo MA (2013) From FastQ data to high confidence variant calls: the Genome Analysis Toolkit best practices pipeline. Curr Protoc Bioinform 43:11.10.1–33. https://doi.org/10.1002/0471250953.bi1110s43

Wiedemann HR, Kunze J, Grosse FR, Dibbern H (1989) A syndrome of abnormal facies, short stature, and psychomotor retardation. In: Atlas of clinical syndromes: a visual aid to diagnosis for clinicians and practicing physicians, 2nd edn. Wolfe Publishing Ltd, London, pp 198–199

Wincent J, Luthman A, van Belzen M, van der Lans C, Albert J, Nordgren A, Anderlid BM (2015) CREBBP and EP300 mutational spectrum and clinical presentations in a cohort of Swedish patients with Rubinstein–Taybi syndrome. Mol Genet Genom Med 4:39–45. https://doi.org/10.1002/mgg3.177

Woods SA, Robinson HB, Kohler LJ, Agamanolis D, Sterbenz G, Khalifa M (2014) Exome sequencing identifies a novel EP300 frame shift mutation in a patient with features that overlap Cornelia de Lange syndrome. Am J Med Genet A 164A:251–258. https://doi.org/10.1002/ajmg.a.36237

Yuan B, Pehlivan D, Karaca E, Patel N, Charng WL, Gambin T, Gonzaga-Jauregui C, Sutton VR, Yesil G, Bozdogan ST, Tos T, Koparir A, Koparir E, Beck CR, Gu S, Aslan H, Yuregir OO, Al Rubeaan K, Alnaqeb D, Alshammari MJ, Bayram Y, Atik MM, Aydin H, Geckinli BB, Seven M, Ulucan H, Fenercioglu E, Ozen M, Jhangiani S, Muzny DM, Boerwinkle E, Tuysuz B, Alkuraya FS, Gibbs RA, Lupski JR (2015) Global transcriptional disturbances underlie Cornelia de Lange syndrome and related phenotypes. J Clin Invest 125:636–651. https://doi.org/10.1172/JCI77435
Acknowledgements
We thank the patients' families for participating in this study. CG thanks the Italian Association of Rubinstein–Taybi patients "RTS Una Vita Speciale ONLUS" for its support and Dr. Giordano, Dr. Ficcadenti, Dr. Cavaliere, Dr. Vitiello for providing clinical data of patients #76, #88, #118 and #169, respectively. This work was supported by University of Milan young researcher grant to CG (Dotazione d'Ateneo linea 2 del piano di sostegno alla ricerca), by Associazione "RTS Una Vita Speciale ONLUS" (project #DigiRare) to CG and by a Ministry of Health grant to Istituto Auxologico Italiano IRCCS (08C623_2016) to PF.
Additional information
Publisher's Note
Springer Nature remains neutral with regard to jurisdictional claims in published maps and institutional affiliations.
Electronic supplementary material
Below is the link to the electronic supplementary material.
About this article
Cite this article
Negri, G., Magini, P., Milani, D. et al. Exploring by whole exome sequencing patients with initial diagnosis of Rubinstein–Taybi syndrome: the interconnections of epigenetic machinery disorders. Hum Genet 138, 257–269 (2019). https://doi.org/10.1007/s00439-019-01985-y
Received:

Accepted:

Published:

Issue Date: