Abstract
The dog provides a large animal model of familial dilated cardiomyopathy for the study of important aspects of this common familial cardiovascular disease. We have previously demonstrated a form of canine dilated cardiomyopathy in the Doberman pinscher breed that is inherited as an autosomal dominant trait and is associated with a splice site variant in the pyruvate dehydrogenase kinase 4 (PDK4) gene, however, genetic heterogeneity exists in this species as well and not all affected dogs have the PDK4 variant. Whole genome sequencing of a family of Doberman pinchers with dilated cardiomyopathy and sudden cardiac death without the PDK4 variant was performed. A pathologic missense variant in the titin gene located in an immunoglobulin-like domain in the I-band spanning region of the molecule was identified and was highly associated with the disease (p < 0.0001). We demonstrate here the identification of a variant in the titin gene highly associated with the disease in this spontaneous canine model of dilated cardiomyopathy. This large animal model of familial dilated cardiomyopathy shares many similarities with the human disease including mode of inheritance, clinical presentation, genetic heterogeneity and a pathologic variant in the titin gene. The dog is an excellent model to improve our understanding of the genotypic phenotypic relationships, penetrance, expression and the pathophysiology of variants in the titin gene.
Access options
Buy single article
Instant access to the full article PDF.
US$ 39.95
Tax calculation will be finalised during checkout.
Subscribe to journal
Immediate online access to all issues from 2019. Subscription will auto renew annually.
US$ 119
Tax calculation will be finalised during checkout.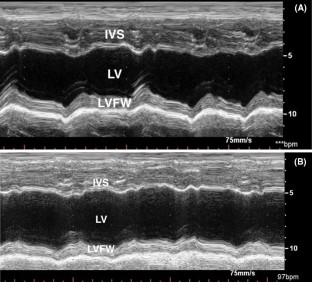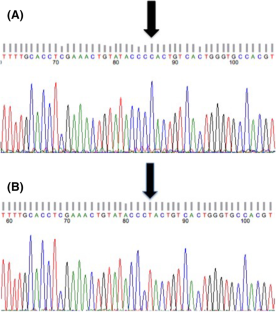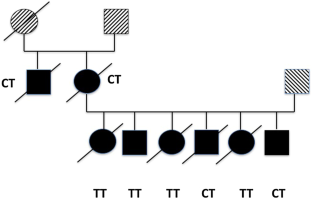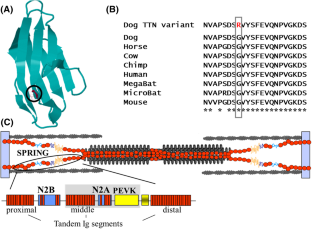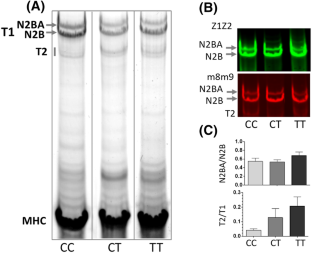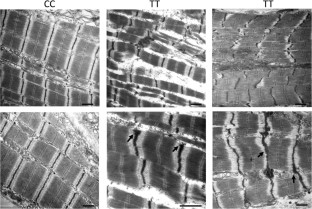 References
Anderson BR, Bogomolovas J, Labeit S, Granzier H (2013) Single molecule force spectroscopy on titin implicates immunoglobulin domain stability as a cardiac disease mechanism. J Biol Chem 288:5303–5315

Bang ML, Centner T, Fornoff F, Geach AJ, Gotthardt M, McNabb M et al (2001) The complete gene sequence of titin, expression of an unusual approximately 700-kDa titin isoform, and its interaction with obscurin identify a novel Z-line to I-band linking system. Circ Res 89:1065–1072

Bolger AM, Lohse M, Usadel B (2014) Trimmomatic: a flexible trimmer for Illumina sequence data. Bioinformatics 30:2114–2120

Calvert CA, Pickus CW, Jacobs GJ, Brown J (1997) Signalment, survival, and prognostic factors in Doberman pinschers with end-stage cardiomyopathy. J Vet Intern Med 11:323–326

Cheng Y, Hogarth KA, O'Sullivan ML, Regnier M, Pyle WG (2016) 2-Deoxyadenosine triphosphate restores the contractile function of cardiac myofibril from adult dogs with naturally occurring dilated cardiomyopathy. Am J Physiol Heart Circ Physiol 310:H80–H91

de Gonzalo-Calvo D, Quezada M, Campuzano O, Perez-Serra A, Broncano J, Ayala R et al (2017) Familial dilated cardiomyopathy: a multidisciplinary entity, from basic screening to novel circulating biomarkers. Int J Cardiol 228:870–880

DePristo MA, Banks E, Poplin RE, Garimella KV, Maguire JR, Hartl C et al (2011) A framework for variation discovery and genotyping using next-generation DNA sequencing data. Nat Genet 43:491–498

Franaszczyk M, Chmielweski P, Truszkowska G, Stawinski P, Michalak E, Rydzanicz M et al (2017) Titin truncating variants in dilated cardiomyopathy—prevalence and genotype-phenotype correlations. PLoS One 12:e0169007

Friedenberg SG, Meurs KM (2016) Genotype imputation in the domestic dog. Mamm Genome 27:485–494

Gerull B, Gramlich M, Atherton J, McNabb M, Trombitas K, Sasse-Klaassen S et al (2002) Mutations of TTN, encoding the giant muscle filament titin, cause familial dilated cardiomyopathy. Nat Genet 30:201–204

Gerull B, Atherton J, Geupel A, Sasse-Klaasen S, Heuser A, Frenneaux M et al (2006) Identification of a novel frameshift mutation in the giant muscle filament titin in a large Australian family with dilated cardiomyopathy. J Mol Med 84:478–483

Gigli M, Begay RL, Morea G, Graw SL, Sinagra G, Taylor MRG et al (2016) A review of the giant protein titin in clinical molecular diagnostics of cardiomyopathies. Front Cardiovasc Med 3:21

Granzier H, Labeit S (2002) Cardiac titin: an adjustable multi-functional spring. J Physiol 541:335–342

Granzier HL, Labeit S (2006) The giant muscle protein titin is an adjustable molecular spring. Exerc Sport Sci Rev 34:50–53

Granzier HL, Radke MH, Peng J, Westermann D, Nelson OL, Rost K, King NMP et al (2009) Truncation of titin's elastic PEVK region leads to cardiomyopathy with diastolic dysfunction. Circ Res 105:557–564

Hensley MT, Tang J, Woodruff K, Defrancesco T, Tou S, Williams CM et al (2017) Intracoronary allogeneic cardiosphere-derived stem cells are safe for use in dogs with dilated cardiomyopathy. J Cell Mol Med 21:1503–1512

Herman DS, Lam L, Taylor MRG, Wang L, Teekakirikul P, Christodoulou D et al (2012) Truncations of titin causing dilated cardiomyopathy. N Engl J Med 366:619–628

Hershberger RE, Hedges DJ, Morales A (2013) Dilated cardiomyopathy: the complexity of a diverse genetic architecture. Nat Rev Cardiol 10:531–547

Hinson JT, Chopra A, Nafissi N, Polacheck WJ, Benson CC, Swist S et al (2015) Titin mutations in iPS cells define sarcomere insufficiency as a cause of dilated cardiomyopathy. Science 349:982–986

Itoh-Satoh M, Hayashi T, Nishi H, Koga Y, Arimura T, Koyanagi T et al (2002) Titin mutations as the molecular basis for dilated cardiomyopathy. Biochem Biophys Res Commun 291:385–393

Kimura A (2016) Molecular genetics and pathogenesis of cardiomyopathy. J Hum Genet 61:41–50

Labeit S, Lahmers S, Burkart C, Fong C, McNabb M, Witt S et al (2006) Expression of distinct classes of titin isoforms in striated and smooth muscles by alternative splicing, and their conserved interaction with filamins. J Mol Biol 362:664–681

Laddach A, Gautel M, Fraternali F (2017) TITINdb-a computational tool to assess titin's role as a disease gene. Bioinformatics 33:3482–3485

Lahmers S, Wu Y, Call DR, Labeit S, Granzier H (2004) Developmental control of titin isoform expression and passive stiffness in fetal and neonatal myocardium. Circ Res 94:505–513

LeWinter MM, Granzier HL (2014) Cardiac titin and heart disease. J Cardiovasc Pharmacol 63:207–212

Li H, Durbin R (2009) Fast and accurate short read alignment with Burrows–Wheeler transform. Bioinformatics 25:1754–1760

Lindblad-Toh K, Wade CM, Mikkelson TS, Karlsson EK, Jaffe DB, Kamal M et al (2005) Genome sequence, comparative analysis and haplotype structure of the domestic dog. Nature 438:803–819

Linke WA (2018) Titin gene and protein functions in passive and active muscle. Annu Rev Physiol 80:389–411

Martin MW, Stafford Johnson MJ, Strehlau G, King JN (2010) Canine dilated cardiomyopathy: a retrospective study of prognostic findings in 367 clinical cases. J Small Anim Pract 51:428–436

Mausberg TB, Wess G, Simak J, Keller L, Drogemuller M, Drogemuller C et al (2011) A locus on chromosome 5 is associated with dilated cardiomyopathy in Doberman pinschers. PLoS One 6:e20042

McKenna A, Hanna M, Banks E, Sivachenko A, Cibulskis K, Kernytsky A et al (2010) The Genome Analysis Toolkit: a MapReduce framework for analyzing next-generation DNA sequencing data. Genome Res 20:1297–1303

McLaren W, Gil L, Hunt SE, Riat HS, Ritchie GRS, Thormann A et al (2016) The ensembl variant effect predictor. Genome Biol 17:122

Meurs KM, Fox PR, Norgard M, Spier AW, Lamb A, Koplitz SL et al (2007) A prospective genetic evaluation of familial dilated cardiomyopathy in the Doberman pinscher. J Vet Intern Med 21:1016–1020

Meurs KM, Hendrix KP, Norgard MM (2008) Molecular evaluation of five cardiac genes in Doberman pinschers with dilated cardiomyopathy. Am J Vet Res 69:1050–1053

Meurs KM, Lahmers S, Keene BW, White SN, Oyama MA, Maucell E et al (2012) A splice site mutation in a gene encoding for PDK4, a mitochondrial protein, is associated with the development of dilated cardiomyopathy in the Doberman pinscher. Hum Genet 131:1319–1325

Morales A, Hershberger RE (2015) The rationale and timing of molecular genetic testing for dilated cardiomyopathy. Can J Cardiol 31:1309–1312

Neiva-Sousa M, Almeida-Coelho J, Falcao-Pires I, Leite-Moreira AF (2015) Titin mutations: the fall of Goliath. Heart Fail Rev 20:579–588

Ottenheijm CA, Hooljiman P, DeChene ET, Stienen GJ, Beggs AH, Granzier H (2010) Altered myofilament function depresses force generation in patients with nebulin-based nemaline myopathy (NEM2). J Struct Biol 170:334–343

Owczarek-Lipska M, Mausberg TB, Stephenson H, Dukes-McEwan H, Wess G, Leeb T (2013) A 16-bp deletion in the canine PDK4 gene is not associated with dilated cardiomyopathy in a European cohort of Doberman pinschers. Anim Genet 44:239

Pires DE, Ascher DB, Blundell TL (2014a) DUET: a server for predicting effects of mutations on protein stability using an integrated computational approach. Nucleic Acids Res 42:W314–W319

Pires DE, Ascher DB, Blundell TL (2014b) mCSM: predicting the effects of mutations in proteins using graph-based signatures. Bioinformatics 30:335–342

Schafer S, de Marvao A, Adami E, Fiedler LR, Ng B, Khin E et al (2017) Titin-truncating variants affect heart function in disease cohorts and the general population. Nat Genet 49:46–53

Sen-Chowdhry S, Syrris P, McKenna WJ (2005) Genetics of right ventricular cardiomyopathy. J Cardiovasc Electrophysiol 16:927–935

Taylor M, Graw S, Sinagra G, Barnes C, Slavov D, Brun F et al (2011) Genetic variation in titin in ARVC-overlap syndromes. Circulation 124:876–885

Thomas WP, Gaber CE, Jacobs GJ, Kaplan PM, Lombard CW, Moise NS et al (1993) Recommendations for standards in transthoracic two-dimensional echocardiography in the dog and cat. J Vet Intern Med 7:247–252

Towbin JA (2014) Inherited cardiomyopathies. Circ J 78:2347–2356

Van der Auwera GA, Carneiro MO, Hartl C, Poplin R, del Angel G, Levy-Moonshine A et al (2013) From FastQ data to high confidence variant calls: the Genome Analysis Toolkit best practices pipeline. Curr Protoc Bioinformatics 43:1110–1133

Vikhorev PG, Smoktunowicz N, Munster AB, Copeland O, Kostin S, Montgiraud C et al (2017) Abnormal contractility in human heart myofibrils from patients with dilated cardiomyopathy due to mutations in TTN and contractile protein genes. Sci Rep 7:14829

Vilella AJ, Severin J, Ureta-Vidal A, Heng L, Durbin R, Birney E (2009) EnsemblCompara GeneTrees: complete, duplication-aware phylogenetic trees in vertebrates. Genome Res 19:327–335

Warren CM, Krzesinski PR, Greaser ML (2003) Vertical agarose gel electrophoresis and electroblotting of high-molecular-weight proteins. Electrophoresis 24:1695–1702
Funding
Research reported in this publication was supported by the Heart Lung and Blood Institute of the National Institutes of Health under award number R35HL144998.
Ethics declarations
Conflict of interest
On behalf of all authors, the corresponding author states that there is no conflict of interest. North Carolina State University offers the canine titin variant test as a risk assement tool for dogs.
Additional information
Publisher's Note
Springer Nature remains neutral with regard to jurisdictional claims in published maps and institutional affiliations.
Electronic supplementary material
Below is the link to the electronic supplementary material.
About this article
Cite this article
Meurs, K.M., Friedenberg, S.G., Kolb, J. et al. A missense variant in the titin gene in Doberman pinscher dogs with familial dilated cardiomyopathy and sudden cardiac death. Hum Genet 138, 515–524 (2019). https://doi.org/10.1007/s00439-019-01973-2
Received:

Accepted:

Published:

Issue Date: