Abstract
Whole genome sequencing (WGS) was performed to identify the variants responsible for inherited retinal degeneration (IRD) in a Caucasian family. Segregation analysis of selected rare variants with pathogenic potential identified a set of compound heterozygous changes p.Arg266*:c.796C>T and p.Ala568Thr:c.1702G>A in the intraflagellar transport protein-88 (IFT88) gene segregating with IRD. Expression of IFT88 with the p.Arg266* and p.Ala568Thr mutations in mIMDC3 cells by transient transfection and in HeLa cells by introducing the mutations using CRISPR-cas9 system suggested that both mutations result in the formation of abnormal ciliary structures. The introduction of the IFT88 p.Arg266* variant in the homozygous state in HeLa cells by CRISPR-Cas9 genome-editing revealed that the mutant transcript undergoes nonsense-mediated decay leading to a significant depletion of IFT88 transcript. Additionally, abnormal ciliogenesis was observed in these cells. These observations suggest that the rare and unique combination of IFT88 alleles observed in this study provide insight into the physiological role of IFT88 in humans and the likely mechanism underlying retinal pathology in the pedigree with IRD.
This is a preview of subscription content, log in to check access.
Access options
Buy single article
Instant access to the full article PDF.
US$ 39.95
Price includes VAT for USA
Subscribe to journal
Immediate online access to all issues from 2019. Subscription will auto renew annually.
US$ 199
This is the net price. Taxes to be calculated in checkout.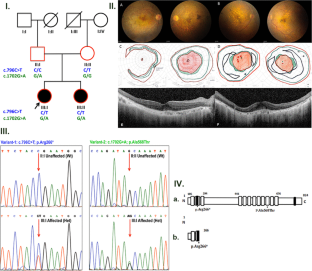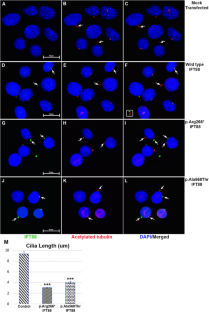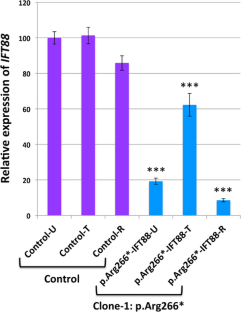 References
Adzhubei I, Jordan DM, Sunyaev SR (2013) Predicting functional effect of human missense mutations using PolyPhen-2. Curr Protoc Hum Genet 7:20. https://doi.org/10.1002/0471142905.hg0720s76

Badano JL, Mitsuma N, Beales PL, Katsanis N (2006) The ciliopathies: an emerging class of human genetic disorders. Annu Rev Genomics Hum Genet 7:125–148. https://doi.org/10.1146/annurev.genom.7.080505.115610

Bhogaraju S, Engel BD, Lorentzen E (2013) Intraflagellar transport complex structure and cargo interactions. Cilia 2:10. https://doi.org/10.1186/2046-2530-2-10

Bisgrove BW, Yost HJ (2006) The roles of cilia in developmental disorders and disease. Development 133:4131–4143. https://doi.org/10.1242/dev.02595

Biswas P et al (2016) A missense mutation in ASRGL1 is involved in causing autosomal recessive retinal degeneration. Hum Mol Genet 25:2483–2497. https://doi.org/10.1093/hmg/ddw113

Biswas P et al (2017) A mutation in IFT43 causes non-syndromic recessive retinal degeneration. Hum Mol Genet 26:4741–4751. https://doi.org/10.1093/hmg/ddx356

Boehlke C et al (2015) A cilia independent role of Ift88/polaris during cell migration. PLoS One 10:e0140378. https://doi.org/10.1371/journal.pone.0140378

Branham K et al (2016) Establishing the involvement of the novel gene AGBL5 in retinitis pigmentosa by whole genome sequencing. Phys Genom 48:922–927. https://doi.org/10.1152/physiolgenomics.00101.2016

Bujakowska KM et al (2015) Mutations in IFT172 cause isolated retinal degeneration and Bardet-Biedl syndrome. Hum Mol Genet 24:230–242. https://doi.org/10.1093/hmg/ddu441

Cardenas-Rodriguez M, Badano JL (2009) Ciliary biology: understanding the cellular and genetic basis of human ciliopathies. Am J Med Genet C Semin Med Genet 151C:263–280. https://doi.org/10.1002/ajmg.c.30227

Chang CF, Serra R (2013) Ift88 regulates Hedgehog signaling, Sfrp5 expression, and beta-catenin activity in post-natal growth plate. J Orthop Res 31:350–356. https://doi.org/10.1002/jor.22237

Delaval B, Bright A, Lawson ND, Doxsey S (2011) The cilia protein IFT88 is required for spindle orientation in mitosis. Nat Cell Biol 13:461–468. https://doi.org/10.1038/ncb2202

Dharmat R et al (2017) IFT81 as a candidate gene for nonsyndromic retinal degeneration invest. Ophthalmol Vis Sci 58:2483–2490. https://doi.org/10.1167/iovs.16-19133

Doench JG et al (2016) Optimized sgRNA design to maximize activity and minimize off-target effects of CRISPR-Cas9. Nat Biotechnol 34:184–191. https://doi.org/10.1038/nbt.3437

Durand S et al (2007) Inhibition of nonsense-mediated mRNA decay (NMD) by a new chemical molecule reveals the dynamic of NMD factors in P-bodies. J Cell Biol 178:1145–1160. https://doi.org/10.1083/jcb.200611086

Ferrucci S, Anderson SF, Townsend JC (1998) Retinitis pigmentosa inversa Optom. Vis Sci 75:560–570

Gustafson K et al (2017) Whole genome sequencing revealed mutations in two independent genes as the underlying cause of retinal degeneration in an Ashkenazi Jewish pedigree. Genes (Basel) 8:210. https://doi.org/10.3390/genes8090210

Halbert SA, Patton DL, Zarutskie PW, Soules MR (1997) Function and structure of cilia in the fallopian tube of an infertile woman with Kartagener's syndrome. Hum Reprod 12:55–58

Hartong DT, Berson EL, Dryja TP (2006) Retinitis pigmentosa. Lancet 368:1795–1809. https://doi.org/10.1016/S0140-6736(06)69740-7

Hsu PD et al (2013) DNA targeting specificity of RNA-guided Cas9 nucleases. Nat Biotechnol 31:827–832. https://doi.org/10.1038/nbt.2647

Hu J, Ng PC (2013) SIFT Indel: predictions for the functional effects of amino acid insertions/deletions in proteins. PLoS One 8:e77940. https://doi.org/10.1371/journal.pone.0077940

Katoh Y, Michisaka S, Nozaki S, Funabashi T, Hirano T, Takei R, Nakayama K (2017) Practical method for targeted disruption of cilia-related genes by using CRISPR/Cas9-mediated, homology-independent knock-in system. Mol Biol Cell 28:898–906. https://doi.org/10.1091/mbc.E17-01-0051

Khanna H (2015) Photoreceptor sensory cilium traversing the ciliary gate. Cells 4:674–686. https://doi.org/10.3390/cells4040674

Kim S, Tsiokas L (2011) Cilia and cell cycle re-entry: more than a coincidence. Cell Cycle 10:2683–2690. https://doi.org/10.4161/cc.10.16.17009

Lehman JM, Michaud EJ, Schoeb TR, Aydin-Son Y, Miller M, Yoder BK (2008) The Oak ridge polycystic kidney mouse: modeling ciliopathies of mice and men. Dev Dyn 237:1960–1971. https://doi.org/10.1002/dvdy.21515

Li H, Durbin R (2009) Fast and accurate short read alignment with Burrows-Wheeler transform. Bioinformatics 25:1754–1760. https://doi.org/10.1093/bioinformatics/btp324

Liu Q, Zhang Q, Pierce EA (2010) Photoreceptor sensory cilia and inherited retinal degeneration. Adv Exp Med Biol 664:223–232. https://doi.org/10.1007/978-1-4419-1399-9_26

Marshall WF, Nonaka S (2006) Cilia: tuning in to the cell's antenna. Curr Biol 16:R604–R614. https://doi.org/10.1016/j.cub.2006.07.012

McIntyre JC et al (2012) Gene therapy rescues cilia defects and restores olfactory function in a mammalian ciliopathy model. Nat Med 18:1423–1428. https://doi.org/10.1038/nm.2860

Mizuno N, Taschner M, Engel BD, Lorentzen E (2012) Structural studies of ciliary components. J Mol Biol 422:163–180. https://doi.org/10.1016/j.jmb.2012.05.040

Moyer JH et al (1994) Candidate gene associated with a mutation causing recessive polycystic kidney disease in mice. Science 264:1329–1333

Murcia NS, Richards WG, Yoder BK, Mucenski ML, Dunlap JR, Woychik RP (2000) The Oak Ridge Polycystic Kidney (orpk) disease gene is required for left-right axis determination. Development 127:2347–2355

Pazour GJ, Rosenbaum JL (2002) Intraflagellar transport and cilia-dependent diseases. Trends Cell Biol 12:551–555

Pazour GJ, Dickert BL, Vucica Y, Seeley ES, Rosenbaum JL, Witman GB, Cole DG (2000) Chlamydomonas IFT88 and its mouse homologue, polycystic kidney disease gene tg737, are required for assembly of cilia and flagella. J Cell Biol 151:709–718

Pazour GJ et al (2002) The intraflagellar transport protein, IFT88, is essential for vertebrate photoreceptor assembly and maintenance. J Cell Biol 157:103–113. https://doi.org/10.1083/jcb.200107108

Robert A, Margall-Ducos G, Guidotti JE, Bregerie O, Celati C, Brechot C, Desdouets C (2007) The intraflagellar transport component IFT88/polaris is a centrosomal protein regulating G1-S transition in non-ciliated cells. J Cell Sci 120:628–637. https://doi.org/10.1242/jcs.03366

Rosenbaum J (2002) Intraflagellar transport. Curr Biol 12:R125

Rosenbaum JL, Witman GB (2002) Intraflagellar transport. Nat Rev Mol Cell Biol 3:813–825. https://doi.org/10.1038/nrm952

Sandberg MA, Gaudio AR, Berson EL (2005) Disease course of patients with pericentral retinitis pigmentosa. Am J Ophthalmol 140:100–106. https://doi.org/10.1016/j.ajo.2005.02.038

Tian H et al (2017) Intraflagellar transport 88 (IFT88) is crucial for craniofacial development in mice and is a candidate gene for human cleft lip and palate. Hum Mol Genet 26:860–872. https://doi.org/10.1093/hmg/ddx002

Waters AM, Beales PL (2011) Ciliopathies: an expanding disease spectrum. Pediatr Nephrol 26:1039–1056. https://doi.org/10.1007/s00467-010-1731-7

Wheway G, Parry DA, Johnson CA (2014) The role of primary cilia in the development and disease of the retina. Organogenesis 10:69–85. https://doi.org/10.4161/org.26710

Xu M et al (2015) Mutations in human IFT140 cause non-syndromic retinal degeneration. Hum Genet 134:1069–1078. https://doi.org/10.1007/s00439-015-1586-x

Yoder BK (2007) Role of primary cilia in the pathogenesis of polycystic kidney disease. J Am Soc Nephrol 18:1381–1388. https://doi.org/10.1681/ASN.2006111215
Acknowledgements
We are grateful to Dr. Frans PM Cremers, Department of Human Genetics, Radboud University Nijmegen Medical Center, for screening his collection of IRD patients for mutations in the IFT88 gene.
Funding
The Foundation Fighting Blindness, Research to Prevent Blindness, NIH-EY21237, P30-EY22589. Shyamanga Borooah was funded by a Fulbright-Fight For Sight Scholarship and Global Ophthalmology Awards Program Fellowship award.
Ethics declarations
Conflict of interest
Authors declare that there is no conflict of interest.
Electronic supplementary material
Below is the link to the electronic supplementary material.
About this article
Cite this article
Chekuri, A., Guru, A.A., Biswas, P. et al. IFT88 mutations identified in individuals with non-syndromic recessive retinal degeneration result in abnormal ciliogenesis. Hum Genet 137, 447–458 (2018). https://doi.org/10.1007/s00439-018-1897-9
Received:

Accepted:

Published:

Issue Date: