Abstract
Identification of genes with variants causing non-syndromic hearing loss (NSHL) is challenging due to genetic heterogeneity. The difficulty is compounded by technical limitations that in the past prevented comprehensive gene identification. Recent advances in technology, using targeted capture and next-generation sequencing (NGS), is changing the face of gene identification and making it possible to rapidly and cost-effectively sequence the whole human exome. Here, we characterize a five-generation Chinese family with progressive, postlingual autosomal dominant nonsyndromic hearing loss (ADNSHL). By combining population-specific mutation arrays, targeted deafness genes panel, whole exome sequencing (WES), we identified PDE1C (Phosphodiesterase 1C) c.958G>T (p.A320S) as the disease-associated variant. Structural modeling insights into p.A320S strongly suggest that the sequence alteration will likely affect the substrate-binding pocket of PDE1C. By whole-mount immunofluorescence on postnatal day 3 mouse cochlea, we show its expression in outer (OHC) and inner (IHC) hair cells cytosol co-localizing with Lamp-1 in lysosomes. Furthermore, we provide evidence that the variant alters the PDE1C hydrolytic activity for both cyclic adenosine monophosphate (cAMP) and cyclic guanosine monophosphate (cGMP). Collectively, our findings indicate that the c.958G>T variant in PDE1C may disrupt the cross talk between cGMP-signaling and cAMP pathways in Ca2+ homeostasis.
Access options
Buy single article
Instant access to the full article PDF.
US$ 39.95
Tax calculation will be finalised during checkout.
Subscribe to journal
Immediate online access to all issues from 2019. Subscription will auto renew annually.
US$ 119
Tax calculation will be finalised during checkout.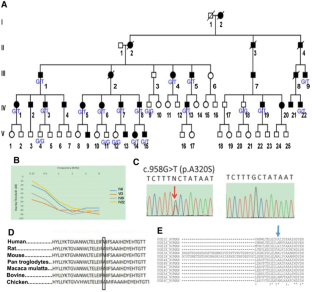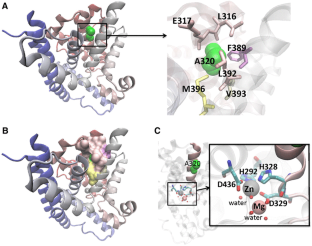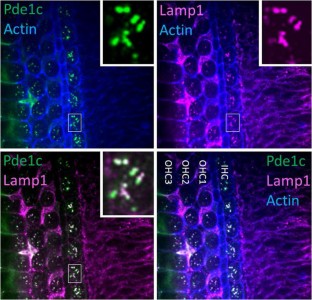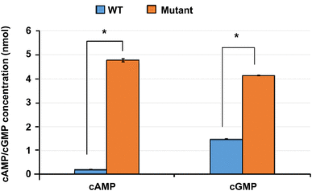 References
Antoniu SA (2006) Roflumilast for the treatment of chronic obstructive pulmonary disease. Curr Opin Investig Drugs 7:412–417

Biasini M, Bienert S, Waterhouse A, Arnold K, Studer G, Schmidt T, Kiefer F, Gallo Cassarino T, Bertoni M, Bordoli L, Schwede T (2014) SWISS-MODEL: modelling protein tertiary and quaternary structure using evolutionary information. Nucleic Acids Res 42:W252–W258

Bjorgo E, Moltu K, Tasken K (2011) Phosphodiesterases as targets for modulating T-cell responses. Handb Exp Pharmacol 204:345–363

Blackwell DL, Lucas JW, Clarke TC (2014) Summary health statistics for U.S. adults: National Health Interview Survey, 2012. Vital Health Stat 10:1–161

Cai Y, Nagel DJ, Zhou Q, Cygnar KD, Zhao H, Li F, Pi X, Knight PA, Yan C (2015) Role of cAMP-phosphodiesterase 1C signaling in regulating growth factor receptor stability, vascular smooth muscle cell growth, migration, and neointimal hyperplasia. Circ Res 116:1120–1132

Clementi E (1998) Role of nitric oxide and its intracellular signaling pathways in the control of Ca2+ homeostasis. Biochem Pharmacol 55:713–718

Conti M, Beavo J (2007) Biochemistry and physiology of cyclic nucleotide phosphodiesterases: essential components in cyclic nucleotide signaling. Ann Rev Biochem 76:481–511

Drescher MJ, Barretto RL, Chaturvedi D, Beisel KW, Hatfield JS, Khan KM, Drescher DG (1997) Expression of adenylyl cyclase type I in cochlear inner hair cells. Brain Res Mol Brain Res 45:325–330

Fettiplace R, Ricci AJ (2003) Adaptation in auditory hair cells. Curr Opin Neurobiol 13:446–451

Firestein S (2000) How the olfactory system makes sense of scents. Nature 413:211–218

Garrison E, Marth G (2012) Haplotype-based variant detection from short-read sequencing. arXiv preprint arXiv:1207.3907

Giannetta E, Isidori AM, Galea N, Carbone I, Mandosi E, Vizza CD, Naro F, Morano S, Fedele F, Lenzi A (2012) Chronic Inhibition of cGMP phosphodiesterase 5A improves diabetic cardiomyopathy: a randomized, controlled clinical trial using magnetic resonance imaging with myocardial tagging. Circulation 125:2323–2333

Goman AM, Reed NS, Lin FR (2017) Addressing estimated hearing loss in adults in 2060. JAMA Otolaryngol Head Neck Surg 143:733–734

Gosepath K, Gath I, Maurer J, Pollock JS, Amedee R, Förstermann U, Mann W (1997) Characterization of nitric oxide synthase isoforms expressed in different structures of the guinea pig cochlea. Brain Res 747:26–33

Griffith OW, Stuehr DJ (1995) Nitric oxide synthase: properties and catalytic mechanism. Ann Rev Physiol 57:707–736

Hardman JG, Beavo JA, Gray JP, Chrisman TD, Patterson WD, Sutherland EW (1971) The formation and metabolism of cyclic GMP. Ann N Y Acad Sci 185:27–35

Hertz AL, Beavo JA (2011) Cyclic nucleotides and phosphodiesterases in monocytic differentiation. Handb Exp Pharmacol 204:365–390

Houslay MD, Baillie GS, Maurice DH (2007) cAMP-Specific phosphodiesterase4 enzymes in the cardiovascular system: a molecular toolbox for generating compartmentalized cAMP signaling. Circ Res 100:950–966

Housley GD, Morton-Jones R, Vlajkovic SM, Telang RS, Paramananthasivam V, Tadros SF, Wong AC, Froud KE, Cederholm JM, Sivakumaran Y, Snguanwongchai P, Khakh BS, Cockayne DA, Thorne PR, Ryan AF (2013) ATP-gated ion channels mediate adaptation to elevated sound levels. Proc Natl Acad Sci USA 110:7494–7499

Humphrey W, Dalke A, Schulten K (1996) VMD—visual molecular dynamics. J Molec Graphics 14:33–38

Jaumann M, Dettling J, Gubelt M, Zimmermann U, Gerling A, Paquet-Durand F, Feil S, Wolpert S, Franz C, Varakina K, Xiong H, Brandt N, Kuhn S, Geisler HS, Rohbock K, Ruth P, Schlossmann J, Hütter J, Sandner P, Feil R, Engel J, Knipper M, Rüttiger L (2012) cGMP-Prkg1 signaling and Pde5 inhibition shelter cochlear hair cells and hearing function. Nat Med 18:252–259

Kitahara T, Kubo T, Okumura S, Kitahara M (2008) Effects of endolymphatic sac drainage with steroids for intractable Meniere's disease: a long-term follow-up and randomized controlled study. Laryngoscope 118:854–861

Kleene SJ (1993) Origin of the chloride current in olfactory transduction. Neuron 11:123–132

Kritzer MD, Li J, Dodge-Kafka K, Kapiloff MS (2012) AKAPs: the architectural underpinnings of local cAMP signaling. J Mol Cell Cardiol 52:351–358

Kurahashi T, Yau KW (1993) Co-existence of cationic and chloride components in odorant-induced current of vertebrate olfactory receptor cells. Nature 363:71–74

Lee LCY, Maurice DH, Baillie GS (2013) Targeting protein-protein interactions within the cyclic AMP signaling system as a therapeutic strategy for cardiovascular disease. Future Med Chem 5:451–464

Li H, Durbin R (2010) Fast and accurate long-read alignment with Burrows–Wheeler transform. Bioinformatics 26:589–595

Li CX, Pan Q, Guo YG, Li Y, Gao HF, Zhang D, Hu H, Xing WL, Mitchelson K, Xia K, Dai P, Cheng J (2008) Construction of a multiplex allele-specific PCR-based universal array (ASPUA) and its application to hearing loss screening. Hum Mutat 29:306–314

Lowe G, Gold GH (1993) Nonlinear amplification by calcium-dependent chloride channels in olfactory receptor cells. Nature 366:283–286

Ma M (2007) Encoding olfactory signals via multiple chemosensory systems. Crit Rev Biochem Mol Biol 42:463–480

Maekawa C, Kitahara T, Kizawa K, Okazaki S, Kamakura T, Horii A, Imai T, Doi K, Inohara H, Kiyama H (2010) Expression and translocation of aquaporin-2 in the endolymphatic sac in patients with Meniere's disease. J Neuroendocrinol 22:1157–1164

Miller CL, Oikawa M, Cai Y, Wojtovich AP, Nagel DJ, Xu X, Xu H, Florio V, Rybalkin SD, Beavo JA, Chen YF, Li JD, Blaxall BC, Abe J, Yan C (2009) Role of Ca2+/calmodulin-stimulated cyclic nucleotide phosphodiesterase 1 in mediating cardiomyocyte hypertrophy. Circ Res 105:956–964

Movsesian M, Wever-Pinzon O, Vandeput F (2011) PDE3 inhibition in dilated cardiomyopathy. Curr Opin Pharmacol 11:707–713

Petersen MB (2002) Non-syndromic autosomal-dominant deafness. Clin Genet 62:1–13

Reisert J, Bauer PJ, Yau KW, Frings S (2003) The Ca-activated Cl channel and its control in rat olfactory receptor neurons. J Gen Physiol 122:349–363

Ricci AJ, Fettiplace R (1997) The effects of calcium buffering and cyclic AMP on mechano-electrical transduction in turtle auditory hair cells. J Physiol 501:111–124

Riemann R, Reuss S (1999) Nitric oxide synthase in identified olivocochlear projection neurons in rat and guinea pig. Hear Res 135:181–189

Scheffer DI, Shen J, Corey DP, Chen ZY (2015) Gene expression by mouse inner ear hair cells during development. J Neurosci 35:6366–6380

Shen J, Harada N, Yamashita T (2003) Nitric oxide inhibits adenosine 5′-triphophate-induced Ca2+ response in inner hair cells of the guinea pig cochlea. Neurosci Lett 337:135–138

Shen J, Harada N, Nakazawa H, Yamashita T (2005) Involvement of the nitric oxide/cyclic GMP pathway and neuronal nitric oxide synthase in ATP-induced Ca2+ signalling in cochlear inner hair cells. Eur J Neurosci 21:2912–2922

Shen J, Harada N, Nakazawa H, Kaneko T, Izumikawa M, Yamashita T (2006) Role of nitric oxide on ATP-induced Ca2+ signaling in outer hair cells of the guinea pig cochlea. Brain Res 1081:101–112

Shen J, Scheffer DI, Kwan KY, Corey DP (2015) SHIELD: an integrative gene expression database for inner ear research. Database (Oxford):bav071

Teo TS, Wang JH (1973) Mechanism of activation of a cyclic adenosine 3′:5′-monophosphate phosphodiesterase from bovine heart by calcium ions. Identification of the protein activator as a Ca2+ binding protein. J Biol Chem 248:5950–5955

Thompson WJ, Appleman MM (1971) Cyclic nucleotide phosphodiesterase and cyclic AMP. Ann N Y Acad Sci 185:36–41

Tsertsvadze A, Fink HA, Yazdi F, MacDonald R, Bella AJ, Ansari MT, Garritty C, Soares-Weiser K, Daniel R, Sampson M, Fox S, Moher D, Wilt TJ (2009) Oral phosphodiesterase-5 inhibitors and hormonal treatments for erectile dysfunction: a systematic review and meta-analysis. Ann Intern Med 151:650–661

Van Wagoner DR, Lindsay BD (2012) Phosphodiesterase-4 activity: a critical modulator of atrial contractility and arrhythmogenesis. J Am Coll Cardiol 59:2191–2192

Vohr B (2003) Overview: infants and children with hearing loss—part I. Ment Retard Dev Disabil Res Rev 9:62–64

Xu RX, Hassell AM, Vanderwall D, Lambert MH, Holmes WD, Luther MA, Rocque WJ, Milburn MV, Zhao Y, Ke H, Nolte RT (2000) Atomic structure of PDE4: insights into phosphodiesterase mechanism and specificity. Science 288:1822–1825

Xu Y, Zhang HT, O'Donnell JM (2011) Phosphodiesterases in the central nervous system: Implications in mood and cognitive disorders. Handb Exp Pharmacol 204:447–485

Yan C, Zhao AZ, Bentley JK, Loughney K, Ferguson K, Beavo JA (1995) Molecular cloning and characterization of a calmodulin-dependent phosphodiesterase enriched in olfactory sensory neurons. Proc Natl Acad Sci USA 92:9677–9681

Yan D, Zhu Y, Walsh T, Xie D, Yuan H, Sirmaci A, Fujikawa T, Wong AC, Loh TL, Du L, Grati M, Vlajkovic SM, Blanton S, Ryan AF, Chen ZY, Thorne PR, Kachar B, Tekin M, Zhao HB, Housley GD, King MC, Liu XZ (2013) Mutation of the ATP-gated P2 × (2) receptor leads to progressive hearing loss and increased susceptibility to noise. Proc Natl Acad Sci USA 110:2228–2233

Yan D, Tekin D, Bademci G, Foster J 2nd, Cengiz FB, Kannan-Sundhari A, Guo S, Mittal R, Zou B, Grati M, Kabahuma RI, Kameswaran M, Lasisi TJ, Adedeji WA, Lasisi AO, Menendez I, Herrera M, Carranza C, Maroofian R, Crosby AH, Bensaid M, Masmoudi S, Behnam M, Mojarrad M, Feng Y, Duman D, Mawla AM, Nord AS, Blanton SH, Liu XZ, Tekin M (2016) Spectrum of DNA variants for non-syndromic deafness in a large cohort from multiple continents. Hum Genet 135:953–961

Yukawa H, Shen J, Harada N, Cho-Tamaoka H, Yamashita T (2005) Acute effects of glucocorticoids on ATP-induced Ca2+ mobilization and nitric oxide production in cochlear spiral ganglion neurons. Neuroscience 130:485–496
Acknowledgements
Immunofluorescence confocal imaging was performed in Dr. Bechara Kachar's lab (NIDCD-NIH; Bethesda, MD). This study was supported by the National Natural Science Foundation Nos. 81771024, 81771023, and medical science and technology project of Henan Province No. 87 from China; R01 DC005575, R01 DC01246, and R01 DC012115 from the National Institutes of Health/National Institute on Deafness and Other Communication Disorders, and Action on hearing loss grant.
Ethics declarations
Conflict of interest
The authors declare no conflict of interest.
About this article
Cite this article
Wang, L., Feng, Y., Yan, D. et al. A dominant variant in the PDE1C gene is associated with nonsyndromic hearing loss. Hum Genet 137, 437–446 (2018). https://doi.org/10.1007/s00439-018-1895-y
Received:

Accepted:

Published:

Issue Date: