Abstract
Southeast Asia (SEA) is enriched with a complex history of peopling. Malaysia, which is located at the crossroads of SEA, has been recognized as one of the hubs for early human migration. To unravel the genomic complexity of the native inhabitants of Malaysia, we sequenced 12 samples from 3 indigenous populations from Peninsular Malaysia and 4 native populations from North Borneo to a high coverage of 28–37×. We showed that the Negritos from Peninsular Malaysia shared a common ancestor with the East Asians, but exhibited some level of gene flow from South Asia, while the North Borneo populations exhibited closer genetic affinity towards East Asians than the Malays. The analysis of time of divergence suggested that ancestors of Negrito were the earliest settlers in the Malay Peninsula, whom first separated from the Papuans ~ 50–33 thousand years ago (kya), followed by East Asian (~ 40–15 kya), while the divergence time frame between North Borneo and East Asia populations predates the Austronesian expansion period implies a possible pre-Neolithic colonization. Substantial Neanderthal ancestry was confirmed in our genomes, as was observed in other East Asians. However, no significant difference was observed, in terms of the proportion of Denisovan gene flow into these native inhabitants from Malaysia. Judging from the similar amount of introgression in the Southeast Asians and East Asians, our findings suggest that the Denisovan gene flow may have occurred before the divergence of these populations and that the shared similarities are likely an ancestral component.
Access options
Buy single article
Instant access to the full article PDF.
USD 39.95
Price includes VAT (USA)
Tax calculation will be finalised during checkout.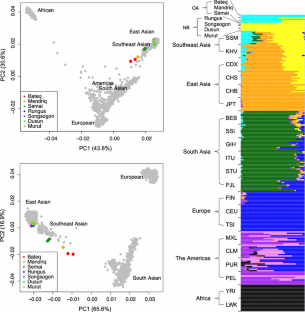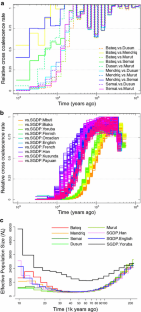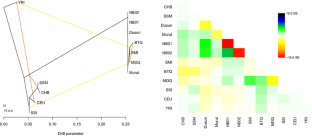 References
Aghakhanian F, Yunus Y, Naidu R et al (2015) Unravelling the genetic history of Negritos and Indigenous populations of Southeast Asia. Genome Biol Evol 7:1206–1215

Alexander DH, Novembre J, Lange K (2009) Fast model-based estimation of ancestry in unrelated individuals. Genome Res 19:1655–1664

Behar DM, Van Oven M, Rosset S et al (2012) A "copernican" reassessment of the human mitochondrial DNA tree from its root. Am J Hum Genet 90:675–684

Bellwood P (2007) Prehistory of the Indo-Malaysian archipelago, 4th edn. ANU E Press, Canberra

Bustamante CD, Burchard EG, De la Vega FM (2011) Genomics for the world. Nature 475:163–165

Conrad DF, Keebler JEM, DePristo MA et al (2011) Variation in genome-wide mutation rates within and between human families. Nat Genet 43:712–714

Curnoe D, Datan I, Taçon PSC et al (2016) Deep Skull from Niah Cave and the Pleistocene Peopling of Southeast Asia. Front Ecol Evol. https://doi.org/10.3389/fevo.2016.00075

Delaneau O, Marchini J, Zagury J (2012) A linear complexity phasing method for thousands of genomes. 9:179–181

Deng L, Hoh BP, Lu D et al (2014) The population genomic landscape of human genetic structure, admixture history and local adaptation in Peninsular Malaysia. Hum Genet 133:1169–1185

Deng L, Hoh B-P, Lu D et al (2015) Dissecting the genetic structure and admixture of four geographical Malay populations. Sci Rep 5:14375. https://doi.org/10.1038/srep14375

Fan S, Hansen MEB, Lo Y, Tishkoff SA (2016) Going global by adapting local: a review of recent human adaptation. Science 354:54–59

Fucharoen G, Fucharoen S, Horai S (2001) Mitochondrial DNA polymorphisms in Thailand. J Hum Genet 46:115–125

Fumagalli M, Moltke I, Grarup N et al (2015) Greenlandic Inuit show genetic signatures of diet and climate adaptation. Science 349:1343–1347

Gray RD, Drummond AJ, Greenhill SJ (2009) Language phylogenies reveal expansion pulses and pauses in Pacific settlement. Science 323(5913):479–483

Green RE, Krause J, Briggs AW et al (2010) A draft sequence of the Neandertal genome. Science 328:710–722

Hanebuth T, Stattegger K, Grootes PM (2000) Rapid flooding of the Sunda Shelf: a late-Glacial Sea-level record 288:1033–1035

Hill C, Soares P, Mormina M et al (2006) Phylogeography and ethnogenesis of aboriginal Southeast Asians. Mol Biol Evol 23:2480–2491

Hill C, Soares P, Mormina M et al (2007) A mitochondrial stratigraphy for island southeast Asia. Am J Hum Genet 80:29–43

Jinam TA, Hong L, Phipps ME et al (2012) Evolutionary history of continental Southeast Asians: "Early Train" hypothesis based on genetic analysis of mitochondrial and autosomal DNA data. Mol Biol Evol 29:3513–3527

Jinam TA, Phipps ME, Aghakhanian F et al (2017) Discerning the origins of the Negritos, First Sundaland People: deep divergence and archaic admixture. Genome Biol Evol 9:2013–2022. https://doi.org/10.1093/gbe/evx118

Kloss-brandstätter A, Binna R, Weissensteiner H et al (2011) HaploGrep : a fast and reliable algorithm for automatic classification of mitochondrial DNA haplogroups. Hum Mutat 32(1):25–32

Li H, Durbin R (2011) Inference of human population history from individual whole-genome sequences. Nature 475:493–496

Lipson M, Loh P-R, Patterson N et al (2014) Reconstructing Austronesian population history in Island Southeast Asia. Nat Commun 5:4689. https://doi.org/10.1038/ncomms5689

Liu X, Yunus Y, Lu D et al (2015) Differential positive selection of malaria resistance genes in three indigenous populations of Peninsular Malaysia. Hum Genet 134:375–392

Lu D, Xu S (2013) Principal component analysis reveals the 1000 Genomes Project does not sufficiently cover the human genetic diversity in Asia. Front Genet 4:1–9

Lu D, Lou H, Yuan K et al (2016) Ancestral origins and genetic history of Tibetan highlanders. Am J Hum Genet 99:580–594

Macaulay V, Hill C, Achilli A et al (2005) Single, rapid coastal settlement of Asia revealed by analysis of complete mitochondrial genomes. Science 308:1034–1036

Malaspinas A-S, Westaway MC, Muller C et al (2016) A genomic history of Aboriginal Australia. Nature 538:207–214

Mallick S, Li H, Lipson M et al (2016) The Simons Genome Diversity Project: 300 genomes from 142 diverse populations. Nature 538:201–206

Matsumura H, Oxenham MF (2014) Demographic transitions and migration in prehistoric East/Southeast Asia through the lens of nonmetric dental traits. Am J Phys Anthropol 155:45–65

McEvoy BP, Bradley D (2010) Irish genetics and celts. In: Cunliffe B, Koch JT (eds) Celtic from the West. Oxbow Books, Oxford

McEvoy BP, Powell JE, Goddard ME, Visscher PM (2011) Human population dispersal out of Africa estimated from linkage disequilibrium and allele frequencies of SNPs. Genome Res 21:821–829

McKenna A, Hanna M, Banks E et al (2010) The Genome Analysis Toolkit: a MapReduce framework for analyzing next-generation DNA sequencing data. Genome Res 20:1297–1303

Mendez FL, Watkins JC, Hammer MF (2012) A haplotype at STAT2 introgressed from neanderthals and serves as a candidate of positive selection in Papua New Guinea. Am J Hum Genet 91:265–274

Meyer M, Kircher M, Gansauge M-T et al (2012) A high-coverage genome sequence from an archaic Denisovan individual. Science 338:224–226

Mondal M, Casals F, Xu T et al (2016) Genomic analysis of Andamanese provides insights into ancient human migration into Asia and adaptation. Nat Genet. https://doi.org/10.1038/ng.3621

Mörseburg A, Pagani L, Ricaut F-X et al (2016) Multi-layered population structure in Island Southeast Asians. Eur J Hum Genet. https://doi.org/10.1038/ejhg.2016.60

Pagani L, Lawson DJ, Jagoda E et al (2016) Genomic analyses inform on migration events during the peopling of Eurasia. Nature 538:238–242

Peng MS, Quang HH, Dang KP et al (2010) Tracing the Austronesian footprint in Mainland Southeast Asia: a perspective from mitochondrial DNA. Mol Biol Evol 27:2417–2430

Perdomo-Sabogal A, Kanton S, Walter MBC, Nowick K (2014) The role of gene regulatory factors in the evolutionary history of humans. Curr Opin Genet Dev 29C:60–67

Pickrell JK, Pritchard JK (2012) Inference of population splits and mixtures from genome-wide allele frequency data. PLoS Genet. https://doi.org/10.1371/journal.pgen.1002967

Price AL, Patterson NJ, Plenge RM et al (2006) Principal components analysis corrects for stratification in genome-wide association studies. Nat Genet 38:904–909

Prüfer K, Racimo F, Patterson N et al (2014) The complete genome sequence of a Neanderthal from the Altai Mountains. Nature 505:43–49

Pugach I, Delfin F, Gunnarsdóttir E et al (2013) Genome-wide data substantiate Holocene gene flow from India to Australia. Proc Natl Acad Sci 110:1803–1808

Qin P, Stoneking M (2015) Denisovan ancestry in East Eurasian and Native American populations. Mol Biol Evol 32:2665–2674

Racimo F (2016) Testing for ancient selection using cross-population allele frequency differentiation. Genetics 202:733–750

Reich D, Green RE, Kircher M et al (2010) Genetic history of an archaic hominin group from Denisova Cave in Siberia. Nature 468:1053–1060

Reich D, Patterson N, Kircher M et al (2011) Denisova admixture and the first modern human dispersals into Southeast Asia and Oceania. Am J Hum Genet 89:516–528

Reyes-Centeno H, Hubbe M, Hanihara T et al (2015) Testing modern human out-of-Africa dispersal models and implications for modern human origins. J Hum Evol 87:95–106

Salleh MZ, Teh LK, Lee LS et al (2013) Systematic pharmacogenomics analysis of a Malay whole genome: proof of concept for personalized medicine. PLoS ONE. https://doi.org/10.1371/journal.pone.0071554

Sankararaman S, Mallick S, Dannemann M et al (2014) The genomic landscape of Neanderthal ancestry in present-day humans. Nature 507:354–357

Scally A, Durbin R (2012) Revising the human mutation rate: implications for understanding human evolution. Nat Rev Genet 13:745–753

Schiffels S, Durbin R (2014) Inferring human population size and separation history from multiple genome sequences. Nat Genet 46:919–925

Shi H, Qi X, Zhong H et al (2013) Genetic evidence of an East Asian origin and Paleolithic northward migration of Y-chromosome haplogroup N. PLoS ONE 8:1–9. https://doi.org/10.1371/journal.pone.0066102

Skoglund P, Jakobsson M (2011) Archaic human ancestry in East Asia. Proc Natl Acad Sci USA 108:18301–18306

Soares PA, Trejaut JA, Loo JH, Hill C, Mormina M, Lee CL, Chen YM, Hudjashov G, Forster P, Macaulay V, Bulbeck D, Oppen-heimer S, Lin M, Richards MB (2008) Climate change and postglacial human dispersals in Southeast Asia. Mol Biol Evol 25:1209–1218

Soares PA, Trejaut JA, Rito T, Cavadas B (2016) Resolving the ancestry of Austronesian-speaking populations. Hum Genet 135:309–326

Tabbada KA, Trejaut J, Loo JH et al (2010) Philippine mitochondrial DNA diversity: a populated viaduct between Taiwan and Indonesia? Mol Biol Evol 27:21–31

The 1000 Genomes Project Consortium (2010) A map of human genome variation from population scale sequencing. Nature 467:1061–1073

The HUGO Pan-Asian SNP Consortium (2009) Mapping human genetic diversity in Asia. Science 326:1541–1545

Vernot B, Akey JM (2014) Resurrecting surviving Neandertal lineages from modern human genomes. Science 343:1017–1021

Vernot B, Akey JM (2015) Complex history of admixture between modern humans and Neandertals. Am J Hum Genet 975:448–453

Wall JD, Yang MA, Jay F et al (2013) Higher levels of neanderthal ancestry in East Asians than in Europeans. Genetics 194:199–209

Wan Juhari W, Md Tamrin N, Mat Daud M et al (2014) A whole genome analyses of genetic variants in two Kelantan Malay individuals. Hugo J 8:4

Wang S, Lachance J, Tishkoff SA et al (2013) Apparent variation in Neanderthal admixture among African populations is consistent with gene flow from non-African populations. Genome Biol Evol 5:2075–2081

Wong L-P, Ong RT-H, Poh W-T et al (2013) Deep whole-genome sequencing of 100 southeast Asian Malays. Am J Hum Genet 92:52–66

Wong L-P, Lai JK-H, Saw W-Y et al (2014) Insights into the genetic structure and diversity of 38 South Asian Indians from deep whole-genome sequencing. PLoS Genet 10:e1004377. https://doi.org/10.1371/journal.pgen.1004377

Zhang X, Qi X, Yang Z et al (2013) Analysis of mitochondrial genome diversity identifies new and ancient maternal lineages in Cambodian aborigines. Nat Commun 4:1–11. https://doi.org/10.1038/ncomms359

Zhang X, Liao S, Qi X et al (2015) Y-chromosome diversity suggests southern origin and Paleolithic backwave migration of Austro- Asiatic speakers from eastern Asia to the Indian subcontinent. Nature. https://doi.org/10.1038/srep15486
Acknowledgements
This study is funded by Ministry of Science, Technology and Innovation (MOSTI) erBiotek Grant # 100-RM/BIOTEK 16/6/2 B (1/2011) and [100-RMI/GOV 16/6/2 (19/2011] awarded to HBP, VK, and MEP for supporting the experimental work. HBP received the FRGS/1/2015/ST03/UCSI/01/1 for supporting the data analysis. MEP and FA acknowledge human genomics grant from Tropical Medicine and Biology platform, Monash University Malaysia. We thank all the indigenous participants, JAKOA, and the Sabah state authorities for their full cooperation and assistance during the various field trips, the medical team from Faculty of Medicine Universiti Teknologi MARA, for their involvement during sample collection, and all staffs who assisted. L.P.W., R.T.H.O., and Y.Y.T. acknowledge support by the National Research Foundation, Prime Minister's Office, Singapore under its Research Fellowship (NRF-RF-2010-05) and administered by the National University of Singapore. S.X. is Max–Planck Independent Research Group Leader and member of CAS Youth Innovation Promotion Association. S.X. gratefully acknowledges support by the National Natural Science Foundation of China (NSFC) Grants (91331204, 31525014, 91731303, 31771388, 31501011, and 31711530221), the Chinese Academy of Sciences (CAS) (XDB13040100 and QYZDJ-SSW-SYS009), and the Program of Shanghai Academic Research Leader (16XD1404700). JB was supported by the Industrial Strategic technology development program, 10040231, "Bioinformatics platform development for the next generation bioinformation analysis" funded by the Ministry of Knowledge Economy (MKE, Korea)" and 2014 Research Fund (1.150014.01) of UNIST (Ulsan National Institute of Science & Technology).
Ethics declarations
Conflict of interest
The authors declare that there is no conflict of interest.
Electronic supplementary material
Below is the link to the electronic supplementary material.
About this article
Cite this article
Yew, CW., Lu, D., Deng, L. et al. Genomic structure of the native inhabitants of Peninsular Malaysia and North Borneo suggests complex human population history in Southeast Asia. Hum Genet 137, 161–173 (2018). https://doi.org/10.1007/s00439-018-1869-0
Received:

Accepted:

Published:

Issue Date: