Abstract
Variations in proteins have very large number of diverse effects affecting sequence, structure, stability, interactions, activity, abundance and other properties. Although protein-coding exons cover just over 1 % of the human genome they harbor an disproportionately large portion of disease-causing variants. Variation ontology (VariO) has been developed for annotation and description of variation effects, mechanisms and consequences. A holistic view for variations in proteins is made available along with examples of real cases. Protein variants can be of genetic origin or emerge at protein level. Systematic names are provided for all variation types, a more detailed description can be made by explaining changes to protein function, structure and properties. Examples are provided for the effects and mechanisms, usually in relation to human diseases. In addition, the examples are selected so that protein 3D structural changes, when relevant, are included and visualized. Here, systematics is described for protein variants based on VariO. It will benefit the unequivocal description of variations and their effects and further reuse and integration of data from different sources.
Access options
Buy single article
Instant access to the full article PDF.
US$ 39.95
Tax calculation will be finalised during checkout.
Subscribe to journal
Immediate online access to all issues from 2019. Subscription will auto renew annually.
US$ 119
Tax calculation will be finalised during checkout.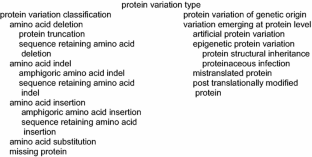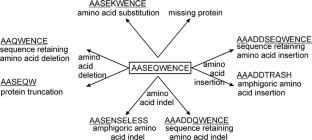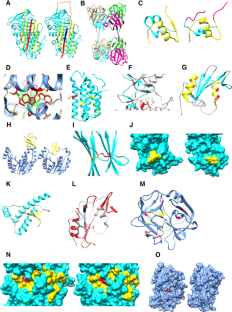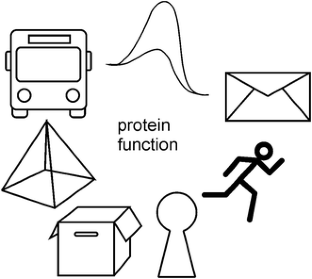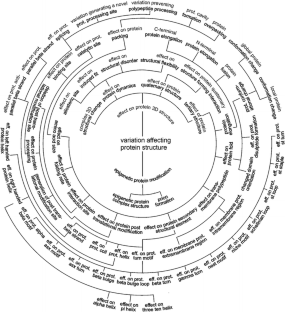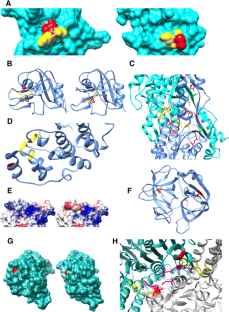 References
Advani AS, Pendergast AM (2002) Bcr–Abl variants: biological and clinical aspects. Leuk Res 26:713–720

Aghamohammadi A, Fiorini M, Moin M, Parvaneh N, Teimourian S, Yeganeh M, Goffi F, Kanegane H, Amirzargar AA, Pourpak Z, Rezaei N, Salavati A, Pouladi N, Abdollahzade S, Notarangelo LD, Miyawaki T, Plebani A (2006) Clinical, immunological and molecular characteristics of 37 Iranian patients with X-linked agammaglobulinemia. Int Arch Allergy Immunol 141:408–414. doi:10.1159/000095469

Ali H, Olatubosun A, Vihinen M (2012) Classification of mismatch repair gene missense variants with PON-MMR. Hum Mutat 33:642–650. doi:10.1002/humu.22038

Ali H, Urolagin S, Gurarslan O, Vihinen M (2014) Performance of protein disorder prediction programs on amino acid substitutions. Hum Mutat 35:794–804. doi:10.1002/humu.22564

Babady NE, Pang YP, Elpeleg O, Isaya G (2007) Cryptic proteolytic activity of dihydrolipoamide dehydrogenase. Proc Natl Acad Sci USA 104:6158–6163. doi:10.1073/pnas.0610618104

Bennett MJ, Lebron JA, Bjorkman PJ (2000) Crystal structure of the hereditary haemochromatosis protein HFE complexed with transferrin receptor. Nature 403:46–53. doi:10.1038/47417

Bryan PN (2000) Protein engineering of subtilisin. Biochim Biophys Acta 1543:203–222

Calabrese R, Capriotti E, Fariselli P, Martelli PL, Casadio R (2009) Functional annotations improve the predictive score of human disease-related mutations in proteins. Hum Mutat 30:1237–1244. doi:10.1002/humu.21047

Capriotti E, Fariselli P, Calabrese R, Casadio R (2005) Predicting protein stability changes from sequences using support vector machines. Bioinformatics 21(Suppl 2):254–258. doi:10.1093/bioinformatics/bti1109

Chen YJ, Lin SC, Tzeng SR, Patel HV, Lyu PC, Cheng JW (1996) Stability and folding of the SH3 domain of Bruton's tyrosine kinase. Proteins 26:465–471. doi:10.1002/(sici)1097-0134(199612)26:4<465:aid-prot7>3.0.co;2-a

Chen W, van der Kamp MW, Daggett V (2010) Diverse effects on the native β-sheet of the human prion protein due to disease-associated mutations. Biochemistry 49:9874–9881. doi:10.1021/bi101449f

Cheng J, Randall A, Baldi P (2006) Prediction of protein stability changes for single-site mutations using support vector machines. Proteins 62:1125–1132. doi:10.1002/prot.20810

Chiti F, Taddei N, White PM, Bucciantini M, Magherini F, Stefani M, Dobson CM (1999) Mutational analysis of acylphosphatase suggests the importance of topology and contact order in protein folding. Nat Struct Biol 6:1005–1009. doi:10.1038/14890

Conchillo-Sole O, de Groot NS, Aviles FX, Vendrell J, Daura X, Ventura S (2007) AGGRESCAN: a server for the prediction and evaluation of "hot spots" of aggregation in polypeptides. BMC Bioinform 8:65. doi:10.1186/1471-2105-8-65

Danielian S, El-Hakeh J, Basilico G, Oleastro M, Rosenzweig S, Feldman G, Berozdnik L, Galicchio M, Gallardo A, Giraudi V, Liberatore D, Rivas EM, Zelazko M (2003) Bruton tyrosine kinase gene mutations in Argentina. Hum Mutat 21:451. doi:10.1002/humu.9131

D'Antonio C, Molinski S, Ahmadi S, Huan LJ, Wellhauser L, Bear CE (2013) Conformational defects underlie proteasomal degradation of Dent's disease-causing mutants of ClC-5. Biochem J 452:391–400. doi:10.1042/bj20121848

de Beer TA, Laskowski RA, Parks SL, Sipos B, Goldman N, Thornton JM (2013) Amino acid changes in disease-associated variants differ radically from variants observed in the 1000 genomes project dataset. PLoS Comput Biol 9:e1003382. doi:10.1371/journal.pcbi.1003382

den Dunnen JT, Antonarakis SE (2001) Nomenclature for the description of human sequence variations. Hum Genet 109:121–124

Famiglietti ML, Estreicher A, Gos A, Bolleman J, Gehant S, Breuza L, Bridge A, Poux S, Redaschi N, Bougueleret L, Xenarios I (2014) Genetic variations and diseases in UniProtKB/Swiss-Prot: the ins and outs of expert manual curation. Hum Mutat 35:927–935. doi:10.1002/humu.22594

Feng S, Zhao TJ, Zhou HM, Yan YB (2007) Effects of the single point genetic mutation D54G on muscle creatine kinase activity, structure and stability. Int J Biochem Cell Biol 39:392–401. doi:10.1016/j.biocel.2006.09.004

Ferrer-Costa C, Orozco M, de la Cruz X (2002) Characterization of disease-associated single amino acid polymorphisms in terms of sequence and structure properties. J Mol Biol 315:771–786. doi:10.1006/jmbi.2001.5255

Fiorini M, Franceschini R, Soresina A, Schumacher RF, Ugazio AG, Rossi P, Plebani A, Notarangelo LD (2004) BTK: 22 novel and 25 recurrent mutations in European patients with X-linked agammaglobulinemia. Hum Mutat 23:286. doi:10.1002/humu.9219

Fukumura S, Adachi N, Nagao M, Tsutsumi H (2011) A novel proteolipid protein 1 gene mutation causing classical type Pelizaeus–Merzbacher disease. Brain Dev 33:697–699. doi:10.1016/j.braindev.2010.11.010

Furnham N, de Beer TA, Thornton JM (2012) Current challenges in genome annotation through structural biology and bioinformatics. Curr Opin Struct Biol 22:594–601. doi:10.1016/j.sbi.2012.07.005

Futatani T, Watanabe C, Baba Y, Tsukada S, Ochs HD (2001) Bruton's tyrosine kinase is present in normal platelets and its absence identifies patients with X-linked agammaglobulinaemia and carrier females. Br J Haematol 114:141–149

Gersting SW, Kemter KF, Staudigl M, Messing DD, Danecka MK, Lagler FB, Sommerhoff CP, Roscher AA, Muntau AC (2008) Loss of function in phenylketonuria is caused by impaired molecular motions and conformational instability. Am J Hum Genet 83:5–17. doi:10.1016/j.ajhg.2008.05.013

Guo B, Audu CO, Cochran JC, Mierke DF, Pellegrini M (2014) Protein engineering of the N-terminus of NEMO: structure stabilization and rescue of IKKβ binding. Biochemistry 53:6776–6785. doi:10.1021/bi500861x

Hamasaki-Katagiri N, Salari R, Wu A, Qi Y, Schiller T, Filiberto AC, Schisterman EF, Komar AA, Przytycka TM, Kimchi-Sarfaty C (2013) A gene-specific method for predicting hemophilia-causing point mutations. J Mol Biol 425:4023–4033. doi:10.1016/j.jmb.2013.07.037

He X, Lobsiger J, Stocker A (2009) Bothnia dystrophy is caused by domino-like rearrangements in cellular retinaldehyde-binding protein mutant R234W. Proc Natl Acad Sci USA 106:18545–18550. doi:10.1073/pnas.0907454106

Hershfield MS (2003) Genotype is an important determinant of phenotype in adenosine deaminase deficiency. Curr Opin Immunol 15:571–577

Holinski-Feder E, Weiss M, Brandau O, Jedele KB, Nore B, Bäckesjö CM, Vihinen M, Hubbard SR, Belohradsky BH, Smith CI, Meindl A (1998) Mutation screening of the BTK gene in 56 families with X-linked agammaglobulinemia (XLA): 47 unique mutations without correlation to clinical course. Pediatrics 101:276–284

Izarzugaza JM, Vazquez M, del Pozo A, Valencia A (2013) wKinMut: an integrated tool for the analysis and interpretation of mutations in human protein kinases. BMC Bioinform 14:345. doi:10.1186/1471-2105-14-345

Izumi H, Kaneko Y (2012) Evidence of asymmetric cell division and centrosome inheritance in human neuroblastoma cells. Proc Natl Acad Sci USA 109:18048–18053. doi:10.1073/pnas.1205525109

Jin Y, Mazza C, Christie JR, Giliani S, Fiorini M, Mella P, Gandellini F, Stewart DM, Zhu Q, Nelson DL, Notarangelo LD, Ochs HD (2004) Mutations of the Wiskott–Aldrich Syndrome Protein (WASP): hotspots, effect on transcription, and translation and phenotype/genotype correlation. Blood 104:4010–4019. doi:10.1182/blood-2003-05-1592

Kannu P, Bateman J, Savarirayan R (2012) Clinical phenotypes associated with type II collagen mutations. J Paediatr Child Health 48:E38–E43. doi:10.1111/j.1440-1754.2010.01979.x

Khan S, Vihinen M (2007) Spectrum of disease-causing mutations in protein secondary structures. BMC Struct Biol 7:56. doi:10.1186/1472-6807-7-56

Khan S, Vihinen M (2010) Performance of protein stability predictors. Hum Mutat 31:675–684. doi:10.1002/humu.21242

Kircher M, Witten DM, Jain P, O'Roak BJ, Cooper GM (2014) A general framework for estimating the relative pathogenicity of human genetic variants. Nat Genet 46:310–315. doi:10.1038/ng.2892

Kucukkal TG, Yang Y, Chapman SC, Cao W, Alexov E (2014) Computational and experimental approaches to reveal the effects of single nucleotide polymorphisms with respect to disease diagnostics. Int J Mol Sci 15:9670–9717. doi:10.3390/ijms15069670

Lappalainen I, Thusberg J, Shen B, Vihinen M (2008) Genome wide analysis of pathogenic SH2 domain mutations. Proteins 72:779–792. doi:10.1002/prot.21970

Lasry I, Seo YA, Ityel H, Shalva N, Pode-Shakked B, Glaser F, Berman B, Berezovsky I, Goncearenco A, Klar A, Levy J, Anikster Y, Kelleher SL, Assaraf YG (2012) A dominant negative heterozygous G87R mutation in the zinc transporter, ZnT-2 (SLC30A2), results in transient neonatal zinc deficiency. J Biol Chem 287:29348–29361. doi:10.1074/jbc.M112.368159

Laurila K, Vihinen M (2011) PROlocalizer: integrated web service for protein subcellular localization prediction. Amino Acids 40:975–980. doi:10.1007/s00726-010-0724-y

Lee JW, Beebe K, Nangle LA, Jang J, Longo-Guess CM, Cook SA, Davisson MT, Sundberg JP, Schimmel P, Ackerman SL (2006) Editing-defective tRNA synthetase causes protein misfolding and neurodegeneration. Nature 443:50–55. doi:10.1038/nature05096

Lehn A, Boyle R, Brown H, Airey C, Mellick G (2012) Neuroferritinopathy. Parkinsonism Relat Disord 18:909–915. doi:10.1016/j.parkreldis.2012.06.021

Lewis HA, Wang C, Zhao X, Hamuro Y, Conners K, Kearins MC, Lu F, Sauder JM, Molnar KS, Coales SJ, Maloney PC, Guggino WB, Wetmore DR, Weber PC, Hunt JF (2010) Structure and dynamics of NBD1 from CFTR characterized using crystallography and hydrogen/deuterium exchange mass spectrometry. J Mol Biol 396:406–430. doi:10.1016/j.jmb.2009.11.051

Li B, Krishnan VG, Mort ME, Xin F, Kamati KK, Cooper DN, Mooney SD, Radivojac P (2009) Automated inference of molecular mechanisms of disease from amino acid substitutions. Bioinformatics 25:2744–2750. doi:10.1093/bioinformatics/btp528

Liu R, Xu H, Wei Z, Wang Y, Lin Y, Gong W (2009) Crystal structure of human adenylate kinase 4 (L171P) suggests the role of hinge region in protein domain motion. Biochem Biophys Res Commun 379:92–97. doi:10.1016/j.bbrc.2008.12.012

Longley MJ, Humble MM, Sharief FS, Copeland WC (2010) Disease variants of the human mitochondrial DNA helicase encoded by C10orf2 differentially alter protein stability, nucleotide hydrolysis, and helicase activity. J Biol Chem 285:29690–29702. doi:10.1074/jbc.M110.151795

Lourdel S, Grand T, Burgos J, González W, Sepulveda FV, Teulon J (2012) ClC-5 mutations associated with Dent's disease: a major role of the dimer interface. Pflugers Arch 463:247–256. doi:10.1007/s00424-011-1052-0

Lupo V, Galindo MI, Martinez-Rubio D, Sevilla T, Vilchez JJ, Palau F, Espinos C (2009) Missense mutations in the SH3TC2 protein causing Charcot–Marie–Tooth disease type 4C affect its localization in the plasma membrane and endocytic pathway. Hum Mol Genet 18:4603–4614. doi:10.1093/hmg/ddp427

Mahajan S, Fargnoli J, Burkhardt AL, Kut SA, Saouaf SJ, Bolen JB (1995) Src family protein tyrosine kinases induce autoactivation of Bruton's tyrosine kinase. Mol Cell Biol 15:5304–5311

Mao C, Zhou M, Uckun FM (2001) Crystal structure of Bruton's tyrosine kinase domain suggests a novel pathway for activation and provides insights into the molecular basis of X-linked agammaglobulinemia. J Biol Chem 276:41435–41443. doi:10.1074/jbc.M104828200

Martínez-Martínez I, Johnson DJ, Yamasaki M, Navarro-Fernández J, Ordóñez A, Vicente V, Huntington JA, Corral J (2012) Type II antithrombin deficiency caused by a large in-frame insertion: structural, functional and pathological relevance. J Thromb Haemost 10:1859–1866. doi:10.1111/j.1538-7836.2012.04839.x

Mattsson PT, Lappalainen I, Bäckesjö CM, Brockmann E, Lauren S, Vihinen M, Smith CIE (2000) Six X-linked agammaglobulinemia-causing missense mutations in the Src homology 2 domain of Bruton's tyrosine kinase: phosphotyrosine-binding and circular dichroism analysis. J Immunol 164:4170–4177

Maurer-Stroh S, Debulpaep M, Kuemmerer N, de la Lopez Paz M, Martins IC, Reumers J, Morris KL, Copland A, Serpell L, Serrano L, Schymkowitz JW, Rousseau F (2010) Exploring the sequence determinants of amyloid structure using position-specific scoring matrices. Nat Methods 7:237–242. doi:10.1038/nmeth.1432

McCutchen SL, Colon W, Kelly JW (1993) Transthyretin mutation Leu-55-Pro significantly alters tetramer stability and increases amyloidogenicity. Biochemistry 32:12119–12127

Mehtälä ML, Lensink MF, Pietikäinen LP, Hiltunen JK, Glumoff T (2013) On the molecular basis of D-bifunctional protein deficiency type III. PLoS One 8:e53688. doi:10.1371/journal.pone.0053688

Niroula A, Urolagin S, Vihinen M (2015) PON-P2: prediction method for fast and reliable identification of harmful variants. PLoS One (in press)

Nishiguchi KM, Sokal I, Yang L, Roychowdhury N, Palczewski K, Berson EL, Dryja TP, Baehr W (2004) A novel mutation (I143NT) in guanylate cyclase-activating protein 1 (GCAP1) associated with autosomal dominant cone degeneration. Invest Ophthalmol Vis Sci 45:3863–3870. doi:10.1167/iovs.04-0590

Noetzli L, Sanz PG, Brodsky GL, Hinckley JD, Giugni JC, Giannaula RJ, Gonzalez-Alegre P, Di Paola J (2014) A novel mutation in PLP1 causes severe hereditary spastic paraplegia type 2. Gene 533:447–450. doi:10.1016/j.gene.2013.09.076

Nowak KJ, Ravenscroft G, Laing NG (2013) Skeletal muscle α-actin diseases (actinopathies): pathology and mechanisms. Acta Neuropathol 125:19–32. doi:10.1007/s00401-012-1019-z

Okoh MP, Vihinen M (1999) Pleckstrin homology domains of tec family protein kinases. Biochem Biophys Res Commun 265:151–157. doi:10.1006/bbrc.1999.1407

Okumura N, Terasawa F, Takezawa Y, Hirota-Kawadobora M, Inaba T, Fujita N, Saito M, Sugano M, Honda T (2012) Heterozygous Bβ-chain C-terminal 12 amino acid elongation variant, BβX462W (Kyoto VI), showed dysfibrinogenemia. Blood Coagul Fibrinolysis 23:87–90. doi:10.1097/MBC.0b013e32834cb243

Olatubosun A, Väliaho J, Härkönen J, Thusberg J, Vihinen M (2012) PON-P: integrated predictor for pathogenicity of missense variants. Hum Mutat 33:1166–1174. doi:10.1002/humu.22102

Oldfield CJ, Meng J, Yang JY, Yang MQ, Uversky VN, Dunker AK (2008) Flexible nets: disorder and induced fit in the associations of p53 and 14-3-3 with their partners. BMC Genom 9(Suppl 1):S1. doi:10.1186/1471-2164-9-s1-s1

Pan M, Kalie E, Scaglione BJ, Raveche ES, Schreiber G, Langer JA (2008) Mutation of the IFNAR-1 receptor binding site of human IFN-α2 generates type I IFN competitive antagonists. Biochemistry 47:12018–12027. doi:10.1021/bi801588g

Perniola R, Musco G (2014) The biophysical and biochemical properties of the autoimmune regulator (AIRE) protein. Biochim Biophys Acta 1842:326–337. doi:10.1016/j.bbadis.2013.11.020

Piirilä H, Väliaho J, Vihinen M (2006) Immunodeficiency mutation databases (IDbases). Hum Mutat 27:1200–1208. doi:10.1002/humu.20405

Roucou X, Gains M, LeBlanc AC (2004) Neuroprotective functions of prion protein. J Neurosci Res 75:153–161. doi:10.1002/jnr.10864

Schaafsma G, Vihinen M (2014) VariSNP, a benchmark database for variations from dbSNP. Hum Mutat. doi:10.1002/humu.22727

Schlotawa L, Radhakrishnan K, Baumgartner M, Schmid R, Schmidt B, Dierks T, Gartner J (2013) Rapid degradation of an active formylglycine generating enzyme variant leads to a late infantile severe form of multiple sulfatase deficiency. Eur J Hum Genet 21:1020–1023. doi:10.1038/ejhg.2012.291

Schwarz JM, Cooper DN, Schuelke M, Seelow D (2014) MutationTaster2: mutation prediction for the deep-sequencing age. Nat Methods 11:361–362. doi:10.1038/nmeth.2890

Sebastião MP, Saraiva MJ, Damas AM (1998) The crystal structure of amyloidogenic Leu55 → Pro transthyretin variant reveals a possible pathway for transthyretin polymerization into amyloid fibrils. J Biol Chem 273:24715–24722

Semler O, Garbes L, Keupp K, Swan D, Zimmermann K, Becker J, Iden S, Wirth B, Eysel P, Koerber F, Schoenau E, Bohlander SK, Wollnik B, Netzer C (2012) A mutation in the 5′-UTR of IFITM5 creates an in-frame start codon and causes autosomal-dominant osteogenesis imperfecta type V with hyperplastic callus. Am J Hum Genet 91:349–357. doi:10.1016/j.ajhg.2012.06.011

Shen B, Vihinen M (2004) Conservation and covariance in PH domain sequences: physicochemical profile and information theoretical analysis of XLA-causing mutations in the Btk PH domain. Protein Eng Des Sel 17:267–276. doi:10.1093/protein/gzh030

Shi J, Lua S, Tong JS, Song J (2010) Elimination of the native structure and solubility of the hVAPB MSP domain by the Pro56Ser mutation that causes amyotrophic lateral sclerosis. Biochemistry 49:3887–3897. doi:10.1021/bi902057a

Srikumar PS, Rohini K (2013) Exploring the structural insights on human laforin mutation K87A in Lafora disease—a molecular dynamics study. Appl Biochem Biotechnol 171:874–882. doi:10.1007/s12010-013-0393-x

Stefl S, Nishi H, Petukh M, Panchenko AR, Alexov E (2013) Molecular mechanisms of disease-causing missense mutations. J Mol Biol 425:3919–3936. doi:10.1016/j.jmb.2013.07.014

Steward RE, MacArthur MW, Laskowski RA, Thornton JM (2003) Molecular basis of inherited diseases: a structural perspective. Trends Genet 19:505–513. doi:10.1016/s0168-9525(03)00195-1

Storz JF, Zera AJ (2011) Experimental approaches to evaluate the contributions of candidate protein-coding mutations to phenotypic evolution. Methods Mol Biol 772:377–396. doi:10.1007/978-1-61779-228-1_22

Støy J, Edghill EL, Flanagan SE, Ye H, Paz VP, Pluzhnikov A, Below JE, Hayes MG, Cox NJ, Lipkind GM, Lipton RB, Greeley SA, Patch AM, Ellard S, Steiner DF, Hattersley AT, Philipson LH, Bell GI (2007) Insulin gene mutations as a cause of permanent neonatal diabetes. Proc Natl Acad Sci USA 104:15040–15044. doi:10.1073/pnas.0707291104

Tashita H, Fukao T, Kaneko H, Teramoto T, Inoue R, Kasahara K, Kondo N (1998) Molecular basis of selective IgG2 deficiency. The mutated membrane-bound form of gamma2 heavy chain caused complete IGG2 deficiency in two Japanese siblings. J Clin Invest 101:677–681. doi:10.1172/jci1672

Thusberg J, Vihinen M (2006) Bioinformatic analysis of protein structure–function relationships: case study of leukocyte elastase (ELA2) missense mutations. Hum Mutat 27:1230–1243. doi:10.1002/humu.20407

Thusberg J, Vihinen M (2009) Pathogenic or not? And if so, then how? Studying the effects of missense mutations using bioinformatics methods. Hum Mutat 30:703–714. doi:10.1002/humu.20938

Thusberg J, Olatubosun A, Vihinen M (2011) Performance of mutation pathogenicity prediction methods on missense variants. Hum Mutat 32:358–368. doi:10.1002/humu.21445

Timofeyeva NA, Koval VV, Ishchenko AA, Saparbaev MK, Fedorova OS (2011) Lys98 substitution in human AP endonuclease 1 affects the kinetic mechanism of enzyme action in base excision and nucleotide incision repair pathways. PLoS One 6:e24063. doi:10.1371/journal.pone.0024063

Trovato A, Seno F, Tosatto SC (2007) The PASTA server for protein aggregation prediction. Protein Eng Des Sel 20:521–523. doi:10.1093/protein/gzm042

Tsukamoto H, Farrens DL (2013) A constitutively activating mutation alters the dynamics and energetics of a key conformational change in a ligand-free G protein-coupled receptor. J Biol Chem 288:28207–28216. doi:10.1074/jbc.M113.472464

Tsumura M, Okada S, Sakai H, Yasunaga S, Ohtsubo M, Murata T, Obata H, Yasumi T, Kong XF, Abhyankar A, Heike T, Nakahata T, Nishikomori R, Al-Muhsen S, Boisson-Dupuis S, Casanova JL, Alzahrani M, Shehri MA, Elghazali G, Takihara Y, Kobayashi M (2012) Dominant-negative STAT1 SH2 domain mutations in unrelated patients with Mendelian susceptibility to mycobacterial disease. Hum Mutat 33:1377–1387. doi:10.1002/humu.22113

Tzarum N, Komornik N, Ben Chetrit D, Engelberg D, Livnah O (2013) DEF pocket in p38α facilitates substrate selectivity and mediates autophosphorylation. J Biol Chem 288:19537–19547. doi:10.1074/jbc.M113.464511

Vihinen M (1987) Relationship of protein flexibility to thermostability. Protein Eng 1:477–480

Vihinen M (2014a) Variation ontology for annotation of variation effects and mechanisms. Genome Res 24:356–364. doi:10.1101/gr.157495.113

Vihinen M (2014b) Variation ontology: annotator guide. J Biomed Semant 5:9. doi:10.1186/2041-1480-5-9

Vihinen M, Vetrie D, Maniar HS, Ochs HD, Zhu Q, Vorechovsky I, Webster AD, Notarangelo LD, Nilsson L, Sowadski JM et al (1994) Structural basis for chromosome X-linked agammaglobulinemia: a tyrosine kinase disease. Proc Natl Acad Sci USA 91:12803–12807

Vitkup D, Sander C, Church GM (2003) The amino-acid mutational spectrum of human genetic disease. Genome Biol 4:R72. doi:10.1186/gb-2003-4-11-r72

Vogt G, Chapgier A, Yang K, Chuzhanova N, Feinberg J, Fieschi C, Boisson-Dupuis S, Alcais A, Filipe-Santos O, Bustamante J, de Beaucoudrey L, Al-Mohsen I, Al-Hajjar S, Al-Ghonaium A, Adimi P, Mirsaeidi M, Khalilzadeh S, Rosenzweig S, de la Calle Martin O, Bauer TR, Puck JM, Ochs HD, Furthner D, Engelhorn C, Belohradsky B, Mansouri D, Holland SM, Schreiber RD, Abel L, Cooper DN, Soudais C, Casanova JL (2005) Gains of glycosylation comprise an unexpectedly large group of pathogenic mutations. Nat Genet 37:692–700. doi:10.1038/ng1581

Wang Z, Moult J (2001) SNPs, protein structure, and disease. Hum Mutat 17:263–270. doi:10.1002/humu.22

Weidemann W, Reinhardt A, Thate A, Horstkorte R (2011) Biochemical characterization of the M712T-mutation of the UDP-N-acetylglucosamine 2-epimerase/N-acetyl-mannosaminekinase in hereditary inclusion body myopathy. Neuromuscul Disord 21:824–831. doi:10.1016/j.nmd.2011.06.004

Wilson PG (2008) Centriole inheritance. Prion 2:9–16

Xu B, Hua QX, Nakagawa SH, Jia W, Chu YC, Katsoyannis PG, Weiss MA (2002) A cavity-forming mutation in insulin induces segmental unfolding of a surrounding α-helix. Protein Sci 11:104–116. doi:10.1110/ps.32102

Xu J, Wang S, Zhao WJ, Xi YB, Yan YB, Yao K (2012) The congenital cataract-linked A2V mutation impairs tetramer formation and promotes aggregation of βB2-crystallin. PLoS One 7:e51200. doi:10.1371/journal.pone.0051200

Yamada M, Sekiguchi K (2013) Disease-associated single amino acid mutation in the calf-1 domain of integrin α3 leads to defects in its processing and cell surface expression. Biochem Biophys Res Commun 441:988–993. doi:10.1016/j.bbrc.2013.11.003

Yates CM, Sternberg MJ (2013) The effects of non-synonymous single nucleotide polymorphisms (nsSNPs) on protein–protein interactions. J Mol Biol 425:3949–3963. doi:10.1016/j.jmb.2013.07.012

Yin S, Ding F, Dokholyan NV (2007) Eris: an automated estimator of protein stability. Nat Methods 4:466–467. doi:10.1038/nmeth0607-466

Yu ZH, Xu J, Walls CD, Chen L, Zhang S, Zhang R, Wu L, Wang L, Liu S, Zhang ZY (2013) Structural and mechanistic insights into LEOPARD syndrome-associated SHP2 mutations. J Biol Chem 288:10472–10482. doi:10.1074/jbc.M113.450023

Yuan D, Keeble AH, Hibbert RG, Fabiane S, Gould HJ, McDonnell JM, Beavil AJ, Sutton BJ, Dhaliwal B (2013) Ca2+-dependent structural changes in the B-cell receptor CD23 increase its affinity for human immunoglobulin E. J Biol Chem 288:21667–21677. doi:10.1074/jbc.M113.480657

Yue P, Li Z, Moult J (2005) Loss of protein structure stability as a major causative factor in monogenic disease. J Mol Biol 353:459–473. doi:10.1016/j.jmb.2005.08.020

Zhang Z, Miteva MA, Wang L, Alexov E (2012) Analyzing effects of naturally occurring missense mutations. Comput Math Methods Med 2012:805827. doi:10.1155/2012/805827

Zhu Q, Zhang M, Rawlings DJ, Vihinen M, Hagemann T, Saffran DC, Kwan SP, Nilsson L, Smith CI, Witte ON, Chen SH, Ochs HD (1994) Deletion within the Src homology domain 3 of Bruton's tyrosine kinase resulting in X-linked agammaglobulinemia (XLA). J Exp Med 180:461–470
About this article
Cite this article
Vihinen, M. Types and effects of protein variations. Hum Genet 134, 405–421 (2015). https://doi.org/10.1007/s00439-015-1529-6
Received:

Accepted:

Published:

Issue Date:
Keywords
Cystic Fibrosis Transmembrane Conductance Regulator

Protein Variation

Hereditary Spastic Paraplegia

Pleckstrin Homology Domain

Amino Acid Insertion