Abstract
Beckwith–Wiedemann syndrome (BWS), an overgrowth and tumor predisposition syndrome is clinically heterogeneous. Its variable presentation makes molecular diagnosis particularly important for appropriate counseling of patients with respect to embyronal tumor risk and recurrence risk. BWS is characterized by macrosomia, omphalocele, and macroglossia. Additional clinical features can include hemihyperplasia, embryonal tumors, umbilical hernia, and ear anomalies. BWS is etiologically heterogeneous arising from dysregulation of one or both of the chromosome 11p15.5 imprinting centers (IC) and/or imprinted growth regulatory genes on chromosome 11p15.5. Most BWS cases are sporadic and result from loss of maternal methylation at imprinting center 2 (IC2), gain of maternal methylation at imprinting center 1 (IC1) or paternal uniparental disomy (UPD). Heritable forms of BWS (15 %) have been attributed mainly to mutations in the growth suppressor gene CDKN1C, but have also infrequently been identified in patients with copy number variations (CNVs) in the chromosome 11p15.5 region. Four hundred and thirty-four unrelated BWS patients referred to the molecular diagnostic laboratory were tested by methylation-specific multiplex ligation-dependent probe amplification. Molecular alterations were detected in 167 patients, where 103 (62 %) showed loss of methylation at IC2, 23 (14 %) had gain of methylation at IC1, and 41 (25 %) showed changes at both ICs usually associated with paternal UPD. In each of the three groups, we identified patients in whom the abnormalities in the chromosome 11p15.5 region were due to CNVs. Surprisingly, 14 patients (9 %) demonstrated either deletions or duplications of the BWS critical region that were confirmed using comparative genomic hybridization array analysis. The majority of these CNVs were associated with a methylation change at IC1. Our results suggest that CNVs in the 11p15.5 region contribute significantly to the etiology of BWS. We highlight the importance of performing deletion/duplication testing in addition to methylation analysis in the molecular investigation of BWS to improve our understanding of the molecular basis of this disorder, and to provide accurate genetic counseling.
Access options
Buy single article
Instant access to the full article PDF.
US$ 39.95
Tax calculation will be finalised during checkout.
Subscribe to journal
Immediate online access to all issues from 2019. Subscription will auto renew annually.
US$ 119
Tax calculation will be finalised during checkout.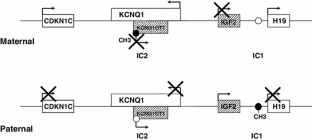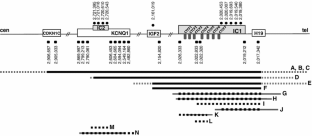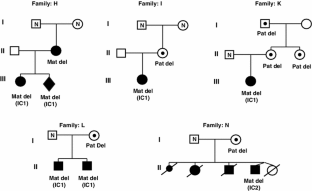 References
Algar EM, St Heaps L, Darmanian A, Dagar V, Prawitt D, Peters GB, Collins F (2007) Paternally inherited submicroscopic duplication at 11p15.5 implicates insulin-like growth factor II in overgrowth and Wilms' tumorigenesis. Cancer Res 67:2360–2365

Algar E, Dagar V, Sebaj M, Pachter N (2011) An 11p15 imprinting centre region 2 deletion in a family with Beckwith Wiedemann syndrome provides insights into imprinting control at CDKN1C. PLoS One 6:e29034

Bliek J, Snijder S, Maas SM, Polstra A, van der Lip K, Alders M, Knegt AC, Mannens MM (2009) Phenotypic discordance upon paternal or maternal transmission of duplications of the 11p15 imprinted regions. Eur J Med Genet 52:404–408

Cardarelli L, Sparago A, De Crescenzo A, Nalesso E, Zavan B, Cubellis MV, Selicorni A, Cavicchioli P, Pozzan GB, Petrella M, Riccio A (2010) Silver–Russell syndrome and Beckwith–Wiedemann syndrome phenotypes associated with 11p duplication in a single family. Pediatr Dev Pathol 13:326–330

Cerrato F, Sparago A, Verde G, De Crescenzo A, Citro V, Cubellis MV, Rinaldi MM, Boccuto L, Neri G, Magnani C, D'Angelo P, Collini P, Perotti D, Sebastio G, Maher ER, Riccio A (2008) Different mechanisms cause imprinting defects at the IGF2/H19 locus in Beckwith–Wiedemann syndrome and Wilms' tumour. Hum Mol Genet 17:1427–1435

Chiesa N, De Crescenzo A, Mishra K, Perone L, Carella M, Palumbo O, Mussa A, Sparago A, Cerrato F, Russo S, Lapi E, Cubellis MV, Kanduri C, Cirillo Silengo M, Riccio A, Ferrero GB (2012) The KCNQ1OT1 imprinting control region and non-coding RNA: new properties derived from the study of Beckwith–Wiedemann syndrome and Silver-Russell syndrome cases. Hum Mol Genet 21:10–25

Cooper WN, Luharia A, Evans GA, Raza H, Haire AC, Grundy R, Bowdin SC, Riccio A, Sebastio G, Bliek J, Schofield PN, Reik W, Macdonald F, Maher ER (2005) Molecular subtypes and phenotypic expression of Beckwith–Wiedemann syndrome. Eur J Hum Genet 13:1025–1032

De Crescenzo A, Coppola F, Falco P, Bernardo I, Ausanio G, Cerrato F, Falco L, Riccio A (2011) A novel microdeletion in the IGF2/H19 imprinting centre region defines a recurrent mutation mechanism in familial Beckwith–Wiedemann syndrome. Eur J Med Genet 54:e451–e454

Delaval K, Wagschal A, Feil R (2006) Epigenetic deregulation of imprinting in congenital diseases of aberrant growth. Bioessays 28:453–459

Demars J, Shmela ME, Rossignol S, Okabe J, Netchine I, Azzi S, Cabrol S, Le Caignec C, David A, Le Bouc Y, El-Osta A, Gicquel C (2010) Analysis of the IGF2/H19 imprinting control region uncovers new genetic defects, including mutations of OCT-binding sequences, in patients with 11p15 fetal growth disorders. Hum Mol Genet 19:803–814

Demars J, Rossignol S, Netchine I, Lee KS, Shmela M, Faivre L, Weill J, Odent S, Azzi S, Callier P, Lucas J, Dubourg C, Andrieux J, Le Bouc Y, El-Osta A, Gicquel C (2011) New insights into the pathogenesis of Beckwith–Wiedemann and Silver–Russell syndromes: contribution of small copy number variations to 11p15 imprinting defects. Hum Mutat 32:1171–1182

Enklaar T, Zabel BU, Prawitt D (2006) Beckwith–Wiedemann syndrome: multiple molecular mechanisms. Expert Rev Mol Med 8:1–19

Li M, Squire J, Shuman C, Fei YL, Atkin J, Pauli R, Smith A, Nishikawa J, Chitayat D, Weksberg R (2001) Imprinting status of 11p15 genes in Beckwith–Wiedemann syndrome patients with CDKN1C mutations. Genomics 74:370–376

Niemitz EL, DeBaun MR, Fallon J, Murakami K, Kugoh H, Oshimura M, Feinberg AP (2004) Microdeletion of LIT1 in familial Beckwith–Wiedemann syndrome. Am J Hum Genet 75:844–849

Poole RL, Leith DJ, Docherty LE, Shmela ME, Gicquel C, Splitt M, Temple IK, Mackay DJ (2012) Beckwith–Wiedemann syndrome caused by maternally inherited mutation of an OCT-binding motif in the IGF2/H19-imprinting control region, ICR1. Eur J Hum Genet 20:240–243

Prawitt D, Enklaar T, Gartner-Rupprecht B, Spangenberg C, Lausch E, Reutzel D, Fees S, Korzon M, Brozek I, Limon J, Housman DE, Pelletier J, Zabel B (2005) Microdeletion and IGF2 loss of imprinting in a cascade causing Beckwith–Wiedemann syndrome with Wilms' tumor. Nat Genet 37:785–786

Priolo M, Sparago A, Mammi C, Cerrato F, Lagana C, Riccio A (2008) MS-MLPA is a specific and sensitive technique for detecting all chromosome 11p15.5 imprinting defects of BWS and SRS in a single-tube experiment. Eur J Hum Genet 16:565–571

Reik W, Walter J (2001) Genomic imprinting: parental influence on the genome. Nat Rev Genet 2:21–32

Russo S, Finelli P, Recalcati MP, Ferraiuolo S, Cogliati F, Dalla Bernardina B, Tibiletti MG, Agosti M, Sala M, Bonati MT, Larizza L (2006) Molecular and genomic characterisation of cryptic chromosomal alterations leading to paternal duplication of the 11p15.5 Beckwith–Wiedemann region. J Med Genet 43:e39

Scott RH, Douglas J, Baskcomb L, Nygren AO, Birch JM, Cole TR, Cormier-Daire V, Eastwood DM, Garcia-Minaur S, Lupunzina P, Tatton-Brown K, Bliek J, Maher ER, Rahman N (2008) Methylation-specific multiplex ligation-dependent probe amplification (MS-MLPA) robustly detects and distinguishes 11p15 abnormalities associated with overgrowth and growth retardation. J Med Genet 45:106–113

Smith AC, Shuman C, Chitayat D, Steele L, Ray PN, Bourgeois J, Weksberg R (2007) Severe presentation of Beckwith–Wiedemann syndrome associated with high levels of constitutional paternal uniparental disomy for chromosome 11p15. Am J Med Genet A 143A:3010–3015

Sparago A, Cerrato F, Vernucci M, Ferrero GB, Silengo MC, Riccio A (2004) Microdeletions in the human H19 DMR result in loss of IGF2 imprinting and Beckwith–Wiedemann syndrome. Nat Genet 36:958–960

Sparago A, Russo S, Cerrato F, Ferraiuolo S, Castorina P, Selicorni A, Schwienbacher C, Negrini M, Ferrero GB, Silengo MC, Anichini C, Larizza L, Riccio A (2007) Mechanisms causing imprinting defects in familial Beckwith–Wiedemann syndrome with Wilms' tumour. Hum Mol Genet 16:254–264

Weksberg R, Shuman C, Smith AC (2005) Beckwith–Wiedemann syndrome. Am J Med Genet C Semin Med Genet 137C:12–23

Weksberg R, Shuman C, Beckwith JB (2009) Beckwith–Wiedemann syndrome. Eur J Hum Genet 18:8–14

Zollino M, Orteschi D, Marangi G, De Crescenzo A, Pecile V, Riccio A, Neri G (2010) A case of Beckwith–Wiedemann syndrome caused by a cryptic 11p15 deletion encompassing the centromeric imprinted domain of the BWS locus. J Med Genet 47:429–432
About this article
Cite this article
Baskin, B., Choufani, S., Chen, Ya. et al. High frequency of copy number variations (CNVs) in the chromosome 11p15 region in patients with Beckwith–Wiedemann syndrome. Hum Genet 133, 321–330 (2014). https://doi.org/10.1007/s00439-013-1379-z
Received:

Accepted:

Published:

Issue Date:
Keywords
Chromosome 11p15

Genomic Alteration

Methylation Alteration

CTCF Binding Site

Comparative Genomic Hybridization Array Analysis