Abstract
Modern day Latin America resulted from the encounter of Europeans with the indigenous peoples of the Americas in 1492, followed by waves of migration from Europe and Africa. As a result, the genomic structure of present day Latin Americans was determined both by the genetic structure of the founding populations and the numbers of migrants from these different populations. Here, we analyzed DNA collected from two well-established communities in Colorado (33 unrelated individuals) and Ecuador (20 unrelated individuals) with a measurable prevalence of the BRCA1 c.185delAG and the GHR c.E180 mutations, respectively, using Affymetrix Genome-wide Human SNP 6.0 arrays to identify their ancestry. These mutations are thought to have been brought to these communities by Sephardic Jewish progenitors. Principal component analysis and clustering methods were employed to determine the genome-wide patterns of continental ancestry within both populations using single nucleotide polymorphisms, complemented by determination of Y-chromosomal and mitochondrial DNA haplotypes. When examining the presumed European component of these two communities, we demonstrate enrichment for Sephardic Jewish ancestry not only for these mutations, but also for other segments as well. Although comparison of both groups to a reference Hispanic/Latino population of Mexicans demonstrated proximity and similarity to other modern day communities derived from a European and Native American two-way admixture, identity-by-descent and Y-chromosome mapping demonstrated signatures of Sephardim in both communities. These findings are consistent with historical accounts of Jewish migration from the realms that comprise modern Spain and Portugal during the Age of Discovery. More importantly, they provide a rationale for the occurrence of mutations typically associated with the Jewish Diaspora in Latin American communities.
This is a preview of subscription content, log in to check access.
Access options
Buy single article
Instant access to the full article PDF.
US$ 39.95
Price includes VAT for USA
Subscribe to journal
Immediate online access to all issues from 2019. Subscription will auto renew annually.
US$ 199
This is the net price. Taxes to be calculated in checkout.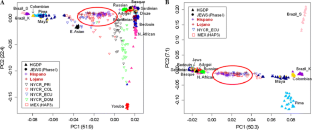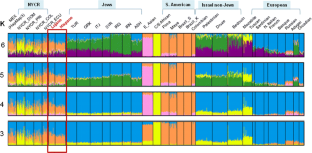 References
Adams SM, Bosch E, Balaresque PL, Ballereau SJ, Lee AC, Arroyo E, Lopez-Parra AM, Aler M, Grifo MS, Brion M, Carracedo A, Lavinha J, Martinez-Jarreta B, Quintana-Murci L, Picornell A, Ramon M, Skorecki K, Behar DM, Calafell F, Jobling MA (2008) The genetic legacy of religious diversity and intolerance: paternal lineages of Christians, Jews, and Muslims in the Iberian Peninsula. Am J Hum Genet 83:725–736

Ah Mew N, Hamel N, Galvez M, Al-Saffar M, Foulkes WD (2002) Haplotype analysis of a BRCA1: 185delAG mutation in a Chilean family supports its Ashkenazi origins. Clin Genet 62:151–156

Alberro S (2001) Crypto-Jews and the Mexican Holy Office in the Seventeenth Century. In: Bernardini P, Fiering N (eds) The Jews and the expansion of Europe to the West 1450–1800. Berghahn, New York

Altshuler DM, Gibbs RA, Peltonen L, Dermitzakis E, Schaffner SF, Yu F, Bonnen PE, de Bakker PI, Deloukas P, Gabriel SB, Gwilliam R, Hunt S, Inouye M, Jia X, Palotie A, Parkin M, Whittaker P, Chang K, Hawes A, Lewis LR, Ren Y, Wheeler D, Muzny DM, Barnes C, Darvishi K, Hurles M, Korn JM, Kristiansson K, Lee C, McCarrol SA, Nemesh J, Keinan A, Montgomery SB, Pollack S, Price AL, Soranzo N, Gonzaga-Jauregui C, Anttila V, Brodeur W, Daly MJ, Leslie S, McVean G, Moutsianas L, Nguyen H, Zhang Q, Ghori MJ, McGinnis R, McLaren W, Takeuchi F, Grossman SR, Shlyakhter I, Hostetter EB, Sabeti PC, Adebamowo CA, Foster MW, Gordon DR, Licinio J, Manca MC, Marshall PA, Matsuda I, Ngare D, Wang VO, Reddy D, Rotimi CN, Royal CD, Sharp RR, Zeng C, Brooks LD, McEwen JE (2010) Integrating common and rare genetic variation in diverse human populations. Nature 467:52–58

Atzmon G, Hao L, Pe'er I, Velez C, Pearlman A, Palamara PF, Morrow B, Friedman E, Oddoux C, Burns E, Ostrer H (2010) Abraham's children in the genome era: major Jewish diaspora populations comprise distinct genetic clusters with shared Middle Eastern ancestry. Am J Hum Genet 86:850–859

Barrett JC, Fry B, Maller J, Daly MJ (2005) Haploview: analysis and visualization of LD and haplotype maps. Bioinformatics 21:263–265

Bar-Sade RB, Kruglikova A, Modan B, Gak E, Hirsh-Yechezkel G, Theodor L, Novikov I, Gershoni-Baruch R, Risel S, Papa MZ, Ben-Baruch G, Friedman E (1998) The 185delAG BRCA1 mutation originated before the dispersion of Jews in the diaspora and is not limited to Ashkenazim. Hum Mol Genet 7:801–805

Behar DM, Hammer MF, Garrigan D, Villems R, Bonne-Tamir B, Richards M, Gurwitz D, Rosengarten D, Kaplan M, Della Pergola S, Quintana-Murci L, Skorecki K (2004) MtDNA evidence for a genetic bottleneck in the early history of the Ashkenazi Jewish population. Eur J Hum Genet 12:355–364

Bonnen PE, Lowe JK, Altshuler DM, Breslow JL, Stoffel M, Friedman JM, Pe'er I (2010) European admixture on the Micronesian island of Kosrae: lessons from complete genetic information. Eur J Hum Genet 18:309–316

Bordenave K, Griffith J, Hordes SM, Williams TM, Padilla RS (2001) The historical and geomedical immunogenetics of pemphigus among the descendants of Sephardic Jews in New Mexico. Arch Dermatol 137:825–826

Browning SR, Browning BL (2007) Rapid and accurate haplotype phasing and missing-data inference for whole-genome association studies by use of localized haplotype clustering. Am J Hum Genet 81:1084–1097

Bryc K, Velez C, Karafet T, Moreno-Estrada A, Reynolds A, Auton A, Hammer M, Bustamante CD, Ostrer H (2010) Colloquium paper: genome-wide patterns of population structure and admixture among Hispanic/Latino populations. Proc Natl Acad Sci USA 107(Suppl 2):8954–8961

Ellis NA, Ciocci S, Proytcheva M, Lennon D, Groden J, German J (1998) The Ashkenazic Jewish Bloom syndrome mutation blmAsh is present in non-Jewish Americans of Spanish ancestry. Am J Hum Genet 63:1685–1693

Fang P, Girgis R, Little BM, Pratt KL, Guevara-Aguirre J, Hwa V, Rosenfeld RG (2008) Growth hormone (GH) insensitivity and insulin-like growth factor-I deficiency in Inuit subjects and an Ecuadorian cohort: functional studies of two codon 180 GH receptor gene mutations. J Clin Endocrinol Metab 93:1030–1037

Friedman LS, Szabo CI, Ostermeyer EA, Dowd P, Butler L, Park T, Lee MK, Goode EL, Rowell SE, King MC (1995) Novel inherited mutations and variable expressivity of BRCA1 alleles, including the founder mutation 185delAG in Ashkenazi Jewish families. Am J Hum Genet 57:1284–1297

German J, Bloom D, Passarge E, Fried K, Goodman RM, Katzenellenbogen I, Laron Z, Legum C, Levin S, Wahrman J (1977) Bloom's syndrome. VI. The disorder in Israel and an estimation of the gene frequency in the Ashkenazim. Am J Hum Genet 29:553–562

Goncalves R, Freitas A, Branco M, Rosa A, Fernandes AT, Zhivotovsky LA, Underhill PA, Kivisild T, Brehm A (2005) Y-chromosome lineages from Portugal, Madeira and Acores record elements of Sephardim and Berber ancestry. Ann Hum Genet 69:443–454

Gusev A, Lowe JK, Stoffel M, Daly MJ, Altshuler D, Breslow JL, Friedman JM, Pe'er I (2009) Whole population, genome-wide mapping of hidden relatedness. Genome Res 19:318–326

Hordes SM (2005) To the End of the Earth a History of the Crypto-Jews of New Mexico. Columbia University Press, New York

International HapMap Consortium (2003) The International HapMap Project. Nature 426:789–796

Jakobsson M, Rosenberg NA (2007) CLUMPP: a cluster matching and permutation program for dealing with label switching and multimodality in analysis of population structure. Bioinformatics 23:1801–1806

John EM, Miron A, Gong G, Phipps AI, Felberg A, Li FP, West DW, Whittemore AS (2007) Prevalence of pathogenic BRCA1 mutation carriers in 5 US racial/ethnic groups. JAMA 298:2869–2876

Karafet TM, Hallmark B, Cox MP, Sudoyo H, Downey S, Lansing JS, Hammer MF (2010) Major east-west division underlies Y chromosome stratification across Indonesia. Mol Biol Evol 27:1833–1844

Laron Z, Pertzelan A, Mannheimer S (1966) Genetic pituitary dwarfism with high serum concentration of growth hormone—a new inborn error of metabolism? Isr J Med Sci 2:152–155

Li JZ, Absher DM, Tang H, Southwick AM, Casto AM, Ramachandran S, Cann HM, Barsh GS, Feldman M, Cavalli-Sforza LL, Myers RM (2008) Worldwide human relationships inferred from genome-wide patterns of variation. Science 319:1100–1104

Makriyianni I, Hamel N, Ward S, Foulkes WD, Graw S (2005) BRCA1:185delAG found in the San Luis Valley probably originated in a Jewish founder. J Med Genet 42:e27

Mullineaux LG, Castellano TM, Shaw J, Axell L, Wood ME, Diab S, Klein C, Sitarik M, Deffenbaugh AM, Graw SL (2003) Identification of germline 185delAG BRCA1 mutations in non-Jewish Americans of Spanish ancestry from the San Luis Valley, Colorado. Cancer 98:597–602

Nelson MR, Bryc K, King KS, Indap A, Boyko AR, Novembre J, Briley LP, Maruyama Y, Waterworth DM, Waeber G, Vollenweider P, Oksenberg JR, Hauser SL, Stirnadel HA, Kooner JS, Chambers JC, Jones B, Mooser V, Bustamante CD, Roses AD, Burns DK, Ehm MG, Lai EH (2008) The Population Reference Sample, POPRES: a resource for population, disease, and pharmacological genetics research. Am J Hum Genet 83:347–358

Oddoux C, Struewing JP, Clayton CM, Neuhausen S, Brody LC, Kaback M, Haas B, Norton L, Borgen P, Jhanwar S, Goldgar D, Ostrer H, Offit K (1996) The carrier frequency of the BRCA2 6174delT mutation among Ashkenazi Jewish individuals is approximately 1%. Nat Genet 14:188–190

Oddoux C, Clayton CM, Nelson HR, Ostrer H (1999) Prevalence of Bloom syndrome heterozygotes among Ashkenazi Jews. Am J Hum Genet 64:1241–1243

Ordóñez-Chiriboga R (2005) La Herencia Serfardita en la Provincia de Loja. Casa de la Cultura Ecuatoriana "Benjamín Carrión", Quito

Ostrer H (2001) A genetic profile of contemporary Jewish populations. Nat Rev Genet 2:891–898

Pacheco PR, Branco CC, Cabral R, Costa S, Araujo AL, Peixoto BR, Mendonca P, Mota-Vieira L (2005) The Y-chromosomal heritage of the Azores Islands population. Ann Hum Genet 69:145–156

Patterson N, Hattangadi N, Lane B, Lohmueller KE, Hafler DA, Oksenberg JR, Hauser SL, Smith MW, O'Brien SJ, Altshuler D, Daly MJ, Reich D (2004) Methods for high-density admixture mapping of disease genes. Am J Hum Genet 74:979–1000

Patterson N, Price AL, Reich D (2006) Population structure and eigenanalysis. PLoS Genet 2:e190

Prinz J (1973) The secret Jews. Random House, New York

Pritchard JK, Stephens M, Donnelly P (2000) Inference of population structure using multilocus genotype data. Genetics 155:945–959

Purcell S, Neale B, Todd-Brown K, Thomas L, Ferreira MA, Bender D, Maller J, Sklar P, de Bakker PI, Daly MJ, Sham PC (2007) PLINK: a tool set for whole-genome association and population-based linkage analyses. Am J Hum Genet 81:559–575

Redd AJ, Agellon AB, Kearney VA, Contreras VA, Karafet T, Park H, de Knijff P, Butler JM, Hammer MF (2002) Forensic value of 14 novel STRs on the human Y chromosome. Forensic Sci Int 130:97–111

Rosenberg NA (2004) DISTRUCT: a program for the graphical display of population structure. Mol Ecol Notes 4:137–138

Rosenbloom AL, Guevara-Aguirre J (2008) Growth hormone receptor deficiency in South America: colonial history, molecular biology, and growth and metabolic insights. J Pediatr Endocrinol Metab 21:1107–1109

Rowland R (2001) New Christian, Marrano, Jew. In: Bernardini P, Fiering N (eds) The Jews and the expansion of Europe to the West 1450–1800. Berghahn Books, New York

Simard J, Tonin P, Durocher F, Morgan K, Rommens J, Gingras S, Samson C, Leblanc JF, Belanger C, Dion F et al (1994) Common origins of BRCA1 mutations in Canadian breast and ovarian cancer families. Nat Genet 8:392–398

Struewing JP, Abeliovich D, Peretz T, Avishai N, Kaback MM, Collins FS, Brody LC (1995) The carrier frequency of the BRCA1 185delAG mutation is approximately 1 percent in Ashkenazi Jewish individuals. Nat Genet 11:198–200

Sutton WK, Knight A, Underhill PA, Neulander JS, Disotell TR, Mountain JL (2006) Toward resolution of the debate regarding purported crypto-Jews in a Spanish-American population: evidence from the Y chromosome. Ann Hum Biol 33:100–111

Uchmany EA (2001) The participation of new Christians and Crypto-Jews in the conquest, colonization, and trade in Spanish America, 1521–1660. In: Bernardini P, Fiering N (eds) The Jews and the expansion of Europe to the West 1450–1800. Berghahn, New York

Wright S (1931) Evolution in Mendelian Populations. Genetics 16:97–159
Acknowledgments
This project was supported in part by a grant from the Lewis and Rachel Rudin Foundation. The authors thank Peter Feldman and Jeff Wheelwright for their advice and guidance.
Additional information
C. Velez, P. F. Palamara, and J. Guevara-Aguirre contributed equally to the work.
Electronic supplementary material
Below is the link to the electronic supplementary material.
About this article
Cite this article
Velez, C., Palamara, P.F., Guevara-Aguirre, J. et al. The impact of Converso Jews on the genomes of modern Latin Americans. Hum Genet 131, 251–263 (2012). https://doi.org/10.1007/s00439-011-1072-z
Received:

Accepted:

Published:

Issue Date:
Keywords
Jewish Community

Bloom Syndrome

Latin American Population

Jewish Ancestry

TaqMan Allelic Discrimination Assay