Abstract
The DNA ancestry testing industry is more than a decade old, yet details about it remain a mystery: there remain no reliable, empirical data on the number, motivations, and attitudes of customers to date, the number of products available and their characteristics, or the industry customs and standard practices that have emerged in the absence of specific governmental regulations. Here, we provide preliminary data collected in 2009 through indirect and direct participant observation, namely blog post analysis, generalized survey analysis, and targeted survey analysis. The attitudes include the first available data on attitudes of those of individuals who have and have not had their own DNA ancestry tested as well as individuals who are members of DNA ancestry-related social networking groups. In a new and fluid landscape, the results highlight the need for empirical data to guide policy discussions and should be interpreted collectively as an invitation for additional investigation of (1) the opinions of individuals purchasing these tests, individuals obtaining these tests through research participation, and individuals not obtaining these tests; (2) the psychosocial and behavioral reactions of individuals obtaining their DNA ancestry information with attention given both to expectations prior to testing and the sociotechnical architecture of the test used; and (3) the applications of DNA ancestry information in varying contexts.
Access options
Buy single article
Instant access to the full article PDF.
US$ 39.95
Tax calculation will be finalised during checkout.
Subscribe to journal
Immediate online access to all issues from 2019. Subscription will auto renew annually.
US$ 119
Tax calculation will be finalised during checkout.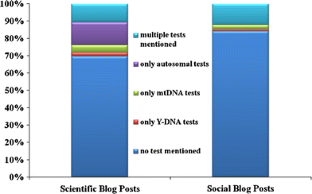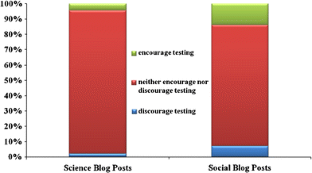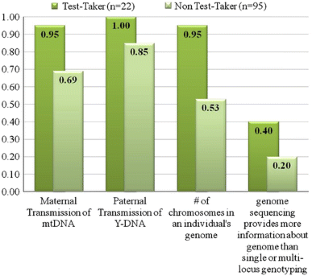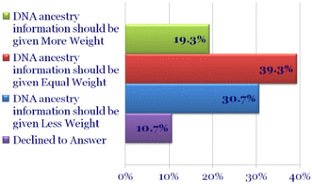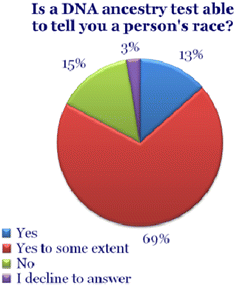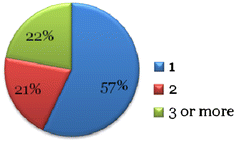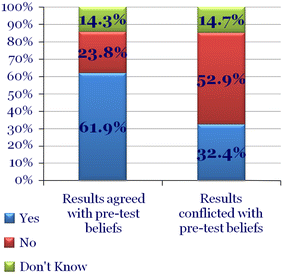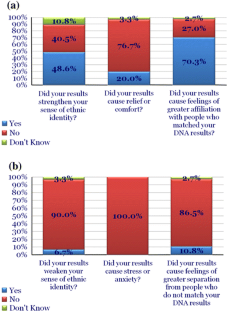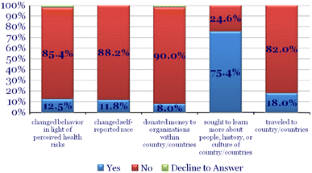 Notes
1.

An update to the table of companies selling DNA ancestry tests provided in Royal et al. (2010) is forthcoming (Wagner et al. in review). As of April 20, 2011, there were 35 companies identified as actively selling DTC DNA ancestry tests.

2.

Research of attitudes about an emerging (or even ephemeral) industry is by its very nature exploratory. Application of formal statistics to data from surveys on the attitudes and opinions people have of this industry would be premature and misleading, as it would give the impression that opinions are established, stable, and known with greater certainty than is possible with the convenient samples available at this juncture. Nevertheless, this preliminary research is useful in informing future analyses and discussions.

3.

Emic is a standard term in ethnology that refers to attitudes expressed by the research participants while etic refers to their actual actions as observed by the researcher.

4.

The passion chamber has been described as passage of information because you like it, want to share it (not ulterior motive of fame or fortune) and echo chamber as merely talking to each other, not persuading anyone (words that "spread" v. words that "bounce back at you"). The off-cited example of the echo effect is the Howard Dean 2004 campaign. Additionally, search results based on relevance may be personalized by the search engine based on previous behavior of the user, regardless of whether the user is logged-in or not (See http://www.google.com/support/accounts/bin/answer.py?answer=54041).

5.

Surveying "public" opinions requires a careful consideration of what constitutes "public" as there are multiple "publics." See, e.g. Condit 2001.

6.

The non-participation rate is difficult to calculate since there is no way of knowing whether members logged into their Facebook accounts and viewed the group's Facebook wall while the invitation to participate was posted, Calculating the non-participation rate via dividing total members of the groups by the total number that responded would, it is speculated, significantly over-estimate the non-participation rate. Future research might increase participation and facilitate a calculable non-participation rate if personal messages were used for recruitment rather than general posts on the Facebook walls.

7.

The terms consumer and customer have distinct legal meanings. Consumer is a narrower term than customer. Consumers are those who are not only purchasers but also end-users, as opposed to customer which would include individuals who are not end-users (e.g. individuals or entities who purchase the tests for third-parties).
References
Baylis F (2003) Black as me: narrative identity. Dev World Bioeth 3:142–150

Beckenhauer E (2003) Can genetic testing provide biological proof of Indian ethnicity? Stanford Law Rev 56(1):161

Bolnick DA, Fullwiley D, Duster T, Cooper RS, Fujimura JH, Kahn J, Kaufman JS, Marks J, Morning A, Nelson A, Ossorio P, Reardon J, Reverby SM, TallBear K (2007) Genetics. The science and business of genetic ancestry testing. Science 318(5849):399–400

Borges K (2010) International Society of Genetic Genealogy. Session 3, July 20, 2010

Bumiller K (2009) The geneticization of autism: from new reproductive technologies to the conception of genetic normalcy. Signs J Women Cult Soc 34(4):875–899

Condit C (2001) What is 'public opinion' about genetics? Nat Rev Genet 2(10):811–815

Condit CM, Parrott RL, Harris TM, Lynch J, Dubriwny T (2004) The role of "genetics" in popular understandings of race in the United States. Public Underst Sci 13(3):249–272

Dickinson B (2008) How much can you learn from a home DNA test. Discover. http://discovermagazine.com/2008/sep/20-how-much-can-you-learn-from-a-home-dnatest

Duster T (2009) Ancestry testing and DNA: uses, limits—and caveat emptor. Gene Watch 22(3–4):16–17

Elliott C, Brodwin P (2002) Identity and genetic ancestry tracing. BMJ 325(7378):1469–1471

Franklin S, McKinnon S (2001) Relative values: reconfiguring kinship studies. Duke University Press, Durham

Frudakis T (2008) The legitimacy of genetic ancestry tests. Science 319(5866):1039–1040

Fullwiley D (2008a) The biologistical construction of race: 'admixture' technology and the new genetic medicine. Soc Stud Sci 38(5):695–735

Fullwiley D (2008b) Can DNA 'witness' race?: forensic uses of an imperfect ancestry testing technology. Gene Watch 21(3–4):12–14

Genealogy by Genetics, Ltd (2010) Family Tree DNA. http://www.familytreedna.com/

Greely HT (2008) Genetic genealogy: genetics meets the marketplace. In: Koenig BA, Lee SS-J, Richardson SS (eds) Revisiting race in a genomic age. Rutgers University Press, New Brunswick

Harmon A (2006a) Seeking ancestry in DNA ties uncovered by tests. New York Times, 4/12/2006. Available at http://www.nytimes.com/2006/04/12/US/12genes.html. Last accessed 1/21/2010

Harmon A (2006b) Who's Your Great–Great–Great–Great-Granddaddy? New York Times, 6/11/2006. Available at http://www.nytimes.com/2006/06/11/weekinreview/11harmon.html?_r=1&pagewanted=print. Last accessed 1/21/2010

Harmon A (2007) Stalking strangers' DNA to fill in the Family Tree. New York Times, 4/2/2007. Available at http://www.nytimes.com/2007/04/02/US/02dna.html?ref=science&pagewanted=print. Last accessed 1/21/2010

Hart A (2010) Should you test your DNA for ancestry? How to interpret the tests—Part 1. All Voices (2/14/2010). Available at http://www.allvoices.com/contributed-news/5227706-should-you-test-your-dna-for-ancestry-how-to-interpret-the-tests-part-1 (attributing the coinage of the phrase to Family Tree DNA). Last accessed 3/24/10

Johnston J (2003) Resisting a genetic identity: the black Seminoles and genetic tests of ancestry. J Law Med Ethics 31(2):262–271

Jonassaint CR, Santos ER, Glover CM, Payne PW, Fasaye G-A, Oji-Njideka N, Hooker S, Hernandez W, Foster M, Kittles RA, Royal CD (2010) Regional differences in awareness and attitudes regarding genetic testing for disease and ancestry. Hum Genet (E-pub ahead of print)

Kaplan E (2003) Black Like I thought I was. In LA Weekly. http://www.laweekly.com/2003-10-09/calendar/black-like-i-thought-i-was

Khomenko A (2011) "How many paying customers does 23 and Me have?" at http://www.quora.com/How-many-paying-customers-does-23andMe-have. Last accessed 3/4/2011

Khoury MJ, McBride CM, Schully SD, Ioannidis JP, Feero WG, Janssens AC, Gwinn M, Simons-Morton DG, Bernhardt JM, Cargill M, Chanock SJ, Church GM, Coates RJ, Collins FS, Croyle RT, Davis BR, Downing GJ, Duross A, Friedman S, Gail MH, Ginsburg GS, Green RC, Greene MH, Greenland P, Gulcher JR, Hsu A, Hudson KL, Kardia SL, Kimmel PL, Lauer MS, Miller AM, Offit K, Ransohoff DF, Roberts JS, Rasooly RS, Stefansson K, Terry SF, Teutsch SM, Trepanier A, Wanke KL, Witte JS, Xu J (2009) The Scientific Foundation for personal genomics: recommendations from a National Institutes of Health-Centers for Disease Control and Prevention multidisciplinary workshop. Genet Med 11(8):559–567

Koerner B (2005) Blood Feud. Wired. http://www.wired.com/wired/archive/13.09/seminoles.html&gt

Lane M (2005). Extreme Genealogy. BBC News Magazine. (6/3/2005). Available at http://news.bbc.co.uk/go/pr/fr/-/2/hi/uk_news/magazine/4559253.stm. Last accessed 2/23/2010

Lee SS-J (2007). Sequencing human history: the genetic and commerce of personal ancestry. Paper read at Genetics and Public Policy Center's Genetics Perspectives on Policy Seminar, at http://www.dnapolicy.org/news.enews.article.nocategory.php?action=detail&newsletter_id=20&article_id=75. Last accessed 3/25/10

Lee SS-J, Bolnick DA, Duster T, Ossorio P, TallBear K (2009) The illusive gold standard in genetic ancestry testing. Science 325(5936):38–39

McGuire AL, Diaz CM, Wang T, Hilsenbeck SG (2009) Social networkers' attitudes toward direct-to-consumer personal genome testing. Am J Bioeth 9(6–7):3–10

Nelson A (2008) Bio science: genetic genealogy testing and the pursuit of African ancestry. Soc Stud Sci 38(5):759–783

Nordgren A, Juengst E (2009) Can genomics tell me who I am? Essentialist rhetoric in direct-toconsumer DNA testing. New Genetics Soc 28(2):157–172

Obasogie O (2009) It's all fun and games until someone fails a DNA ancestry test. Biopolitical Times (9/30/2009). Available at http://www.biopoliticaltimes.org/article.php?id=4937. Last accessed 2/23/2010

Opening Bell (2002) The Bradenton Herald, 1B, 20 Sept 2002

Parrott RL, Silk KJ, Dillow MR, Krieger JL, Harris TM, Condit CM (2005) Development and validation of tools to assess genetic discrimination and genetically based racism. J Natl Med Assoc 97(7):980–990

Parthasarathy S (2010) Assessing the social impact of direct-to-consumer genetic testing: understanding sociotechnical architectures. Genet Med 12(9):544–547

Payne P (2007) Genetic ancestry critique needs evidentiary support. Science e-Letter

Rotimi CN (2003) Genetic ancestry tracing and the African identity: a double-edged sword? Dev World Bioeth 3(2):151–158

Royal CD, Novembre J, Fullerton SM, Goldstein DB, Long JC, Bamshad MJ, Clark AG (2010) Inferring genetic ancestry: opportunities, challenges, and implications. Am J Hum Genet 86 (5):661–673

Sarata AK (2008) Genetic ancestry testing: CRS report for Congress. http://www.policyarchive.org/bitstream/handle/10207/1886/RS22830_20080312.pdf. Last accessed 1/21/2010

Scheinin R (2011) Mapping humanity's past. Inside Bay Area. http://www.insidebayarea.com/top-stories/ci_17482805. Last accessed 3/4/2011

Scoble R, Israel S (2006) Naked conversations: how blogs are changing the way businesses talk with customers. John Wiley, Hoboken

Shriver MD, Kittles RA (2004) Genetic ancestry and the search for personalized genetic histories. Nat Rev Genet 5(8):611–618

Silverman C (2008) Brains, pedigrees, and promises. In: Gibbon S, Novas C (eds) Biosocialities, genetics, and the social sciences: making biologies and identities. Routledge, NY, pp 38–55

Smolenyak M (2006) Honoring our ancestors: is genetic genealogy being oversold? http://blogs.ancestry.com/circle/?p=384. Last accessed 1/21/2010

Strathern M (2005) Kinship, law and the unexpected: relatives are always a surprise. Cambridge University Press, NY

Tallbear K (2003) DNA, blood, and racializing the tribe. Wicazo SA Rev 18(1):81–107

TallBear K (2007) Narratives of race and indigeneity in the Genographic Project. J Law Med Ethics 35(3):412–424

The American Society of Human Genetics (2008) Ancestry testing statement. http://www.ashg.org/pdf/ASHGAncestryTestingStatement_FINAL.pdf

Travis J (2009) Scientists decry 'flawed' and 'horrifying nationality tests. Science Insider (9/29/2009). (citing Mark Thomas of University College London as calling the tests "little better than genetic astrology"). Available at http://blogs.sciencemag.org/scienceinsider/2009/09/border-agencys.html. Last accessed 1/21/2010

Tyler K (2005) The genealogical imagination: the inheritance of interracial identities. Sociol Rev 53(3):476–494

Tyler K (2008) Ethnographic approaches to race, genetics, and genealogy. Sociol Compass 2:1860–1877

Vonnegut K (1963) Cat's Cradle. RosettaBooks, New York ISBN Acrobat eBook edition 9780795302725

Voss K (2009) On the Policing of Genetic Porn. Free Inquiry. Available at http://www.secularhumanism.org/index.php?section=library&page=voss_29_4. Last accessed 1/21/2010

Wagner JK (2010a) Social and Legal Implications of DNA Ancestry Tests. Ph.D. Dissertation. The Pennsylvania State University

Wagner JK (2010b) Interpreting the implications of DNA ancestry tests. Perspect Biol Med 53(2):231–248

Wagner JK and Shriver MD (2007). Misinformation, social construction, and genomic ancestry testing. Science, e-letter

Wagner JK, Cooper J, Sterling R, Royal CD (2011) Tilting at windmills no longer: a data driven discussion of the DNA ancestry testing industry (In review)

Watanabe T (2009) Called back to Africa by DNA. LA Times. http://articles.latimes.com/2009/feb/18/local/me-africa18

Webster T (2011) Brand Savant. Available at http://brandsavant.com/

Weiner K (2010) Exploring genetic responsibility for the self, family, and kin in the case of hereditary raised cholesterol. Social Sci Med. doi:10.1016/j.socscimed.2010.03.053

Weiss KM, Long JC (2009) Non-Darwinian estimation: my ancestors, my genes' ancestors. Genome Res 19(5):703–710
Acknowledgments
The research reported here was conducted as part of Dr. Wagner's dissertation research at Penn State University, and she owes considerable gratitude to her committee which included Dr. Kenneth Weiss (chair), Dr. Mark Shriver, Dr. Nina Jablonski, Dr. Chloe Silverman, and Prof. Jonathan Marks. Additional thanks goes to Dr. Anne Buchanan and Mr. Blake Harper for providing generous feedback and support during this research endeavor. Finally, Dr. Wagner acknowledges and thanks Dr. Charmaine Royal for post-doctoral support. Dr. Kurt Johnson, Director of the Survey Research Center (The Pennsylvania State University), provided generous feedback with survey design, including suggestions on question design, including the word choices to minimize excessive scientific jargon or legalese; the format of both the question and the response options to keep participants alert and responsive; the length of questions and length of the overall survey; the order of the questions; cost and benefit analysis of incorporating open-ended questions; the inclusion of response options to distinguish instances of mere non-response from intentionally skipped questions; inclusion of skip logic; and the recognized limitations of web-based survey. The literary reference to Kurt Vonnegut's "granfalloons" arose during a conversation on May 5, 2010 between Dr. Wagner and Dr. Jon Merz (University of Pennsylvania, Center for Bioethics). Dr. Merz deserves acknowledgment for that welcomed contribution.
Conflicts of interest
The authors declare they have no conflicts of interest.
Ethical standards
The authors declare this research was conducted in compliance with applicable laws and with approval from the Pennsylvania State University Office of Research Protections as exempt social science research (IRB #31084 "Attitudes on DNA Ancestry Tests").
Internet resources
ABA Journal Law Blawgs, http://www.abajournal.com/blawgs
Nature.com Blogs, http://blogs.nature.com/
PLoS Blogs, http://plosblogs.org
Science Blogs, http://scienceblogs.com
Survey Monkey, http://www.surveymonkey.com
Electronic supplementary material
Below is the link to the electronic supplementary material.
About this article
Cite this article
Wagner, J.K., Weiss, K.M. Attitudes on DNA ancestry tests. Hum Genet 131, 41–56 (2012). https://doi.org/10.1007/s00439-011-1034-5
Received:

Accepted:

Published:

Issue Date:
Keywords
Ethnic Identity

Genetic Ancestry

Wall Post

Genetic Literacy

Formal Statistical Analysis