Abstract
If the dream of personalized medicine is to be realized, tremendous amounts of data specific to each individual must be captured, synthesized and presented to clinicians at the time this information is needed to make care decisions for the patient. This can only be accomplished through the use of sophisticated electronic medical record (EMR) systems that are designed to support this function. This article will define two important aspects of a fully functional EMR the ability to: present patients or clinicians with high quality context specific information at the point of care (so-called "just-in time" education) and to combine clinically relevant information from disparate sources in order to guide the clinician to the optimized intervention for a given patient (clinical decision support). Personalized medicine examples are used to illustrate these concepts. As implemented most EMR systems are not being used to assimilate the information needed to provide personalized medicine. A description of necessary enhancements to currently available systems that will be needed to create a "personalized medicine enabled" EMR is provided.
Access options
Buy single article
Instant access to the full article PDF.
USD 39.95
Price excludes VAT (USA)
Tax calculation will be finalised during checkout.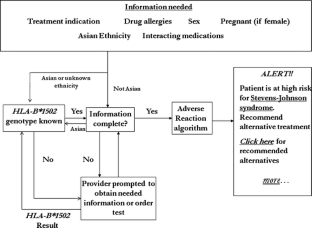 References
Cimino JJ (2008) Infobuttons: anticipatory passive decision support. AMIA Annu Symp Proc 6:1203–1204

Del Fiol G, Williams MS, Maram N, Rocha RA, Wood GM, Mitchell JA (2006) Integrating genetic information resources with an EHR. AMIA Annu Symp Proc 904

DHHS (2006) http://www.hhs.gov/ocio/plans/itstrategicplan.html. Accessed 1 April 2011

DHHS (2007) Personalized health care: opportunities pathways, resources. http://www.hhs.gov/myhealthcare/news/phc-report.pdf. Accessed 1 April 2011

Downing GJ, Boyle SN, Brinner KM, Osheroff JA (2009) Information management to enable personalized medicine: stakeholder roles in building clinical decision support. BMC Med Inform Decis Mak 9:44

Ely JW, Osheroff JA, Ebell MH, Berfus GR, Levy BT, Chambliss ML, Evans ER (1999) Analysis of questions asked by family doctors regarding patient care. BMJ 319:358–361

Ely JW, Osheroff JA, Gorman PN, Ebell MH, Chambliss ML, Pifer EA, Stavri PZ (2000) A taxonomy of generic clinical questions: classification study. BMJ 321:429–432

Ely JW, Osheroff JA, Ebell MH, Chambliss ML, Vinson DC (2002) Obstacles to answering doctors' questions about patient care with evidence: qualitative study. BMJ 324:1–7

Ely JW, Osheroff JA, Chambliss ML, Ebell MH, Rosenbaum ME (2005) Answering physician's clinical questions: obstacles and potential solutions. J Am Med Inform Assoc 12:217–224

Giovanni MA, Murray MF (2010) The application of computer-based tools in obtaining the genetic family history. Curr Protoc Hum Genet 9: Unit 9.21

Gorman P, Helfand M (1995) Information seeking in primary care: how physicians choose which clinical questions to pursue and which to leave unanswered. Med Decis Making 15:113–119

Groves M, O'Rourke P, Alexander H (2003) Clinical reasoning: the relative contribution of identification, interpretation and hypothesis errors to misdiagnosis. Med Teach 25:621–625

GTR http://oba.od.nih.gov/gtr/gtr_intro.html. Accessed 1 April 2011

HL7 http://www.hl7.org/Special/committees/clingenomics/index.cfm. Accessed 1 April 2011

Hoffman MA (2007) The genome enabled EMR. J Biomed Info 40:44–46

Hoffman MA, Arnoldi C, Chuang I (2005) The clinical bioinformatics ontology: a curated semantic network utilizing RefSeq information. Pac Symp Biocomp 2005:139–150

Levy HP, LoPresti L, Seibert DC (2008) Twenty questions in genetic medicine—an assessment of world wide web databases for genetic information at the point of care. Genet Med 10:659–667

Lim MJAJ, Ho KM (1999) A comparison of the Internet and a standard textbook in preparing for the professional anesthetic examination. J Clin Monit 15:449–453

Lim KS, Kwan P, Tan CT (2008) Association of HLA-B*1502 allele and carbamazepine-associated induced severe adverse cutaneous drug reaction among Asians, a review. Neurol Asia. 13:15–21

Mitchell DR, Mitchell JA (2007) Status of clinical gene sequencing data reporting and associated risks for information loss. J Biomed Info 40:47–54

Mitchell JA, Fun J, McCray AT (2004) Design of genetics home reference: a new NLM consumer health resource. J Am Med Inform Assoc 11:439–447

Osheroff JA, Teich JM, Middleton BF, Steen EB, Wright A, Detmer DE (2007) A roadmap for national action on clinical decision support. J Am Med Inform Assoc 14:141–145

Pauker SG, Kassirer JP (1987) Decision analysis. NEJM 316:250–258

Riegert-Johnson DL, Macaya D, Hefferon TW, Boardman LA (2008) The incidence of duplicate genetic testing. Genet Med 10:114–116

Sackett DL, Straus SE (1998) Finding and applying evidence during clinical rounds: the 'evidence cart'. JAMA 280:1347–1352

Schmidt HG, Norman GR, Boshuizen HPA (1990) A cognitive perspective on medical expertise: theory and implications. Acad Med 65:611–621

Shabo A (2005) The implications of electronic health record for personalized medicine. Biomed Pap Med Fac Univ Palacky Olomouc Czech Repub 149:251–258

Slawson DC, Shaughnessy AF, Bennet JH (1994) Becoming a medical information master: feeling good about not knowing everything. J Family Practice 38:505–513

Uy J, Brooks JT, Baker R, Hoffman MA, Novak R, Investigators HOPS (2007) HIV genotypic resistance testing to optimize antiretroviral prescribing: is there room for improvement? Antivir Ther 12:957–962

Zhang J (2009) Adaptive learning via selectionism and Bayesianism, Part I: connection between the two. Neural Netw 22:220–228

Ziman JM (1980) The proliferation of the scientific literature: a natural process. Science 208:369–371
About this article
Cite this article
Hoffman, M.A., Williams, M.S. Electronic medical records and personalized medicine. Hum Genet 130, 33–39 (2011). https://doi.org/10.1007/s00439-011-0992-y
Received:

Accepted:

Published:

Issue Date:

DOI: https://doi.org/10.1007/s00439-011-0992-y
Keywords