Abstract
Short-chain acyl-CoA dehydrogenase (SCAD) is a mitochondrial enzyme involved in the β-oxidation of fatty acids. Genetic defect of SCAD was documented to cause clinical symptoms such as progressive psychomotor retardation, muscle hypotonia, and myopathy in early reports. However, clinical significance of SCAD deficiency (SCADD) has been getting ambiguous, for some variants in the ACADS gene, which encodes the SCAD protein, has turned out to be widely prevailed among general populations. Accordingly, the pathophysiology of SCADD has not been clarified thus far. The present report focuses on two suspected cases of SCADD detected through the screening of newborns by tandem mass spectrometry. In both subjects, compound heterozygous mutations in ACADS were detected. The mutated genes were expressed in a transient gene expression system, and the enzymatic activities of the obtained mutant SCAD proteins were measured. The activities of the mutant SCAD proteins were significantly lower than that of the wild-type enzyme, confirming the mechanism underlying the diagnosis of SCADD in both subjects. Moreover, the mutant SCAD proteins gave rise to mitochondrial fragmentation and autophagy, both of which were proportional to the decrease in SCAD activities. The association of autophagy with programed cell death suggests that the mutant SCAD proteins are toxic to mitochondria and to the cells in which they are expressed. The expression of recombinant ACADS-encoded mutant proteins offers a technique to evaluate both the nature of the defective SCAD proteins and their toxicity. Moreover, our results provide insight into possible molecular pathophysiology of SCADD.
Access options
Buy single article
Instant access to the full article PDF.
USD 39.95
Price excludes VAT (USA)
Tax calculation will be finalised during checkout.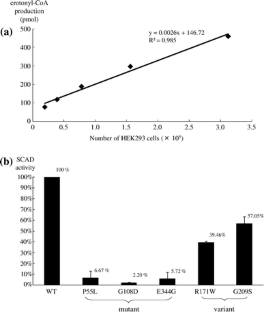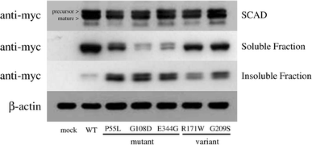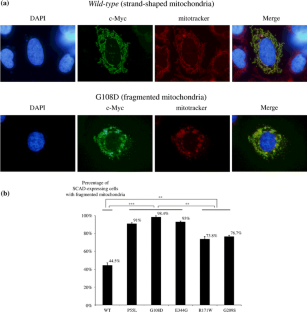 References
Amendt BA, Greene C, Sweetman L, Cloherty J, Shih V, Moon A, Teel L, Rhead WJ (1987) Short-chain acyl-coenzyme A dehydrogenase deficiency. Clinical and biochemical studies in two patients. J Clin Invest 79:1303–1309

Bennett MJ, Gray RG, Isherwood DM, Murphy N, Pollitt RJ (1985) The diagnosis and biochemical investigation of a patient with a short chain fatty acid oxidation defect. J Inherit Metab Dis 8(Suppl 2):135–136

Bhala A, Willi SM, Rinaldo P, Bennett MJ, Schmidt-Sommerfeld E, Hale DE (1995) Clinical and biochemical characterization of short-chain acyl-coenzyme A dehydrogenase deficiency. J Pediatr 126:910–915

Bok LA, Vreken P, Wijburg FA, Wanders RJ, Gregersen N, Corydon MJ, Waterham HR, Duran M (2003) Short-chain Acyl-CoA dehydrogenase deficiency: studies in a large family adding to the complexity of the disorder. Pediatrics 112:1152–1155

Bredesen DE (2008) Programmed cell death mechanisms in neurological disease. Curr Mol Med 8:173–186

Cheung EC, McBride HM, Slack RS (2007) Mitochondrial dynamics in the regulation of neuronal cell death. Apoptosis 12:979–992

Coates PM, Hale DE, Finocchiaro G, Tanaka K, Winter SC (1988) Genetic deficiency of short-chain acyl-coenzyme A dehydrogenase in cultured fibroblasts from a patient with muscle carnitine deficiency and severe skeletal muscle weakness. J Clin Invest 81:171–175

Corydon MJ, Gregersen N, Lehnert W, Ribes A, Rinaldo P, Kmoch S, Christensen E, Kristensen TJ, Andresen BS, Bross P, Winter V, Martinez G, Neve S, Jensen TG, Bolund L, Kolvraa S (1996) Ethylmalonic aciduria is associated with an amino acid variant of short chain acyl-coenzyme A dehydrogenase. Pediatr Res 39:1059–1066

Corydon MJ, Andresen BS, Bross P, Kjeldsen M, Andreasen PH, Eiberg H, Kolvraa S, Gregersen N (1997) Structural organization of the human short-chain acyl-CoA dehydrogenase gene. Mamm Genome 8:922–926

Corydon MJ, Vockley J, Rinaldo P, Rhead WJ, Kjeldsen M, Winter V, Riggs C, Babovic-Vuksanovic D, Smeitink J, De Jong J, Levy H, Sewell AC, Roe C, Matern D, Dasouki M, Gregersen N (2001) Role of common gene variations in the molecular pathogenesis of short-chain acyl-CoA dehydrogenase deficiency. Pediatr Res 49:18–23

Dagda RK, Cherra SJ 3rd, Kulich SM, Tandon A, Park D, Chu CT (2009) Loss of PINK1 function promotes mitophagy through effects on oxidative stress and mitochondrial fission. J Biol Chem 284:13843–13855

Gorman AM (2008) Neuronal cell death in neurodegenerative diseases: recurring themes around protein handling. J Cell Mol Med 12:2263–2280

Gregersen N, Winter VS, Corydon MJ, Corydon TJ, Rinaldo P, Ribes A, Martinez G, Bennett MJ, Vianey-Saban C, Bhala A, Hale DE, Lehnert W, Kmoch S, Roig M, Riudor E, Eiberg H, Andresen BS, Bross P, Bolund LA, Kolvraa S (1998) Identification of four new mutations in the short-chain acyl-CoA dehydrogenase (SCAD) gene in two patients: one of the variant alleles, 511C→T, is present at an unexpectedly high frequency in the general population, as was the case for 625G→A, together conferring susceptibility to ethylmalonic aciduria. Hum Mol Genet 7:619–627

Gregersen N, Andresen BS, Corydon MJ, Corydon TJ, Olsen RK, Bolund L, Bross P (2001) Mutation analysis in mitochondrial fatty acid oxidation defects: Exemplified by acyl-CoA dehydrogenase deficiencies, with special focus on genotype-phenotype relationship. Hum Mutat 18:169–189

Gregersen N, Andresen BS, Pedersen CB, Olsen RK, Corydon TJ, Bross P (2008) Mitochondrial fatty acid oxidation defects—remaining challenges. J Inherit Metab Dis 31:643–657

Itoh T, Ito Y, Ohguchi K, Ohyama M, Iinuma M, Otsuki Y, Nozawa Y, Akao Y (2008) Eupalinin A isolated from Eupatorium chinense L. induces autophagocytosis in human leukemia HL60 cells. Bioorg Med Chem 16:721–731

Kang HT, Hwang ES (2009) Nicotinamide enhances mitochondria quality through autophagy activation in human cells. Aging Cell 8:426–438

Kim I, Rodriguez-Enriquez S, Lemasters JJ (2007) Selective degradation of mitochondria by mitophagy. Arch Biochem Biophys 462:245–253

Knott AB, Perkins G, Schwarzenbacher R, Bossy-Wetzel E (2008) Mitochondrial fragmentation in neurodegeneration. Nat Rev Neurosci 9:505–518

Lutz AK, Exner N, Fett ME, Schlehe JS, Kloos K, Lammermann K, Brunner B, Kurz-Drexler A, Vogel F, Reichert AS, Bouman L, Vogt-Weisenhorn D, Wurst W, Tatzelt J, Haass C, Winklhofer KF (2009) Loss of parkin or PINK1 function increases Drp1-dependent mitochondrial fragmentation. J Biol Chem 284:22938–22951

Malicdan MC, Noguchi S, Nonaka I, Saftig P, Nishino I (2008) Lysosomal myopathies: an excessive build-up in autophagosomes is too much to handle. Neuromuscul Disord 18:521–529

Malolepsza EB (2008) Modeling of protein misfolding in disease. Methods Mol Biol 443:297–330

Margineantu DH, Emerson CB, Diaz D, Hockenbery DM (2007) Hsp90 inhibition decreases mitochondrial protein turnover. PLoS One 2:e1066

Naito E, Indo Y, Tanaka K (1989a) Short chain acyl-coenzyme A dehydrogenase (SCAD) deficiency. Immunochemical demonstration of molecular heterogeneity due to variant SCAD with differing stability. J Clin Invest 84:1671–1674

Naito E, Ozasa H, Ikeda Y, Tanaka K (1989b) Molecular cloning and nucleotide sequence of complementary DNAs encoding human short chain acyl-coenzyme A dehydrogenase and the study of the molecular basis of human short chain acyl-coenzyme A dehydrogenase deficiency. J Clin Invest 83:1605–1613

Okada S, Ishikawa N, Shirao K, Kawaguchi H, Tsumura M, Ohno Y, Yasunaga S, Ohtsubo M, Takihara Y, Kobayashi M (2007) The novel IFNGR1 mutation 774del4 produces a truncated form of interferon-gamma receptor 1 and has a dominant-negative effect on interferon-gamma signal transduction. J Med Genet 44:485–491

Parenti G (2009) Treating lysosomal storage diseases with pharmacological chaperones: from concept to clinics. EMBO Mol Med 1:268–279

Pedersen CB, Bross P, Winter VS, Corydon TJ, Bolund L, Bartlett K, Vockley J, Gregersen N (2003) Misfolding, degradation, and aggregation of variant proteins. The molecular pathogenesis of short chain acyl-CoA dehydrogenase (SCAD) deficiency. J Biol Chem 278:47449–47458

Pedersen CB, Kolvraa S, Kolvraa A, Stenbroen V, Kjeldsen M, Ensenauer R, Tein I, Matern D, Rinaldo P, Vianey-Saban C, Ribes A, Lehnert W, Christensen E, Corydon TJ, Andresen BS, Vang S, Bolund L, Vockley J, Bross P, Gregersen N (2008) The ACADS gene variation spectrum in 114 patients with short-chain acyl-CoA dehydrogenase (SCAD) deficiency is dominated by missense variations leading to protein misfolding at the cellular level. Hum Genet 124(1):43–56

Peng TI, Jou MJ (2004) Mitochondrial swelling and generation of reactive oxygen species induced by photoirradiation are heterogeneously distributed. Ann N Y Acad Sci 1011:112–122

Rodriguez-Hernandez A, Cordero MD, Salviati L, Artuch R, Pineda M, Briones P, Gomez Izquierdo L, Cotan D, Navas P, Sanchez-Alcazar JA (2009) Coenzyme Q deficiency triggers mitochondria degradation by mitophagy. Autophagy 5:19–32

Tafti M, Petit B, Chollet D, Neidhart E, de Bilbao F, Kiss JZ, Wood PA, Franken P (2003) Deficiency in short-chain fatty acid beta-oxidation affects theta oscillations during sleep. Nat Genet 34:320–325

Taguchi N, Ishihara N, Jofuku A, Oka T, Mihara K (2007) Mitotic phosphorylation of dynamin-related GTPase Drp1 participates in mitochondrial fission. J Biol Chem 282:11521–11529

Tajima G, Sakura N, Yofune H, Nishimura Y, Ono H, Hasegawa Y, Hata I, Kimura M, Yamaguchi S, Shigematsu Y, Kobayashi M (2005) Enzymatic diagnosis of medium-chain acyl-CoA dehydrogenase deficiency by detecting 2-octenoyl-CoA production using high-performance liquid chromatography: a practical confirmatory test for tandem mass spectrometry newborn screening in Japan. J Chromatogr B Analyt Technol Biomed Life Sci 823:122–130

Tein I, Elpeleg O, Ben-Zeev B, Korman SH, Lossos A, Lev D, Lerman-Sagie T, Leshinsky-Silver E, Vockley J, Berry GT, Lamhonwah AM, Matern D, Roe CR, Gregersen N (2008) Short-chain acyl-CoA dehydrogenase gene mutation (c.319C>T) presents with clinical heterogeneity and is candidate founder mutation in individuals of Ashkenazi Jewish origin. Mol Genet Metab 93:179–189

van Maldegem BT, Duran M, Wanders RJ, Niezen-Koning KE, Hogeveen M, Ijlst L, Waterham HR, Wijburg FA (2006) Clinical, biochemical, and genetic heterogeneity in short-chain acyl-coenzyme A dehydrogenase deficiency. JAMA 296:943–952

Wanders RJ, Vreken P, den Boer ME, Wijburg FA, van Gennip AH, IJlst L (1999) Disorders of mitochondrial fatty acyl-CoA beta-oxidation. J Inherit Metab Dis 22:442–487
Acknowledgments
This work was supported by a Grant-in-Aid for Young Scientist (B) No. 20790731 from Japan Society for the Promotion of Science and a grant from the Ministry of Health, Labor, and Welfare of Japan (Chief: Professor Seiji Yamaguchi). This work was carried out at the Analysis Center of Life Science, Hiroshima University.
Conflict of interest statement
None declared.
Additional information
K. Shirao and S. Okada contributed equally to this work.
Nucleotide sequence data reported are available in the DDBJ database under the accession number AB527081.
Electronic supplementary material
Below is the link to the electronic supplementary material.
About this article
Cite this article
Shirao, K., Okada, S., Tajima, G. et al. Molecular pathogenesis of a novel mutation, G108D, in short-chain acyl-CoA dehydrogenase identified in subjects with short-chain acyl-CoA dehydrogenase deficiency. Hum Genet 127, 619–628 (2010). https://doi.org/10.1007/s00439-010-0822-7
Received:

Accepted:

Published:

Issue Date:

DOI: https://doi.org/10.1007/s00439-010-0822-7
Keywords