Abstract
Pyruvate dehydrogenase phosphatase deficiency has previously only been confirmed at the molecular level in two brothers and two breeds of dog with exercise intolerance. A female patient, who died at 6 months, presented with lactic acidemia in the neonatal period with serum lactate levels ranging from 2.5 to 17 mM. Failure of dichloroacetate to activate the PDH complex in skin fibroblasts was evident, but not in early passages. A homozygous c.277G > T (p.E93X) nonsense mutation in the PDP1 gene was identified in genomic DNA and immunoblotting showed a complete absence of PDP1 protein in mitochondria. Native PDHC activity could be restored by the addition of either recombinant PDP1 or PDP2. This highlights the role of PDP2, the second phosphatase isoform, in PDP1-deficient patients for the first time. We conclude that the severity of the clinical course associated with PDP1 deficiency can be quite variable depending on the exact nature of the molecular defect.
This is a preview of subscription content,
to check access.
Access this article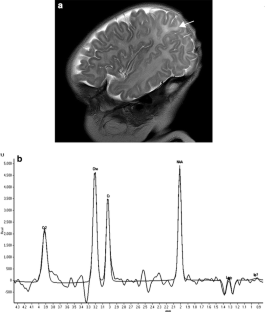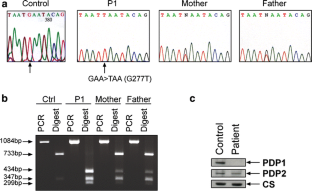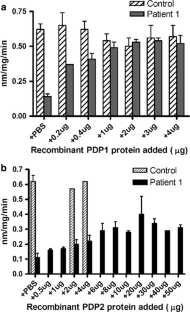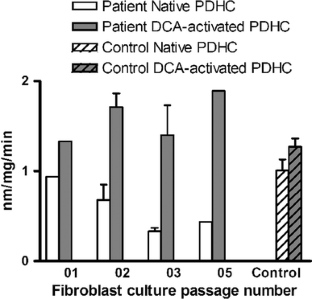 Similar content being viewed by others
Abbreviations
Bp:

Base pair

coA:

Coenzyme A

DCA:

Dichloroacetate

PCR:

Polymerase chain reaction

PDH:

Pyruvate dehydrogenase

PDHC:

Pyruvate dehydrogenase complex

PDK:

Pyruvate dehydrogenase kinase

PDP:

Pyruvate dehydrogenase phosphatase

RT:

Reverse transcriptase

TCA:

Trichloroacetic acid

TCA cycle:

Tricarboxylic acid cycle
References
Brown RM, Head RA, Boubriak II, Leonard JV, Thomas NH, Brown GK (2004) Mutations in the gene for the E1beta subunit: a novel cause of pyruvate dehydrogenase deficiency. Hum Genet 115:123–127

Cameron JM, Maj MC, Levandovskiy V, MacKay N, Shelton GD, Robinson BH (2007) Identification of a canine model of pyruvate dehydrogenase phosphatase 1 deficiency. Mol Genet Metab 90:15–23

Cameron JM, Maj MC, Robinson BH (2008) Deficiency disorders of components of PDH complex: E2, E3 and E3BP deficiencies. In: Patel MS, Packer L (eds) Lipoic acid: energy production, antioxidant activity and health effects. CRC Press, West Palm Beach, pp 375–406

DeVivo DC, Haymond MW, Obert KA, Nelson JS, Pagliara AS (1979) Defective activation of the pyruvate dehydrogenase complex in subacute necrotizing encephalomyelopathy (Leigh disease). Ann Neurol 6:483–494

Forni L, McKinnon W, Lord G, Treacher D, Peron J-M, Hilton P (2005) Circulating anions usually associated with the Krebs cycle in patients with metabolic acidosis. Crit Care 9:R591–R595

Harris RA, Huang B, Wu P (2006) Control of pyruvate dehydrogenase kinase gene expression. Adv Enzyme Regulat 41:269–288

Head RA, Brown RM, Zolkipli Z, Shahdadpuri R, King MD, Clayton PT, Brown GK (2005) Clinical and genetic spectrum of pyruvate dehydrogenase deficiency: dihydrolipoamide acetyltransferase (E2) deficiency. Ann Neurol 58:234–241

Huang B, Gudi R, Wu P, Harris RA, Hamilton J, Popov KM (1998) Isoenzymes of pyruvate dehydrogenase phosphatase. DNA-derived amino acid sequences, expression, and regulation. J Biol Chem 273:17680–17688

Kim J-w, Tchernyshyov I, Semenza GL, Dang CV (2006) HIF-1-mediated expression of pyruvate dehydrogenase kinase: a metabolic switch required for cellular adaptation to hypoxia. Cell Metab 3:177–185

Koster JF, Slee RG, Fernandes J (1978) Lactic acidosis due to a defect in the pyruvate dehydrogenase complex: a possible brain pyruvate dehydrogenase phosphatase deficiency. Monogr Hum Genet 9:7–11

Linn TC, Pettit FH, Hucho F, Reed LJ (1969a) Alpha-keto acid dehydrogenase complexes. XI. Comparative studies of regulatory properties of the pyruvate dehydrogenase complexes from kidney, heart, and liver mitochondria. Proc Natl Acad Sci USA 64:227–234

Linn TC, Pettit FH, Reed LJ (1969b) Alpha-keto acid dehydrogenase complexes. X. Regulation of the activity of the pyruvate dehydrogenase complex from beef kidney mitochondria by phosphorylation and dephosphorylation. Proc Natl Acad Sci USA 62:234–241

Lissens W, De Meirleir L, Seneca S, Liebaers I, Brown GK, Brown RM, Ito M, Naito E, Kuroda Y, Kerr DS, Wexler ID, Patel MS, Robinson BH, Seyda A (2000) Mutations in the X-linked pyruvate dehydrogenase (E1) alpha subunit gene (PDHA1) in patients with a pyruvate dehydrogenase complex deficiency. Hum Mutat 15:209–219

Maj MC, MacKay N, Levandovskiy V, Addis J, Baumgartner ER, Baumgartner MR, Robinson BH, Cameron JM (2005) Pyruvate dehydrogenase phosphatase deficiency: identification of the first mutation in two brothers and restoration of activity by protein complementation. J Clin Endocrinol Metab 90:4101–4107

Maj MC, Cameron JM, Robinson BH (2006) Pyruvate dehydrogenase phosphatase deficiency: orphan disease or an under-diagnosed condition? Mol Cell Endocrinol 249:1–9

Pitkanen S, Raha S, Robinson BH (1996) Diagnosis of complex I deficiency in patients with lactic acidemia using skin fibroblast cultures. Biochem Mol Med 59:134–137

Robinson BH (2001) Lactic acidemia (Disorders of pyruvate carboxylase, pyruvate dehydrogenase). In: Scriver CRBA, Sly WS, Valle D (eds) The metabolic and molecular bases of inherited disease. McGraw-Hill, New York, pp 2275–2295

Robinson BH, Sherwood WG (1975) Pyruvate dehydrogenase phosphatase deficiency: a cause of congenital chronic lactic acidosis in infancy. Pediatr Res 9:935–939

Robinson BH, Glerum DM, Chow W, Petrova-Benedict R, Lightowlers R, Capaldi R (1990) The use of skin fibroblast cultures in the detection of respiratory chain defects in patients with lacticacidemia. Pediatr Res 28:549–555

Yeaman SJ, Hutcheson ET, Roche TE, Pettit FH, Brown JR, Reed LJ, Watson DC, Dixon GH (1978) Sites of phosphorylation on pyruvate dehydrogenase from bovine kidney and heart. Biochemistry 17:2364–2370
Acknowledgments
We thank the Canadian Institutes for Health Research (BHR) and the Mitomarch for Kirkland for support of this research program.
About this article
Cite this article
Cameron, J.M., Maj, M., Levandovskiy, V. et al. Pyruvate dehydrogenase phosphatase 1 (PDP1) null mutation produces a lethal infantile phenotype. Hum Genet 125, 319–326 (2009). https://doi.org/10.1007/s00439-009-0629-6
Received:

Accepted:

Published:

Issue Date:

DOI: https://doi.org/10.1007/s00439-009-0629-6
Keywords