Abstract
Accessory auricular anomaly is a small excrescence of skin that contains elastic cartilage on different regions of the helix and the face. Previous work has shown that the genetic trait of some patients with the isolated symptom of accessory auricular anomaly is autosomal dominant. To map the gene for autosomal dominant accessory auricular anomaly (ADAAA), we investigated a Chinese family with 11 affected individuals. We performed linkage analysis with microsatellite markers spanning the whole human-genome in the family. The inheritance pattern of the ADAAA family was autosomal dominant with complete penetrance. Two-point linkage analysis revealed significant maximum LOD scores of 4.20(D14S990 and D14S264, sita = 0) in the family. Haplotype construction and multipoint linkage analysis also confirmed the locus and defined the isolated ADAAA locus to a 9.84 cM interval between the markers D14S283 and D14S297. Our study assigned an isolated ADAAA locus to 14q11.2–q12. This is the first ADAAA locus reported to date.
Access options
Buy single article
Instant access to the full article PDF.
USD 39.95
Price excludes VAT (USA)
Tax calculation will be finalised during checkout.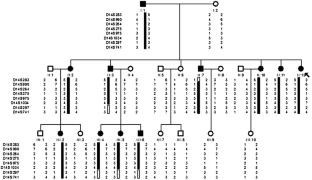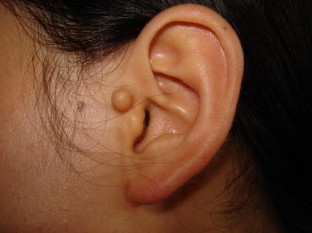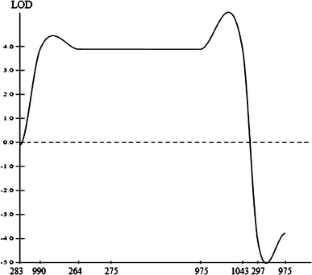 References
Munker G (1972) Accessory auricle in the eustachian tube. Z Laryngol Rhinol 51:175–178

Sayama S, Tagami H (1982) Cartilaginous nevus on the glabella. Acta Derm Venereol 62:180–181

Shimizu F, Nishimoto S, Oyama T (2004) Supernumerary auricle on the lateral canthus. Br J Plast Surg 57:800–802

Bisdas S, Lenarz M, Lenarz T, Becker H (2005) Inner ear abnormalities in patients with Goldenhar syndrome. Otol Neurotol 26:398–404

Beck AE, Hudgins L, Hoyme HE (2005) Autosomal dominant microtia and ocular coloboma: new syndrome or an extension of the oculo-auriculo-vertebral spectrum? Am J Med Genet 134:359–362

S. Jones R. Alvi D. Burton (1996) Accessory auricles: unusual site and the preferred treatment option. Arch Pediatr Adolesc Med 150:769–770

Kong A et al (2002) A high-resolution recombination map of human genome. Nat Genet 31(3):225–226

Beder LB, Kemaloglu YK, Maral I et al (2002) A study on the prevalence of accessory auricle anomaly in Turkey. Int J Pediatr Otorhinolaryngol 63(1):25

Kelberman D, Tyson J, Chandler DC et al (2001) Hemifacial microsomia: progress in understanding the genetic basis of a complex malformation syndrome. Hum Genet 109:638–645
Acknowledgments
We would like to thank the family who participated in this study and to the reviewers for their many helpful comments. This work was supported by a Grant from the National Nature Science Foundation of China (No.30400240). A special thanks to Jennifer Ayers and Gareff Wise for language interpretation.
Additional information
Y. Yang and J. Guo contribute to this work equally.
About this article
Cite this article
Yang, Y., Guo, J., Liu, Z. et al. A locus for autosomal dominant accessory auricular anomaly maps to 14q11.2–q12. Hum Genet 120, 144–147 (2006). https://doi.org/10.1007/s00439-006-0206-1
Received:

Accepted:

Published:

Issue Date:

DOI: https://doi.org/10.1007/s00439-006-0206-1
Keywords
Linkage Analysis

HuNan Province

Chinese Family

Marker D14S283

Multipoint Linkage Analysis