Abstract
Human sexual preference is a sexually dimorphic trait with a substantial genetic component. Linkage of male sexual orientation to markers on the X chromosome has been reported in some families. Here, we measured X chromosome inactivation ratios in 97 mothers of homosexual men and 103 age-matched control women without gay sons. The number of women with extreme skewing of X-inactivation was significantly higher in mothers of gay men (13/97=13%) compared to controls (4/103=4%) and increased in mothers with two or more gay sons (10/44=23%). Our findings support a role for the X chromosome in regulating sexual orientation in a subgroup of gay men.
This is a preview of subscription content, log in to check access.
Access options
Buy single article
Instant access to the full article PDF.
US$ 39.95
Price includes VAT for USA
Subscribe to journal
Immediate online access to all issues from 2019. Subscription will auto renew annually.
US$ 199
This is the net price. Taxes to be calculated in checkout.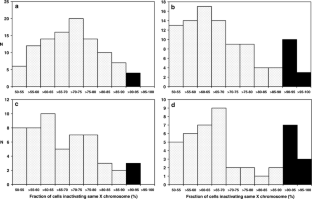 References
Allen RC, Zoghbi HY, Moseley AB, Rosenblatt HM, Belmont JW (1992) Methylation of HpaII and HhaI sites near the polymorphic CAG repeat in the human androgen-receptor gene correlates with X chromosome inactivation. Am J Hum Genet 51:1229–1239

Bailey JM, Pillard RC, Dawood K, Miller MB, Farrer LA, Trivedi S, Murphy RL (1999) A family history study of male sexual orientation using three independent samples. Behav Genet 29:79–86

Biancalana V, Serville F, Pommier J, Julien J, Hanauer A, Mandel JL (1992) Moderate instability of the trinucleotide repeat in spino bulbar muscular atrophy. Hum Mol Genet 1:255–258

Blanchard R (2001) Fraternal birth order and the maternal immune hypothesis of male homosexuality. Horm Behav 40:105–114

Bocklandt S, Hamer DH (2003) Beyond hormones: a novel hypothesis for the biological basis of male sexual orientation. J Endocrinol Invest 26:8–12

Brown CJ, Robinson WP (2000) The causes and consequences of random and non-random X chromosome inactivation in humans. Clin Genet 58:353–363

Carrel L, Willard HF (1996) An assay for X inactivation based on differential methylation at the fragile X locus, FMR1. Am J Med Genet 64:27–30

Graves JA, Gecz J, Hameister H (2002) Evolution of the human X—a smart and sexy chromosome that controls speciation and development. Cytogenet Genome Res 99:141–145

Green R, Keverne E (2000) The disparate maternal aunt–uncle ratio in male transsexuals: an explanation invoking genomic imprinting. J Theor Biol 202:55–63

Hamer D (1999) Genetics and male sexual orientation. Science 285:803

Hamer D, Hu S, Magnuson V, Hu N, Pattatucci AM (1993) A linkage between DNA markers on the X chromosome and male sexual orientation. Science 261:321–327

Hu S, Pattatucci A, Patterson C, Li L, Fulker D, Cherny S, Kruglyak L, Hamer D (1995) Linkage between sexual orientation and chromosome Xq28 in males but not females. Nat Genet 11:248–256

Macke JP, Hu N, Hu S, Bailey M, King VL, Brown T, Hamer D, Nathans J (1993) Sequence variation in the androgen receptor gene is not a common determinant of male sexual orientation. Am J Hum Genet 53:844–852

Mustanski BS, Dupree MG, Nievergelt CM, Bocklandt S, Schork NJ, Hamer DH (2005) A genomewide scan of male sexual orientation. Hum Genet 116:272–278

Ozbalkan Z, Bagislar S, Kiraz S, Akyerli CB, Ozer HT, Yavuz S, Birlik AM, Calguneri M, Ozcelik T (2005) Skewed X chromosome inactivation in blood cells of women with scleroderma. Arthritis Rheum 52:1564–1570

Pegoraro E, Whitaker J, Mowery-Rushton P, Surti U, Lanasa M, Hoffman EP (1997) Familial skewed X inactivation: a molecular trait associated with high spontaneous-abortion rate maps to Xq28. Am J Hum Genet 61:160–170

Sabol SZ, Nelson ML, Fisher C, Gunzerath L, Brody CL, Hu S, Sirota LA, Marcus SE, Greenberg BD, Lucas FRt, Benjamin J, Murphy DL, Hamer DH (1999) A genetic association for cigarette smoking behavior. Health Psychol 18:7–13

Sandovici I, Naumova AK, Leppert M, Linares Y, Sapienza C (2004) A longitudinal study of X-inactivation ratio in human females. Hum Genet 115:387–392

Turner WJ (1995) Homosexuality, type 1: an Xq28 phenomenon. Arch Sex Behav 24:109–134
Acknowledgements
We would like to thank all the families whose participation in this study made our work possible.
About this article
Cite this article
Bocklandt, S., Horvath, S., Vilain, E. et al. Extreme skewing of X chromosome inactivation in mothers of homosexual men. Hum Genet 118, 691–694 (2006). https://doi.org/10.1007/s00439-005-0119-4
Received:

Accepted:

Published:

Issue Date:
Keywords
Androgen Receptor

Sexual Orientation

Sexual Attraction

Chromosome Inactivation

Androgen Receptor Gene