Abstract
Blue-crowned laughingthrush (Garrulax courtoisi), passeriformes, is a critically endangered bird endemic to China. Gut microbiota is well known to play a pivotal role in host health and survival. Thus, the understanding of the microbial communities associated with Garrulax courtoisi could be beneficial to save this species from the brink of extinction. In this study, we used 16 s rDNA amplicon sequencing to investigate the gut community composition and microbial diversity of the Garrulax courtoisi population reared in Nanchang Zoo. The results showed that there were 31 phyla that were dominated by Firmicutes, Proteobacteria, Bacteroidetes, and Cyanobacteria in the intestine of Garrulax courtoisi. Compared with previous studies on birds, the Cyanobacteria exhibited an excessive abundance, which may be largely related to the personal lifestyle of Garrulax courtoisi. At the genus level, a total of 552 genera were identified, among which, 21 key genera constituted the core microbiome, including some culturable bacterial genera such as Lactobacillus, Acinetobacter, and Deinococcus. In the meanwhile, we found that there were remarkable intraspecific differences both in terms of microbial community structures, representative biomarkers and predicted functions between the parental generation and their offspring of the population investigated in this study. Furthermore, we also summarized their different eating behaviors and predicted its association with gut microbiota. This study provided the needed pieces of information about these extremely rare birds, Garrulax courtoisi, whose community composition and microbial diversity are hardly known. Importantly, these findings could contribute to our knowledge of the gut health of Garrulax courtoisi and advance the comprehensive conservation of this endangered bird.
Access options
Buy single article
Instant access to the full article PDF.
USD 39.95
Price excludes VAT (USA)
Tax calculation will be finalised during checkout.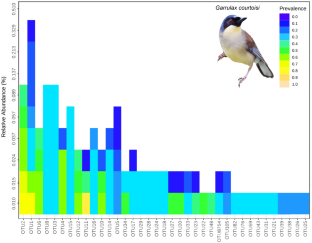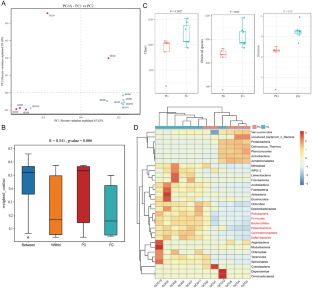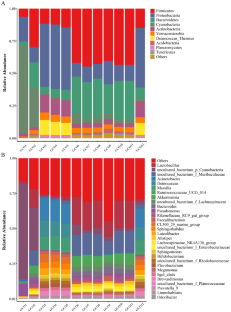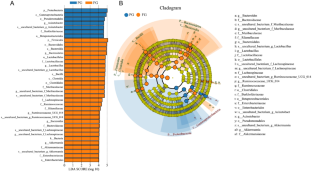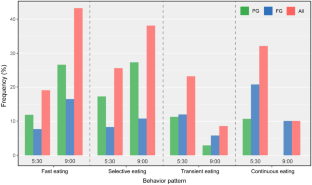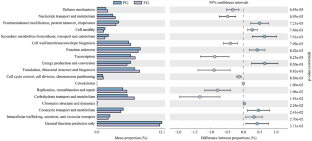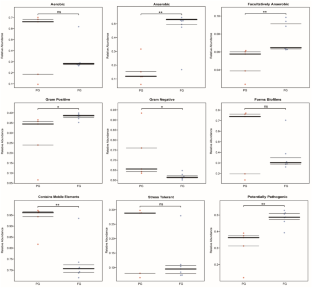 Data availability
The raw sequence data used in this manuscript have been deposited in the Genome Sequence Archive in National Genomics Data Center under accession number CRA004355 that are publicly accessible at https://ngdc.cncb.ac.cn/gsa.
References
Alcock J, Maley CC, Aktipis CA (2014) Is eating behavior manipulated by the gastrointestinal microbiota? Evolutionary pressures and potential mechanisms. BioEssays 36:940–949

Azad MAK, Sarker M, Li T, Yin J (2018) Probiotic species in the modulation of gut microbiota: an overview. Biomed Res Int 2018:9478630

BirdLife International (2018) Garrulax courtoisi. The IUCN Red List of Threatened Species 2018: e.T22732350A131890764. https://doi.org/10.2305/IUCN.UK.2018-2.RLTS.T22732350A131890764.en

Bolger AM, Lohse M, Usadel B (2014) Trimmomatic: a flexible trimmer for Illumina sequence data. Bioinformatics 30:2114–2120

Bolyen E, Rideout JR, Dillon MR, Bokulich NA, Abnet CC, Al-Ghalith GA et al (2019) Reproducible, interactive, scalable and extensible microbiome data science using QIIME 2. Nat Biotechnol 37:852–857

Capunitan DC, Johnson O, Terrill RS, Hird SM (2020) Evolutionary signal in the gut microbiomes of 74 bird species from Equatorial Guinea. Mol Ecol 29:829–847

Carr VR, Shkoporov A, Hill C, Mullany P, Moyes DL (2021) Probing the mobilome: discoveries in the dynamic microbiome. Trends Microbiol 29:158–170

Chang CW, Huang BH, Lin SM, Huang CL, Liao PC (2016) Changes of diet and dominant intestinal microbes in farmland frogs. BMC Microbiol 16:33

Chen G, Zheng C, Wan N, Liu D, Fu VWK, Yang X et al (2019) Low genetic diversity in captive populations of the critically endangered Blue-crowned Laughingthrush (Garrulax courtoisi) revealed by a panel of novel microsatellites. PeerJ 7:e6643

Chen CY, Chen CK, Chen YY, Fang A, Shaw GT, Hung CM et al (2020) Maternal gut microbes shape the early-life assembly of gut microbiota in passerine chicks via nests. Microbiome 8:129

Davidson GL, Raulo A, Knowles SCL (2020) Identifying microbiome-mediated behaviour in wild vertebrates. Trends Ecol Evol 35:972–980

Depommier C, Everard A, Druart C, Plovier H, Van Hul M, Vieira-Silva S et al (2019) Supplementation with Akkermansia muciniphila in overweight and obese human volunteers: a proof-of-concept exploratory study. Nat Med 25:1096–1103

Diaz Heijtz R, Wang S, Anuar F, Qian Y, Bjorkholm B, Samuelsson A et al (2011) Normal gut microbiota modulates brain development and behavior. Proc Natl Acad Sci USA 108:3047–3052

Dittmann E, Fewer DP, Neilan BA (2013) Cyanobacterial toxins: biosynthetic routes and evolutionary roots. FEMS Microbiol Rev 37:23–43

Douglas GM, Maffei VJ, Zaneveld JR, Yurgel SN, Brown JR, Taylor CM et al (2020) PICRUSt2 for prediction of metagenome functions. Nat Biotechnol 38:685–688

Edgar RC (2010) Search and clustering orders of magnitude faster than BLAST. Bioinformatics 26:2460–2461

Edgar RC (2013) UPARSE: highly accurate OTU sequences from microbial amplicon reads. Nat Methods 10:996–998

Edgar RC, Haas BJ, Clemente JC, Quince C, Knight R (2011) UCHIME improves sensitivity and speed of chimera detection. Bioinformatics 27:2194–2200

Elderman M, de Vos P, Faas M (2018) Role of microbiota in sexually dimorphic immunity. Front Immunol 9:1018

Elhosseiny NM, Attia AS (2018) Acinetobacter: an emerging pathogen with a versatile secretome. Emerg Microbes Infect 7:33

Everard A, Belzer C, Geurts L, Ouwerkerk JP, Druart C, Bindels LB et al (2013) Cross-talk between Akkermansia muciniphila and intestinal epithelium controls diet-induced obesity. Proc Natl Acad Sci USA 110:9066–9071

Gould AL, Zhang VV, Lamberti L, Jones EW, Obadia B, Korasidis N et al (2018) Microbiome interactions shape host fitness. Proc Natl Acad Sci USA 115:E11951–E11960

He FQ, Lin JS, Wen C, Lin Z, Shi QH, Huang HQ et al (2017) Prelim of biology of the blue-crowned Laughingthrush Garrulax courtoisi in Wuyuan of NE Jiangxi, SE China. Chin J Zool 52:167–175

Jia Y, Jin S, Hu K, Geng L, Han C, Kang R et al (2021) Gut microbiome modulates Drosophila aggression through octopamine signaling. Nat Commun 12:2698

Knight R, Vrbanac A, Taylor BC, Aksenov A, Callewaert C, Debelius J et al (2018) Best practices for analysing microbiomes. Nat Rev Microbiol 16:410–422

Kropackova L, Tesicky M, Albrecht T, Kubovciak J, Cizkova D, Tomasek O et al (2017) Codiversification of gastrointestinal microbiota and phylogeny in passerines is not explained by ecological divergence. Mol Ecol 26:5292–5304

Li Y, Qiao Y (2008) Chinese Laughingthrushes. For Humankind 62–71

Lim S, Jung JH, Blanchard L, de Groot A (2019) Conservation and diversity of radiation and oxidative stress resistance mechanisms in Deinococcus species. FEMS Microbiol Rev 43:19–52

Liu D (2017) A PCR-based Method for the Sex Identification of Blue-crowned Laughingthrush (Garrulax courtoisi). Master, Jiangxi Agricultural University

Liu X, Cao S, Zhang X (2015) Modulation of gut microbiota-brain axis by probiotics, prebiotics, and diet. J Agric Food Chem 63:7885–7895

Liu PF, Li N, Zhang JL, Qin XX, Lou YQ, Sun YH (2018) Research status on the ecology of Laughingthrushes in China. Chin J Zool 53:292–301

Liu T, Xu Y, Mo B, Shi J, Cheng Y, Zhang W et al (2020) Home range size and habitat use of the blue-crowned laughingthrush during the breeding season. PeerJ 8:e8785

Lozupone CA, Hamady M, Kelley ST, Knight R (2007) Quantitative and qualitative beta diversity measures lead to different insights into factors that structure microbial communities. Appl Environ Microbiol 73:1576–1585

Lynch JB, Hsiao EY (2019) Microbiomes as sources of emergent host phenotypes. Science 365:1405–1408

Martin M (2011) Cutadapt removes adapter sequences from high-throughput sequencing reads. Embnet J 17:10–12

Matthews DM, Jenks SM (2013) Ingestion of Mycobacterium vaccae decreases anxiety-related behavior and improves learning in mice. Behav Proc 96:27–35

Moeller AH, Sanders JG (2020) Roles of the gut microbiota in the adaptive evolution of mammalian species. Philos Trans R Soc Lond B Biol Sci 375:20190597

Nicholson JK, Holmes E, Kinross J, Burcelin R, Gibson G, Jia W et al (2012) Host-gut microbiota metabolic interactions. Science 336:1262–1267

Pagano M, Martins AF, Barth AL (2016) Mobile genetic elements related to carbapenem resistance in Acinetobacter baumannii. Braz J Microbiol 47:785–792

Parks DH, Tyson GW, Hugenholtz P, Beiko RG (2014) STAMP: statistical analysis of taxonomic and functional profiles. Bioinformatics 30:3123–3124

Pereira FC, Wasmund K, Cobankovic I, Jehmlich N, Herbold CW, Lee KS et al (2020) Rational design of a microbial consortium of mucosal sugar utilizers reduces Clostridiodes difficile colonization. Nat Commun 11:5104

Plovier H, Everard A, Druart C, Depommier C, Van Hul M, Geurts L et al (2017) A purified membrane protein from Akkermansia muciniphila or the pasteurized bacterium improves metabolism in obese and diabetic mice. Nat Med 23:107–113

Quast C, Pruesse E, Yilmaz P, Gerken J, Schweer T, Yarza P et al (2013) The SILVA ribosomal RNA gene database project: improved data processing and web-based tools. Nucleic Acids Res 41:D590-596

Rothschild D, Weissbrod O, Barkan E, Kurilshikov A, Korem T, Zeevi D et al (2018) Environment dominates over host genetics in shaping human gut microbiota. Nature 555:210–215

Sandhu KV, Sherwin E, Schellekens H, Stanton C, Dinan TG, Cryan JF (2017) Feeding the microbiota-gut-brain axis: diet, microbiome, and neuropsychiatry. Transl Res 179:223–244

Schnorr SL, Candela M, Rampelli S, Centanni M, Consolandi C, Basaglia G et al (2014) Gut microbiome of the Hadza hunter-gatherers. Nat Commun 5:3654

Schretter CE, Vielmetter J, Bartos I, Marka Z, Marka S, Argade S et al (2018) A gut microbial factor modulates locomotor behaviour in Drosophila. Nature 563:402–406

Segata N, Izard J, Waldron L, Gevers D, Miropolsky L, Garrett WS et al (2011) Metagenomic biomarker discovery and explanation. Genome Biol 12:R60

Sherwin E, Bordenstein SR, Quinn JL, Dinan TG, Cryan JF (2019) Microbiota and the social brain. Science 366:eaar2016

Simon JC, Marchesi JR, Mougel C, Selosse MA (2019) Host-microbiota interactions: from holobiont theory to analysis. Microbiome 7:5

Stanley D, Hughes RJ, Moore RJ (2014) Microbiota of the chicken gastrointestinal tract: influence on health, productivity and disease. Appl Microbiol Biotechnol 98:4301–4310

Trevelline BK, MacLeod KJ, Knutie SA, Langkilde T, Kohl KD (2018) In ovo microbial communities: a potential mechanism for the initial acquisition of gut microbiota among oviparous birds and lizards. Biol Lett 14:20180225

Vuong HE, Yano JM, Fung TC, Hsiao EY (2017) The microbiome and host behavior. Annu Rev Neurosci 40:21–49

Waite DW, Taylor MW (2014) Characterizing the avian gut microbiota: membership, driving influences, and potential function. Front Microbiol 5:223

Waite DW, Taylor MW (2015) Exploring the avian gut microbiota: current trends and future directions. Front Microbiol 6:673

Wang HX, Wang YP (2016) Gut Microbiota-Brain Axis. Chin Med J (engl) 129:2373–2380

Wang Q, Garrity GM, Tiedje JM, Cole JR (2007) Naive Bayesian classifier for rapid assignment of rRNA sequences into the new bacterial taxonomy. Appl Environ Microbiol 73:5261–5267

Ward T, Larson J, Meulemans J, Hillmann B, Lynch J, Sidiropoulos D et al (2017) BugBase predicts organism-level microbiome phenotypes. bioRxiv. https://doi.org/10.1101/133462

Wilinski D, Winzeler J, Duren W, Persons JL, Holme KJ, Mosquera J et al (2019) Rapid metabolic shifts occur during the transition between hunger and satiety in Drosophila melanogaster. Nat Commun 10:4052

Wong ACN, Wang QP, Morimoto J, Senior AM, Lihoreau M, Neely GG et al (2017a) Gut microbiota modifies olfactory-guided microbial preferences and foraging decisions in Drosophila. Curr Biol 27:2397-2404.e4

Wong D, Nielsen TB, Bonomo RA, Pantapalangkoor P, Luna B, Spellberg B (2017b) Clinical and pathophysiological overview of acinetobacter infections: a century of challenges. Clin Microbiol Rev 30:409–447

Wu ZY, Liu DQ, Wang XH, Li DT, Huang HL (2016) Analysis of bule-crowned laughingthrush's research status. Mod Agri Sci Tech 294–295+300

Zhang W, Shi J, Huang H, Liu T (2017) The impact of disturbance from photographers on the Blue-crowned Laughingthrush (Garrulax courtoisi). Avian Conserv Ecol. https://doi.org/10.5751/ACE-01007-120115

Zhang Z, Yang Z, Zhu L (2021) Gut microbiome of migratory shorebirds: Current status and future perspectives. Ecol Evol 11:3737–3745
Acknowledgements
We are grateful to the staff of Nanchang Zoo for their help during the experiment and sampling procedures. We also thank Dr. Bin He for his kind help in revising this manuscript.
Funding
This work was funded by the National Natural Science Foundation of China (Grant no. 31760625) and the Science and Technology Project of Education Department of Jiangxi Province (Grant no. GJJ190581).
Ethics declarations
Conflict of interest
The authors declare no conflict of interest.
Ethical approval
The study was conducted according to the guidelines of the management and utility of experimental animals, and approved by the Ethics Committee of Jiangxi Science and Technology Normal University, and all animal manipulations were strictly performed following the relevant laws of China.
Additional information
Communicated by Martine Collart.
Publisher's Note
Springer Nature remains neutral with regard to jurisdictional claims in published maps and institutional affiliations.
Supplementary Information
Below is the link to the electronic supplementary material.
About this article
Cite this article
Wang, C., Li, J., Cheng, Y. et al. Investigation on the characteristics of gut microbiota in critically endangered blue-crowned laughingthrush (Garrulax courtoisi). Mol Genet Genomics 297, 655–670 (2022). https://doi.org/10.1007/s00438-022-01875-5
Received:

Accepted:

Published:

Issue Date:

DOI: https://doi.org/10.1007/s00438-022-01875-5
Keywords
Garrulax courtoisi

Gut microbiota

Intraspecific differences

Eating behaviors

Population conservation