Abstract
Pseudomonas syringae pv. tabaci 6605 (Pta6605) is a causal agent of wildfire disease in host tobacco plants and is highly motile. Pta6605 has multiple clusters of chemotaxis genes including cheA, a gene encoding a histidine kinase, cheY, a gene encoding a response regulator, mcp, a gene for a methyl-accepting chemotaxis protein, as well as flagellar and pili biogenesis genes. However, only two major chemotaxis gene clusters, cluster I and cluster II, possess cheA and cheY. Deletion mutants of cheA or cheY were constructed to evaluate their possible role in Pta6605 chemotaxis and virulence. Motility tests and a chemotaxis assay to known attractant demonstrated that cheA2 and cheY2 mutants were unable to swarm and to perform chemotaxis, whereas cheA1 and cheY1 mutants retained chemotaxis ability almost equal to that of the wild-type (WT) strain. Although WT and cheY1 mutants of Pta6605 caused severe disease symptoms on host tobacco leaves, the cheA2 and cheY2 mutants did not, and symptom development with cheA1 depended on the inoculation method. These results indicate that chemotaxis genes located in cluster II are required for optimal chemotaxis and host plant infection by Pta6605 and that cluster I may partially contribute to these phenotypes.
Access options
Buy single article
Instant access to the full article PDF.
USD 39.95
Price includes VAT (USA)
Tax calculation will be finalised during checkout.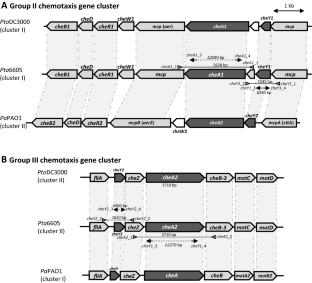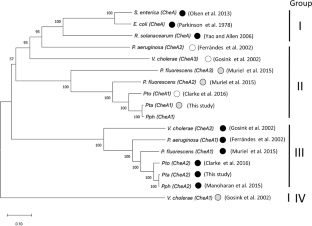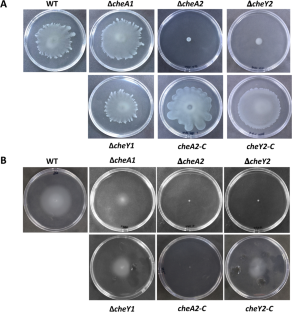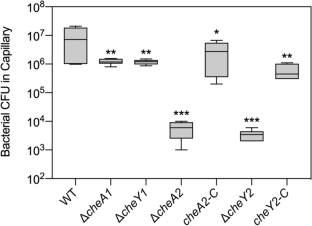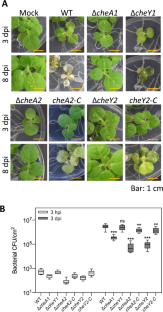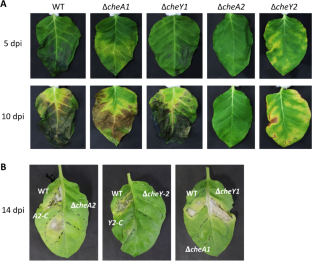 References
Antunnez-Lamaz M, Cabrera E, Lopez-Solanina E, Solano R, González-Melendi P, Chico JM, Toth I, Birch P, Prichard L, Liu H, Rodriguez-Palenzuela P (2009) Bacterial chemoattraction towards jasmonate plays a role in the entry of Dickeya dadantii through wounded tissues. Mol Microbiol 74:662–671

Bandyopadhaya A, Chauduri K (2009) Differential modulation of NF-κB-mediated pro-inflammatory response in human intestinal epithelial cells by cheY homologues of Vibrio cholerae. Innate Immun 15:131–142

Bi S, Lai L (2015) Bacterial chemoreceptors and chemoeffectors. Cell Mol Life Sci 72:691–708

Blair DF (1995) How bacteria sense and swim. Annu Rev Microbiol 49:489–522

Blattner FR, Plunkett G, Bloch CA, Perna NT, Burland V, Riley M, Collado-Vides J, Glasner JD, Rode CK, Mayhew GF, Gregor J, Davis NW, Kirkpatrick HA, Goeden MA, Rose DJ, Mau B, Shao Y (1997) The complete genome sequence of Escherichia coli K-12. Science 277:1453–1462

Buell CR, Joardar V, Lindeberg M, Selengut J, Paulsen IT, Gwinn ML, Dodson RJ, Deboy RT, Durkin AS, Kolonay JF, Madupu R, Daugherty S, Brinkac L, Beanan MJ, Haft DH, Nelson WC, Davidsen T, Zafar N, Zhou L, Liu J, Yuan Q, Khouri H, Fedorova N, Tran B, Russel D, Berry K, Utterback T, Van Aken SE, Feldblyum TV, D'Ascenzo M, Deng WL, Ramos AR, Alfano JR, Cartinhour S, Chatterjee AK, Delaney TP, Lazarowitz SG, Martin GB, Schneider DJ, Tang X, Bender CL, White O, Fraser CM, Colmer A (2003) The complete genome sequence of the Arabidopsis and tomato pathogen Pseudomonas syringae pv. tomato DC3000. Proc Natl Acad Sci USA 100:10181–10186

Cerna-Vargas JP, Santamaría-Hernando S, Matilla MA, Rodríguez-Herva JJ, Daddaoua A, Rodríguez-Palenzuela P, Krell T, López-Solanilla E (2019) Chemoperception of specific amino acids controls phytopathogenicity in Pseudomonas syringae pv tomato. mBio 10:e01868-19

Clarke CR, Hayes BW, Runde BJ, Markel E, Swingle BM, Vinatzer BA (2016) Comparative genomics of Pseudomonas syringae pathovar tomato reveals novel chemotaxis pathway associated with motility and plant pathogenicity. PeerJ 4:e2570

Feng L, Reeves PR, Lan R, Ren Y, Gao C, Zhou Z, Ren Y, Cheng J, Wang W, Wang J, Qian W, Li D, Wang L (2008) A recalibrated molecular clock and independent origins for the cholera pandemic clones. PLoS ONE 3:e4053

Ferrández A, Hawkins AC, Summerfield DT, Harwood CS (2002) Cluster II che genes from Pseudomonas aeruginosa are required for an optimal chemotactic response. J Bacteriol 184:4374–4383

Gosink KK, Kobayashi R, Kawagishi I, Häse CC (2002) Analyses of the roles of the three cheA homologs in chemotaxis of Vibrio cholerae. J Bacteriol 184:1767–1771

Güvener ZT, Tifrea DF, Harwood CS (2006) Two different Pseudomonas aeruginosa chemosensory signal transduction complexes localize to cell poles and form and remould in stationary phase. Mol Microbiol 61:106–118

Ichinose Y, Shimizu R, Ikeda Y, Taguchi F, Marutani M, Mukaihara T, Inagaki Y, Toyoda K, Shiraishi T (2003) Need for flagella for complete virulence of Pseudomonas syringae pv. tabaci: genetic analysis with flagella-defective mutants ΔfliC and ΔfliD in host tobacco plants. J Gen Plant Pathol 69:244–249

Ichinose Y, Taguchi F, Mukaihara T (2013) Pathogenicity and virulence factors of Pseudomonas syringae. J Gen Plant Pathol 79:285–296

Ichinose Y, Tasaka Y, Yamamoto S, Inoue Y, Takata M, Nakatsu Y, Taguchi F, Yamamoto M, Toyoda K, Noutoshi Y, Matsui H (2020) PsyR, a transcriptional regulator in quorum sensing system, binds lux box-like sequence in psyI promoter without AHL quorum sensing molecule and activates psyI transcription with AHL in Pseudomonas syringae pv. tabaci 6605. J Gen Plant Pathol 86:124–133

Ishiga Y, Ishiga T, Uppalapati SR, Mysore KS (2011) Arabidopsis seedling flood-inoculation technique: a rapid and reliable assay for studying plant-bacterial interactions. Plant Methods 7:32

Joardar V, Lindeberg M, Jackson RW, Selengut J, Dodson R, Brinkac LM, Daugherty SC, Deboy R, Durkin AS, Giglio MG, Madupu R, Nelson WC, Rosovitz MJ, Sullivan S, Crabtree J, Creasy T, Davidsen T, Haft DH, Zafar N, Zhou L, Halpin R, Holley T, Khouri H, Feldblyum T, White O, Fraser CM, Chatterjee AK, Cartinhour S, Schneider DJ, Mansfield J, Collmer A, Buell CR (2005) Whole-genome sequence analysis of Pseudomonas syringae pv. phaseolicola 1448A reveals divergence among pathovars in genes involved in virulence and transposition. J Bacteriol 187:6488–6498

Kanda E, Tatsuta T, Suzuki T, Taguchi F, Naito K, Inagaki Y, Toyoda K, Shiraishi T, Ichinose Y (2011) Two flagellar stators and their roles in motility and virulence in Pseudomonas syringae pv. tabaci 6605. Mol Genet Genomics 285:163–174

Kato J, Nakamura T, Kuroda A, Ohtake H (1999) Cloning and characterization of chemotaxis genes in Pseudomonas aeruginosa. Biosci Biotechnol Biochem 63:155–161

Kearns DB (2010) A field guide to bacterial swarming motility. Nat Rev Microbiol 8:634–644

Keen NT, Tamaki S, Kobayashi D, Trollinger D (1988) Improved broad-host-range plasmids for DNA cloning in Gram-negative bacteria. Gene 70:191–197

King EO, Ward MK, Raney DE (1954) Two simple media for demonstration of pyocyanin and fluorescein. Transl Res 44:301–307

Kroupitski Y, Goldberg D, Belausoy E, Pinto R, Swartzberg D, Granot D, Sela S (2009) Internalization of Salmonella enterica in leaves is induced by light and involves chemotaxis and penetration through open stomata. Appl Environ Microbiol 75:6076–6086

Kuo SC, Koshland DE (1987) Roles of cheY and cheZ gene products in controlling flagellar rotation in bacterial chemotaxis of Escherichia coli. J Bacteriol 169:1307–1314

Lee SH, Butler SM, Camilli A (2001) Selection for in vivo regulators of bacterial virulence. Proc Natl Acad Sci USA 98:6889–6894

Manoharan B, Neale HC, Hancock JT, Jackson RW, Arnold DL (2015) The identification of genes important in Pseudomonas syringae pv. phaseolicolaplant colonisation using in vitro screening of transposon libraries. PLoS ONE 10:1-19.e0137355

Manson MD (1992) Bacterial motility and chemotaxis. In: Rose AH (ed) Advances in microbial physiology. Academic Press, New York, pp 277–346

Matilla MA, Krell T (2018) The effect of bacterial chemotaxis on host infection and pathogenicity. FEMS Microbiol Rev 42:40–67

McClelland M, Sanderson KE, Spieth J, Clifton SW, Latreille P, Courtney L, Porwollik S, Ali J, Dante M, Du F, Hou S, Layman D, Leonard S, Nguyen C, Scott K, Holmes A, Grewal N, Mulvaney E, Ryan E, Sun H, Florea L, Webb M, Stoneking T, Nhan M, Waterson R, Wilson RK (2001) Complete genome sequence of Salmonella enterica serovar Typhimurium LT2. Nature 413:852–856

Melotto M, Underwood W, Koczan J, Nomura K, He SY (2006) Plant stomata function in innate immunity against bacterial invasion. Cell 126:969–980

Muriel C, Jalvo B, Redondo-Nieto M, Rivilla R, Martin M (2015) Chemotactic motility of Pseudomonas fluorescens F113 under aerobic and denitrification conditions. PLoS ONE 10:1–13

Olsen JE, Hoegh-Andersen KH, Casadesús J, Rosenkrantz JT, Chadfield MS, Thomsen LE (2013) The role of flagella and chemotaxis genes in host pathogen interaction of the host adapted Salmonella enterica serovar Dublin compared to the broad host range serovar S. Typhimurium. BMC Microbiol 13:67

Parkinson JS (1978) Complementation analysis and deletion mapping of Escherichia coli mutants defective in chemotaxis. J Bacteriol 135:45–53

Porter SL, Armitage JP (2002) Phosphotransfer in Rhodobacter sphaeroides chemotaxis. J Mol Biol 324:35–45

Redondo-Nieto M, Barret M, Morrisey JP, Germaine K, Martinez-Granero F, Barahona E, Navazo A, Sánchez-Contreras M, Moynihan JA, Giddens SR, Coppoolse ER, Muriel C, Stiekema WJ, Rainey PB, Dowling D, O'Gara F, Martin M, Rivilla R (2011) Genome sequence of the biocontrol strain Pseudomonas fluorescens F113. J Bacteriol 194:1273–1274

Reyes-Darias JA, Garcia V, Rico-Jiménez M, Corral-Lugo A, Krell T (2016) Identification and characterization of bacterial chemoreceptors using quantitative capillary and gradient plate chemotaxis assays. Bio Protoc 6:e1789

Salanoubat M, Genin S, Artiguenave F, Gouzy J, Mangenot S, Arlat M, Billault A, Brottier P, Camus JC, Cattolico L, Chandler M, Choisne N, Claudel-Renard C, Cunnac S, Demange N, Gaspin C, Lavie M, Moisan A, Robert C, Saurin W, Schiex T, Siguier P, Thébault P, Whalen M, Wincker P, Levy M, Weissenbach J, Boucher CA (2002) Genome sequence of the plant pathogen Ralstonia solanacearum. Nature 415:497–502

Schäfer A, Tauch A, Jäger W, Kalinowski J, Thierbach G, Pühler A (1994) Small mobilizable multi-purpose cloning vectors derived from the Escherichia coli plasmids pK18 and pK19: selection of defined deletions in the chromosome of Corynebacterium glutamicum. Gene 145:69–73

Shimizu R, Taguchi F, Marutani M, Mukaihara T, Inagaki Y, Toyoda K, Shiraishi T, Ichinose Y (2003) The ΔfliD mutant of Pseudomonas syringae pv. tabaci, which secretes flagellin monomers, induces a strong hypersensitive reaction (HR) in non-host tomato cells. Mol Genet Genomics 269:21–30

Sourjik V, Armitage JP (2010) Spatial organization in bacterial chemotaxis. EMBO J 29:2724–2733

Sourjik V, Wingreen NS (2012) Responding to chemical gradients: bacterial chemotaxis. Curr Opin Cell Biol 24:262–268

Stecher B, Hapfelmeier S, Müller C, Kremer M, Stallmach T, Hardt WD (2004) Flagella and chemotaxis are required for efficient induction of Salmonella enterica serovar Typhimurium colitis in Streptomycin-pretreated mice. Infec Immun 72:4138–4150

Stover CK, Pham XQ, Erwin AL, Mizoguchi SD, Warrener P, Hickey MJ, Brinkman FSL, Hufnagle WO, Kowalik DJ, Lagrou M, Garber RL, Goltry L, Tolentino E, Westbrock-Wadman S, Yuan Y, Brody LL, Coulter SN, Folger KR, Kas A, Larbig K, Lim R, Smith K, Spencer D, Wong GKS, Wu Z, Paulsen IT, Reizer J, Saier MH, Hancock REW, Lory S, Olson MV (2000) Complete genome sequence of Pseudomonas aeruginosa PAO1, an opportunistic pathogen. Nature 406:959–964

Szurmant H, Ordal GW (2004) Diversity on chemotaxis mechanisms among the bacteria and archaea. Microbiol Mol Biol Rev 68:310–319

Taguchi F, Ichinose Y (2011) Role of type IV pili in virulence of Pseudomonas syringae pv. tabaci 6605: correlation of motility, multidrug resistance, and HR-inducing activity on a non-host plant. Mol Plant Microbe Interact 24:1001–1011

Taguchi F, Takeuchi K, Katoh E, Murata K, Suzuki T, Marutani M, Kawasaki T, Eguchi M, Katoh S, Kaku H, Yasuda C, Inagaki Y, Toyoda K, Shiraishi T, Ichinose Y (2006) Identification of glycosylation genes and glycosylated amino acids of flagellin in Pseudomonas syringae pv. tabaci. Cell Microbiol 8:923–938

Taguchi F, Yamamoto M, Ohnishi-Kameyama M, Iwaki M, Yoshida M, Ishii T, Konishi T, Ichinose Y (2010) Defects in flagellin glycosylation affect the virulence of Pseudomonas syringae pv. tabaci 6605. Microbiology 156:72–80

Wadhams GH, Armitage JP (2004) Making sense of it all: bacterial chemotaxis. Nat Rev Mol Cell Biol 5:1024–1037

Xin XF, Kvitko B, He SY (2018) Pseudomonas syringae: what it takes to be a pathogen. Nat Rev Microbiol 16:316–328

Yao J, Allen C (2006) Chemotaxis is required for virulence and competitive fitness of the bacterial wilt pathogen Ralstonia solanacearum. J Bacteriol 188:3697–3708

Yu X, Lund SP, Scott RA, Greenwald JW, Records AH, Nettleton D, Lindow SE, Gross DC, Beattie GA (2013) Transcriptional responses of Pseudomonas syringae to growth in epiphytic versus apoplastic leaf sites. Proc Natl Acad Sci USA 110:e425–e434
Acknowledgements
The first author was supported by the Japanese Government through a MONBUKAGAKUSHO (MEXT) Scholarship during her study at Okayama University. The Pseudomonas syringae pv. tabaci 6605 isolate was kindly provided by the Leaf Tobacco Research Laboratory of Japan Tobacco Inc. We thank Prof. J. Kato and Dr. S. Oku, Hiroshima University, for the technical advice on the chemotaxis test. This work was supported in part by Grants-in-Aid for Scientific Research (Nos. 26660035 and 19H02956) from the Ministry of Education, Culture, Sports, Science and Technology of Japan.
Ethics declarations
Conflict of interest
All authors declare that there is no conflict of interest.
Ethical approval
This article does not include any experiments with animals or human conducted by any of the authors.
Additional information
Publisher's Note
Springer Nature remains neutral with regard to jurisdictional claims in published maps and institutional affiliations.
Communicated by Stefan Hohmann.
Electronic supplementary material
Below is the link to the electronic supplementary material.
About this article
Cite this article
Tumewu, S.A., Ogawa, Y., Okamoto, T. et al. Cluster II che genes of Pseudomonas syringae pv. tabaci 6605, orthologs of cluster I in Pseudomonas aeruginosa, are required for chemotaxis and virulence. Mol Genet Genomics 296, 299–312 (2021). https://doi.org/10.1007/s00438-020-01745-y
Received:

Accepted:

Published:

Issue Date:
Keywords
Bacterial virulence

cheA

Chemotaxis

cheY

Flagellar motility

Pseudomonas