Abstract
According to genetic studies, the Hungarian Y-chromosomal gene pool significantly differs from other Uralic-speaking populations. Hungarians possess a significant frequency of haplogroup R1a-Z280 and a low frequency of haplogroup N-Tat, which is common among other Uralic-speaking populations. Based on this evidence, we further worked to define the links between the linguistically related Hungarian, Mansi and Bashkirian Mari populations. Samples were collected from 45 Bashkirian Mari and 36 Southern Mansi males in the Ural region. We analyzed male-specific markers including 23 STRs and 36 SNPs, which reflect past and recent paternal genetic history. We found that the haplogroup distribution of the two population samples showed high genetic similarity to each other except for the N-Tat* and R1a-Z93 haplogroups in the Bashkirian Mari males. On the MDS plots constructed from Fst- and Rst-genetic distances, the Bashkirian Mari and Southern Mansi population groups showed close genetic affinities with the Khanty, Northern Mansi, Mari, and Estonian populations. For phylogenetic studies, networks were constructed for the most frequent haplogroups in both populations together with other Eurasian populations. Both populations shared common haplotypes within haplogroups R1a-Z280 or N-L1034 with Hungarian speakers, suggesting a common paternal genetic footprint that arose in prehistoric or historic times. Overall, the Hungarian, Mansi, and Bashkirian Mari populations have a much more complex genetic history than the traditional linguistic model or history would suggest. Further studies are needed to clarify the common genetic profiles may have been acquired directly or indirectly during the more or less known their history.
This is a preview of subscription content,
to check access.
Access this article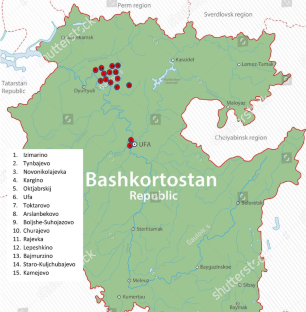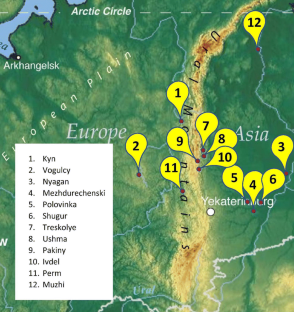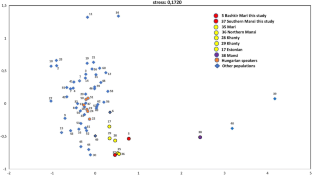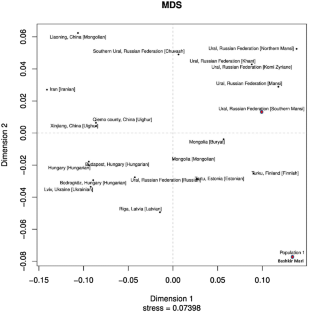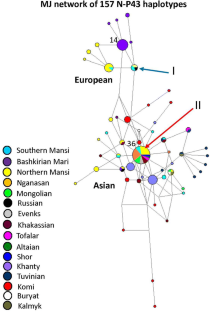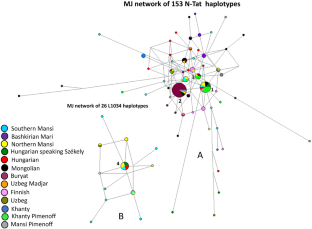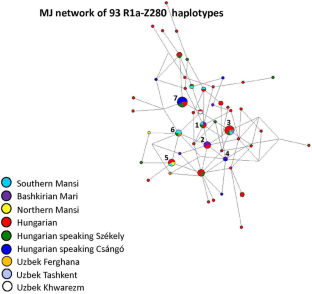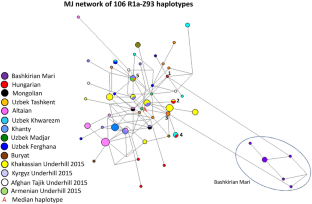 Similar content being viewed by others
References
Adamov D, Guryanov V, Karzhavin S, Tagankin V, Urasin V (2015) Defining a new rate constant for Y-chromosome SNPs based on full sequencing data. Russ J Genet Geneal (Pyccкaя вepcия) 7(1). ISSN:1920-2997. http://www.yfull.com

Balloux F, Goudet J (2002) Statistical properties of population differentiation estimators under stepwise mutation in a finite island model. Mol Ecol 11(4):771–783

Bandelt HJ, Forster P, Röhl A (1999) Median-joining networks for inferring intraspecific phylogenies. Mol Biol Evol 16:37–48

Bíró A, Fehér T, Bárány G, Pamjav H (2015) Testing Central and Inner Asian admixture among contemporary Hungarians. Forensic Sci Int Genet 15:121–126. https://doi.org/10.1016/j.fsigen.2014.11.007 Epub 2014 Nov 15

Damgaard PB, Marchi N, Rasmussen S, Peyrot M, Renaud G, Korneliussen T, Moreno-Mayar JV, Pedersen MW, Goldberg A, Usmanova E, Baimukhanov N, Loman V, Hedeager L, Pedersen AG, Nielsen K, Afanasiev G, Akmatov K, Aldashev A, Alpaslan A, Baimbetov G, Bazaliiskii VI, Beisenov A, Boldbaatar B, Boldgiv B, Dorzhu C, Ellingvag S, Erdenebaatar D, Dajani R, Dmitriev E, Evdokimov V, Frei KM, Gromov A, Goryachev A, Hakonarson H, Hegay T, Khachatryan Z, Khaskhanov R, Kitov E, Kolbina A, Kubatbek T, Kukushkin A, Kukushkin I, Lau N, Margaryan A, Merkyte I, Mertz IV, Mertz VK, Mijiddorj E, Moiyesev V, Mukhtarova G, Nurmukhanbetov B, Orozbekova Z, Panyushkina I, Pieta K, Smrčka V, Shevnina I, Logvin A, Sjögren KG, Štolcová T, Taravella AM, Tashbaeva K, Tkachev A, Tulegenov T, Voyakin D, Yepiskoposyan L, Undrakhbold S, Varfolomeev V, Weber A, Wilson Sayres MA, Kradin N, Allentoft ME, Orlando L, Nielsen R, Sikora M, Heyer E, Kristiansen K, Willerslev E (2018) 137 ancient human genomes from across the Eurasian steppes. Nature 557(7705):369–374

de Knijff P (2000) Messages through bottlenecks: on the combined use of slow and fast evolving polymorphic markers on the human Y chromosome. Am J Hum Genet 67:1055–1061

Dulik MC, Zhadanov SI, Osipova LP, Askapuli A, Gau L, Gokcumen O, Rubinstein S, Schurr TG (2012) Mitochondrial DNA and Y chromosome variation provides evidence for a recent common ancestry between native Americans and indigenous Altaians. Am J Hum Genet 90(2):229–246

Excoffier L, Lischer HEL (2010) Arlequin suite ver 3.5: a new series of programs to perform population genetics analyses under Linux and Windows. Mol Ecol Resour 10:564–567

Fehér T, Németh E, Vándor A, Kornienko IV, Csáji LK, Pamjav H (2015) Y-SNP L1034: limited genetic link between Mansi and Hungarian-speaking populations. Mol Genet Genomics 290(1):377–386. https://doi.org/10.1007/s00438-014-0925-2

Hammer MF (2002) A nomenclature system for the tree of human Y-chromosomal binary haplogroups. Genome Res 12(2):339–348

Hardy OJ, Charbonnel N, Fréville H, Heuertz M (2003) Microsatellite allele sizes: a simple test to assess their significance on genetic differentiation. Genetics 163(4):1467–1482

Ilumäe AM, Reidla M, Chukhryaeva M, Järve M, Post H, Karmin M, Saag L, Agdzhoyan A, Kushniarevich A, Litvinov S, Ekomasov N, Tambets K, Metspalu E, Khusainova R, Yunusbayev B, Khusnutdinova EK, Osipova LP, Fedorova S, Utevska O, Koshel S, Balanovska E, Behar DM, Balanovsky O, Kivisild T, Underhill PA, Villems R, Rootsi S (2016) Human Y chromosome haplogroup N: a non-trivial time-resolved phylogeography that cuts across language families. Am J Hum Genet 99(1):163–173

Jobling MA, Tyler-Smith C (2003) The human Y chromosome: an evolutionary marker comes of age. Nat Rev Genet 4:598–6123. https://doi.org/10.1016/j.ajhg.2016.05.025

Juhász P (2017) Bashkirok és magyarok a muszlim forrásokban. Belvede Meridonale 29(2):133–139

Karafet TM, Mendez FL, Meilerman MB, Underhill PA, Zegura SL, Hammer MF (2008) New binary polymorphisms reshape and increase resolution of the human Y chromosomal haplogroup tree. Genome Res 18:830–838

Karmin M, Saag L, Vicente M, Wilson Sayres MA, Järve M, Talas UG, Rootsi S, Ilumäe AM, Mägi R, Mitt M, Pagani L, Puurand T, Faltyskova Z, Clemente F, Cardona A, Metspalu E, Sahakyan H, Yunusbayev B, Hudjashov G, DeGiorgio M, Loogväli EL, Eichstaedt C, Eelmets M, Chaubey G, Tambets K, Litvinov S, Mormina M, Xue Y, Ayub Q, Zoraqi G, Korneliussen TS, Akhatova F, Lachance J, Tishkoff S, Momynaliev K, Ricaut FX, Kusuma P, Razafindrazaka H, Pierron D, Cox MP, Sultana GN, Willerslev R, Muller C, Westaway M, Lambert D, Skaro V, Kovačevic L, Turdikulova S, Dalimova D, Khusainova R, Trofimova N, Akhmetova V, Khidiyatova I, Lichman DV, Isakova J, Pocheshkhova E, Sabitov Z, Barashkov NA, Nymadawa P, Mihailov E, Seng JW, Evseeva I, Migliano AB, Abdullah S, Andriadze G, Primorac D, Atramentova L, Utevska O, Yepiskoposyan L, Marjanovic D, Kushniarevich A, Behar DM, Gilissen C, Vissers L, Veltman JA, Balanovska E, Derenko M, Malyarchuk B, Metspalu A, Fedorova S, Eriksson A, Manica A, Mendez FL, Karafet TM, Veeramah KR, Bradman N, Hammer MF, Osipova LP, Balanovsky O, Khusnutdinova EK, Johnsen K, Remm M, Thomas MG, Tyler-Smith C, Underhill PA, Willerslev E, Nielsen R, Metspalu M, Villems R, Kivisild T (2015) A recent bottleneck of Y chromosome diversity coincides with a global change in culture. Genome Res 25(4):459–466

Lamnidis TC, Majander K, Jeong C, Salmela E, Wessman A, Moiseyev V, Khartanovich V, Balanovsky O, Ongyerth M, Weihmann A, Sajantila A, Kelso J, Pääbo S, Onkamo P, Haak W, Krause J, Schiffels S (2018) Ancient Fennoscandian genomes reveal origin and spread of Siberian ancestry in Europe. Nat Commun 9(1):5018. https://doi.org/10.1038/s41467-018-07483-5

Lobov AS (2009) Structure of the gene pool of the Bashkir subpopulations. Abstract. Diss. Cand. Biology. Science, Ufa

Malyarchuk B, Derenko M, Grzybowski T, Lunkina A, Czarny J, Rychkov S, Morozova I, Denisova G, Miścicka-Sliwka D (2004) Differentiation of mitochondrial DNA and Y chromosomes in Russian populations. Hum Biol 76(6):877–900

Nei M (1973) Analysis of gene diversity in subdivided populations. Proc Natl Acad Sci USA 70(12):3321–3323

Pamjav H, Fóthi Á, Fehér T, Fóthi E (2017) A study of the Bodrogköz population in north-eastern Hungary by Y chromosomal haplotypes and haplogroups. Mol Genet Genomics 292(4):883–894

Pankratov V, Litvinov S, Kassian A, Shulhin D, Tchebotarev L, Yunusbayev B, Möls M, Sahakyan H, Yepiskoposyan L, Rootsi S, Metspalu E, Golubenko M, Ekomasova N, Akhatova F, Khusnutdinova E, Heyer E, Endicott P, Derenko M, Malyarchuk B, Metspalu M, Davydenko O, Villems R, Kushniarevich A (2016) East Eurasian ancestry in the middle of Europe: genetic footprints of Steppe nomads in the genomes of Belarusian Lipka Tatars. Sci Rep 6:30197. https://doi.org/10.1038/srep30197

Pimenoff VN, Comas D, Palo JU, Vershubsky G, Kozlov A, Sajantila A (2008) Northwest Siberian Khanty and Mansi in the junction of West and East Eurasian gene pools as revealed by uniparental markers. Eur J Hum Genet 16(10):1254–1264. https://doi.org/10.1038/ejhg.2008.101

Rootsi S, Zhivotovsky LA, Baldovič M, Kayser M, Kutuev IA, Khusainova R, Bermisheva MA, Gubina M, Fedorova SA, Ilumäe AM, Khusnutdinova EK, Voevoda MI, Osipova LP, Stoneking M, Lin AA, Ferak V, Parik J, Kivisild T, Underhill PA, Villems R (2007) A counter-clockwise northern route of the Y-chromosome haplogroup N from Southeast Asia towards Europe. Eur J Hum Genet 15(2):204–211

Róna-Tas A (1999) Hungarians and Europe in the early middle ages: an introduction to early Hungarian history. Central European University Press, Budapest

Triska P, Chekanov N, Stepanov V, Khusnutdinova EK, Kumar GPA, Akhmetova V, Babalyan K, Boulygina E, Kharkov V, Gubina M, Khidiyatova I, Khitrinskaya I, Khrameeva EE, Khusainova R, Konovalova N, Litvinov S, Marusin A, Mazur AM, Puzyrev V, Ivanoshchuk D, Spiridonova M, Teslyuk A, Tsygankova S, Triska M, Trofimova N, Vajda E, Balanovsky O, Baranova A, Skryabin K, Tatarinova TV, Prokhortchouk E (2017) Between Lake Baikal and the Baltic Sea: genomic history of the gateway to Europe. BMC Genet 18(Suppl 1):110. https://doi.org/10.1186/s12863-017-0578-3

Underhill PA, Kivisild T (2007) Use of Y chromosome and mitochondrial DNA population structure in tracing human migrations. Annu Rev Genet 41:539–564

Underhill PA, Poznik GD, Rootsi S, Järve M, Lin AA, Wang J, Passarelli B, Kanbar J, Myres NM, King RJ, Di Cristofaro J, Sahakyan H, Behar DM, Kushniarevich A, Sarac J, Saric T, Rudan P, Pathak AK, Chaubey G, Grugni V, Semino O, Yepiskoposyan L, Bahmanimehr A, Farjadian S, Balanovsky O, Khusnutdinova EK, Herrera RJ, Chiaroni J, Bustamante CD, Quake SR, Kivisild T, Villems R (2015) The phylogenetic and geographic structure of Y-chromosome haplogroup R1a. Eur J Hum Genet 23(1):124–131. https://doi.org/10.1038/ejhg.2014.50

Völgyi A, Zalán A, Szvetnik E, Pamjav H (2009) Hungarian population data for 11 Y-STR and 49 Y-SNP markers. Forensic Sci Int Genet 3(2):e27–e28. https://doi.org/10.1016/j.fsigen.2008.04.006

Willuweit S, Roewer L (2015) The new Y chromosome haplotype reference database. Forensic Sci Int Genet 15:43–48

Yunusbayev B, Metspalu M, Metspalu E, Valeev A, Litvinov S, Valiev R, Akhmetova V, Balanovska E, Balanovsky O, Turdikulova S (2015) The genetic legacy of the expansion of Turkic-speaking nomads across Eurasia. PLoS Genet 11(4):e1005068. https://doi.org/10.1371/journal.pgen.1005068

Zhivotovsky LA, Underhill PA, Cinnioğlu C, Kayser M, Morar B, Kivisild T, Scozzari R, Cruciani F, Destro-Bisol G, Spedini G, Chambers GK, Herrera RJ, Yong KK, Gresham D, Tournev I, Feldman MW, Kalaydjieva L (2004) The effective mutation rate at Y chromosome short tandem repeats, with application to human population-divergence time. Am J Hum Genet 74(1):50–61
Acknowledgements
This work was supported the Network of Forensic Science Institutes (NFSI) and we would like to say special thanks to the former general director of the NFSI, Dr. Eva Susa for her financial support and Morgan Murchison for English editing. We also thank all the sample donors and the laboratory assistants. We thank both reviewers for their constructive comments and suggestions.
Ethics declarations
Conflict of interest
The authors declare no conflict of interest.
Ethical standards
All procedures performed in studies involving human participants were in accordance with the ethical standards and with the 1964 Helsinki declaration and its later amendments or comparable ethical standards.
Additional information
Communicated by S. Hohmann.
Publisher's Note
Springer Nature remains neutral with regard to jurisdictional claims in published maps and institutional affiliations.
Electronic supplementary material
Below is the link to the electronic supplementary material.
About this article
Cite this article
Dudás, E., Vágó-Zalán, A., Vándor, A. et al. Genetic history of Bashkirian Mari and Southern Mansi ethnic groups in the Ural region. Mol Genet Genomics 294, 919–930 (2019). https://doi.org/10.1007/s00438-019-01555-x
Received:

Accepted:

Published:

Issue Date:

DOI: https://doi.org/10.1007/s00438-019-01555-x
Keywords