Abstract
Complete mitochondrial genomics is an effective tool for studying the demographic history of human populations, but there is still a deficit of mitogenomic data in European populations. In this paper, we present results of study of variability of 80 complete mitochondrial genomes in two Hungarian populations from eastern part of Hungary (Szeged and Debrecen areas). The genetic diversity of Hungarian mitogenomes is remarkably high, reaching 99.9% in a combined sample. According to the analysis of molecular variance (AMOVA), European populations showed a low, but statistically significant level of between-population differentiation (Fst = 0.61%, p = 0), and two Hungarian populations demonstrate lack of between-population differences. Phylogeographic analysis allowed us to identify 71 different mtDNA sub-clades in Hungarians, sixteen of which are novel. Analysis of ancestry-informative mtDNA sub-clades revealed a complex genetic structure associated with the genetic impact of populations from different parts of Eurasia, though the contribution from European populations is the most pronounced. At least 8% of ancestry-informative haplotypes found in Hungarians demonstrate similarity with East and West Slavic populations (sub-clades H1c23a, H2a1c1, J2b1a6, T2b25a1, U4a2e, K1c1j, and I1a1c), while the influence of Siberian populations is not so noticeable (sub-clades A12a, C4a1a, and probably U4b1a4).
Access options
Buy single article
Instant access to the full article PDF.
US$ 39.95
Tax calculation will be finalised during checkout.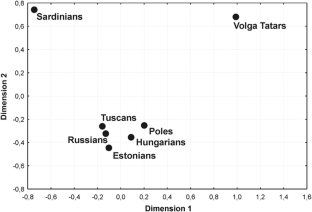 References
Allentoft ME, Sikora M, Sjögren KG, Rasmussen S, Rasmussen M, Stenderup J, Damgaard PB, Schroeder H, Ahlström T, Vinner L, Malaspinas AS, Margaryan A, Higham T, Chivall D, Lynnerup N, Harvig L, Baron J, Della Casa P, Dąbrowski P, Duffy PR, Ebel AV, Epimakhov A, Frei K, Furmanek M, Gralak T, Gromov A, Gronkiewicz S, Grupe G, Hajdu T, Jarysz R, Khartanovich V, Khokhlov A, Kiss V, Kolář J, Kriiska A, Lasak I, Longhi C, McGlynn G, Merkevicius A, Merkyte I, Metspalu M, Mkrtchyan R, Moiseyev V, Paja L, Pálfi G, Pokutta D, Pospieszny Ł, Price TD, Saag L, Sablin M, Shishlina N, Smrčka V, Soenov VI, Szeverényi V, Tóth G, Trifanova SV, Varul L, Vicze M, Yepiskoposyan L, Zhitenev V, Orlando L, Sicheritz-Pontén T, Brunak S, Nielsen R, Kristiansen K, Willerslev E (2015) Population genomics of Bronze Age Eurasia. Nature 522(7555):167–172. https://doi.org/10.1038/nature14507

Andrews RM, Kubacka I, Chinnery PF, Lightowlers RN, Turnbull DM, Howell N (1999) Reanalysis and revision of the Cambridge reference sequence for human mitochondrial DNA. Nat Genet 23(2):147. https://doi.org/10.1038/13779

Brandstätter A, Egyed B, Zimmermann B, Duftner N, Padar Z, Parson W (2007) Migration rates and genetic structure of two Hungarian ethnic groups in Transylvania, Romania. Ann Hum Genet 71:791–803. https://doi.org/10.1111/j.1469-1809.2007.00371.x

Csákyová V, Szécsényi-Nagy A, Csősz A, Nagy M, Fusek G, Langó P, Bauer M, Mende BG, Makovický P, Bauerová M (2016) Maternal genetic composition of a medieval population from a Hungarian-Slavic contact zone in Central Europe. PLoS ONE 11(3):e0151206. https://doi.org/10.1371/journal.pone.0151206

Csősz A, Szécsényi-Nagy A, Csákyová V, Langó P, Bódis V, Köhler K, Tömöry G, Nagy M, Mende BG (2016) Maternal genetic ancestry and legacy of 10th century AD Hungarians. Sci Rep 6:33446. https://doi.org/10.1038/srep33446

Egyed B, Brandstätter A, Irwin JA, Pádár Z, Parsons TJ, Parson W (2007) Mitochondrial control region sequence variations in the Hungarian population: analysis of population samples from Hungary and from Transylvania (Romania). Forensic Sci Int Genet 1(2):158–162. https://doi.org/10.1016/j.fsigen.2007.03.001

Excoffier L, Lischer HE (2010) Arlequin suite ver 3.5: a new series of programs to perform population genetics analyses under Linux and Windows. Mol Ecol Resour 10(3):564–567. https://doi.org/10.1111/j.1755-0998.2010.02847.x

Fodor I (1982) In search of a new homeland. The prehistory of the Hungarian people and the conquest. Corvina Press, Budapest

Fraumene C, Belle EM, Castri L, Sanna S, Mancosu G, Cosso M, Marras F, Barbujani G, Pirastu M, Angius A (2006) High resolution analysis and phylogenetic network construction using complete mtDNA sequences in Sardinian genetic isolates. Mol Biol Evol 23(11):2101–2111. https://doi.org/10.1093/molbev/msl084

Gimbutas M (1971) The Slavs. Praeger Publishing, New York

Guba Z, Hadadi É, Major Á, Furka T, Juhász E, Koós J, Nagy K, Zeke T (2011) HVS-I polymorphism screening of ancient human mitochondrial DNA provides evidence for N9a discontinuity and East Asian haplogroups in the Neolithic Hungary. J Hum Genet 56(11):784–796. https://doi.org/10.1038/jhg.2011.103

Haak W, Forster P, Bramanti B, Matsumura S, Brandt G, Tänzer M, Villems R, Renfrew C, Gronenborn D, Alt KW, Burger J (2005) Ancient DNA from the first European farmers in 7500-year-old Neolithic sites. Scinece 310(5750):1016–1018. https://doi.org/10.1126/science.1118725

Haak W, Lazaridis I, Patterson N, Rohland N, Mallick S, Llamas B, Brandt G, Nordenfelt S, Harney E, Stewardson K, Fu Q, Mittnik A, Bánffy E, Economou C, Francken M, Friederich S, Pena RG, Hallgren F, Khartanovich V, Khokhlov A, Kunst M, Kuznetsov P, Meller H, Mochalov O, Moiseyev V, Nicklisch N, Pichler SL, Risch R, Rojo Guerra MA, Roth C, Szécsényi-Nagy A, Wahl J, Meyer M, Krause J, Brown D, Anthony D, Cooper A, Alt KW, Reich D (2015) Massive migration from the steppe was a source for Indo-European languages in Europe. Nature 522(7555):207–211. https://doi.org/10.1038/nature14317

Heinz T, Pala M, Gómez-Carballa A, Richards MB, Salas A (2017) Updating the African human mitochondrial DNA tree: relevance to forensic and population genetics. Forensic Sci Int Genet 27:156–159. https://doi.org/10.1016/j.fsigen.2016.12.016

Juras A, Chyleński M, Krenz-Niedbała M, Malmström H, Ehler E, Pospieszny Ł, Łukasik S, Bednarczyk J, Piontek J, Jakobsson M, Dabert M (2017) Investigating kinship of Neolithic post-LBK human remains from Krusza Zamkowa, Poland using ancient DNA. Forensic Sci Int Genet 26:30–39. https://doi.org/10.1016/j.fsigen.2016.10.008

Kivisild T (2015) Maternal ancestry and population history from whole mitochondrial genomes. Investig Genet 6:3. https://doi.org/10.1186/s13323-015-0022-2

Lahermo P, Laitinen V, Sistonen P, Béres J, Karcagi V, Savontaus ML (2000) MtDNA polymorphism in the Hungarians: comparison to three other Finno-Ugric-speaking populations. Hereditas 132(1):35–42. http://www.ncbi.nlm.nih.gov/pubmed/10857257

Librado P, Rozas J (2009) DnaSP v5: a software for comprehensive analysis of DNA polymorphism data. Bioinformatics 25(11):1451–1452. https://doi.org/10.1093/bioinformatics/btp187

Malyarchuk B, Grzybowski T, Derenko M, Perkova M, Vanecek T, Lazur J, Gomolcak P, Tsybovsky I (2008) Mitochondrial DNA phylogeny in Eastern and Western Slavs. Mol Biol Evol 25(8):1651–1658. https://doi.org/10.1093/molbev/msn114

Malyarchuk B, Derenko M, Denisova G, Kravtsova O (2010) Mitogenomic diversity in Tatars from the Volga-Ural region of Russia. Mol Biol Evol 27(10):2220–2226. https://doi.org/10.1093/molbev/msq065

Malyarchuk B, Litvinov A, Derenko M, Skonieczna K, Grzybowski T, Grosheva A, Shneider YU, Rychkov S, Zhukova O (2017) Mitogenomic diversity in Russians and Poles. Forensic Sci Int Genet 30:51–56. https://doi.org/10.1016/j.fsigen.2017.06.003

Mielnik-Sikorska M, Daca P, Malyarchuk B, Derenko M, Skonieczna K, Perkova M, Dobosz T, Grzybowski T (2013) The history of Slavs inferred from complete mitochondrial genome sequences. PLoS One 8(1):e54360. https://doi.org/10.1371/journal.pone.0054360

Neparáczki E, Juhász Z, Pamjav H, Fehér T, Csányi B, Zink A, Maixner F, Pálfi G, Molnár E, Pap I, Kustár Á, Révész L, Raskó I, Török T (2017a) Genetic structure of the early Hungarian conquerors inferred from mtDNA haplotypes and Y-chromosome haplogroups in a small cemetery. Mol Genet Genomics 292(1):201–214. https://doi.org/10.1007/s00438-016-1267-z

Neparáczki E, Kocsy K, Tóth GE, Maróti Z, Kalmár T, Bihari P, Nagy I, Pálfi G, Molnár E, Raskó I, Török T (2017b) Revising mtDNA haplotypes of the ancient Hungarian conquerors with next generation sequencing. PLoS One 12(4):e0174886. https://doi.org/10.1371/journal.pone.0174886

Olivieri A, Sidore C, Achilli A, Angius A, Posth C, Furtwängler A, Brandini S, Capodiferro MR, Gandini F, Zoledziewska M, Pitzalis M, Maschio A, Busonero F, Lai L, Skeates R, Gradoli MG, Beckett J, Marongiu M, Mazzarello V, Marongiu P, Rubino S, Rito T, Macaulay V, Semino O, Pala M, Abecasis GR, Schlessinger D, Conde-Sousa E, Soares P, Richards MB, Cucca F, Torroni A (2017) Mitogenome diversity in Sardinians: a genetic window onto an Island's past. Mol Biol Evol 34(5):1230–1239. https://doi.org/10.1093/molbev/msx082

Översti S, Onkamo P, Stoljarova M, Budowle B, Sajantila A, Palo JU (2017) Identification and analysis of mtDNA genomes attributed to Finns reveal long-stagnant demographic trends obscured in the total diversity. Sci Rep 7(1):6193. https://doi.org/10.1038/s41598-017-05673-7

Pentelenyi K, Remenyi V, Gal A, Milley GM, Csosz A, Mende BG, Molnar MJ (2016) Asian-specific mitochondrial genome polymorphism (9-bp deletion) in Hungarian patients with mitochondrial disease. Mitochondrial DNA A DNA Mapp Seq Anal 27(3):1697–1700. https://doi.org/10.3109/19401736.2014.961128

Perego UA, Achilli A, Angerhofer N, Accetturo M, Pala M, Olivieri A, Hooshiar Kashani B, Ritchie KH, Scozzari R, Kong QP, Myres NM, Salas A, Semino O, Bandelt HJ, Woodward SR, Torroni A (2009) Distinctive Paleo-Indian migration routes from Beringia marked by two rare mtDNA haplogroups. Curr Biol 19(1):1–8. https://doi.org/10.1016/j.cub.2008.11.058

Richards M, Macaulay V, Hickey E, Vega E, Sykes B, Guida V, Rengo C, Sellitto D, Cruciani F, Kivisild T, Villems R, Thomas M, Rychkov S, Rychkov O, Rychkov Y, Gölge M, Dimitrov D, Hill E, Bradley D, Romano V, Calì F, Vona G, Demaine A, Papiha S, Triantaphyllidis C, Stefanescu G, Hatina J, Belledi M, Di Rienzo A, Novelletto A, Oppenheim A, Nørby S, Al-Zaheri N, Santachiara-Benerecetti S, Scozari R, Torroni A, Bandelt HJ (2000) Tracing European founder lineages in the Near Eastern mtDNA pool. Am J Hum Genet 67(5):1251–1276

Saillard J, Forster P, Lynnerup N, Bandelt HJ, Norby S (2000) mtDNA variation among Greenland Eskimos: the edge of the Beringian expansion. Am J Hum Genet 67(3):718–726. https://doi.org/10.1086/303038

Semino O, Passarino G, Quintana-Murci L, Liu A, Béres J, Czeizel A, Santachiara-Benerecetti AS (2000) MtDNA and Y chromosome polymorphisms in Hungary: inferences from the Palaeolithic, Neolithic and Uralic influences on the modern Hungarian gene pool. Eur J Hum Genet 8(5):339–346. http://www.ncbi.nlm.nih.gov/pubmed/10854093

Soares P, Ermini L, Thomson N, Mormina M, Rito T, Rohl A, Salas A, Oppenheimer S, Macaulay V, Richards MB (2009) Correcting for purifying selection: an improved human mitochondrial molecular clock. Am J Hum Genet 84(6):740–759. https://doi.org/10.1016/j.ajhg.2009.05.001

Stoljarova M, King JL, Takahashi M, Aaspõllu A, Budowle B (2016) Whole mitochondrial genome genetic diversity in an Estonian population sample. Int J Legal Med 130(1):67–71. https://doi.org/10.1007/s00414-015-1249-4

Tömöry G, Csányi B, Bogácsi-Szabó E, Kalmár T, Czibula Á, Csősz A, Priskin K, Mende B, Langó P, Downes CS, Raskó I (2007) Comparison of maternal lineage and biogeographic analyses of ancient and modern Hungarian populations. Am J Phys Anthropol 134(3):354–368. https://doi.org/10.1002/ajpa.20677

Torroni A, Rengo C, Guida V, Cruciani F, Sellitto D, Coppa A, Calderon FL, Simionati B, Valle G, Richards M, Macaulay V, Scozzari R (2001) Do the four clades of the mtDNA haplogroup L2 evolve at different rates? Am J Hum Genet 69(6):1348–1356. https://doi.org/10.1086/324511

van Oven M, Kayser M (2009) Updated comprehensive phylogenetic tree of global human mitochondrial DNA variation. Hum Mutat 30(2):E386-394. https://doi.org/10.1002/humu.20921
Funding
This study was supported by the Russian Foundation for Basic Research (grant number 16-34-00014) and the Wenner-Gren Foundation (Grant number ICRG-117).
Ethics declarations
Conflict of interest
There is conflict of interest as given here: Prof. Maria Judit Molnár (the Institute of Genomic Medicine and Rare Disorders at Semmelweis University) is also in collaboration with laboratory in the Hungarian Archeological Institute, which does not support and appreciate the work of Molecular Anthropology Research Group presented here by Drs. Zsuzsanna Guba and Tamas Zeke.
Ethical approval
All procedures performed in studies involving human participants were in accordance with the ethical standards of the institutional and/or national research committee and with the 1964 Helsinki declaration and its later amendments or comparable ethical standards.
Informed consent
Informed consent was obtained from all individual participants included in the study.
Additional information
Communicated by S. Hohmann.
Electronic supplementary material
Below is the link to the electronic supplementary material.
About this article
Cite this article
Malyarchuk, B., Derenko, M., Denisova, G. et al. Whole mitochondrial genome diversity in two Hungarian populations. Mol Genet Genomics 293, 1255–1263 (2018). https://doi.org/10.1007/s00438-018-1458-x
Received:

Accepted:

Published:

Issue Date:
Keywords
Complete mitochondrial genomes

Hungarians

Genetic diversity

Phylogeny

Molecular phylogeography