Abstract
Incidental findings in genomic data have been studied in great detail in the recent years, especially from population-scale data sets. However, little is known about the frequency of such findings in ethnic groups, specifically the Middle East, which were not previously covered in global sequencing studies. The availability of whole exome and genome data sets for a highly consanguineous Arab population from Qatar motivated us to explore the incidental findings in this population-scale data. The sequence data of 1005 Qatari individuals were systematically analyzed for incidental genetic variants in the 59 genes suggested by the American College of Medical Genetics and Genomics. We identified four genetic variants which were pathogenic or likely pathogenic. These variants occurred in six individuals, suggesting a frequency of 0.59% in the population, much lesser than that previously reported from European and African populations. Our analysis identified a variant in RYR1 gene associated with Malignant Hyperthermia that has significantly higher frequency in the population compared to global frequencies. Evaluation of the allele frequencies of these variants suggested enrichment in sub-populations, especially in individuals of Sub-Saharan African ancestry. The present study thereby provides the information on pathogenicity and frequency, which could aid in genomic medicine. To the best of our knowledge, this is the first comprehensive analysis of incidental genetic findings in any Arab population and suggests ethnic differences in incidental findings.
This is a preview of subscription content, log in to check access.
Access options
Buy single article
Instant access to the full article PDF.
US$ 39.95
Price includes VAT for USA
Subscribe to journal
Immediate online access to all issues from 2019. Subscription will auto renew annually.
US$ 199
This is the net price. Taxes to be calculated in checkout.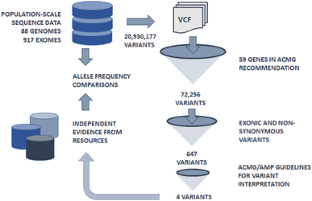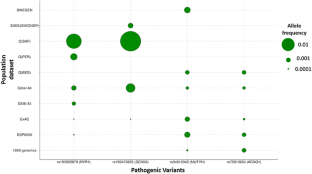 References
Ahmed AE, Usman M (1994) Malignant hyperthermia—a case report. Middle East J Anaesthesiol 12(6):573–578

AlBakri A, Karaoui M, Alkuraya FS, Khan AO (2015) Congenital ptosis, scoliosis, and malignant hyperthermia susceptibility in siblings with recessive RYR1 mutations. J AAPOS 19:577–579

Amendola LM, Dorschner MO, Robertson PD, Salama JS, Hart R, Shirts BH, Murray ML, Tokita MJ, Gallego CJ, Kim DS, Bennett JT, Crosslin DR, Ranchalis J, Jones KL, Rosenthal EA, Jarvik ER, Itsara A, Turner EH, Herman DS, Schleit J, Burt A, Jamal SM, Abrudan JL, Johnson AD, Conlin LK, Dulik MC, Santani A, Metterville DR, Kelly M, Foreman AK, Lee K, Taylor KD, Guo X, Crooks K, Kiedrowski LA, Raffel LJ, Gordon O, Machini K, Desnick RJ, Biesecker LG, Lubitz SA, Mulchandani S, Cooper GM, Joffe S, Richards CS, Yang Y, Rotter JI, Rich SS, O'Donnell CJ, Berg JS, Spinner NB, Evans JP, Fullerton SM, Leppig KA, Bennett RL, Bird T, Sybert VP, Grady WM, Tabor HK, Kim JH, Bamshad MJ, Wilfond B, Motulsky AG, Scott CR, Pritchard CC, Walsh TD, Burke W, Raskind WH, Byers P, Hisama FM, Rehm H, Nickerson DA, Jarvik GP (2015) Actionable exomic incidental findings in 6503 participants: challenges of variant classification. Genome Res 25:305–315

Ameur A, Dahlberg J, Olason P, Vezzi F, Karlsson R, Martin M, Viklund J, Kähäri AK, Lundin P, Che H, Thutkawkorapin J, Eisfeldt J, Lampa S, Dahlberg M, Hagberg J, Jareborg N, Liljedahl U, Jonasson, Johansson Å, Feuk L, Lundeberg J, Syvänen AC, Lundin S, Nilsson D, Nystedt B, Magnusson PK, Gyllensten U (2017) SweGen: a whole-genome data resource of genetic variability in a cross-section of the Swedish population. Eur J Hum Genet 25(11):1253–1260

Auton A, Abecasis GR, Altshuler DM, Durbin RM et al (2015) A global reference for human genetic variation. Nature 526(7571):68–74

Awan Z, Baass A, Genest J (2014) Proprotein convertase subtilisin/Kexin Type 9 (PCSK9): lessons learned from patients with hypercholesterolemia. Clin Chem 60:1380–1389

Bean LJ1, Tinker SW, da Silva C, Hegde MR (2013) Free the data: one laboratory's approach to knowledge-based genomic variant classification and preparation for EMR integration of genomic data. Hum Mutat 34(9):1183–1188

Biesecker LG (2013) Incidental variants are critical for genomics. Am J Hum Genet 92(5):648–651

Campuzano O, Allegue C, Fernandez A, Iglesias A, Brugada R (2015) Determining the pathogenicity of genetic variants associated with cardiac channelopathies. Sci Rep 5:7953

Clarke L, Zheng-Bradley X, Smith R, Kulesha E, Xiao C, Toneva I, Vaughan B, Preuss D, Leinonen R, Shumway M, Sherry S, Flicek P (2012) The 1000 genomes project: data management and community access. Nat Methods 9:459–462

Cohen J, Pertsemlidis A, Kotowski IK, Graham R, Garcia CK, Hobbs HH (2005) Low LDL cholesterol in individuals of African descent resulting from frequent nonsense mutations in PCSK9. Nat Genet 37:161–165

Cotton RG, Auerbach AD, Beckmann JS, Blumenfeld OO, Brookes AJ, Brown AF, Carrera P, Cox DW, Gottlieb B, Greenblatt MS, Hilbert P, Lehvaslaiho H, Liang P, Marsh S, Nebert DW, Povey S, Rossetti S, Scriver CR, Summar M, Tolan DR, Verma IC, Vihinen M, den Dunnen JT (2008) Recommendations for locus-specific databases and their curation. Hum Mutat 29(1):2–5

Delahaye-Sourdeix M, Anantharaman D, Timofeeva MN, Gaborieau V, Chabrier A, Vallee MP, Lagiou P, Holcatova I, Richiardi L, Kjaerheim K, Agudo A, Castellsague X, Macfarlane TV, Barzan L, Canova C, Thakker NS, Conway DI, Znaor A, Healy CM, Ahrens W, Zaridze D, Szeszenia-Dabrowska N, Lissowska J, Fabianova E, Mates IN, Bencko V, Foretova L, Janout V, Curado MP, Koifman S, Menezes A, Wunsch-Filho V, Eluf-Neto J, Boffetta P, Fernandez Garrote L, Polesel J, Lener M, Jaworowska E, Lubinski J, Boccia S, Rajkumar T, Samant TA, Mahimkar MB, Matsuo K, Franceschi S, Byrnes G, Brennan P, McKay JD (2015) A rare truncating BRCA2 variant and genetic susceptibility to upper aerodigestive tract cancer. J Natl Cancer Inst. https://doi.org/10.1093/jnci/djv037

Dorschner MO, Amendola LM, Turner EH, Robertson PD, Shirts BH, Gallego CJ, Bennett RL, Jones KL, Tokita MJ, Bennett JT, Kim JH, Rosenthal EA, Kim DS, Tabor HK, Bamshad MJ, Motulsky AG, Scott CR, Pritchard CC, Walsh T, Burke W, Raskind WH, Byers P, Hisama FM, Nickerson DA, Jarvik GP (2013) Actionable, pathogenic incidental findings in 1000 participants' exomes. Am J Hum Genet 93:631–640

Elsaid A, Elshazli R, El-Tarapely F, Darwish H, Abdel-Malak C (2017) Association of monoallelic MUTYH mutation among Egyptian patients with colorectal cancer. Fam Cancer 16(1):83–90

Exome Variant Server (2017) NHLBI GO Exome Sequencing Project (ESP), Seattle, WA. http://evs.gs.washington.edu/EVS/. Accessed Mar 2017

Fakhro KA, Staudt MR, Ramstetter MD, Robay A, Malek JA, Badii R, Al-Marri AA, Abi Khalil C, Al-Shakaki A, Chidiac O, Stadler D, Zirie M, Jayyousi A, Salit J, Mezey JG, Crystal RG, Rodriguez-Flores JL (2016) The Qatar genome: a population-specific tool for precision medicine in the Middle East. Hum Genome Var 3:16016

Green RC, Berg JS, Grody WW, Kalia SS, Korf BR, Martin CL, McGuire AL, Nussbaum RL, O'Daniel JM, Ormond KE, Rehm HL, Watson MS, Williams MS, Biesecker LG (2013) ACMG recommendations for reporting of incidental findings in clinical exome and genome sequencing. Genet Med 15:565–574

Jagadeesh KA, Wenger AM, Berger MJ, Guturu H, Stenson PD, Cooper DN, Bernstein JA, Bejerano G (2016) M-CAP eliminates a majority of variants of uncertain significance in clinical exomes at high sensitivity. Nat Genet 48(12):1581–1586

Jang MA, Lee SH, Kim N, Ki CS (2015) Frequency and spectrum of actionable pathogenic secondary findings in 196 Korean exomes. Genet Med 17(12):1007–1011

Jurgens J, Ling H, Hetrick K, Pugh E, Schiettecatte F, Doheny K, Hamosh A, Avramopoulos D, Valle D, Sobreira N (2015) Assessment of incidental findings in 232 whole-exome sequences from the Baylor–Hopkins Center for Mendelian Genomics. Genet Med 17(10):782–788

Kalia SS, Adelman K, Bale SJ, Chung WK, Eng C, Evans JP, Herman GE, Hufnagel SB, Klein TE, Korf BR, McKelvey KD, Ormond KE, Richards CS, Vlangos CN, Watson M, Martin CL, Miller DT (2017) Recommendations for reporting of secondary findings in clinical exome and genome sequencing, 2016 update (ACMG SF v2.0): a policy statement of the American College of Medical Genetics and Genomics. Genet Med 19:249–255

Karczewski KJ, Weisburd B, Thomas B, Solomonson M, Ruderfer DM, Kavanagh D, Hamamsy T, Lek M, Samocha KE, Cummings BB, Birnbaum D, Daly MJ, MacArthur DG (2017) The ExAC browser: displaying reference data information from over 60 000 exomes. Nucleic Acids Res 45:D840–D845

Kleinberger J, Maloney KA, Pollin TI, Jeng LJ (2016) An openly available online tool for implementing the ACMG/AMP standards and guidelines for the interpretation of sequence variants. Genet Med 18:1165

Koshy R, Ranawat A, Scaria V (2017) Al Mena: a comprehensive resource of human genetic variants integrating genomes and exomes from Arab, Middle Eastern and North African populations. J Hum Genet. https://doi.org/10.1038/jhg.2017.67

Kwak SH, Chae J, Choi S, Kim MJ, Choi M, Chae JH, Cho EH, Hwang TJ, Jang SS, Kim JI, Park KS, Bang YJ (2017) Findings of a 1303 Korean whole-exome sequencing study. Exp Mol Med 49(7):e356

Landrum MJ, Lee JM, Benson M, Brown G, Chao C, Chitipiralla S, Gu B, Hart J, Hoffman D, Hoover J, Jang W, Katz K, Ovetsky M, Riley G, Sethi A, Tully R, Villamarin-Salomon R, Rubinstein W, Maglott DR (2016) ClinVar: public archive of interpretations of clinically relevant variants. Nucleic Acids Res 44(D1):D862-8

Lawrence L, Sincan M, Markello T, Adams DR, Gill F, Godfrey R, Golas G, Groden C, Landis D, Nehrebecky M, Park G, Soldatos A, Tifft C, Toro C, Wahl C, Wolfe L, Gahl WA, Boerkoel CF (2014) The implications of familial incidental findings from exome sequencing: the NIH Undiagnosed Diseases Program experience. Genet Med 16:741–750

Lejbkowicz F, Cohen I, Barnett-Griness O, Pinchev M, Poynter J, Gruber SB, Rennert G (2012) Common MUTYH mutations and colorectal cancer risk in multiethnic populations. Fam Cancer 11(3):329–335

Lek M, Karczewski KJ, Minikel EV et al (2016) Analysis of protein-coding genetic variation in 60,706 humans. Nature 536(7616):285–291

Lopez RJ, Byrne S, Vukcevic M, Sekulic-Jablanovic M, Xu L, Brink M, Alamelu J, Voermans N, Snoeck M, Clement E, Muntoni F, Zhou H, Radunovic A, Mohammed S, Wraige E, Zorzato F, Treves S, Jungbluth H (2016) An RYR1 mutation associated with malignant hyperthermia is also associated with bleeding abnormalities. Sci Signal 9:ra68–ra68

Mastantuono E, Berutti R, Lichtner P, Strom T, Meitinger T, Crotti L (2015) Abstract 12059: incidental findings in cardiomyopathy and channelopathy genes among 5891 individuals undergoing whole-exome sequencing. What should be reported? Circulation 132:A12059

Maxwell KN, Hart SN, Vijai J, Schrader KA, Slavin TP, Thomas T, Wubbenhorst B, Ravichandran V, Moore RM, Hu C, Guidugli L, Wenz B, Domchek SM, Robson ME, Szabo C, Neuhausen SL, Weitzel JN, Offit K, Couch FJ, Nathanson KL (2016) Evaluation of ACMG-guideline-based variant classification of cancer susceptibility and non-cancer-associated genes in families affected by breast cancer. Am J Hum Genet 98:801–817

Meacham MC, Starks H, Burke W, Edwards K (2010) Researcher perspectives on disclosure of incidental findings in genetic research. J Empir Res Hum Res Ethics 5(3):31–41

Nishio H, Kuwahara M, Tsubone H, Koda Y, Sato T, Fukunishi S, Tamura A, Suzuki K (2009) Identification of an ethnic-specific variant (V207M) of the KCNQ1 cardiac potassium channel gene in sudden unexplained death and implications from a knock-in mouse model. Int J Leg Med 123:253–257

Olfson E, Cottrell CE, Davidson NO, Gurnett CA, Heusel JW, Stitziel NO, Chen LS, Hartz S, Nagarajan R, Saccone NL, Bierut LJ (2015) Identification of medically actionable secondary findings in the 1000 genomes. PLoS One 10:e0135193

Ozcelik T, Onat OE (2016) Genomic landscape of the Greater Middle East. Nat Genet 48:978–979

Plazzer JP, Sijmons RH, Woods MO, Peltomäki P, Thompson B, Den Dunnen JT, Macrae F (2013) The InSiGHT database: utilizing 100 years of insights into Lynch syndrome. Fam Cancer 12:175–180

Poulsen MLM, Bisgaard ML (2008) MUTYH Associated Polyposis (MAP). Curr Genom 9(6):420–435

Radwan HE, Juneja M, Joseph M (1985) Malignant hyperthermia in a Saudi child. Middle East J Anaesthesiol 8:157–164

Rahimzadeh V, Avard D, Sénécal K, Knoppers BM, Sinnett D (2014) To disclose, or not to disclose? Context matters. Eur J Hum Genet 23(3):279–284

Richards S, Aziz N, Bale S, Bick D, Das S, Gastier-Foster J, Grody WW, Hegde M, Lyon E, Spector E, Voelkerding K, Rehm HL (2015) Standards and guidelines for the interpretation of sequence variants: a joint consensus recommendation of the American College of Medical Genetics and Genomics and the Association for Molecular Pathology. Genet Med 17:405–424

Samani K, Wu G, Ai T, Shuraih M, Mathuria NS, Li Z, Sohma Y, Purevjav E, Xi Y, Towbin JA, Cheng J, Vatta M (2009) A novel SCN5A mutation V1340I in Brugada syndrome augmenting arrhythmias during febrile illness. Hear Rhythm 6:1318–1326

Scaria V, Jithesh PV (2017) From genomes to genomic medicine—enabling personalised and precision medicine in the Middle East. Per Med 14(5):377–382

Sivadas A, Sharma P, Scaria V (2016) Landscape of warfarin and clopidogrel pharmacogenetic variants in Qatari population from whole exome datasets. Pharmacogenomics. https://doi.org/10.2217/pgs-2016-0130

Tang CS, Dattani S, So MT, Cherny SS, Tam PKH, Sham PC, Garcia-Barcelo MM (2018) Actionable secondary findings from whole-genome sequencing of 954 East Asians. Hum Genet 137(1):31–37

Wang k, Li M, Hakonarson H (2010) ANNOVAR: functional annotation of genetic variants from high-throughput sequencing data. Nucleic Acids Res 38(16):e164

Yamaguchi-Kabata Y, Yasuda J, Tanabe O, Suzuki Y, Kawame H, Fuse N, Nagasaki M, Kawai Y, Kojima K, Katsuoka F, Saito S, Danjoh I, Motoike IN, Yamashita R, Koshiba S, Saigusa D, Tamiya G, Kure S, Yaegashi N, Kawaguchi Y, Nagami F, Kuriyama S, Sugawara J, Minegishi N, Hozawa A, Ogishima S, Kiyomoto H, Takai-Igarashi T, Kinoshita K, Yamamoto M (2018) Evaluation of reported pathogenic variants and their frequencies in a Japanese population based on a whole-genome reference panel of 2049 individuals. J Hum Genet 63(2):213–230
Acknowledgements
Authors thank Dr. Srinivasan Ramachandran and Dr. Chetana Sachidanandan for suggestions which enriched the manuscript. Authors acknowledge funding from the Council of Scientific and Industrial Research (CSIR, India) through Grant BSC0212 (Wellness Genomics Project). AJ is a recipient of Junior Research Fellowship from Council of Scientific and Industrial research (CSIR, India). The funders had no role in the preparation of the manuscript or decision to submit. We acknowledge the researchers at Weill Cornell Medicine for sharing the genome and exome data sets without which this analysis was not possible.
Funding
This study was funded by Council of Scientific and Industrial Research (CSIR, India) through Grant BSC0212 (Wellness Genomics Project).
Ethics declarations
Conflict of interest
Abhinav Jain declares that he has no conflict of interest. Shrey Gandhi declares that he has no conflict of interest. Remya Koshy declares that she has no conflict of interest. Vinod Scaria declares that he has no conflict of interest.
Ethical standards
This article does not contain any studies with human participants or animals performed by any of the authors.
Electronic supplementary material
Below is the link to the electronic supplementary material.
About this article
Cite this article
Jain, A., Gandhi, S., Koshy, R. et al. Incidental and clinically actionable genetic variants in 1005 whole exomes and genomes from Qatar. Mol Genet Genomics 293, 919–929 (2018). https://doi.org/10.1007/s00438-018-1431-8
Received:

Accepted:

Published:

Issue Date:
Keywords
Arab

Genomics

Incidental findings

Malignant hyperthermia

Qatar