Abstract
Fusarium wilt caused by F. oxysporum f. sp. ciceris causes extensive damage to chickpea (Cicer arietinum L.) in many parts of the world. In the central part of India, pathogen race 2 (Foc 2) causes severe yield losses. We initiated molecular marker-assisted backcrossing (MABC) using desi cultivar, Vijay, as a donor to introgress resistance to this race (Foc2) in Pusa 256, another elite desi cultivar of chickpea. To confirm introgression of resistance for this race, foreground selection was undertaken using two SSR markers (TA 37 and TA110), with background selection to observe the recovery of recurrent parent genome using 45 SSRs accommodated in 8 multiplexes. F1 plants were confirmed with molecular markers and backcrossed with Pusa 256, followed by cycles of foreground and background selection at each stage to generate 161 plants in BC3F2 during the period 2009–2013. Similarly, 46 BC3F1 plants were also generated in another set during the same period. On the basis of foreground selection, 46 plants were found homozygotes in BC3F2. Among them, 17 plants recorded >91% background recovery with the highest recovery percentage of 96%. In BC3F1 also, 14 hybrid plants recorded a background recovery of >85% with the highest background recovery percentage of >94%. The identified plants were selfed to obtain 1341 BC3F3 and 2198 BC3F2 seeds which were screened phenotypically for resistance to fusarium wilt (race 2) besides doing marker analysis. Finally, 17 BC3F4 and 11 BC3F3 lines were obtained which led to identification of 5 highly resistant lines of Pusa 256 with Foc 2 gene introgressed in them. Development of these lines will help in horizontal as well as vertical expansion of chickpea in central part of India.
Access options
Buy single article
Instant access to the full article PDF.
USD 39.95
Price includes VAT (USA)
Tax calculation will be finalised during checkout.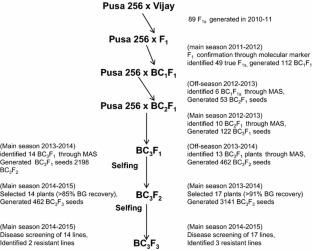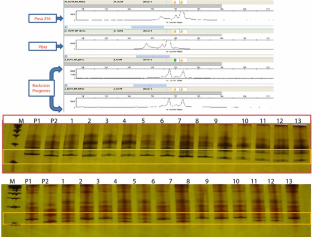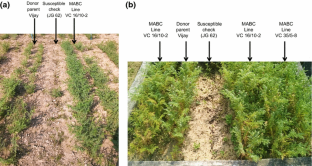 References
Alzate-Marin AL, Menarim H, Arruda MCC, Chagas JM, Barros EG, Moreira MA (1999) Backcross assisted by RAPD markers for introgression of Co-4 and Co-6 anthracnose resistant genes in common bean cultivars. Ann Rep Bean Improv Coop 42:15–16

Arelli PR, Young LD (2009) Jtn-5109 soybean germplasm resistant to nematode population infecting cv. Hartwig. Agron Soc Am Abstr 133:268-18

Concibido V, La Vallee B, Mclaird P, Pineda N, Meyer J, Hummel L, Delannay X (2003) Introgression of a quantitative trait locus for yield from Glycine soja into commercial soybean cultivars. Theor Appl Genet 106(4):575–582

Cuc LM, Mace E, Crouch J, Quang VD, Long TD, Varshney RK (2008) Isolation and characterization of novel microsatellite markers and their application for diversity assessment in cultivated groundnut (Arachis hypogaea). BMC Plant Biol 8:55

Cunnington J, Lindbeck K, Jones RH (2007) National diagnostic protocol for the detection of fusarium wilt of chickpea (Fusarium Oxysporum f. sp. ciceris). Plant Health Australia, Camberra

Faleiro FG, Ragagnin VA, Carvalho GA, Paula TJ Jr, Moreira MA, Barros EG (2001) Development of common bean lines resistant to rust and anthracnose by molecular marker-assisted backcrossing. Annu Rep Bean Improv Coop 44:1130–1133

Gowda SJM, Radhika P, Kadoo NY, Mhase LB, Gupta VS (2009) Molecular mapping of wilt resistance genes in chickpea. Mol Breed 24(2):177–183

Halila MH, Strange RN (1996) Identification of the causal agent of wilt of chickpea in Tunisia as Fusarium oxysporum f. sp. ciceri race 0. Phytopathol Mediterr 35:67–74

Haware MP, Nene YL (1980) Influence of wilt and different growth stages on yield loss in chickpea. Trop Grain Legume Bull 19:38–40

Haware MP, Nene YL (1982) Symptomless carriers of the chickpea wilt Fusarium. Plant Dis 66:809–810

Jalali BL, Chand H (1992) Chickpea wilt. Plant Dis Int Importance 1:429–444

Ji YT, Qu CQ, Cao BY (2007) An optimal method of DNA silver staining in polyacrylamide gels. Electrophoresis 28(8):1173–1175

Jiménez-Díaz RM, Castillo P, del Mar Jiménez-Gasco M, Landa BB, Navas-Cortés JA (2015) fusarium wilt of chickpeas: biology, ecology and management. Crop Prot 73:16–27

Lichtenzveig J, Scheuring C, Dodge J, Abbo S, Zhang HB (2005) Construction of BAC and BIBAC libraries and their applications for generation of SSR markers for genome analysis of chickpea (Cicer arietinum L.). Theor Appl Genet 110(3):492–510

Miklas PN (2002) Marker assisted selection for disease resistance in common beans. Ann Rep Bean Improv Coop 45:1–3

Millan T, Clarke HJ, Siddique KHM, Buhariwalla HK, Gaur PM, Kumar J, Gil J, Kahl G, Winter P (2006) Chickpea molecular breeding: new tools and concepts. Euphytica 147:81–103

Navas-Cortés JA, Hau B, Jiménez-Díaz RM (2000) Yield loss in chickpeas in relation to development of fusarium wilt epidemics. Phytopathology 90(11):1269–1278

Pratap A, Gupta SK, Kumar J, Solanki RK (2012) Soybean. In: Gupta SK (ed) Technological innovations in major world oil crops, vol I. Breeding. Springer Science + Business Media, New York, pp 293–321

Quadir SA, Datta S, Singh NP, Kumar S (2007) Development of highly polymorphic SSR marker for chickpea (Cicer arietinum L.) and their use in parental polymorphism. Indian J Genet 67(4):329–333

Sharma K, Muehlbauer FJ (2007) fusarium wilt of chickpea: physiological specialization, genetics of resistance and resistance gene tagging. Euphytica 157(1–2):1–14

Sharma KD, Winter P, Kahl G, Muehlbauer FJ (2004) Molecular mapping of Fusarium oxysporum f. sp. ciceris race 3 resistance gene in chickpea. Theor Appl Genet 108:1243–1248

Sharma KD, Chen W, Muehlbauer FJ (2005) Genetics of chickpea resistance to five races of fusarium wilt and a concise set of race differentials for Fusarium oxysporum f. sp. Ciceris. Plant Dis 89:385–390

Shi A, Chen P, Li D, Zheng C, Zhang B, Hou A (2009) Pyramiding multiple genes for resistance to soybean mosaic virus in soybean using molecular markers. Mol Breed 23:113–124

Simpson CE, Krapovickas A, Valls JFM (2001) History of Arachis including evidence of A. Hypogaea L. progenitors. Peanut Sci 28:78–79

Solanki RK, Singh S, Kumar J (2010) Molecular marker-assisted testing of hybridity of F1 plants in lentil. J Food Leg 23:21–24

Stavely JR (2000) Pyramiding rust and viral resistance genes using traditional and marker techniques in common bean. Ann Rep Bean Improv Coop 43:1–3

Thudi M, Bohra A, Nayak SN, Varghese N, Shah TM, Penmetsa RV (2011) Novel SSR markers from BAC-end sequences, DArT arrays and a comprehensive genetic map with 1,291 marker loci for chickpea (Cicer arietinum L.). PLoS One 6(11):e27275

Varshney RK, Thudi M, May GD, Jakson SA (2010) Legume genomics and breeding. Plant Breed Rev 33:257–304

Varshney RK, Mohan SM, Gaur PM, Gangarao NVPR, Pandey MK, Bohra A, Sawargaonkar SL, Chitikineni A, Kimurto PK, Janila P, Saxena KB, Fikre A, Sharma M, Rathore A, Pratap A, Tripathi S, Datta S, Chaturvedi SK, Mallikarjuna N, Anuradha G, Babbar A, Choudhray AK, Mhase MB, Bhardwaj CH, Mannur DM, Harer PN, Guo B, Liang X, Nadrajan N, Gowda CLL (2013) Achievements and prospects of genomics-assisted breeding in three legume crops of the semi-arid tropics. Biotechnol Adv 31(8):1120–1134

Varshney RK, Mohan SM, Gaur PM, Chamarthi SK, Singh VK, Srinivasan S, Swapna N, Sharma M, Pande S, Singh S, Kaur L (2014) Marker-assisted backcrossing to introgress resistance to fusarium wilt race 1 and Ascochyta blight in C 214, an elite cultivar of chickpea. The plant genome 7:1–11

Warrington CV, Zhu S, Parrot WA, All JN, Boerma HR (2008) Seed yield of near isogenic soybean lines introgressed with quantitative trait loci conditioning resistance to corn earworm (Lepidopter: Noctuidae) and soybean looper (Lepidoptera: Noctuidae) from PI 229358. J Econ Entomol 101:1471–1477

Winter P, Pfaff T, Udupa SM, Hüttel B, Sharma PC, Sahi S, Arreguin-Espinoza R, Weigand F, Muehlbauer FJ, Kahl G (1999) Characterization and mapping of sequence-tagged microsatellite sites in the chickpea (Cicer arietinum L.) genome. Mol Gen Genet MGG 262(1):90–101
Acknowledgements
The authors would like to thank Manish K. Pandey, Siva K. Chamarthi (ICRISAT), Subhojit Datta (ICAR-IIPR) and partners in ACIP programme from JNKVV, Jabalpur, ARS, Kalaburgi and MPKV, Rahuri for useful discussions during the course of this study. The authors are also highly thankful to Col Douglas, Senior Research Scientist, Agri-Science, Queensland, Australia for reading the manuscript for language corrections.
Ethics declarations
Conflict of interest
The authors declare that they have no conflict of interest.
Funding
The present study was supported under the Accelerated Crop Improvement Programme (ACIP) of Department of Biotechnology (DBT), Government of India vide Grant No. BT/PR11693/AGR/02/641/2008, 22 October 2009. All laboratory and field facilities were provided by ICAR-IIPR Kanpur.
Ethical approval
This article does not contain any studies with human participants or animals performed by any of the authors.
Additional information
Communicated by S. Hohmann.
Electronic supplementary material
Below is the link to the electronic supplementary material.
About this article
Cite this article
Pratap, A., Chaturvedi, S.K., Tomar, R. et al. Marker-assisted introgression of resistance to fusarium wilt race 2 in Pusa 256, an elite cultivar of desi chickpea. Mol Genet Genomics 292, 1237–1245 (2017). https://doi.org/10.1007/s00438-017-1343-z
Received:

Accepted:

Published:

Issue Date:
Keywords
Backcrossing

Chickpea

BGS

FGS

MABC

Molecular breeding

SSR markers