Abstract
Short interspersed elements (SINEs) are non-autonomous retrotransposons that are widespread in eukaryotic genomes. They exhibit a chimeric sequence structure consisting of a small RNA-related head, an anonymous body and an AT-rich tail. Although their turnover and de novo emergence is rapid, some SINE elements found in distantly related species retain similarity in certain core segments (or highly conserved domains, HCD). We have characterized a new SINE element named RUDI in the bivalve molluscs Ruditapes decussatus and R. philippinarum and found this element to be widely distributed in the genomes of a number of mollusc species. An unexpected structural feature of RUDI is the HCD domain type V, which was first found in non-amniote vertebrate SINEs and in the SINE from one cnidarian species. In addition to the V domain, the overall sequence conservation pattern of RUDI elements resembles that found in ancient AmnSINE (~310 Myr old) and Au SINE (~320 Myr old) families, suggesting that RUDI might be among the most ancient SINE families. Sequence conservation suggests a monophyletic origin of RUDI. Nucleotide variability and phylogenetic analyses suggest long-term vertical inheritance combined with at least one horizontal transfer event as the most parsimonious explanation for the observed taxonomic distribution.
Access options
Buy single article
Instant access to the full article PDF.
USD 39.95
Price includes VAT (USA)
Tax calculation will be finalised during checkout.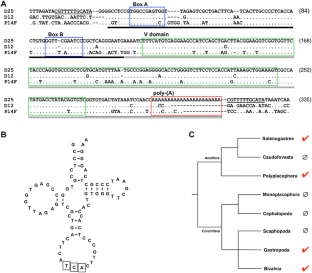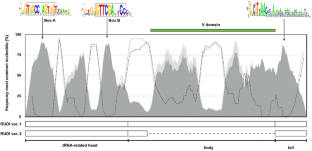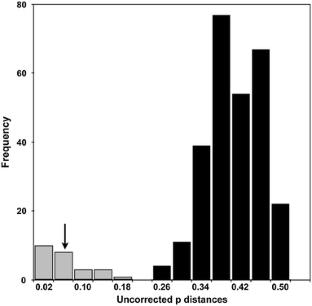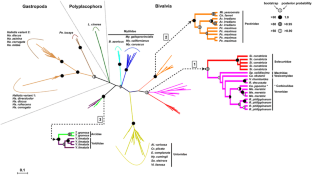 References
Akasaki T, Nikaido M, Nishihara H, Tsuchiya K, Segawa S, Okada N (2010) Characterization of a novel SINE superfamily from invertebrates: "ceph-SINEs" from the genomes of squids and cuttlefish. Gene 454:8–19

Albertin CB, Simakov O, Mitros T, Wang ZY, Pungor JR, Edsinger-Gonzales E, Brenner S, Ragsdale CW, Rokhsar DS (2015) The octopus genome and the evolution of cephalopod neural and morphological novelties. Nature 524:220–224

Altschul SF, Gish W, Miller W, Myers EW, Lipman DJ (1990) Basic local alignment search tool. J Mol Biol 215:403–410

Bao W, Kojima KK, Kohany O (2015) Repbase Update, a database of repetitive elements in eukaryotic genomes. Mob DNA 6:11

Bejerano G, Lowe CB, Ahituv N, King B, Siepel A, Salama SR, Rubin EM, Kent WJ, Haussler D (2006) A distal enhancer and an ultraconserved exon are derived from a novel retroposon. Nature 441:87–90

Biscotti MA, Canapa A, Olmo E, Barucca M, Teo CH, Schwarzacher T, Dennerlein S, Richter R, Heslop-Harrison JS (2007) Repetitive DNA, molecular cytogenetics and genome organization in the King scallop (Pecten maximus). Gene 406:91–98

Blair JE (2009) Animals (Metazoa). In: Hedges SB, Kumar S (eds) The timetree of life. Oxford University Press, New York, pp 223–230

Brosius J, Gould SJ (1992) On "genomenclature": a comprehensive (and respectful) taxonomy for pseudogenes and other "junk DNA". Proc Natl Acad Sci USA 89:10706–10710

Clabby C, Goswami U, Flavin F, Powell R (1996) Cloning, characterization and chromosomal location of a satellite DNA from the Pacific oyster, Crassostrea gigas. Gene 168:205–209

Crooks GE, Hon G, Chandonia JM, Brenner SE (2004) WebLogo: a sequence logo generator. Genome Res 14:1188–1190

Deragon J-M (2012) SINE exaptation as cellular regulators occurred numerous times during eukaryote evolution. In: Grandbastien M-A, Casacuberta JM (eds) Plant transposable elements. Springer, Berlin, pp 253–271

Fattash I, Rooke R, Wong A, Hui C, Luu T, Bhardway P, Yang G (2013) Miniature inverted-repeat transposable elements: discovery, distribution, and activity. Genome 56:475–486

Fawcett JA, Kawahara T, Watanabe H, Yasui Y (2006) A SINE family widely distributed in the plant kingdom and its evolutionary history. Plant Mol Biol 61:505–514

Gaffney PM, Pierce JC, Mackinley AG, Titchen DA, Glenn WK (2003) Pearl, a novel family of putative transposable elements in bivalve mollusks. J Mol Evol 56:308–316

Gilbert N, Labuda D (1999) CORE-SINEs: eukaryotic short interspersed retroposing elements with common sequence motifs. Proc Natl Acad Sci USA 96:2869–2874

Gilbert N, Labuda D (2000) Evolutionary inventions and continuity of CORE-SINEs in mammals. J Mol Biol 298:365–377

Hall TA (1999) BioEdit: a user-friendly biological sequence alignment editor and analysis program for Windows 95/98/NT. Nucl Acids Symp Ser 41:95–98

Hamada M, Kido Y, Himberg M, Reist JD, Ying C, Hasegawa M, Okada N (1997) A newly isolated family of short interspersed repetitive elements (SINEs) in coregonid fishes (whitefish) with sequences that are almost identical to those of the SmaI family of repeats: possible evidence for the horizontal transfer of SINEs. Genetics 146:355–367

Häsler J, Samuelsson T, Strub K (2007) Useful ''junk'': Alu RNAs in the human transcriptome. Cell Mol Life Sci 64:1793–1800

Hirakawa M, Nishihara H, Kanehisa M, Okada N (2009) Characterization and evolutionary landscape of AmnSINE1 in Amniota genomes. Gene 441:100–110

Kajikawa M, Okada N (2002) LINEs mobilize SINEs in the eel through a shared 3′ sequence. Cell 111:433–444

Katoh K, Standley DM (2013) MAFFT multiple sequence alignment software version 7: improvements in performance and usability. Mol Biol Evol 30:772–780

Kocot KM, Cannon JT, Todt C et al (2011) Phylogenomics reveals deep molluscan relationships. Nature 477:452–456

Kourtidis A, Drosopoulou E, Pantzartzi CN, Chintiroglou CC, Scouras ZG (2006) Three new satellite sequences and a mobile element found inside HSP70 introns of the Mediterranean mussel (Mytilus galloprovincialis). Genome 49:1451–1458

Kramerov DA, Vassetzky NS (2011) Origin and evolution of SINEs in eukaryotic genomes. Heredity 107:487–495

Lowe TM, Eddy SR (1997) tRNAscan-SE: a program for improved detection of transfer RNA genes in genomic sequence. Nucleic Acids Res 25:955–964

Luchetti A, Mantovani B (2013) Conserved domains and SINE diversity during animal evolution. Genomics 102:296–300

Munemasa M, Nikaido M, Nishihara H, Donnellan S, Austin CC, Okada N (2008) Newly discovered young CORE-SINEs in marsupial genomes. Gene 407:176–185

Nishihara H, Smit AF, Okada N (2006) Functional noncoding sequences derived from SINEs in the mammalian genome. Genome Res 16:864–874

Ogiwara I, Miya M, Ohshima K, Okada N (2002) V-SINEs: a new superfamily of vertebrate SINEs that are widespread in vertebrate genomes and retain a strongly conserved segment within each repetitive unit. Genome Res 12:316–324

Passamonti M, Mantovani B, Scali V (1998) Characterization of a highly repeated DNA family in tapetinae species (Mollusca Bivalvia: Veneridae). Zool Sci 15:599–605

Petraccioli A, Odierna G, Capriglione T, Barucca M, Forconi M, Olmo E, Biscotti MA (2015) A novel satellite DNA isolated in Pecten jacobaeus shows high sequence similarity among molluscs. Mol Genet Genomics 290:1717–1725  

Petrović V, Pérez-García C, Pasantes JJ, Satović E, Prats E, Plohl M (2009) A GC-rich satellite DNA and karyology of the bivalve mollusk Donax trunculus: a dominance of GC-rich heterochromatin. Cytogenet Genome Res 124:63–71

Piskurek O, Jackson DJ (2011) Tracking the ancestry of a deeply conserved eumetazoan SINE domain. Mol Biol Evol 28:2727–2730

Piskurek O, Okada N (2007) Poxviruses as possible vectors for horizontal transfer of retroposons from reptiles to mammals. Proc Natl Acad Sci USA 104:12046–12051

Plazzi F, Ceregato A, Taviani M, Passamonti M (2011) A molecular phylogeny of bivalve mollusks: ancient radiations and divergences as revealed by mitochondrial genes. PLoS One 6:e27147

Plohl M, Petrović V, Luchetti A, Ricci A, Šatović E, Passamonti M, Mantovani B (2010) Long-term conservation vs high sequence divergence: the case of an extraordinarily old satellite DNA in bivalve mollusks. Heredity 104:543–551

Ponicsan SL, Kugel JF, Goodrich JA (2010) Genomic gems: SINE RNAs regulate mRNA production. Curr Opin Genet Dev 20:149–155

Richard GF, Kerrest A, Dujon B (2008) Comparative genomics and molecular dynamics of DNA repeats in eukaryotes. Microbiol Mol Biol Rev 72:686–727

Ronquist F, Teslenko M, van der Mark P et al (2012) MrBayes 3.2: efficient bayesian phylogenetic inference and model choice across a large model space. Syst Biol 61:539–542

Šatović E, Plohl M (2013) Tandem repeat-containing MITEs in the clam Donax trunculus. Genome Biol Evol 5:2549–2559

Schaak S, Gilbert C, Feschotte C (2010) Promiscuous DNA: horizontal transfer of transposable elements and why it matters for eukaryotic evolution. Trends Ecol Evol 25:537–546

Smith S, Wilson NG, Goetz F, Feehery C, Andrade SCS, Rouse GW, Giribet G, Dunn CW (2011) Resolving the evolutionary relationships of molluscs with phylogenomic tools. Nature 480:364–367

Takahashi K, Okada N (2002) Mosaic structure and retropositional dynamics during evolution of subfamilies of short interspersed elements in African cichlids. Mol Biol Evol 19:1303–1312

Takeuchi T, Kawashima T, Koyanagi R et al (2012) Draft genome of the pearl oyster Pinctada fucata: a platform for understanding bivalve biology. DNA Res 19:117–130

Tamura K, Stecher G, Peterson D, Filipski A, Kumar S (2013) MEGA6: molecular evolutionary genetics analysis version 6.0. Mol Biol Evol 30:2725–2729

Vassetzky NS, Kramerov DA (2013) SINEBase: a database and tool for SINE analysis. Nucleic Acids Res 41:D83–D89

Walters RD, Kugel JF, Goodrich JA (2009) InvAluable junk: the cellular impact and function of Alu and B2 RNAs. IUBMB Life 61:831–837

Wessler SR (2006) Eukaryotic transposable elements: teaching old genomes new tricks. In: Caporale LH (ed) The implicit genome. Oxford University Press, New York, pp 138–162

Wicker T, Sabot F, Hua-Van A et al (2007) A unified classification system for eukaryotic transposable elements. Nat Rev Genet 8:973–982

Yagi E, Akita T, Kawahara T (2011) A novel Au SINE sequence found in gymnosperm. Genes Genet Syst 86:19–25

Zhang G, Fang X, Guo X et al (2012) The oyster genome reveals stress adaptation and complexity of shell formation. Nature 490:49–54
Acknowledgments
We thank Mary Sopta for critical reading and language editing of the manuscript. We also wish to thank the Editor and two anonymous Reviewers whose comments and suggestions substantially improved the manuscript.
Ethics declarations
Funding
This work has been supported by RFO-UNIBO funding to AL and BM, and by Research Fund of Ministry of Science, Education and Sports of Republic of Croatia, project no. 098-0982913-2756 to MP.
Conflict of interest
Authors declare that they have no conflict of interest.
Ethical approval
All applicable international, national, and/or institutional guidelines for the care and use of animals were followed.
Additional information
Communicated by M. A. Van Sluys.
Electronic supplementary material
Below is the link to the electronic supplementary material.
Supplementary Fig. S1 Alignment of the RUDI consensus sequences, including the V domain consensus taken from Vassetzky and Kramerov (2013). Nucleotide shading represents similarity ≥60 %. The general structure of the element is shown below with colored boxes. The green box shows alignment with the V domain consensus sequence (JPEG 2128 kb)
About this article
Cite this article
Luchetti, A., Šatović, E., Mantovani, B. et al. RUDI, a short interspersed element of the V-SINE superfamily widespread in molluscan genomes. Mol Genet Genomics 291, 1419–1429 (2016). https://doi.org/10.1007/s00438-016-1194-z
Received:

Accepted:

Published:

Issue Date:
Keywords
Short interspersed nuclear elements

Mollusca

Highly conserved domain

Horizontal transfer

Vertical inheritance