Abstract
A HAP complex, which consists of three subunits, namely HAP2 (also called NF-YA or CBF-B), HAP3 (NF-YB/CBF-A) and HAP5 (NF-YC/CBF-C), binds to CCAAT sequences in a promoter to control the expression of target genes. We identified 10 HAP2 genes, 11 HAP3 genes and 7 HAP5 genes in the rice genome. All the three HAP family genes encode a protein with a conserved domain in each family and various non-conserved regions in both length and amino acid sequence. These genes showed various expression patterns depending on genes, and various combinations of overlapped expression of the HAP2, HAP3 and HAP5 genes were observed. Furthermore, protein interaction analyses showed interaction of OsHAP3A, a ubiquitously expressed HAP3 subunit of rice, with specific members of HAP5. These results indicate that the formation of specific complex with various HAP subunits combinations can be achieved by both tissue specific expression of three subunit genes and specific interaction of three subunit proteins. This may suggest that the HAP complexes may control various aspects of rice growth and development through tissue specific expression and complex formation of three subunit members.
This is a preview of subscription content,
to check access.
Access this article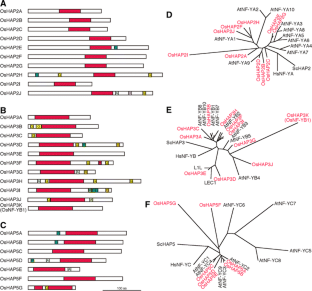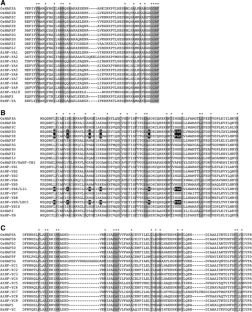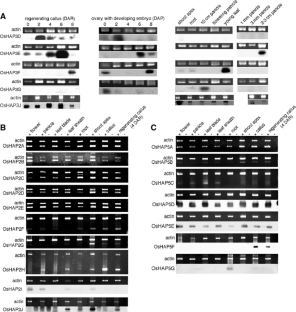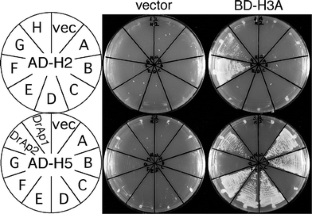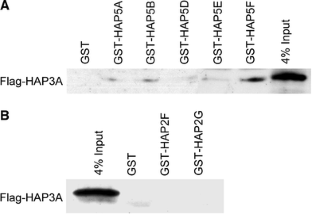 References
Bezhani S, Sherameti I, Pfannschmidt T, Oelmuller R (2001) A repressor with similarity to prokaryotic and eukaryotic DNA helicases controls the assembly of the CAAT box binding complex at a photosynthesis promoter. J Biol Chem 276:23785–23789

Edwards D, Murray JAH, Smith AG (1998) Multiple genes encoding the conserved CCAAT-box transcription factor complex are expressed in Arabidopsis. Plant Physiol 117:1015–1022

Gusmaroli G, Tonelli C, Mantovani R (2001) Regulation of the CCAAT-binding NF-Y subunits in Arabidopsis thaliana. Gene 264:173–185

Gusmaroli G, Tonelli C, Mantovani R (2002) Regulation of novel members of the Arabidopsis thaliana CCAAT-binding nuclear factor Y subunits. Gene 283:41–48

Ito Y, Eiguchi M, Kurata N (2001) KNOX homeobox genes are sufficient in maintaining cultured cells in an undifferentiated state in rice. Genesis 30:231–238

Kusnetsov V, Landsberger M, Meurer J, Oelmuller R (1999) The assembly of the CAAT-box binding complex at a photosynthesis gene promoter is regulated by light, cytokinin, and the stage of the plastids. J Biol Chem 274:36009–36014

Kwong RW, Bui AQ, Lee H, Kwong LW, Fischer RL, Goldberg RB, Harada JJ (2003) LEAFY COTYLEDON1-LIKE defines a class of regulators essential for embryogenesis. Plant Cell 15:5–18

Lee H, Fischer RL, Goldberg RB, Harada JJ (2003) Arabidopsis LEAFY COTYLEDON1 represents a functionally specialized subunit of the CCAAT binding transcription factor. Proc Natl Acad Sci USA 100:2152–2156

Lotan T, Ohto M, Yee KM, West MAL, Lo R, Kwong RW, Yamagishi K, Fischer RL, Goldberg RB, Harada JJ (1998) Arabidopsis LEAFY COTYLEDON1 is sufficient to induce embryo development in vegetative cells. Cell 93:1195–1205

Maity SN, de Crombrugghe B (1998) Role of the CCAAT-binding protein CBF/NF-Y in transcription. Trends Biochem Sci 23:174–178

Mantovani R (1999) The molecular biology of the CCAAT-binding factor NF-Y. Gene 239:15–27

Masiero S, Imbriano C, Ravasio F, Favaro R, Pelucchi N, Gorla MS, Mantovani R, Colombo L, Kater MM (2002) Ternary complex formation between MADS-box transcription factors and the histone fold protein NF-YB. J Biol Chem 277:26429–26435

Miyoshi K, Ito Y, Serizawa A, Kurata N (2003) OsHAP3 genes regulate chloroplast biogenesis in rice. Plant J 36:532–540

Sinha S, Maity SN, Lu J, de Crombrugghe B (1995) Recombinant rat CBF-C, the third subunit of CBF/NFY, allows formation of a protein-DNA complex with CBF-A and CBF-B and with yeast HAP2 and HAP3. Proc Natl Acad Sci USA 92:1624–1628

Sinha S, Kim IS, Sohn KY, de Crombrugghe B, Maity SN (1996) Three classes of mutations in the A subunit of the CCAAT-binding factor CBF delineate functional domains involved in the three-step assembly of the CBF-DNA complex. Mol Cell Biol 16:328–337

Song W, Solimeo H, Rupert RA, Yadav NS, Zhu Q (2002) Functional dissection of a rice Dr1/DrAp1 transcriptional repression complex. Plant Cell 14:181–195

Tamaoki M, Tsugawa H, Minami E, Kayano T, Yamamoto N, Kano-Murakami Y, Matsuoka M (1995) Alternative RNA products from a rice homeobox gene. Plant J 7:927–938

Yazawa K, Takahata K, Kamada H (2004) Isolation of the gene encoding Carrot leafy cotyledon1 and expression analysis during somatic and zygotic embryogenesis. Plant Physiol Biochem 42:215–223
Acknowledgments
Full-length cDNAs were developed by the Rice Genome Project of the National Institute of Agrobiological Sciences, Japan, and provided from the Rice Genome Resource Center. We thank T. Makino for her technical assistance.
Additional information
Communicated by S. Hohmann.
Nucleotide sequence data reported are available in the DDBJ/EMBL/GenBank databases under the accession numbers AB288027 to AB288048 and BR000373 to BR000375.
About this article
Cite this article
Thirumurugan, T., Ito, Y., Kubo, T. et al. Identification, characterization and interaction of HAP family genes in rice. Mol Genet Genomics 279, 279–289 (2008). https://doi.org/10.1007/s00438-007-0312-3
Received:

Accepted:

Published:

Issue Date:

DOI: https://doi.org/10.1007/s00438-007-0312-3
Keywords