Abstract
At the end of the nineteenth century, massive population declines were observed in carnivores due to the emergence of infectious diseases. This study aims to investigate, by means of coprological analysis, the prevalence and intensity of the parasites that infect the endangered Iberian wolf Canis lupus signatus and two mesocarnivores (the red fox Vulpes vulpes and the stone marten Martes foina) in Central Portugal. In total, 67.2% of the samples screened were infected; Toxascaris leonina (40.6%) was the parasite with the highest prevalence, followed by Ancylostomatidae and Eimeria spp. (28.1%). Eimeria spp. was found in stone marten with the highest infection rate (37,800 OPG), followed by T. leonina (10,100 EPG) in a red fox sample. Moderate to high levels of parasitic infections were identified in 73.3% of red foxes from the western area. Our results highlight the possibility of cross-infection among these carnivore species and cross-contamination in the wildlife-livestock-human interface.
Access options
Buy single article
Instant access to the full article PDF.
USD 39.95
Price excludes VAT (USA)
Tax calculation will be finalised during checkout.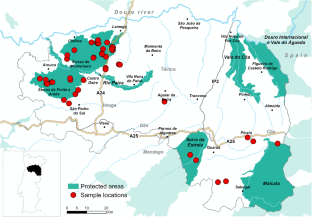 Data availability
Data supporting the conclusions of this article are included within the article and its supplementary table.
References
Aguirre AA (2009) Wild canids as sentinels of ecological health: a conservation medicine perspective. Parasite Vector 2(Suppl 1):1–8. https://doi.org/10.1186/1756-3305-2-S1-S7

Bindke JD, Springer A, Janecek-Erfurth E, Böer M, Strube C (2019) Helminth infections of wild European gray wolves (Canis lupus Linnaeus, 1758) in Lower Saxony, Germany, and comparison to captive wolves. Parasitol Res 118(2):701–706. https://doi.org/10.1007/s00436-018-6181-3

Carvalho J, Rossa M, Martins R, Valente A, Torres RT, Fonseca C (2020) Preparatory actions for increasing wild prey availability for wolves. Technical Report of Action A4, LIFE17 NAT/PT/554 – WOLFLUX. University of Aveiro, Aveiro. 29 pp.

Cleaveland S, Laurenson MK, Taylor LH (2001) Diseases of humans and their domestic mammals: pathogen characteristics, host range and the risk of emergence. Philos Trans R Soc B 356(1411):991–999. https://doi.org/10.1098/rstb.2001.0889

Figueiredo AM, Barros T, Valente AM, Fonseca C, Madeira de Carvalho L, Torres RT (2019) Prevalence of zoonotic parasites in an endangered Iberian wolf (Canis lupus signatus) population in Portugal. Mamm Biol 98:154–162. https://doi.org/10.1016/j.mambio.2019.09.008

Figueiredo A, Oliveira L, Madeira de Carvalho L, Fonseca C, Torres RT (2018) Helminth parasites of stone marten (Martes foina) in Central Portugal. Ann Parasitol 64(1):65–68. https://doi.org/10.17420/ap6401.134

Figueiredo A, Oliveira L, Madeira de Carvalho L, Fonseca C, Torres RT (2016) Parasite species of the endangered Iberian wolf (Canis lupus signatus) and a sympatric widespread carnivore. Int J Parasitol Parasites Wildl 5(2):164–167. https://doi.org/10.1016/j.ijppaw.2016.04.002

Funk SM, Fiorello CV, Cleaveland S, Gompper M (2001) The role of disease in carnivore ecology and conservation. In: Gittleman JL, Funk SM, MacDonald DW, Wayne RK (eds) Carnivore Conservation. Cambridge University Press, Cambridge p 443–466

Hansen J, Perry B (1990) The epidemiology, diagnosis and control of gastro-intestinal parasites of ruminants in Africa: A handbook. International Laboratory for Research on Animal Diseases. Kenya

Kirkova Z, Raychev E, Georgieva D (2011) Studies on feeding habits and parasitological status of red fox, golden jackal, wild cat and stone marten in Sredna Gora, Bulgaria. J Life Sci 5:264–270

Magi M, Macchioni F, Dell'Omodarme M, Prati MC, Calderini P, Gabrielli S, Iori A, Cancrini G (2009) Endoparasites of red fox (Vulpes vulpes) in Central Italy. J Wildlife Dis 45(3):881–885. https://doi.org/10.7589/0090-3558-45.3.881

Mederos A, Fernández S, VanLeeuwen J, Peregrine AS, Kelton D, Menzies P, LeBoeuf A, Martin R (2010) Prevalence and distribution of gastrointestinal nematodes on 32 organic and conventional commercial sheep farms in Ontario and Quebec, Canada (2006–2008). Vet Parasitol 170(3–4):244–252. https://doi.org/10.1016/j.vetpar.2010.02.018

Moss WE, Alldredge MW, Pauli JN (2016) Quantifying risk and resource use for a large carnivore in an expanding urban-wildland interface. J Appl Ecol 53(2):371–378. https://doi.org/10.1111/1365-2664.12563

Muñoz S, Ramos PL, Carretón E, Diosdado A, González-Miguel J, Simón F, Morchón R (2018) Intestinal helminths in Iberian wolves (Canis lupus signatus) from northwest Spain. Open Parasitol J 6(1):106–111. https://doi.org/10.2174/1874421401806010106

Myšková E, Brož M, Fuglei E, Kvičerová J, Mácová A, Sak B, Kváč M, Ditrich O (2019) Gastrointestinal parasites of arctic foxes (Vulpes lagopus) and sibling voles (Microtus levis) in Spitsbergen. Svalbard Parasitol Res 118(12):3409–3418. https://doi.org/10.1007/s00436-019-06502-8

Okulewicz A, Perec-Matysiak A, Buńkowska K, Hildebrand J (2012) Toxocara canis, Toxocara cati and Toxascaris leonina in wild and domestic carnivores. Helminthologia 49(1):3–10. https://doi.org/10.2478/s11687-012-0001-6

Olmedo C, Refoyo P, García D, Muñoz B, Olmedo Salinas C, Refoyo Román P, GarcíaPuentes D, Muñoz Araú-jo B (2018) Intestinal parasites in a population of stone marten (Martes foina) in Central Spain. Arx Mis Zool 16:163–172. https://doi.org/10.32800/amz.2018.16.0163

Onac D, Oltean M, Mircean V, Jarca A, Cozma V (2015) Red foxes, an important source of zoonotic parasites in Romania. Sci Parasitol 16(3):112–117

Otranto D, Deplazes P (2019) Zoonotic nematodes of wild carnivores. Int J Parasitol Parasites Wildl 9:370–383. https://doi.org/10.1016/j.ijppaw.2018.12.011

Reperant LA, Hegglin D, Fischer C, Kohler L, Weber JM, Deplazes P (2007) Influence of urbanization on the epidemiology of intestinal helminths of the red fox (Vulpesvulpes) in Geneva Switzerland. Parasitol Res 101(3):605–611. https://doi.org/10.1007/s00436-007-0520-0

Ripple WJ, Estes JA, Beschta RL, Wilmers CC, Ritchie EG, Hebblewhite M, Berger J, Elmhagen B, Letnic M, Nelson MP, Schmitz OJ, Smith DW, Wallach AD, Wirsing AJ (2014) Status and ecological effects of the world's largest carnivores. Science 343(6167):1241484. https://doi.org/10.1126/science.1241484

Smith KF, Sax DF, Lafferty KD (2006) Evidence for the role of infectious disease in species extinction and endangerment. Conserv Biol, 20, 5, pp. 1349–1357). Wiley Ltd

Thompson RCA, Kutz S, Smith A (2009) Parasite zoonoses and wildlife: emerging issues. Int J Environ Res Public Health 6(2):678–693. https://doi.org/10.3390/ijerph6020678

Torres J, Miquel J, Casanova JC, Ribas A, Feliu C, Morand S (2006) Endoparasite species richness of Iberian carnivores: influences of host density and range distribution. Biodivers Conserv 15(14):4619–4632. https://doi.org/10.1007/s10531-005-5824-8

Torres R, Fonseca C (2016) Perspectives on the Iberian wolf in Portugal: population trends and conservation threats. Biodivers Conserv 25(3):411–425. https://doi.org/10.1007/s10531-016-1061-6

Zajac AM, Conboy GA (2007) Veterinary Clinical Parasitology, 7th ed. Blackwell, London
Funding
Ana M. Figueiredo and Dário Hipólito were supported by a PhD grant from Fundação para a Ciência e Tecnologia (SFRH/BD/144582/2019 and SFRH/BD/144437/2019, respectively) and cofinanced by the European Social Fund POPH-QREN programme. R. T. Torres was supported by a research contract (2021.00690.CEECIND) from the Fundação para a Ciência e a Tecnologia. The research performed by Luís Madeira de Carvalho is supported by CIISA/FMV Project UIDB/00276/2020 and LA/P/0059/2020 — AL4AnimalS, both funded by FCT. We acknowledge financial support to Centre for Environmental and Marine Studies (CESAM) by FCT/MCTES (UIDP/50017/2020 + UIDB/50017/2020 + LA/P/0094/2020), through national funds. This research was also supported by the LIFE WolFlux (LIFE17 NAT/PT/000554), funded by the LIFE programme of the European Union, the EU's funding instrument for the environment and climate action.
Ethics declarations
Ethics approval
Not applicable.
Consent to participate
Not applicable.
Consent for publication
Not applicable.
Conflict of interest
The authors declare no competing interests.
Additional information
Handling Editor: Una Ryan
Publisher's note
Springer Nature remains neutral with regard to jurisdictional claims in published maps and institutional affiliations.
Supplementary Information
Below is the link to the electronic supplementary material.
Rights and permissions
Springer Nature or its licensor (e.g. a society or other partner) holds exclusive rights to this article under a publishing agreement with the author(s) or other rightsholder(s); author self-archiving of the accepted manuscript version of this article is solely governed by the terms of such publishing agreement and applicable law.
About this article
Cite this article
Gomes, F.R., Hipólito, D., Aliácar, S.C. et al. Endoparasites of the Iberian wolf (Canis lupus signatus) and mesocarnivores in Central Portugal. Parasitol Res 122, 435–440 (2023). https://doi.org/10.1007/s00436-022-07738-7
Received:

Accepted:

Published:

Issue Date:

DOI: https://doi.org/10.1007/s00436-022-07738-7
Keywords