Abstract
The tick Ixodes dampfi Cooley 1943, a member of the Pholeoixodes subgenus, was first described from gophers (Geomys sp.) collected in the state of Mexico. However, information on the origin and parasite-host association of I. dampfi is lacking. Here, new records of the occurrence of this tick species were provided nearly 80 years since its original description, in addition to new localities, genetic data, and host-parasite records. A total of four hosts (one Bassariscus astutus, two Didelphis virginiana, and one Peromyscus gratus) from three orders (Carnivora, Didelphimorphia, and Rodentia) were parasitised by seven I. dampfi females. Sequences of the 16S rDNA gene from the ticks exhibited a similarity ranging from 97 (389/403 bp) to 100% (403/403 bp), with the unique sequence of I. dampfi available on GenBank (AF549837). Additionally, Rickettsia-specific 16S rDNA, htrA, and ompA gene assays generated sequences in four of the seven I. dampfi specimens (57.14%). Partial sequences revealed 99–100% genetic identities with Candidatus Rickettsia angustus (GenBank accession HF935069, HF935072, HF935078) and Candidatus Rickettsia kingi (GenBank accession HF935068, HF935071, HF935077) from Canada. Our results represent the first record of this elusive ectoparasite in a natural protected area, which is a triumph for conservation, as accelerated defaunation processes pose the risk of coextinction for many groups of vertebrates and their ectoparasites.
Access options
Buy single article
Instant access to the full article PDF.
USD 39.95
Price excludes VAT (USA)
Tax calculation will be finalised during checkout.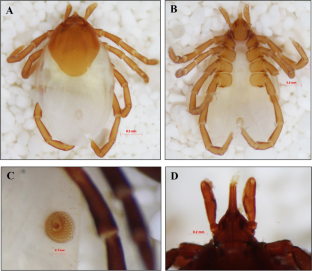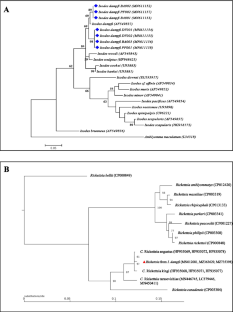 References
Aguilar-Domínguez M, Sánchez-Montes S, Esteve-Gassent MA, Barrientos-Salcedo C, Pérez de León A, Romero-Salas D (2019) Genetic structure analysis of Amblyomma mixtum populations in Veracruz State, Mexico. Ticks Tick Borne Dis 10:86–92. https://doi.org/10.1016/j.ttbdis.2018.09.004

Anstead CA, Chilton NB (2013a) Detection of a novel Rickettsia (Alphaproteobacteria: Rickettsiales) in rotund ticks (Ixodes kingi) from Saskatchewan, Canada. Ticks Tick Borne Dis 4:202–206. https://doi.org/10.1016/j.ttbdis.2012.11.013

Anstead CA, Chilton NB (2013b) A novel Rickettsia species detected in Vole Ticks (Ixodes angustus) from Western Canada. Appl Environ Microbiol 79:7583–7589. https://doi.org/10.1128/AEM.02286-13

Bermúdez SE, Armstrong BA, Domínguez L, Krishnavajhala A, Kneubehl AR, Gunter SM, Replogle A, Petersen JM, Lopez JE (2021) Isolation and genetic characterization of a relapsing fever spirochete isolated from Ornithodoros puertoricensis collected in central Panama. PLoS Negl Trop Dis 15:e0009642. https://doi.org/10.1371/journal.pntd.0009642

Cooley RA (1943) Ixodes dampfi n. sp., nueva garrapata de México (Acarina, Ixodidae). Rev Soc Mex Hist Nat 4:21–24

Guglielmone AA, Petney TN, Robbins RG (2020) Ixodidae (Acari: Ixodoidea): descriptions and redescriptions of all known species from 1758 to December 31, 2019. Zootaxa, 4871, zootaxa.4871.1.1. https://doi.org/10.11646/zootaxa.4871.1.1

Guzmán-Cornejo C, Robbins RG (2010) The genus Ixodes (Acari: Ixodidae) in Mexico: adult identification keys, diagnoses, hosts, and distribution. Rev Mex Biodiv 81:289–298. https://doi.org/10.3897/zookeys.569.7221

Guzmán-Cornejo C, Robbins RG, Pérez TM (2007) The Ixodes (Acari: Ixodidae) of Mexico: parasite-host and host-parasite checklists. Zootaxa 1553:47–58

Hornok S, Sándor AD, Beck R, Farkas R, Beati L, Kontschán J, Takács N, Földvári G, Silaghi C, Meyer-Kayser E, Hodžić A, Tomanović S, Abdullah S, Wall R, Estrada-Peña A, Duscher GG, Plantard O (2017) Contributions to the phylogeny of Ixodes (Pholeoixodes) canisuga, I. (Ph.) kaiseri, I. (Ph.) hexagonus and a simple pictorial key for the identification of their females. Parasit Vectors 10:545. https://doi.org/10.1186/s13071-017-2424-x

Jia N, Zheng YC, Jiang JF, Ma L, Cao WC (2013) Human infection with Candidatus Rickettsia tarasevichiae. N Engl J Med 369:1178–1180. https://doi.org/10.1056/NEJMc1303004

Kurtti TJ, Palmer AT, Oliver JH Jr (2002) Rickettsiella-like bacteria in Ixodes woodi (Acari: Ixodidae). J Med Entomol 39:534–540. https://doi.org/10.1603/0022-2585-39.3.534

Labruna MB, McBride JW, Bouyer DH, Camargo LM, Camargo E, Walker DH (2004) Molecular evidence for a spotted fever group Rickettsia species in the tick Amblyomma longirostre in Brazil. J Med Entomol 41:533–537. https://doi.org/10.1603/0022-2585-41.3.533

Mihalca AD, Gherman C, Cozma V (2011) Coendangered hard-ticks: threatened or threatening? Parasit Vectors 4:71. https://doi.org/10.1186/2F1756-3305-4-71

Murphy DS, Lee X, Larson SR, Hoang-Johnson DK, Loo T, Paskewitz SM (2017) Prevalence and distribution of human and tick infections with the Ehrlichia muris-like agent and Anaplasma phagocytophilum in Wisconsin, 2009–2015. Vector Borne Zoonotic Dis 17:229–236. https://doi.org/10.1089/vbz.2016.2055

Norris DE, Klompen JS, Keirans JE, Black WC 4th (1996) Population genetics of Ixodes scapularis (Acari: Ixodidae) based on mitochondrial 16S and 12S genes. J Med Entomol 33:78–89. https://doi.org/10.1093/jmedent/33.1.78

Regnery RL, Spruill CL, Plikaytis BD (1991) Genotypic identification of rickettsiae and estimation of intraspecies sequence divergence for portions of two rickettsial genes. J Bacteriol 173:1576–1589. https://doi.org/10.1128/jb.173.5.1576-1589.1991

Roux V, Raoult D (2000) Phylogenetic analysis of members of the genus Rickettsia using the gene encoding the outer membrane protein rOmpB (ompB). Int J Syst Evol 50:1449–1455. https://doi.org/10.1099/00207713-50-4-1449

Rudenko N, Golovchenko M, Grubhoffer L, Oliver JH Jr (2009) Borrelia carolinensis sp. nov., a New (14th) Member of the Borrelia burgdorferi sensu lato complex from the Southeastern Region of the United States. J Clin Microbiol 61:381–383. https://doi.org/10.1128/JCM.01183-08

Sánchez-Montes S, Blum-Domínguez S, Lozano-Sardaneta YN, Zazueta-Islas HM, Solís-Cortés M, Ovando-Márquez O, Colunga-Salas P, Tamay-Segovia P, Becker I, Fernández-Figueroa E, Rangel-Escareño C (2021) Molecular detection of Rickettsia sp. cf. Rickettsia monacensis in Ixodes sp. cf. Ixodes affinis collected from white-tailed deer in Campeche, Mexico. Parasitol Res 120:1891–1895

Santoyo-Colín V, Sánchez-Montes S, Salceda-Sánchez B, Huerta-Jiménez H, Alcántara-Rodríguez V, Becker I, Gual-Sill F, López-Pérez AM (2021) Urban foci of murine typhus involving cat fleas (Ctenocephalides felis felis) collected from opossums in Mexico City. Zoonoses Public Health 68:1–7. https://doi.org/10.1111/zph.12770

Soares JF, Martins TF, Soares HS, Nieri-Bastos FA, Labruna MB (2021) Life cycle of Ixodes schulzei (Acari: Ixodidae) in the laboratory, and demonstration of reproduction by parthenogenesis. Parasitol Res 120:9–13. https://doi.org/10.1007/s00436-020-06970-3

Xu G, Fang QQ, Keirans JE, Durden LA (2003) Molecular phylogenetic analyses indicate that the Ixodes ricinus complex is a paraphyletic group. J Parasitol 89:452–457. https://doi.org/10.1645/0022-3395(2003)089[0452:mpaitt]2.0.co;2
Acknowledgements
We thank to Juan Carlos del Mazo López and Magally Landa Flores from the Pathogen Genome lab (Molecular Biology Department, InDRE) for processing samples for sequencing.
Funding
The sponsorship for this work was supported by grant PAPIIT AG201221.
Ethics declarations
Conflict of interest
The authors declare no competing interests.
Additional information
Section Editor: Charlotte Oskam
Publisher's note
Springer Nature remains neutral with regard to jurisdictional claims in published maps and institutional affiliations.
About this article
Cite this article
Sánchez-Montes, S., Santoyo-Colín, V., Zapata-Marín, A. et al. Rediscovering an old friend: the case of Ixodes dampfi in a protected natural reserve in central Mexico. Parasitol Res 120, 3899–3904 (2021). https://doi.org/10.1007/s00436-021-07318-1
Received:

Accepted:

Published:

Issue Date:

DOI: https://doi.org/10.1007/s00436-021-07318-1
Keywords
Ixodes

Endemic

Hard tick

Ectoparasite

Rickettsia