Abstract
Tapeworms of the genus Mesocestoides (Cestoda: Cyclophyllidea: Mesocestoididae) are still enigmatic to scientists, due to their high morphological variability, low host specificity, and unknown details of their life cycle. They are found worldwide, with carnivorous mammals as the main definitive hosts, and the disease is potentially zoonotic. After ingestion by a definitive host, the tetrathyridium can occasionally migrate through the intestinal wall and reach the peritoneal cavity or abdominal organs causing peritoneal metacestodosis. Here, we report on a case of metacestodosis of a European wild cat (Felis silvestris silvestris) found dead in Croatia. At necropsy, a large number of white, rice-like structures were found free in the abdominal and thoracic cavities, as well as along the serous surfaces and in the lungs. DNA isolated from the nodules was genotyped and based on a 320-base pair long 12S fragment classified as Mesocestoides vogae. Although post-mortem changes were advanced, severe emaciation due to the severe parasitic infection and gastrointestinal bleeding was diagnosed as the likely cause of death. Intestinal cestodosis was previously reported in wild cats, but according to our knowledge, this is the first description of peritoneal and pleural metacestodosis caused by M. vogae tetrathyridia (metacestodes) in any wild carnivore species.
Access options
Buy single article
Instant access to the full article PDF.
US$ 39.95
Tax calculation will be finalised during checkout.
Subscribe to journal
Immediate online access to all issues from 2019. Subscription will auto renew annually.
US$ 119
Tax calculation will be finalised during checkout.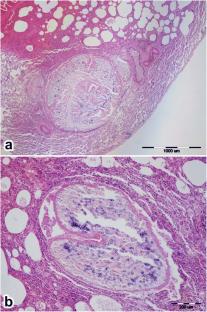 References
Aypak S, Aysul N, Ural K, Birincioğlu S, Atasoy A, Derincegöz O, Epikmen T, Karagenç T (2012) A case of diffuse peritoneal larval Mesocestoides corti (syn. M. vogae) Cestodiasis in a dog in Turkey. Kafkas Univ Vet Fak Derg 18(5):885–888

Boyce W, Shender L, Schultz L, Vickers W, Johnson C, Ziccardi M, Beckett L, Padgett K, Crosbie P, Sykes J (2011) Survival analysis of dogs diagnosed with canine peritoneal larval cestodiasis (Mesocestoides spp.). Vet Parasitol 180:256–261. https://doi.org/10.1016/j.vetpar.2011.03.023

Brglez J, Železnik Z (1976) Ein Übersicht über die Parasiten der Wildkatze (Felis silvestris Schreber) in Slowenien. Z Jagdwiss 22:109–112

Brianti, E, Gaglio G, Anile S, Arrabito C, Mazzamuto MV, Scornavacca D, Ragni B, Mallia E, Randi E, Mattucci F (2012) Helminthic fauna of wildcats (Felis silvestris silvestris) in southern Italy. VIII Congresso Italiano di Teriologia, Piacenza, Italy. Hystrix p 44

Conn DB, Etges FJ (1983) Maternal transmission of asexually proliferative Mesocestoides corti tetrathyridia (Cestoda) in mice. J Parasitol 69(5):922–925

Conn DB, Galán-Puchades M-T, Fuentes MV (2010) Interactions between anomalous excretory and tegumental epithelia in aberrant Mesocestoides tetrathyridia from Apodemus sylvaticus in Spain. Parasitol Res 106:1109–1115. https://doi.org/10.1007/s00436-010-1774-5

Conn DB, Galán-Puchades M-T, Fuentes MV (2011) Normal and aberrant Mesocestoides tetrathyridia from Crocidura spp. (Soricimorpha) in Corsica and Spain. J Parasitol 97(5):915–919

Crosbie PR, Nadler SA, Platzer EG, Kerner C, Mariaux J, Boyce WM (2000) Molecular systematics of Mesocestoides spp. (Cestoda: Mesocestoididae) from domestic dogs (Canis familiaris) and coyotes (Canis latrans). J Parasitol 86:350–357. https://doi.org/10.2307/3284781

Eleni C, Scaramozzino P, Busi M, Ingrosso S, D'amelio S, De Liberato C (2007) Proliferative peritoneal and pleural cestodiasis in a cat caused by metacestodes of Mesocestoides sp. anatomohistopathological findings and genetic identification. Parasite 14:71–76. https://doi.org/10.1051/parasite/2007141071

Etges FJ (1991) The proliferative tetrathyridium of Mesocestoides vogae sp. n. (Cestoda). J Helminthol Soc Wash 58:181–185

Foronda P, Perez Rivero A, Santana Morales MA, Kabdur A, Gonzalez AC, Quispe Ricalde MA, Feliu C, Valladares B (2007) First larval record of Mesocestoides in carnivora of Tenerife (Canary Islands). J Parasitol 93:138–142. https://doi.org/10.1645/GE-932R1.1

Georgiev BB, Kornyushin VV (1994) Family Paruterinidae Fuhrmann, 1907 (senus lato). In: Khalil LF, Jones A, Bray RA (eds) Keys to the cestode parasites of vertebrates. CAB International, Wallingford, pp 559–584

Hall TA (1999) BioEdit: a user-friendly biological sequence alignment editor and analysis program for Windows 95/98/NT. Nucleic Acids Symp Ser 41:95–98

Hrckova G, Miterpakova M, O'Connor A, Snabel V, Olson PD (2011) Molecular and morphological circumscription of Mesocestoides tapeworms from red foxes (Vulpes vulpes) in central Europe. Parasitology 138:638–647. https://doi.org/10.1017/S0031182011000047

Karamon J, Dąbrowska J, Kochanowski M, Samorek-Pieróg M, Sroka J, Różycki M, Bilska-Zając E, Zdybel J, Cencek T (2018) Prevalence of intestinal helminths of red foxes (Vulpes vulpes) in central Europe (Poland): a significant zoonotic threat. Parasit Vectors 11:436. https://doi.org/10.1186/s13071-018-3021-3

Kirkova Z, Raychev E, Georgieva D (2011) Studies on feeding habits and parasitological status of red fox, golden jackal, wild cat and stone marten in Sredna Gora, Bulgaria. J Life Sci 5:264–270

Krone O, Guminsky O, Meinig H, Herrmann M, Trinzen M, Wibbelt G (2008) Endoparasite spectrum of wild cats (Felis silvestris Schreber,1777) and domestic cats (Felis catus L.) from the Eifel, Pfalzregion and Saarland, Germany. Eur J Wildl Res 54:95–100. https://doi.org/10.1007/s10344-007-0116-0

Literák I, Tenora F, Letkova V, Goldova M, Torres J, Olson PD (2006) Mesocestoides litteratus (Batsch, 1786) (Cestoda: Cyclophyllidea: Mesocestoididae) from the red fox: morphological and 18S rDNA characterization of European isolates. Helminthologia 43:191–195. https://doi.org/10.2478/s11687-006-0036-7

Loos-Frank B (1991) One or two intermediate hosts in the life cycle of Mesocestoides (Cyclophyllidea: Mesocestoididae)? Parasitol Res 77:726–728

Lozano J, Moleón M, Virgós E (2006) Biogeographical patterns in the diet of the wildcat, Felis silvestris Schreber, in Eurasia: factors affecting the trophic diversity. J Biogeogr 33(6):1076–1085. https://doi.org/10.1111/j.1365-2699.2006.01474.x

Martinković F, Sindičić M, Lučinger S, Štimac I, Bujanić M, Živičnjak T, Stojčević Jan D, Šprem N, Popović R, Konjević D (2017) Endoparasites of wild cats in Croatia. Vet arhiv 87:713–729. https://doi.org/10.24099/vet.arhiv.170127

McAllister CT, Connior MB, Bursey CR, Trauth SE, Robison HW, Conn DB (2014) Six new host records for Mesocestoides sp. tetrathyridia (Cestoidea: Cyclophyllidea) from amphibians and reptiles of Arkansas, U.S.A. Comp Parasitol 81:278–283. https://doi.org/10.1654/4685R.1

McAllister CT, Tkach VV, Conn DB (2018) Morphological and molecular characterization of post-larval pretetrathyridia of Mesocestoides sp. (Cestoda: Cyclophyllidea) from ground skink, Sscincella lateralis (Sauria: Scincidae), from southeastern Oklahoma. J Parasitol 104(3):246–253

Montalbano Di Filippo M, Meoli R, Cavallero S, Eleni C, De Liberato C, Berrilli F (2018) Molecular identification of Mesocestoides sp. metacestodes in a captive gold-handed tamarin (Saguinus midas). Infect Genet Evol 65:399–405. https://doi.org/10.1016/j.meegid.2018.08.008

Napoli E, Anile S, Arrabito C, Scornavacca D, Mazzamuto MV, Gaglio G, Otranto D, Giannetto S, Brianti E (2016) Survey on parasitic infections in wildcat (Felis silvestris silvestris Schreber, 1777) by scat collection. Parasitol Res 115:255–261. https://doi.org/10.1007/s00436-015-4742-2

Nickisch-Rosenegk M, Richard L, Loos-Frank B (1999) Contributions to the phylogeny of the Cyclophyllidea (Cestoda) inferred from mitochondrial 12S rDNA. J Mol Evol 48:586–596. https://doi.org/10.1007/pl00006501

Padgett KA, Boyce WM (2004) Life-history studies on two molecular strains of Mesocestoides (Cestoda: Mesocestoididae). Identification of sylvatic hosts and infectivity of immature life stages. J Parasitol 90:108–113. https://doi.org/10.1645/GE-100R1

Padgett KA, Boyce WM (2005) Ants as first intermediate hosts of Mesocestoides on San Miguel Island, USA. J Helminthol 79:67–73. https://doi.org/10.1079/joh2005275

Padgett KA, Nandler SA, Munson L, Sacks B, Boyce WM (2005) Systematics of Mesocesoides (Cestoda: Mesocestoididae): evaluation of molecular and morphological variation among isolates. J Parasitol 91:1435–1443. https://doi.org/10.1645/GE-3461.1

Padgett KA, Crosbie PR, Boyce WM (2013) Mesocestoides. In: Liu D (ed) Molecular detection of human pathogens. CRC Press, Taylor and Francis Group, Boca Raton, pp 277–285

Papini R, Matteini A, Bandinelli P, Pampurini F, Mancianti F (2010) Effectiveness of praziquantel for treatment of peritoneal larval cestodiasis in dogs: a case report. Vet Parasitol 170:158–161. https://doi.org/10.1016/j.vetpar.2010.02.001

Schuster R, Heidecke D, Schierhorn K (1993) Contributions to the parasite fauna of local hosts. 10. On the endoparasitic fauna of Felis silvestris. Appl Parasitol 34:113–120

Skirnisson K, Jouet D, Ferté H, Nielsen ÓK (2016) Occurrence of Mesocestoides canislagopodis (Rudolphi, 1810) (Krabbe, 1865) in mammals and birds in Iceland and its molecular discrimination within the Mesocestoides species complex. Parasitol Res 115:2597–2607. https://doi.org/10.1007/s00436-016-5006-5

Széll Z, Tolnai Z, Sréter T (2015) Environmental determinants of the spatial distribution of Mesocestoides spp. and sensitivity of flotation method for the diagnosis of mesocestoidosis. Vet Parasitol 212:427–430. https://doi.org/10.1016/j.vetpar.2015.06.021

Takács A, Szemethy L, Heltai M, Takács AA (2011) Adatok magyarországi vadászterületeken előforduló vadmacskák (Felis silvestris Schreber 1777), valamint a házimacskával (Felis silvestris catus L. 1758) történt keresztezéseik parazitológiai állapotáról. Magyar Állatorvosok Lapja 133:670–674

Varcasia A, Sanna D, Casu M, Lahmar S, Dessì G, Pipia AP, Tamponi C, Gaglio G, Hrčková G, Otranto D, Scala A (2018) Species delimitation based on mtDNA genes suggests the occurrence of new species of Mesocestoides in the Mediterranean region. Parasit Vectors 11:619. https://doi.org/10.1186/s13071-018-3185-x

Wirtherle N, Wiemann A, Ottenjann M, Linzmann H, Van der Grinten E, Kohn B, Gruber AD, Clausen PH (2007) First case of canine peritoneal larval cestodosis caused by Mesocestoides lineatus in Germany. Parasitol Int 56:317–320. https://doi.org/10.1016/j.parint.2007.06.006

Yildiz K, Tong S (2011) Peritoneal larval cestodosis in a dog. Tierarztl Prax K H 6:448–450

Zaleśny G, Hildebrand J (2012) Molecular identification of Mesocestoides spp. from intermediate hosts (rodents) in central Europe (Poland). Parasitol Res 110:1055–1061. https://doi.org/10.1007/s00436-011-2598-7
Ethics declarations
Ethics approval
Committee of Faculty of Veterinary Medicine University of Zagreb approved the research.
Conflict of interest
The authors declare no competing interest.
Additional information
Publisher's note
Springer Nature remains neutral with regard to jurisdictional claims in published maps and institutional affiliations.
Section Editor: David Bruce Conn
About this article
Cite this article
Sindičić, M., Kurilj, A.G., Martinković, F. et al. First description of peritoneal and pleural metacestodosis caused by Mesocestoides vogae in a European wild cat (Felis silvestris silvestris). Parasitol Res 120, 2275–2279 (2021). https://doi.org/10.1007/s00436-021-07141-8
Received:

Accepted:

Published:

Issue Date:
Keywords
Mesocestoides

European wild cat

Necropsy

12S rDNA gene