Abstract
Although raw or undercooked livestock meat or viscera has been suggested to be a source of human toxocariasis, there have been few reports on the prevalence of Toxocara larvae in the tissue of livestock animals. To investigate the presence of Toxocara larvae in chickens, we examined 50 culled chickens from a commercial layer farm. The liver, breast meat, and thigh meat were separated individually and artificially digested to examine for the presence of larvae. Nematode larvae were detected in 2 out of 50 chickens. One larva was detected from the breast meat, and it was molecularly identified as Toxocara tanuki. The other from the thigh meat of another chicken was molecularly identified as Toxocara cati. The present study demonstrated for the first time that T. tanuki larvae do infect chickens in the natural environment. The fact that Toxocara spp. larvae were found in muscles of farm chickens suggests that consumption of raw or undercooked chicken meat may present a risk for human toxocariasis.
Access options
Buy single article
Instant access to the full article PDF.
USD 39.95
Price excludes VAT (USA)
Tax calculation will be finalised during checkout.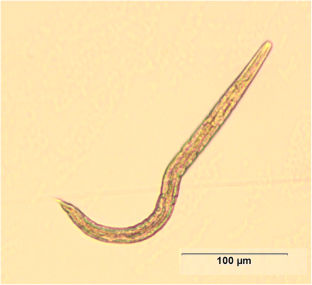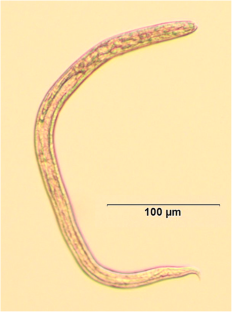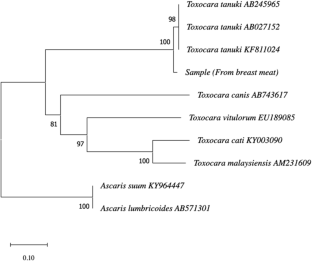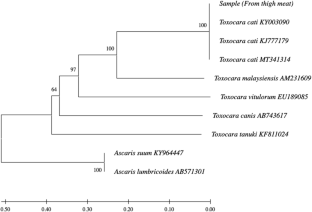 References
Akao N, Ohta N (2007) Toxocariasis in Japan. Parasitol Int 56:87–93

Alexander U, Lim CW, Kim B, Hong EJ, Kim HC, Park BK (2018) Morphological and molecular characterization of Toxocara tanuki (Nematoda: Ascaridae) from Korean raccoon dog, Nyctereutes procyonoides koreensis. Korean J Parasitol 56:567–575

Azizi S, Oryan A, Sadjjadi SM, Zibaei M (2007) Histopathologic changes and larval recovery of Toxocara cati in experimentally infected chickens. Parasitol Res 102:47–52

Campos-da-Silva DR, da Paz JS, Fortunato VR, Beltrame MAV, Valli LCP, Pereira FEL (2015) Natural infection of free-range chickens with the ascarid nematode Toxocara sp. Parasitol Res 114:4289–4293

de Oliveira AC, Rubinsky-Elefant G, Merigueti YFFB et al (2018) Frequency of anti-Toxocara antibodies in broiler chickens in southern Brazil. Rev Bras Parasitol Vet 27:141–145

Despommier D (2003) Toxocariasis: clinical aspects, epidemiology, medical ecology, and molecular aspects. Clin. Microbiol Rev 16:265–272

Dutra GF, Pinto NSF, de Avila LFC et al (2014) Risk of infection by the consumption of liver of chickens inoculated with low doses of Toxocara canis eggs. Vet Parasitol 203:87–90

Eslahi AV, Badri M, Khorshidi A et al (2020) Prevalence of Toxocara and Toxascaris infection among human and animals in Iran with meta-analysis approach. BMC Infect Dis 20:1–17

Galvin TJ (1964) Experimental Toxocara canis infections in chickens and pigeons. J Parasitol 50:124

Hoffmeister B, Glaeser S, Flick H et al (2007) Cerebral toxocariasis after consumption of raw duck liver. Am J Trop Med Hyg 76:600–602

Jacquier P, Gottstein B, Stingelin Y, Eckert J (1991) Immunodiagnosis of toxocarosis in humans: Evaluation of a new enzyme-linked immunosorbent assay kit. J Clin Microbiol 29:1831–1835

Laurimaa L, Süld K, Davison J, Moks E, Valdmann H, Saarma U (2016) Alien species and their zoonotic parasites in native and introduced ranges: The raccoon dog example. Vet Parasitol 219:24–33

Marucci G, Interisano M, La Rosa G, Pozio E (2013) Molecular identification of nematode larvae different from those of the Trichinella genus detected by muscle digestion. Vet Parasitol 194:117–120

Matoba Y, Yamada D, Asano M, Oku Y, Kitaura K, Yagi K, Tenora F, Asakawa M (2006) Parasitic helminths from feral raccoons (Procyon lotor) in Japan. Helminthologia 43:139–146

Mikaeili F, Mathis A, Deplazes P, Mirhendi H, Barazesh A, Ebrahimi S, Kia EB (2017) Differentiation of Toxocara canis and Toxocara cati based on PCR-RFLP analyses of rDNA-ITS and mitochondrial cox1 and nad1 regions. Acta Parasitol 62:549–556

Morimatsu Y, Akao N, Akiyoshi H et al (2006) Case reports: a familial case of visceral larva migrans after ingestion of raw chicken livers: Appearance of specific antibody in broncho alveolar lavage fluid of the patients. Am J Trop Med Hyg 75:303–306

Nagakura K, Tachbana H, Kaneda Y, Kato Y (1989) Toxocariasis possibly caused by ingesting raw chicken. J Infect Dis 160:735–736

Navajas M, Cotton D, Kreiter S, Gutierrez J (1992) Molecular approach in spider mites (Acari: Tetranychidae): preliminary data on ribosomal DNA sequences. Exp Appl Acarol 15:211–218

Okamoto T (1986) Experimental studies of visceral larva migrans with Toxocara tanuki Yamaguti, 1941. Jpn J Parasitol 35:355–364 (in Japanese with English summary)

Oryan A, Sadjjadi SM, Azizi S (2010) Longevity of Toxocara cati larvae and pathology in tissues of experimentally infected chickens. Korean J Parasitol 48:79–80

Özkoç S, Bayram Delibaş S, Akisü Ç (2012) Evaluation of Trichinella cross-reactions in the serological diagnosis of toxocariasis. Mikrobiyol Bul 46:456–463

Pitra C, Schwarz S, Fickel J (2010) Going west-invasion genetics of the alien raccoon dog Nyctereutes procynoides in Europe. Eur J Wildl Res 56:117–129

Rostami A, Riahi SM, Holland CV, Taghipour A, Khalili-Fomeshi M, Fakhri Y, Omrani VF, Hotez PJ, Gasser RB (2019) Seroprevalence estimates for toxocariasis in people worldwide: A systematic review and meta-analysis. PLoS Negl Trop Dis 13:e0007809. https://doi.org/10.1371/journal.pntd.0007809

Sato H, Inaba T, Ihama Y, Kamiya H (1999) Parasitological survey on wild carnivora in North-Western Tohoku, Japan. J Vet Med Sci 61:1023–1026

Sato H, Suzuki K, Aoki M (2006) Nematodes from raccoon dogs (Nyctereutes procyonoides viverrinus) introduced recently on Yakushima Island, Japan. J Vet Med Sci 68:693–700

Taira K, Permin A, Kapel CMO (2003) Establishment and migration pattern of Toxocara canis larvae in chickens. Parasitol Res 90:521–523

Taira K, Saitoh Y, Kapel CMO (2011) Toxocara cati larvae persist and retain high infectivity in muscles of experimentally infected chickens. Vet Parasitol 180:287–291

Uchida A, Uchida K, Kawakami Y, Murata Y (1999) Helminthological surveys of raccoon dogs captured in Tokyo and Kanagawa Prefectures. J Jpn Vet Med Assoc 52:715–721

von Söhsten AL, da Silva AV, Rubinsky-Elefant G, Guerra LMSMEM (2017) Anti-Toxocara spp. IgY antibodies in poultry sold in street markets from Feira de Santana, Bahia, Northeastern Brazil. Vet Parasitol Reg Stud Rep 8:86–89

Yoon YS, Lee CH, Kang YA, Kwon SY, Yoon HI, Lee JH, Lee CT (2009) Impact of toxocariasis in patients with unexplained patchy pulmonary infiltrate in Korea. J Korean Med Sci 24:40–45

Zibaei M, Sadjjadi SM, Maraghi S (2017) The occurrence of Toxocara species in naturally infected broiler chickens revealed by molecular approaches. J Helminthol 91:633–636
Ethics declarations
Conflict of interest
The authors have no conflicts of interest directly relevant to the content of this article.
Additional information
Section Editor: David Bruce Conn
Publisher's note
Springer Nature remains neutral with regard to jurisdictional claims in published maps and institutional affiliations.
About this article
Cite this article
Okada, N., Ooi, HK. & Taira, K. Detection of larvae of Toxocara cati and T. tanuki from the muscles of free-ranging layer farm chickens. Parasitol Res 120, 1737–1741 (2021). https://doi.org/10.1007/s00436-021-07115-w
Received:

Accepted:

Published:

Issue Date:

DOI: https://doi.org/10.1007/s00436-021-07115-w
Keywords