Abstract
A reintroduced white-tailed sea eagle (Haliaeetus albicilla) in moderate body condition was found dead and submitted for post-mortem examination. There were no signs of disease on gross pathological examination. Histopathological examination however revealed the presence of encysted protozoan parasites in pectoral and cardiac muscle sections. Polymerase chain reaction amplification of extracted genomic DNA and sequencing of four regions: the 18S rDNA, 28S rDNA, internal transcribed spacer (ITS) 1, and RNA polymerase B (rpoB) loci, confirmed the presence of a Sarcocystis species in pectoral and cardiac muscle which appeared phylogenetically similar to Sarcocystis wobeseri. This is the first report of S. wobeseri-like infection in a white-tailed sea eagle revealing a new intermediate host species for this parasite.
Access options
Buy single article
Instant access to the full article PDF.
USD 39.95
Price includes VAT (USA)
Tax calculation will be finalised during checkout.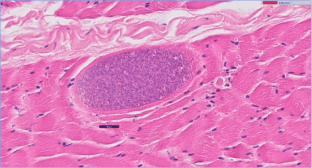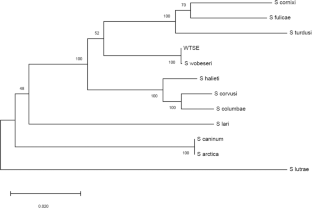 Materials Availability
Sequences have been made applicable under the accession numbers LR884238-LR884241.
References
Atkinson C, Thomas N, Hunter D (2008) Parasitic diseases of wild birds. Wiley-Blackwell, Iowa

Bancroft JD (2008) Theory and practice of histological techniques. Elsevier Health Sciences

Box ED, Duszynski DW (1978) Experimental transmission of Sarcocystis from icterid birds to sparrows and canaries by sporocysts from the opossum. J Parasitol 64:682–688. https://doi.org/10.2307/3279960

Dubey J, Calero-Bernal R, Rosenthal B et al (2016) Sarcocystosis of animals and humans, Second Edi. Taylor and Francis Ltd., London

Gjerde B, Vikøren T, Hamnes IS (2018) Molecular identification of Sarcocystis halieti n. sp., Sarcocystis lari and Sarcocystis truncata in the intestine of a white-tailed sea eagle (Haliaeetus albicilla) in Norway. Int J Parasitol Parasites Wildl 7:1–11. https://doi.org/10.1016/j.ijppaw.2017.12.001

Hillyer E, Anderson M, Greiner E et al (1991) An outbreak of Sarcocystis in a collection of psittacines. J Zoo Wildl Med 22:434–445

Kirillova V, Prakas P, Calero-Bernal R, Gavarāne I, Fernández-García JL, Martínez-González M, Rudaitytė-Lukošienė E, Martínez-Estéllez MÁH, Butkauskas D, Kirjušina M (2018) Identification and genetic characterization of Sarcocystis arctica and Sarcocystis lutrae in red foxes (Vulpes vulpes) from Baltic States and Spain. Parasites and Vectors 11:1–9. https://doi.org/10.1186/s13071-018-2694-y

Kumar S, Stecher G, Li M, Knyaz C, Tamura K (2018) MEGA X: molecular evolutionary genetics analysis across computing platforms. Mol Biol Evol 35:1547–1549. https://doi.org/10.1093/molbev/msy096

Kutkienė L, Prakas P, Sruoga A, Butkauskas D (2010) The mallard duck (Anas platyrhynchos) as intermediate host for Sarcocystis wobeseri sp. nov. from the barnacle goose (Branta leucopsis). Parasitol Res 107:879–888. https://doi.org/10.1007/s00436-010-1945-4

Molenaar F (2008) Post-mortem examination protocol - birds. 1–12

Olias P, Gruber A, Heydorn A et al (2009) A novel Sarcocystis-associated encephalitis and myositis in racing pigeons (Columba livia f. dom.). Avian Pathol 38:121–128

Olias P, Gruber AD, Hafez HM, Heydorn AO, Mehlhorn H, Lierz M (2010) Sarcocystis calchasi sp. nov. of the domestic pigeon (Columba livia f. domestica) and the Northern goshawk (Accipiter gentilis): Light and electron microscopical characteristics. Parasitol Res 106:577–585. https://doi.org/10.1007/s00436-009-1701-9

Prakas P, Kutkienė L, Sruoga A, Butkauskas D (2011) Sarcocystis sp. from the herring gull (Larus argentatus) identity to Sarcocystis wobeseri based on cyst morphology and DNA results. Parasitol Res 109:1603–1608. https://doi.org/10.1007/s00436-011-2421-5

Prakas P, Butkauskas D, Juozaitytė-Ngugu E (2020) Molecular identification of four Sarcocystis species in the herring gull, Larus argentatus, from Lithuania. Parasites and Vectors 13:4–9. https://doi.org/10.1186/s13071-019-3869-x

von Dohlen AR, Scott D, Dubey JP, Lindsay DS (2019) Prevalence of sarcocysts in the muscles of raptors from a rehabilitation center in North Carolina. J Parasitol 105:11. https://doi.org/10.1645/18-139

Wendte JM, Miller MA, Nandra AK et al (2010) Limited genetic diversity among Sarcocystis neurona strains infecting southern sea otters precludes distinction between marine and terrestrial isolates. Vet Parasitol 169:37–44. https://doi.org/10.1038/jid.2014.371
Acknowledgments
The authors acknowledge the collaboration of the Roy Dennis Wildlife Foundation, Forestry England and Natural England. The authors acknowledge the assistance of Sophie Niall, Shaheed MacGregor, Shinto Kunjamma John and Zoological Society of London's Wildlife Health Services in assistance with carrying out the post-mortem examination.
Ethics declarations
Ethics approval
Not applicable.
Consent to participate
Not applicable.
Consent for publication
Not applicable
Conflict of interest
On behalf of all authors, the corresponding author states that there is no conflict of interest.
Additional information
Publisher's note
Springer Nature remains neutral with regard to jurisdictional claims in published maps and institutional affiliations.
Section Editor: Daniel K Howe
Supplementary Information
About this article
Cite this article
Shadbolt, T., Pocknell, A., Sainsbury, A.W. et al. Molecular identification of Sarcocystis wobeseri-like parasites in a new intermediate host species, the white-tailed sea eagle (Haliaeetus albicilla). Parasitol Res 120, 1845–1850 (2021). https://doi.org/10.1007/s00436-021-07103-0
Received:

Accepted:

Published:

Issue Date:
Keywords
Sarcocystis
Sarcocystis wobeseri
Haliaeetus albicilla

White-tailed sea eagle