Abstract
European beaver (Castor fiber L. 1758) is the biggest rodent living in Europe. It is a semi-aquatic animal known for building dams and burrows. European beaver is a potential host for a wide range of parasites and other infectious diseases. In Slovakia, there is an increasing number of beavers but the data about their parasitic fauna are missing. Our work is the first documentation about the beaver's parasitofauna in Slovakia. In a 1-year study, we collected and examined 19 beaver fecal samples from the vicinity of beaver burrows inhabiting three particular localities at the Danube, Topľa, and Laborec rivers in Slovakia. In these fecal samples, 4 different species of intestinal endoparasites were detected as follows: oocysts of Cryptosporidium, cysts of Giardia, eggs of Stichorchis subtriquetrus, and eggs and larvae of Travassosius rufus. Parasites were confirmed only in samples collected at river Topľa. Based on our results, we can conclude that European beaver can be an important source of parasitic contamination of surface waters especially in the localities shared by people.
Access options
Buy single article
Instant access to the full article PDF.
US$ 39.95
Tax calculation will be finalised during checkout.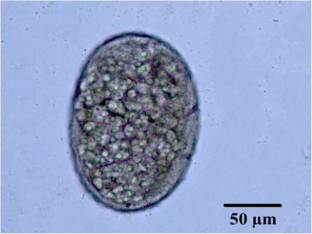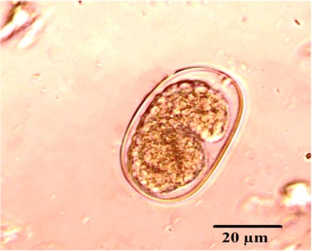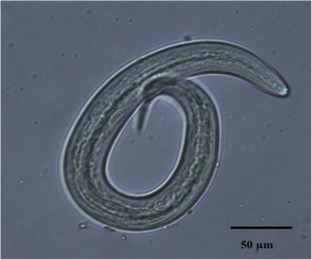 References
Åhlén PA (2001) The parasitic and commensal fauna of the European beaver (Castor fiber) in Sweden. Honours thesis 2001: 3 Department of Animal Ecology, SLU, Umeå 21pp

Barlow AM, Gottstein B, Mueller N (2011) Echinococcus multilocularis in an imported captive European beaver (Castor fiber) in Great Britain. Vet Rec 169:339. https://doi.org/10.1136/vr.d4673

Bush AO, Samuel WM (1981) A review of helminth communities in beaver (Castor spp.) with a survey of Castor canadensis in Alberta, Canada. In: Chapman JA, Pursley D (eds.) Worldwide furbearer conference proceedings 3-11 August 1980, Frostburg. Volume II, pp. 657–689

Campbell-Palmer R, Del-Pozo J, Gottstein B, Girling S, Cracknell J, Schwab G, Rossel F, Pizzi R (2015) Echinococcus multilocularis detection in live Eurasian beavers (Castor fiber) using a combination of laparoscopy and abdominal ultrasound under field conditions. PLoS One 10:e0130842. https://doi.org/10.1371/journal.pone.0130842

Campbell-Palmer R, Gow D, Schwab G, Halley D, Gurnell J, Girling S, Lisle S, Campbell R, Dickinson H, Jones S (2016) The Eurasian beaver handbook: ecology and management of Castor fiber. Pelagic Publishing, Exeter

Ćirović D, Pavlović I, Ivetić V, Milenković M, Radović I, Savić B (2009) Reintroduction of the European beaver (Castor fiber L.) into Serbia and return of its parasite: the case of Stichorchis subtriquetrus. ArchBiol Sci Belgrade 61:141–114. https://doi.org/10.2298/ABS0901141C

Collection of Law on Nature and Landscape Protection (2002) § 33 paragraph 3 of Act no. 543/2002

Demiaszkiewicz AW, Lachowicz J, Kuligowska I, Pyziel AM, Bełżecki G, Miltko R, Kowalik B, Gogola W, Giżejewski Z (2014) Endoparasites of the European beaver (Castor fiber L. 1758) in northeastern Poland. Bull Vet Inst Pulawy 58:223–227. https://doi.org/10.2478/bvip-2014-0033

Drózdż J, Demiaszkiewicz AW, Lachowicz (2000) Travassosius rufus (Trichostrongylidae) – new for Poland nematode of beavers and comments about helminthofauna of these animals. Wiad Parazytol 46:365–368

Drózdż J, Demiaszkiewicz AW, Lachowicz J (2004) Endoparasites of the beaver Castor fiber (L.) in northeast Poland. Helminthologia 41:99–101

Girling SJ, Naylor A, Fraser M, Campbell-Palmer R (2019) Reintroducing beavers Castor fiber to Britain: a disease risk analysis. Mammal Rev 49:300–323. https://doi.org/10.1111/mam.12163

Koubková B, Baruš V, Koubek P (2002) Stichorchis subtriquetrus (Digenea: Cladorchidae) - back to the fauna of the Czech Republic after 200 years. Helminthologia 39:155–158

Máca O, Pavlásek I, Vorel A (2015) Stichorchis subtriquetrus (Digenea: Paramphistomatidae) from Eurasian beaver (Castor fiber) in the Czech Republic. Parasitol Res 114:2933–2939. https://doi.org/10.1007/s00436-015-4495-y

McMaster RT, McMaster ND (2001) Composition, structure and dynamics of vegetation in fifteen beaver impacted wetlands in western Massachusetts. Rhodora 103:293–320

Miláček P, Vítovec J (1985) Differential staining of cryptosporidia by aniline-carbol-methyl violet and tartrazine in smears from feces and scrapings of intestinal mucosa. Folia Parasitol 32:50

Romashov VA, Safonov VG (1965) Effect of helminthiasis on populations of European beaver. Materiali Nauchnoi Konfferencii Vsesojuznogo Obshesstva Gelmintologii, Part 1 (In Russian), 187-192

Sager H, Konjević D, Grubešić M, Janicki Z, Severin S, Beck R (2005) Stichorchis subtriquetrus in European beaver from Croatia: first report. Eur J Wildl Res 51:63–64

Sroka J, Giżejewski Z, Wójcik-Fatla A, Stojecki K, Bilska-Zając E, Dutkiewicz J, Cencek T, Karamon J, Zając V, Kusyk P, Dąbrowska J, Kochanowski M (2015) Potential role of beavers (Castor fiber) on contamination of water in the Masurian Lake District (north-eastern Poland) with protozoan parasites Cryptosporidium spp. and Giardia duodenalis. Bull Vet Inst Pulawy 205:219–228. https://doi.org/10.1515/bvip-2015-0033

Steineck T, Sieber J (2003) Ergebnisse pathologischer Untersuchungen bei Bibern (Castor fiber L.). Denisia 9:131–133

Vengušt G, Bidovec A, Vergles Rataj A, Žele D (2009) Stichorchis subtriquetrus in two beavers (Castor fiber) from Slovenia. Helminthologia 46:59–61. https://doi.org/10.2478/s11687-009-0011-1
Acknowledgments
The authors would like to thank and acknowledge the people who allowed us to gather the data needed for elaboration of this article.
Funding
This work was supported by the grants VEGA no. 2/0125/17.
Ethics declarations
Conflict of interest
The authors declare that they have no conflict of interest.
Ethical approval
The proposal was reviewed and approved by the Ethical Commission of Institute of Parasitology SAS in Košice.
Additional information
Publisher's note
Springer Nature remains neutral with regard to jurisdictional claims in published maps and institutional affiliations.
Section Editor: Nawal Hijjawi
About this article
Cite this article
Bystrianska, J., Papajová, I., Šmiga, Ľ. et al. First report on parasites of European beavers in the Slovak Republic. Parasitol Res 120, 355–358 (2021). https://doi.org/10.1007/s00436-020-06943-6
Received:

Accepted:

Published:

Issue Date:
Keywords
Beaver

Protozoans

Helminths

Slovak Republic