Abstract
The objective of this study was to determine the infection rate and genetic diversity of Cryptosporidium spp. in minks, foxes, and raccoon dogs, farmed in the Xinjiang Uygur Autonomous Region, Northwest China. Fresh fecal specimens were collected from individual cages of farmed minks (n = 214), blue foxes (n = 35), and raccoon dogs (n = 39) and examined using nested PCR based on the Cryptosporidium spp. small subunit rRNA gene. Cryptosporidium spp. was detected in 35 cages (12.2%, 35/288), with a higher infection rate detected in raccoon dogs (20.5%) compared with minks (12.1%) and blue foxes (2.9%). Sequence analysis showed that Cryptosporidium canis was the only species identified in blue foxes and raccoon dogs, while in the 26 Cryptosporidium-positive mink specimens, Cryptosporidium mink genotype (n = 17), C. canis (n = 7), and Cryptosporidium parvum (n = 2) were identified. Further analysis based on the 60-kDa glycoprotein (gp60) gene determined that both C. parvum isolates belonged to the subtype IIdA15G1, while eight of the 17 Cryptosporidium mink genotype isolates were a novel subtype that we have named XeA5G1. To the best of our knowledge, this is the first report of C. parvum subtype IIdA15G1 infection in minks. Since all the Cryptosporidium species/genotypes identified in minks, foxes, and raccoon dogs from Xinjiang have been previously found in humans, our results suggest that these fur animals may play a role in the transmission of zoonotic Cryptosporidium.
Access options
Buy single article
Instant access to the full article PDF.
USD 39.95
Price excludes VAT (USA)
Tax calculation will be finalised during checkout.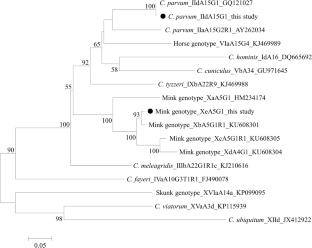 References
Alves M, Xiao L, Sulaiman I, Lal AA, Matos O, Antunes F (2003) Subgenotype analysis of Cryptosporidium isolates from humans, cattle, and zoo ruminants in Portugal. J Clin Microbiol 41(6):2744–2747. https://doi.org/10.1128/jcm.41.6.2744-2747.2003

Cacciò S, Widmer G (2014) Cryptosporidium: parasite and disease. Springer-Verlag, Wien

Fayer R (2010) Taxonomy and species delimitation in Cryptosporidium. Exp Parasitol 124(1):90–97. https://doi.org/10.1016/j.exppara.2009.03.005

Feng Y, Xiao L (2017) Molecular epidemiology of cryptosporidiosis in China. Front Microbiol 8:1701. https://doi.org/10.3389/fmicb.2017.01701

Feng Y, Alderisio KA, Yang W, Blancero LA, Kuhne WG, Nadareski CA, Reid M, Xiao L (2007) Cryptosporidium genotypes in wildlife from a New York watershed. Appl Environ Microbiol 73(20):6475–6483. https://doi.org/10.1128/AEM.01034-07

Feng Y, Ryan UM, Xiao L (2018) Genetic diversity and population structure of Cryptosporidium. Trends Parasitol 34(11):997–1011. https://doi.org/10.1016/j.pt.2018.07.009

Gomez-Couso H, Mendez-Hermida F, Ares-Mazas E (2007) First report of Cryptosporidium parvum 'ferret' genotype in American mink (Mustela vison Shreber 1777). Parasitol Res 100(4):877–879. https://doi.org/10.1007/s00436-006-0338-1

Jiang J, Alderisio KA, Xiao L (2005) Distribution of Cryptosporidium genotypes in storm event water samples from three watersheds in New York. Appl Environ Microbiol 71(8):4446–4454. https://doi.org/10.1128/AEM.71.8.4446-4454.2005

Kellnerova K, Holubova N, Jandova A, Vejcik A, McEvoy J, Sak B, Kvac M (2017) First description of Cryptosporidium ubiquitum XIIa subtype family in farmed fur animals. Eur J Protistol 59:108–113. https://doi.org/10.1016/j.ejop.2017.03.007

Lv C, Zhang L, Wang R, Jian F, Zhang S, Ning C, Wang H, Feng C, Wang X, Ren X, Qi M, Xiao L (2009) Cryptosporidium spp. in wild, laboratory, and pet rodents in China: prevalence and molecular characterization. Appl Environ Microbiol 75(24):7692–7699. https://doi.org/10.1128/AEM.01386-09

Mateo M, de Mingo MH, de Lucio A, Morales L, Balseiro A, Espi A, Barral M, Lima Barbero JF, Habela MA, Fernandez-Garcia JL, Bernal RC, Koster PC, Cardona GA, Carmena D (2017) Occurrence and molecular genotyping of Giardia duodenalis and Cryptosporidium spp. in wild mesocarnivores in Spain. Vet Parasitol 235:86–93. https://doi.org/10.1016/j.vetpar.2017.01.016

Matsubayashi M, Abe N, Takami K, Kimata I, Iseki M, Nakanishi T, Tani H, Sasai K, Baba E (2004) First record of Cryptosporidium infection in a raccoon dog (Nyctereutes procyonoides viverrinus). Vet Parasitol 120(3):171–175. https://doi.org/10.1016/j.vetpar.2004.01.007

Nagano Y, Finn MB, Lowery CJ, Murphy T, Moriarty J, Power E, Toolan D, O'Loughlin A, Watabe M, McCorry KA, Crothers E, Dooley JS, Rao JR, Rooney PJ, Millar BC, Matsuda M, Elborn JS, Moore JE (2007) Occurrence of Cryptosporidium parvum and bacterial pathogens in faecal material in the red fox (Vulpes vulpes) population. Vet Res Commun 31(5):559–564. https://doi.org/10.1007/s11259-007-3519-1

Papanikolopoulou V, Baroudi D, Guo Y, Wang Y, Papadopoulos E, Lafi SQ, Abd El-Tawab MM, Diakou A, Giadinis ND, Feng Y, Xiao L (2018) Genotypes and subtypes of Cryptosporidium spp. in diarrheic lambs and goat kids in northern Greece. Parasitol Int 67(4):472–475. https://doi.org/10.1016/j.parint.2018.04.007

Quilez J, Torres E, Chalmers RM, Hadfield SJ, Del Cacho E, Sanchez-Acedo C (2008) Cryptosporidium genotypes and subtypes in lambs and goat kids in Spain. Appl Environ Microbiol 74(19):6026–6031. https://doi.org/10.1128/AEM.00606-08

Stuart P, Golden O, Zintl A, de Waal T, Mulcahy G, McCarthy E, Lawton C (2013) A coprological survey of parasites of wild carnivores in Ireland. Parasitol Res 112(10):3587–3593. https://doi.org/10.1007/s00436-013-3544-7

Wang R, Zhang L, Feng Y, Ning C, Jian F, Xiao L, Zhao J, Wang Y (2008) Molecular characterization of a new genotype of Cryptosporidium from American minks (Mustela vison) in China. Vet Parasitol 154(1–2):162–166. https://doi.org/10.1016/j.vetpar.2007.12.038

Xiao L, Sulaiman IM, Ryan UM, Zhou L, Atwill ER, Tischler ML, Zhang X, Fayer R, Lal AA (2002) Host adaptation and host-parasite co-evolution in Cryptosporidium: implications for taxonomy and public health. Int J Parasitol 32(14):1773–1785

Yang Z, Zhao W, Wang J, Ren G, Zhang W, Liu A (2018) Molecular detection and genetic characterizations of Cryptosporidium spp. in farmed foxes, minks, and raccoon dogs in northeastern China. Parasitol Res 117(1):169–175. https://doi.org/10.1007/s00436-017-5686-5

Zhang S, Tao W, Liu C, Jiang Y, Wan Q, Li Q, Yang H, Lin Y, Li W (2016a) First report of Cryptosporidium canis in foxes (Vulpes vulpes) and raccoon dogs (Nyctereutes procyonoides) and identification of several novel subtype families for Cryptosporidium mink genotype in minks (Mustela vison) in China. Infect Genet Evol 41:21–25. https://doi.org/10.1016/j.meegid.2016.03.016

Zhang XX, Cong W, Ma JG, Lou ZL, Zheng WB, Zhao Q, Zhu XQ (2016b) First report of Cryptosporidium canis in farmed Arctic foxes (Vulpes lagopus) in China. Parasit Vectors 9:126. https://doi.org/10.1186/s13071-016-1396-6

Zhou L, Fayer R, Trout JM, Ryan UM, Schaefer FW 3rd, Xiao L (2004) Genotypes of Cryptosporidium species infecting fur-bearing mammals differ from those of species infecting humans. Appl Environ Microbiol 70(12):7574–7577. https://doi.org/10.1128/AEM.70.12.7574-7577.2004
Acknowledgments
We thank Gemma Richards, PhD, from the Liwen Bianji, Edanz Editing China (www.liwenbianji.cn/ac), for editing the English text of a draft of this manuscript.
We also thank MogoEdit, China (http://www.mogoedit.com), for polishing the revised manuscript.
Funding
This study was supported by the National Natural Science Foundation of China (31702227) and the Program for Young and Middle-aged Leading Science, Technology, and Innovation of Xinjiang Production & Construction Group (2018CB034). The funders had no role in study design, data collection and analysis, decision to publish, or preparation of the manuscript.
Ethics declarations
Appropriate permission was obtained from the farm managers prior to fecal specimen collection, and no specific permits were required for the described field studies. The protocol was reviewed and approved by the Ethics Committee of Tarim University.
Competing interests
The authors declare that they have no competing interests.
Additional information
Section Editor: Yaoyu Feng
Publisher's note
Springer Nature remains neutral with regard to jurisdictional claims in published maps and institutional affiliations.
About this article
Cite this article
Qian, W., Zhang, Y., Jiang, Y. et al. Molecular characterization of Cryptosporidium spp. in minks (Neovison vison), blue foxes (Vulpes lagopus), and raccoon dogs (Nyctereutes procyonoides) in farms from Xinjiang, Northwest China. Parasitol Res 119, 3923–3927 (2020). https://doi.org/10.1007/s00436-020-06909-8
Received:

Accepted:

Published:

Issue Date:

DOI: https://doi.org/10.1007/s00436-020-06909-8
Keywords
Cryptosporidium

Zoonotic

Subtyping

Mink

Fox

Raccoon dog

China